We are living in a digital world, and things rapidly change here, of course for a better version. Cameras are the best example of that. We often come across various beautiful instances which we want to capture, and carrying a DSLR everywhere is an outdated trend. So most of the people rely on their smartphone cameras which are getting far better than before. All the latest smartphones come with a pre-installed high-resolution camera. These smartphone cameras have a high-power lens to capture the perfect image. However, sometimes even these high-quality cameras aren't enough to catch your favourite moments. Luckily, we have some best camera apps which can solve that issue. The Play-store and App-store are filled with many best camera apps for Android and best camera apps for iPhone. But, to choose from those hundreds and thousands of best camera apps is something not easy. So, to simplify your task, we have listed out the top 10 best camera apps for 2020. The list will include both best camera apps for Android and the best camera apps for iPhone. Let's quickly discuss them in brief.
10 Best Camera Apps for 2020
1. Camera Plus App
2. ProCamera
3. Snapseed
4. AutoStitch
5. NightCap
6. Diptic App
7. SlowShutter
8. Squaready Pro
9. ColorSplash
1o. Snap Camera HDR
1. Camera Plus App 
Camera Plus is the best selling camera app for the iPhone and is an excellent substitute for the pre-installed camera. It is the best option for editing pictures, especially if you're new to mobile photography. Some common features of Camera Plus app includes-
It provides some impressive picture effects like explicit background scenes, vibrant FX effects, and so on.

It provides lush and intuitive interfaces to enhance your images.

It also offers custom effects to make your editing experience go wow.
Price – $0.99
2. ProCamera
ProCamera is another best camera app for iPhone users. It offers you full control over your iPhone's camera settings while assisting in capturing some best moments. A unique and robust feature of ProCamera over the standard camera is its ability to set a focus point of the object quickly. It's features include-
You can easily set the focus by dragging the square focus point on the object to be captured.

It can capture noise-free pictures in the dark.

You can tap anywhere on the screen to capture the best shots.

You can easily share your photos on any social media channel instantly.
Price – $7.99 
3. Snapseed
If you want more than the basic editing app, but you're not willing to dive into the complexities of an advanced photo editing app, then Snapdeed is perfect for you. Besides offering you great control over your camera settings, it is also effortless to use. And because of its easy-to-use and robust functionalities, Google bought this app. It offers all the extensive features like-
You can seamlessly adjust the level of filter used on a particular image, i.e. you can apply the filter to only a specific part of the image rather than the whole picture.

You can enhance the colour, exposure and details of the photo as per your requirements.

Its perspective tool is great to improve the composition of your image.

It also offers some selective editing tools such as vignette, masking, brush, and so on.
Price –  Free
4. AutoStitch
AutoStitch does exactly what its name suggests; it stitches several photos making it one complete panorama. Meaning, you can seamlessly transform your 3-30 overlapping pictures into an impressive panorama. Some of its features includes-
It supports all the images, whether vertical or horizontal and stitches it in one complete picture.

You can even control the way of exactly how your panorama is created.

It also allows you to manually adjust the focus and exposure of each photo used in creating panorama.

You can even turn the images of other camera apps into a panorama using AutoStitch.
Price – $1.99
5. NightCap
NightCap is one of the best camera apps for iPhone for clicking low light pictures, and shooting night videos. The long exposures offered by this great app produces the best images in low light, and the Astronomy mode effectively captures the city lights, stars and other lighted objects. This product works best with a tripod stand. Some of its common features includes-
Long exposure mode for capturing amazing photos with motion blur effects.

Light trails, which is ideal for capturing city lights, fireworks, etc.

Astronomy camera modes perfect for shooting stars, meteors, and other space objects.

AI enhanced focusing for focusing images in low lights.
Price – $2.99 
6. Diptic App
If you are looking for a unique way to tell stories, then Diptic can surely be one of the best camera apps for you. It's an awesome camera app that provides the best layouts for your pictures to depict stories attractively. Some of its features include-
This app is specially designed for Instagram users and has a standard layout of 1: 1 ratio.

Besides that, it also provides several layout options to be precise almost 75 for the users to choose from.

You can also change the borders and can adjust the brightness, contrast, hue, and saturation of each image.

You can seamlessly share your photos on Instagram, Facebook, etc. 

It is available for both Android as well as iPhone users.
Price – $2.99
7. SlowShutter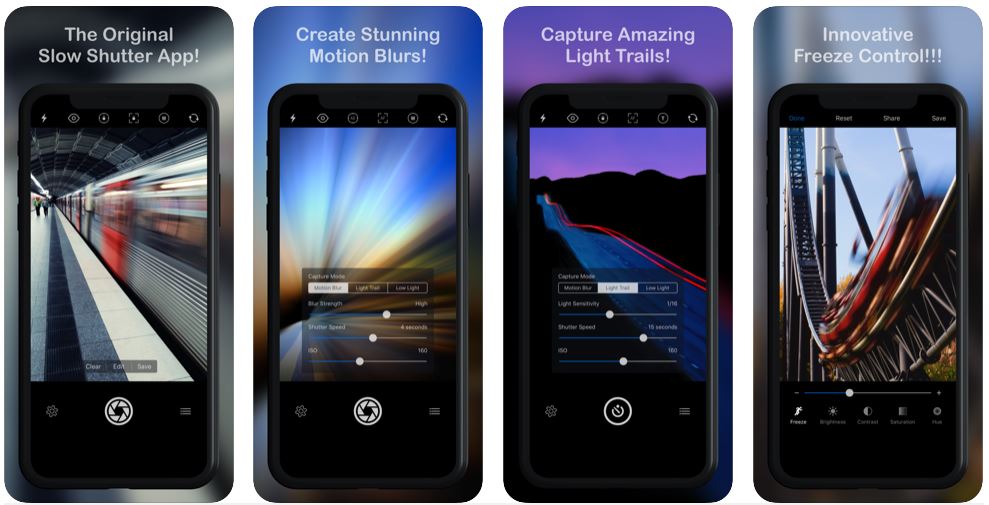 SlowShutter is one of the best camera apps for the iPhone for capturing or recording slow shutter pictures or videos. It offers video mode to add a slow shutter effect so that users can capture the best shots with blurred effects. Not only that it also produces stunning pictures in even low-light smartphone shots. It works best with a tripod stand. It's features includes-
You can capture light trails using this app

It lets you create stunning motion blurs

It also offers other amazing option one of them is innovative freeze control

You can also add self-timer to capture the best shots
Price –  $1.99
8. Squaready Pro
Squaready app is built to cater to the needs of both Android as well as iPhone users. By using this app, one can seamlessly produce a perfect image for Instagram, i.e. it lets you crop an image to the ratio 1:1. For, if you post a picture on Insta which is not of the ratio 1:1, then it will show a black band at the top and bottom of the post. So, Squaready helps you solve that issue. Some of its features include-
You can crop images of any orientation, i.e. portrait or landscape

You can even post entire photos on Instagram without cropping

It offers colorful backgrounds for your images

It also provides various stylish filters with level controls
Price – Free for Android and $1.99 for iPhone
9. ColorSplash
ColorSplash is a fun app that gives a dramatic effect to your picture. It converts the whole of your image in black and white and then lets you choose particular sections of your picture to colour. This way, your picture becomes more focused and rightly impresses your Insta followers. Its features includes-
It has an intuitive user interface that lets you paint your image using your fingers as a brush.

You can seamlessly edit any of your old photos, black & white photo, sepia photo, etc.

It offers gorgeous filters and many additional options such as zoom photo, adjust brush, undo, redo, etc.

You can also add stickers, backgrounds, snap texts, and can share your pics on social media instantly.
Price – $0.99
10. Snap Camera HDR
Snap Camera HDR is a fun way to edit pictures. Besides providing robust photography tools, it also offers amateur effects. Besides that, it also provides manual controls for ISO exposure, HDR, white balance, and much more. Not only that, but it also provides live filters, borders, and many other interesting effects to make your photo editing fun. Some of its features includes-
It has a powerful user interface featuring focus, zoom, review, and many other robust functionalities.

You can manage color, contrast, whitebalance, and HDR of the images along with additional settings of the image.

You can set a timer, or can even capture a panorama shot using this app.

Its additional features include timer delay, scene mode, burst mode, timelapse, etc.  
Price – Free
How To Choose The

Best Camera Apps

?
Now, we already have a list of ten best camera apps, but how to choose the best app that suits your needs. To help you, we have listed some must-have features that should be present in an ideal camera app. To break-down
The

best camera apps

should offer manual controls on functionalities such as White Balance, ISO exposure, HDR, and much more. Apart from that, it should also support image formats like RAW, and PNG along with JPEG.

The app should also have the ability to autofocus the objects to produce the best images for the user.

It should also provide some impressive effects for images and videos to make the photos apt for social platforms like Insta.

It should offer additional features besides basic editing options such as creating a panorama or adding fun animations, and so on. 

Last but not least, it should automatically crop your image to make it apt for uploading on the different social media platform.
Conclusion
As discussed earlier, things change rapidly in today's digital world. Today we have thousands of camera apps for both Android and iOS, each having their unique and robust features. From that, we have listed down the top ten best camera apps according to us. But you can always choose what best suits your needs. If you find other best camera apps for Android or iPhone, then feel free to write to us. We are always available to help you. Also, after reading this article, if you think to develop a custom camera app for your business, then feel free to contact us anytime. Our expert developers are always there to listen to your ideas.    
Get the Conversation Started!
Get the Conversation Started!
[contact-form-7 id="34486" title="Side Form"]