eCommerce Development Company
Matellio is your trusted eCommerce development company that has a team skilled in developing state-of-the-art online store solutions. We have expertise in developing B2C, B2B, multi-vendor, auction, and booking websites, instated with avant-garde technologies
Get a free quote!
eCommerce Development Services
Matellio develops powerful eCommerce solutions to keep you ahead of the curve. We are experts in creating feature-rich eCommerce solutions, configured with reliable payment channels, integrated support solutions, neat catalogs and category management platforms. To make them more robust, we also equip them with analytics-powered dashboard and conversion-optimized shopping carts. Our client-centric approach also enables us to customize the eCommerce solutions to meet our clients' business model and goals more efficiently. As such every eCommerce development project, we undertake, is known to create a distinct success story of its own.
Get started
Rich Features of a Custom eCommerce Website
Explore the features for an eCommerce website that can enhance your CX and improve conversions.
Need More Exclusive Features for Your eCommerce Website?
Connect with our experts over a free consultation to get the best features, tech stack and designs for your e-commerce website.
Get Free Consultation
eCommerce Platforms We Develop
Dedicated eCommerce platforms that suit your business needs
B2C eCommerce
Matellio has ample experience in developing highly engaging B2C eCommerce websites. From intuitive dashboards and secure payment channels to accurate delivery tracking and advanced search and filtering, we build feature-rich B2C platforms that ensure success for your brand.
B2B eCommerce
We offer B2B eCommerce development services for both web and mobile. Rich with functionalities like admin dashboards, detailed product descriptions, user guides, custom catalog segmentation, and recommended inventory showcasing, our B2B platforms optimize conversion rates.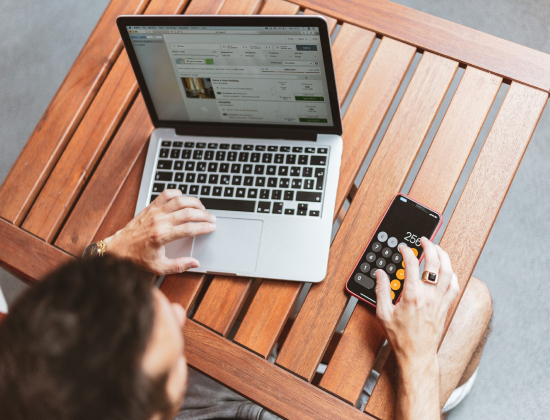 C2C eCommerce
Matellio offers bespoke C2C eCommerce development services to enable customers to trade with each other over a common platform. Our developers are expert in creating intuitive and highly engaging horizontal and vertical marketplaces that allow users to both sell and buy products of specific or varied niches.
Auction & Bidding Website
We build a variety of bidding-based eCommerce web solutions that will enable you to reach out to your customers in the way that suits your business model the most. The solution will enable you to customize bidding system to be penny auctions, ticker auction, free bids, and reserve auction for discrete products.
Multi-Vendor Website
Matellio has a forte in building multi-vendor marketplaces, rich with features like ads management, multi-vendor admin dashboards, bulk product uploads, inventory auto-sync, business badges organization, microsites management, and multi-language and currency support.
Ticketing & Booking Website
Our ticketing and booking website development services will enable you to take your business online with features that will automate the entire workflow for you. Your customers will be able to book tickets, choose preferred routes, track booking status, print confirmation details, and make payment online.
Advanced eCommerce Solutions with Next-Gen Technologies
AR/VR Solutions
Engage your customers with the most immersive experience of your products by employing cutting-edge augmented and virtual reality solutions. Our AR/VR experts will create bespoke virtual try-ons, placement previews, interactive user manuals, and social media filters for your brand to give a full-sensory experience to your customers.
eNQUIRE FOR ar/vr solutions
AI/ML Applications
Simplify the shopping experience for your customers by investing in breakthrough AI/ML. Developers at Matellio are experienced in creating AI-powered eCommerce solutions like smart search facilities, visual product discovery tools, NLP-enabled voice-controlled shopping assistants, and personalized recommendation engines.
eNQUIRE FOR AI/ML solutions
Big Data Services
Leverage data you collect from your customers and target audience to create fulfilling customer journeys. Our experts will help you in creating meaningful data models, extract, transform, and load relevant data, and generate real-time insights from the same for better targeting, forecasting, and optimizing sales and marketing operations.
eNQUIRE FOR big data services
Other Retail and Ecommerce Solutions that We Can Build for You
Frequently Asked Questions
1. Which payment gateways will you integrate with my eCommerce website?
In order to make your eCommerce store more likable, we integrate it with all the popular payment gateway channels including, but not limited to – 

Stripe

PayPal

Amazon Pay

Authorize.net

2Checkout, etc.

 
In general, when it comes to integrating payment services to an eCommerce store, we find no limitations. Whichever payment solution you want for your eCommerce website, we will integrate that with it. 
2. Can you optimize my eCommerce for performance and conversion?
At Matellio, we use the best development practices to ensure that even the simplest of the online stores we develop, perform with absolute efficiency. We work with latest technological advancements to keep our clients ahead of the competition. This means when it comes to optimization services, we use high-end technologies like AR/VR, and AI/ML to offer ideal shopping journey to your customers. 
3. Will I be able to integrate 3rd party APIs with my online store?
Matellio excels in developing scalable eCommerce solutions. This means, whenever you want your eCommerce platforms services to extend, you will be able to integrate it with bespoke micro-services, built in-house or taken from a third-party service provider. 
4. Do you build eCommerce website that can handle heavy traffic?
Yes, we develop eCommerce websites with cloud solutions that will help you manage the traffic spikes as and when needed. Generally, the traffic maintenance and expectations are discussed beforehand, so our experts can create the most viable project plan for you. If your website is expected to receive abundant traffic from start, we will configure its cloud to handle that. However, in case you are not expecting too much traffic all the time and want to scale your website's traffic more cost-effectively during spike seasons, we can handle that for you too. 
5. Do you offer post-launch services?
Yes, once we have developed and deployed your eCommerce platform, we will offer you maintenance and optimization services as and when required by you. We also offer documentation and training services so that when you shift your business to a newly built eCommerce platform, your team remains equipped with all the knowledge necessary to smooth the transition.
6. What next-gen solutions do you offer with eCommerce development ?
Matellio,  as a leading ecommerce development company, works with all the latest technologies considered responsible for an advanced customer experience. Some of the advanced tech solutions we offer as part of our eCommerce development services are- 

AI-powered recommendation engine

NLP-based voice search

AI/ML solution for UI personalization

Smart live chatbots

IoT-enabled offline shopping

Augmented reality shopping experience

Virtual reality etc.

 
7. What different engagement models does Matellio offer?
Matellio offers four different engagement models, and you can pick anyone at your convenience. 
Dedicated developer model 

 

Turnkey model 

Time and material-based hiring model 

Custom hiring model

 
8. How much does it cost to develop eCommerce with Matellio?
Matellio offers some of the most cost-effective eCommerce development services. That being said, the exact cost of an eCommerce project cannot be known unless we know the features, functionalities, and platforms it is supposed to work on. This is why we suggest you book a free consultation call with our experts and share your requirements with them. They will be then in a better position to analyze your project details and create a complete plan for it. They will then share the project timeline and a free quote with you.