Software Prototyping Services
Give your ideas a real turn with our Software prototyping services for quick risk analysis, accelerated cycles, and improved engagement. We focus more on user experience rather than the underlying system functionality. Whether high-fidelity or low-fidelity prototyping, we offer both. Choose us if you want to thoroughly explore your idea's potential and usefulness.
Eliminate Surprises and Rework with Software Prototyping Services
Put your product in use to improve its utility and design, remove failure risk, and validate it among your target market with our Software Prototyping Services. Prototyping is what you need the most for any development process, whether it's an application to be deployed in-house or a software-as-a-service (SaaS) product. Make your ideas step into reality today! At Matellio, we create cutting-edge solutions that offer significant user experiences for small and large businesses. We will do everything from scratch, from development to design.
Get Consultation
Our Software Prototyping Services
Precision is our key! Prototype your products with us and be one step ahead of what's coming. We believe in providing high-quality solutions by making ideas come true.
Competitor Analysis
The thorough analysis of customer requirements leads to looking for similar products in the market, further visualizing users' ideas and leading to a more realistic and productive approach. Instead of wasting time trying to create something entirely new, we quickly produced the initial prototype.
Interactive Mockups
Develop interactive, high-fidelity prototypes that align with the users' understanding. With preliminary feedback from the user, our dev team can prioritize its tasks and focus on obtaining an early buy-in from the stakeholders.
PoC Development
The easiest way to collect feedback from your target market on a product's functioning is to provide a viable Proof of Concept (PoC). Test PoC with your core features. The PoC offers a fantastic option for you to test and maximize your ROIs before going all in, with lower development costs.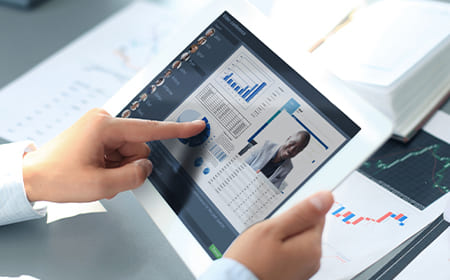 Usability Testing
Test the software prototype closest to your final product by rolling it out to your target audience. We can foresee potential risks and failures thanks to usability testing thanks to user feedback. Since it provides the desired result for the user, this is a big revenue generator.
Visual Design Development
Our UX design professionals collaborate with you to comprehend your software idea, user persona, and design preferences. With us, your product or software will have user-friendly, responsive designs. Also, will assist you in developing a software/product blueprint.
MVP Development
We assist you in integrating lean methodology by creating a Minimum Viable Product (MVP) and reducing the risk of creating finished products or software that might not succeed. With our agile MVP development, you may first concentrate on the most important aspects.
Looking for an experienced Software prototyping Service Provider?
Why Choose Matellio for Software Prototyping Services?
Our Hiring Process
Hire professional software prototyping Service providers within your budget in the easiest way possible. Just go along the steps with us:
Consulting

We analyze your business requirements in detail. Users of the system are interviewed throughout the process to have a clear vision of their expectations.

Strategy Creation

Post analysis, our experts frame an effective and business centric digital transformation strategy.

Designing

Based on the idea, our experts create a simple design of the system, giving a brief idea to the user and further helping in developing the prototype.

Implementation

In this process, we use the data acquired through quick design to create a real prototype. It is a scaled-down version of the required system.
Tools and Technologies We Use
Frequently Asked Questions
1. What is prototyping in software development?
A prototype is a rough model that helps innovators determine what they need to improve and fix in their design, i.e., test a product before it gets approved for manufacturing. And prototyping is the process of developing an active replication of a product or system.
2. What are the benefits of prototyping in software development?
Prototyping helps ensure your product works as intended and solves your users' problems before you write your first line of code. It has several benefits, some of may include:  
Detect errors and able to find missing functionalities before the final product 

 

Results are as per Customer Satisfaction and Comfort 

 

Better chances of attracting clients or investors 

 

The better-quality system delivered 

 

Cost and Time Savings  

 

Aids in gaining support and validating ideas 

 

Develops a thorough project plan 

 

Reduce surprises and reworking of the code
3. What is rapid prototyping in software development?
A rapid prototype enables engineers to thoroughly test prototypes before moving into developments that look and function like finished products, lowering the risk of usability and manufacturability problems. Its basic agenda is to examine a component's functionality or the appearance of the design without developing the final product.
4. Which industries can benefit from our Software Prototyping services?
Our Software Prototyping Services can be used by companies of any size and industry who want to transform their operations using digital solutions and cutting-edge technology. To mention a few, we have: 
Finance

 

Education

 

Banking

 

Media and Entertainment

 

Legal

 

Travel and Hospitality

 

Healthcare

 

Real Estate

 

Retail

 
And more… 
5. What is High-Fidelity Prototype and Low-Fidelity Prototype?
The first step is low-fidelity prototyping which involves testing design concepts and user flows that can either be hand-drawn or basic digital wireframes without color or content. These low-tech designs allow UX teams to visualize each screen's layout, test navigation, and experience user flows.
While in a high-fidelity prototype, the product starts to take shape. Designers can look and function close to the finished product using color and content visuals.
In this, designers may include interactions, transitions, and animations to provide a rich user experience — ideal for usability research and presenting to stakeholders.
6. How to build a software prototype?
Before creating a prototype of any product, you need to consider the following steps to make the final product a worthy one:  
Step 1. Think of an idea clear enough to implement  
Step 2. Determine and study your market  
Step 3. Understand your requirements  
Step 4. Create your initial prototype  
Step 5. Test and evaluate the prototype  
Step 6. Repeat