Explore Our Range of Location Based Services and Location Based App Development.
Explore Our Range of Location-Based Services
We build the perfect solution for the platform of your choice.
Location-based Software Development
Integrate your location-based software with legacy systems and a range of IoT devices to track location, position, driver behavior, fuel economy, and more. The custom solution we build for you will contain all the features you need.
Real-time spatial analysis 

 

Seamless integration 

 

Responsive and interactive UI 

 

Scalable and reliable

High-end security
Location-based Mobile App Development
Leverage the power of portable location-based apps combined with advanced technology to stimulate strategic decision-making with rich geospatial database design, development, and maintenance.
Seamless GIS implementation 

 

Enhanced communication 

 

Resource optimization 

 

Excellent user engagement 

 

Better services and operations
Cloud Location Services
Explore cloud-based location services and solutions to access your entire system from anywhere in the world. Our experts can create the perfect location-based cloud solution for you to control and monitor everything going on in your business.
Load Balancing

 

Interoperability

 

Data Encryption

 

Instantaneous Collaboration

 

Improved Decision-making 
Gain Competitive Edge With Location Based Services
Why Matellio for Location-Based Services?
Location-Based Features for Your Software and App Solutions
Explore the range of features we can add to your software leveraging location-based services.
Location-Based Mobile App Development Services
Location-Based Mobile App Development Services
Hunt App
Mobile App for Adventure Sports Lovers to Discover Ongoing Hunting Adventures
Inseego
GPS Fleet Tracking Software for Inseego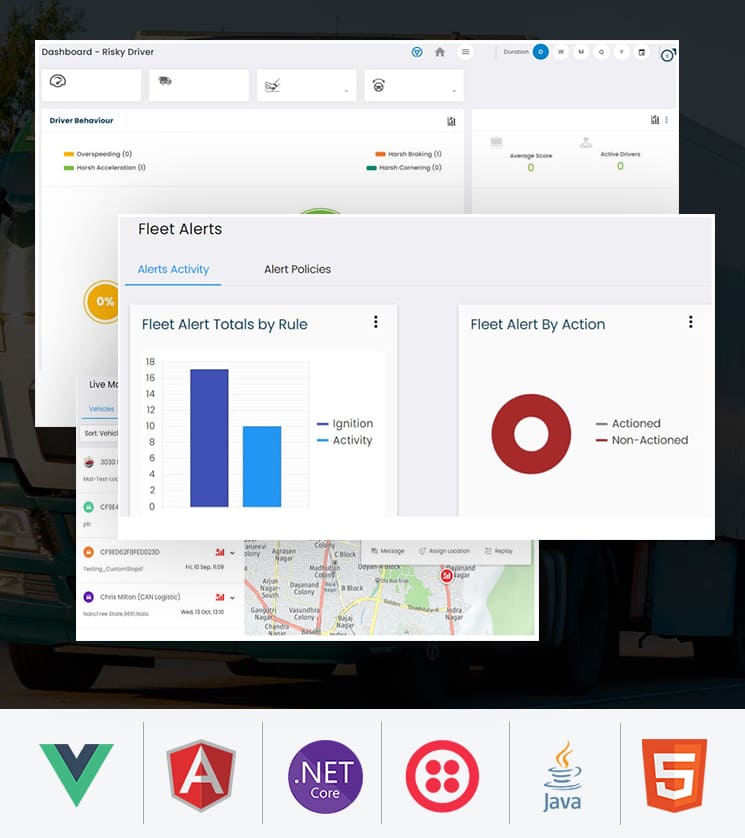 LandscAPPer
A Landscaping App and Website with ERP Capabilities
Get Industry Focused Location-Based Apps and Services
Experienced in a wide array of technologies, we offer bespoke location-based software development for small businesses as well as large enterprises across diverse industry verticals.
Frequently Asked Questions
1. What are location-based apps and software?
Location-based apps and software help businesses to excel in the highly competitive global market by providing useful geospatial data. The umbrella term is an amalgamation of cartography, statistical analysis, and database technology. Carefully designed and developed systems enable brands to capture, store, manipulate, analyze, manage, and visualize geographical data.
2. Who needs location-based services?
Location-based services can be useful for a wide range of industries and applications, including: 
Navigation and mapping applications

 

On-demand services such as ride-hailing and food delivery

 

Social media and networking applications

 

E-commerce and retail applications

 

Healthcare and wellness applications

 

Travel and tourism applications

 

Logistics and transportation management applications

 

Real estate and property management applications

 

Gaming and entertainment applications

 

Environmental and sustainability applications.
3. What are the business benefits of availing of location-based services?
Businesses leverage this technology to transform significant aspects of their business. With such software, brands can integrate efficient mobile communications and enable personalized and context-aware services. Additionally, brands can now push relevant information to the audience and smarten the promotional activities that deliver results.
4. What would be the cost of developing a location-based app?
Location-based app development costs would factor in various things like features, platforms, technology used, and more. While we can't give you an estimate without knowing your requirements, you can reach out to us through the form. Our consultants would be happy to assist you with all your queries and give you a detailed estimate based on your requirements.
5. I just want a few location-based services in my app. Can you help?
Our forte as an app development company includes building all kinds of applications. Our BAs will assist your query further with examples of apps we have created in the niche. You can contact us for a better idea of how we develop all kinds of mobile apps while integrating location-based services.
6. How much time would it take for you to create my app/software?
We can do it as soon as possible through different combinations of teams and the vast resources we have. You don't need to worry about the time which would be taken, and we can certainly say it would be the lowest in the industry.