Now everyone can take photos with Android or iPhone, but you still need a photo editing software to polish those pics and then upload them to Instagram to get lots of likes. So, if you are looking for the best editing application but don't know which features are the most considered before choosing the right one? Then this post is for you. Below is a guide to the features you need to consider before making a choice. Scroll down!
10 Best Photo Editing Apps for Android and iOS in 2020
Adobe Photoshop Express
PicsArt Photo Studio
Afterlight
Airbrush
Aviary
Snapseed
VSCO
Fotor
YouCam
Instasize
1. Adobe Photoshop Express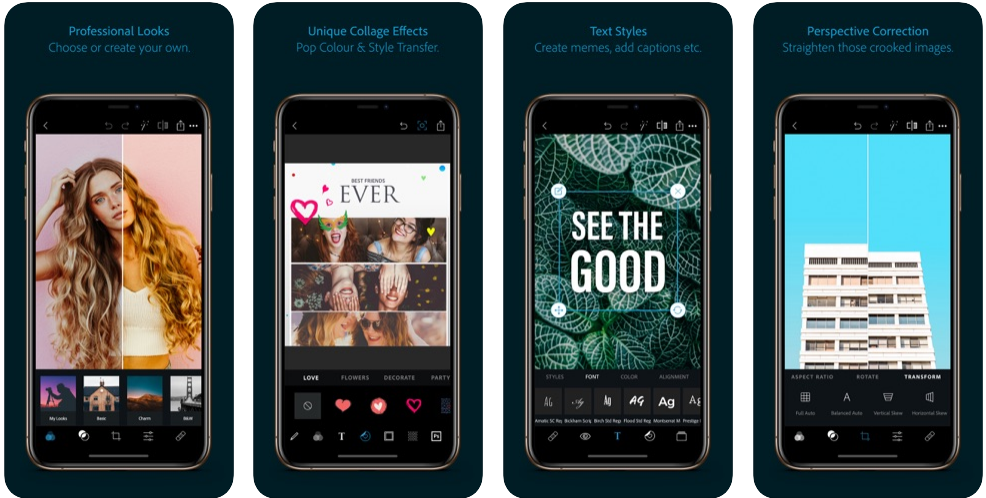 If you have ever done some photo editing, perhaps you're familiar with Adobe Photoshop. Now, this popular name has a refined version in the name of Adobe Photoshop Express. The application has inherited all the features of Photoshop in the form of a mobile application.With a simple interface, Photoshop Express is a go-go for easy, quick, and powerful editing on devices. In addition to the below-mentioned features, the app allows the sharing of photos on Twitter, Facebook, and other networking sites.
Provides user guidelines for how to use the app?

Fix crooked images using the Auto Settings

80+ filters for instantly adding photos. 

It has all the essential tools to crop, rotate, straighten, and flip pics.

Sharpen the details of your picture.

One-touch adjustment for exposure, contrast, and white balance. 

Allows Importing and editing of photos in RAW format.
Available on both iOS and Android.
2. PicsArt Photo Studio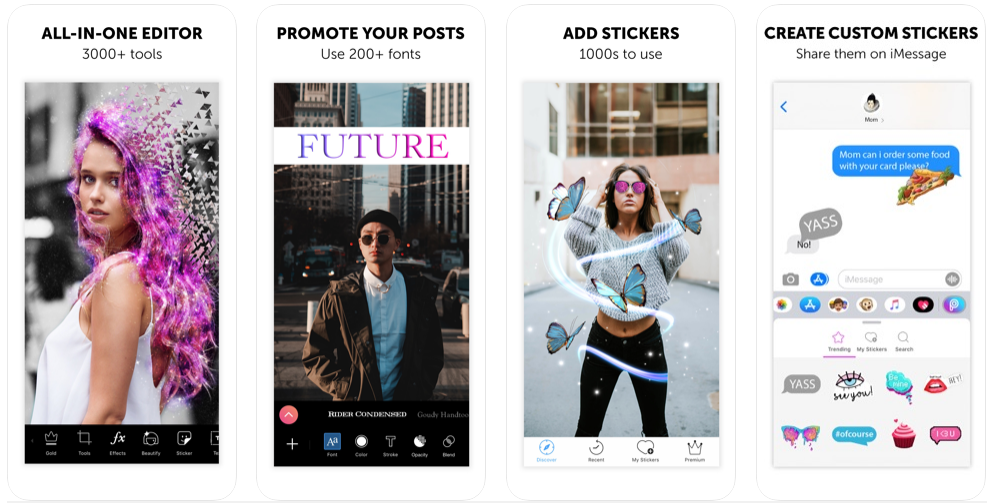 If you would want to re-mix photos instead of having some light touch-ups using filters, then PicsArt is for you. The app somewhere lies between Paint and Photoshop. It is quite easy-to-use and has features covering almost everything for consumer mobile photography. PicsArt stands out for the massive number of options one has while customizing the photos.Tools for the basic options like crop, cutout, and stretch. 
A massive collection of fonts, stickers, and much more.

Use brush mode for applying effects on a particular part of a picture.

Tools for adding sparkle, decorating text, and color adjustment.

Cut an object from one pic and paste it on top of another. 

Provides an In-built camera powered by live effects.

It has adjustable transparency.

Allows the sharing of photos on social media sites. 
Available on both iOS and Android
3. Afterlight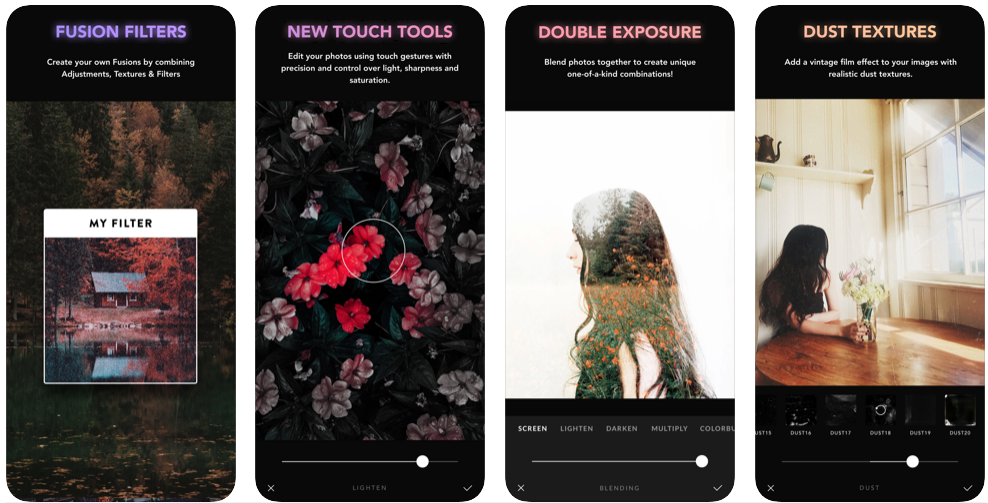 Afterlight is a simple and fast photo-editing application. It possesses a simple and unique design equipped with powerful editing tools for fetching you the desired picture. In addition to the wide variety of toolkit, the app has some cool functionality like double exposure, dust, and color shift. 
15 Adjustment tools for bettering the positions of your images.

Total of 59 filters for enhancing the look

66 natural and real light leaks 

Tools for cropping and transforming the picture.

Customized Frames addition for your photo

Fine-tune the color and tone of your images. 
Available on both iOS and Android.
4. Airbrush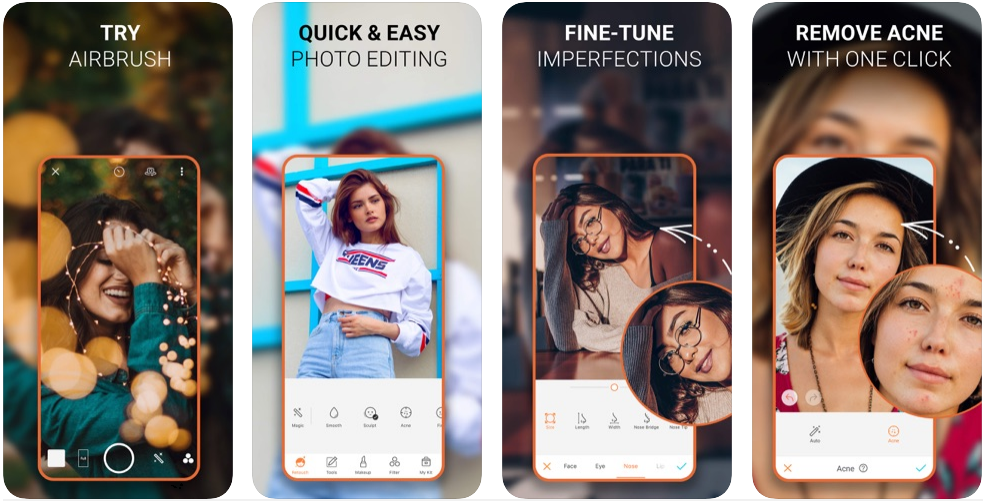 AirBrush is an easy-to-use photo editing application. It has a useful retouching tool and cool filter options to get good edits. This application is available for free but has several purchases and advertisements. It has an integrated camera surface with various live effects.In addition, AirBrush has an interactive surface and contains many tools for refining the tone of the picture. Also, after editing the image, one can immediately share edited photos on any social media site.The editing app supports Russian, Portuguese, English in addition to Chinese and German.
Pimple and Blemish remover

Tools for teeth whitening and brightening eyes. 

Coupled with natural and radiant filters for toning up the picture.

Adds natural-looking makeup like blush, mascara, and much more. 

Crop, rotate, blur and do other such basic photo editing

Reshape the whole look by just a swipe of finger
Available on both Android and iOS. 
5. Aviary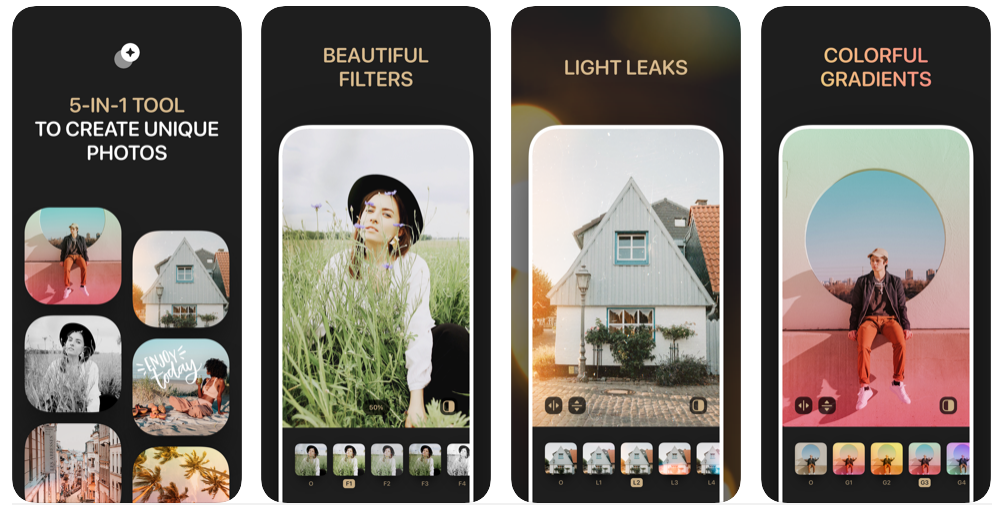 Aviary is just another photo editing app that has a feature-rich package for performing the editing. The app provides reliability with the tasks, and one can easily accomplish various manual adjustments just by the tap of fingers. 
Single tap for enhancing the pic.

Brightness, color contrast, the temperature can be monitored

Has fun stickers

Filters to control saturation

Draw and add text on the picture

Both free and paid versions are available. 
Available on both Android and iOS. 
6. Snapseed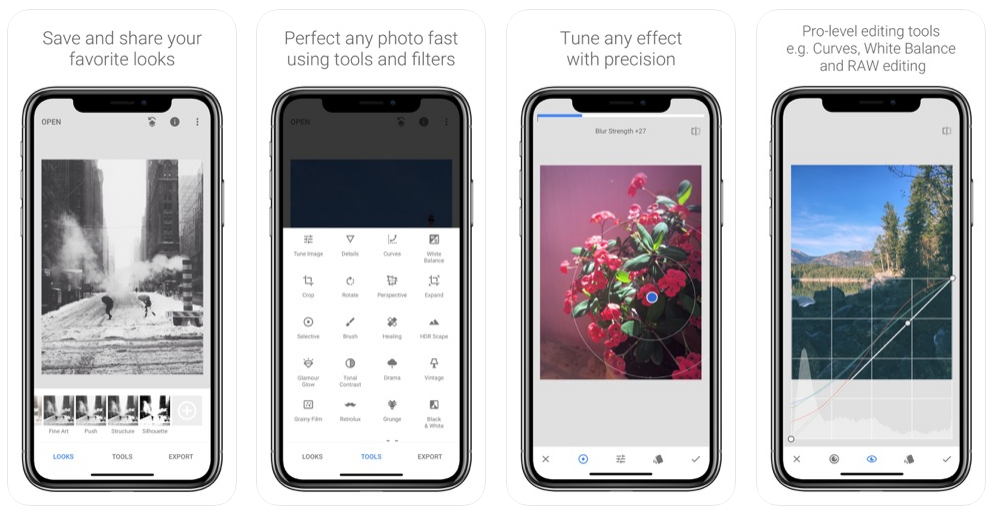 Snapseed is one of the finest professional-grade photo editing applications by Google. The software possesses a wide range of editing tools that can help in color, brightness, and contrast adjustments. The advanced filter collection allows easy editing for lens blurring, glamorous glow, frames, and HDR scape. Snapseed is a fantastic option for people who don't want to download multiple software to edit pictures. 
Easy to use

Flexible exposure, color, and sharpening adjustments

Selective brush filters for editing a section of an image

An option for editing and exporting RAW DNG files as JPG.

Advanced features like healing brush, perspective cropping, and local adjustments. 

A unique Retrolux filter is used to alter photos and create reel effects.
Available on both Android and iOS. 
7. VSCO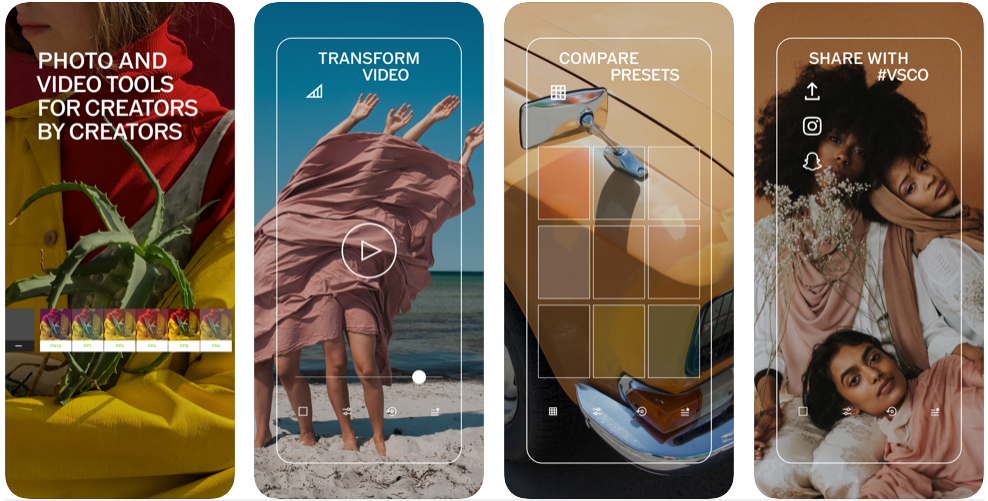 VSCO, a powerful editing application amongst professionals owing to the stylish editing tools. The app has filters for enhancing the image toning. Even the camera possesses some manual settings for giving ultimate control while shooting. The app includes a photo library, camera, and VSCO photo editor. It also has an online photo sharing community.
Finest mobile and film-inspired presets. 

Film X tools 

Tools for white balancing, highlighting, and exposures,

Basic editing- crop, adjust color, and sharpness.

Natural-looking cool effects.

A robust community offering curated work.
Available on both iOS and Android. 
8. Fotor
Fotor is one of the most elegant photo editing applications powered by a lot of cool features and image enhancement tools. This application offers various photo effects and image processing filters. You can avail more than ten special editing tools to adjust the brightness, lighting, contrast, and other aspects of your photos.With Photo Editor, you can also create collages with many collage templates. This application can be downloaded for free but contains advertisements.
Essential editing tools plus a collage maker

10 plus special editing features

Feature-rich photo editor and photo licensing platform

Extend functions with scrollable functions for immediate adjustment

Many collage templates such as classics and magazines.
Available on both Android and iOS.
9. YouCam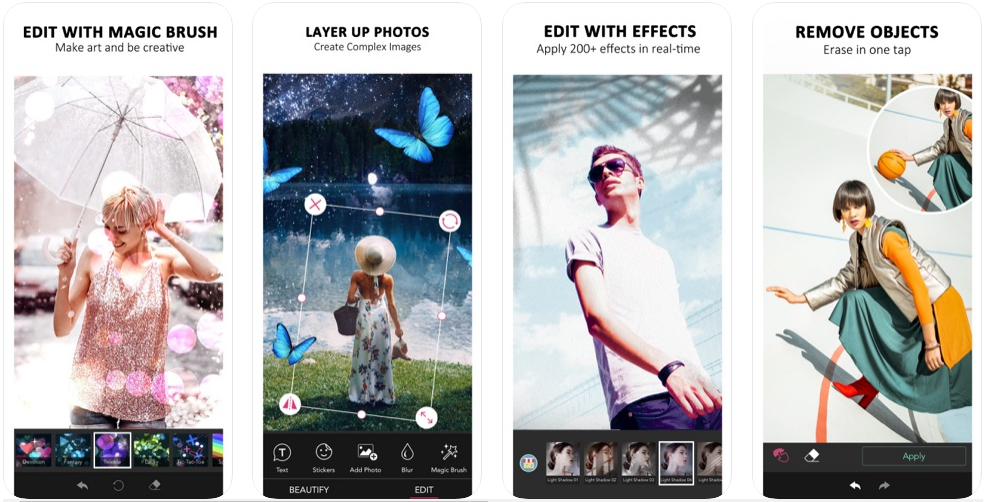 YouCam Perfect is a handy photo editing tool that allows you to decorate your portrait photos in seconds. Try the special editing effects and filters with one touch, crop, and rotate pictures. This mosaic is pixelated to blur the background, sketches, and HDR effects. This application is equipped with a face converter, eye bag eraser, and slimmer body to make your waist smaller and look slimmer.Overall, finding the best selfie photo editing application can be a big problem. YourCam Perfect also offers a selfie video option. This can be downloaded for free with some in-app purchases for additional features and contains advertising.
Real-time decoration effects in photos and selfie videos

Allows the cutting and removing objects

Tools for cropping, rotating, and applying one-touch. 

Find lots of faces for an instant touch to a group selfie

Offers a self-video option

Smile function to add a smile to each picture
Available on both Android and iOS. 
10.  Instasize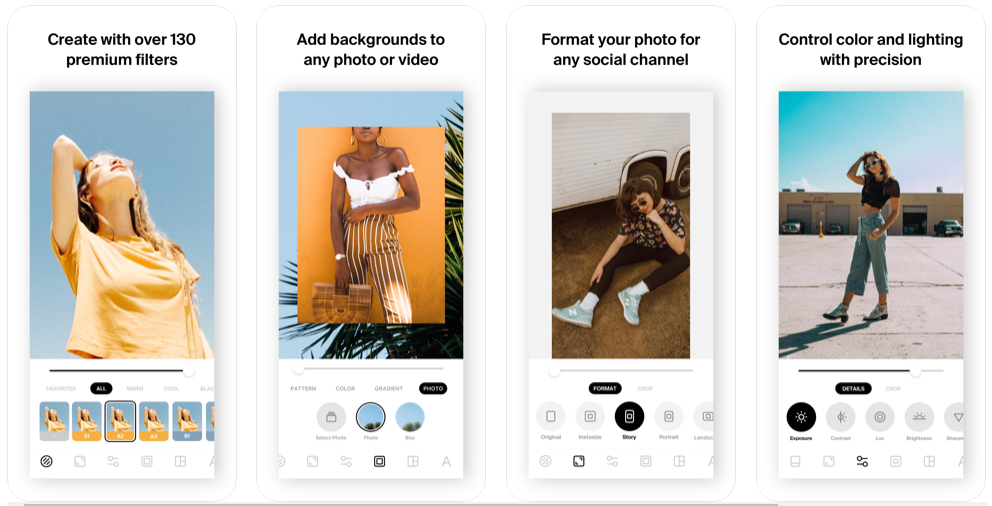 If you are an emerging social media influencer or an established content creator, Instasize is the right photo editing app for you. In other words, Instasize can be described as a series of photo and video editing tools that offer several user filters and advanced editor functions.
Users can edit their photos in various aspects

Choose from a variety of formats for different social media platforms

The ability to add creative text to your photos and videos

Serves to remove acne spots so that stains disappear
Available on both Android and iOS. 

Summing Up
Who knew that you needed at least ten software to make your photos look appealing? OK, perhaps you don't need all of them. But, we think it is a good idea to experiment with different applications and select the one that suits your style. With any of these in your device, you'll be on your way to racking up the comments and likes on social media sites. So, go ahead, download them, and achieve this social media immortality.