The 5 Biggest Project Management Trends Shaping 2019
Updated on Apr 20th, 2021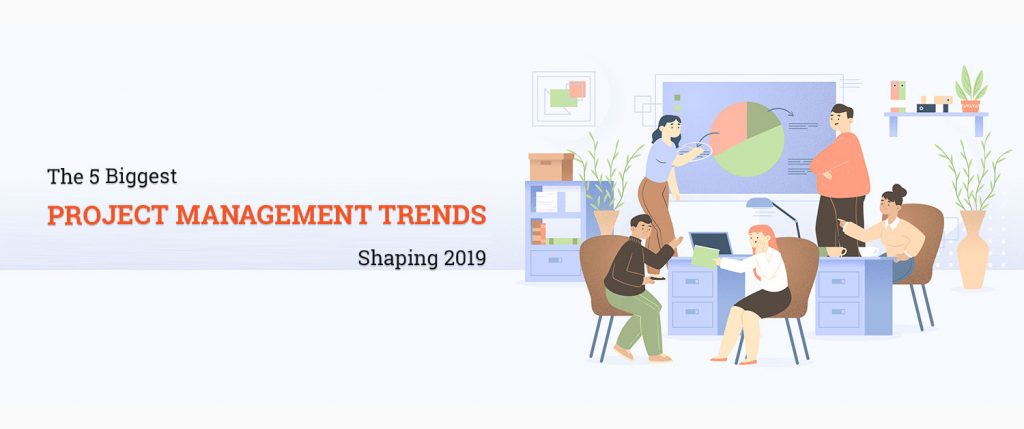 The new approaches, methods, and solutions for project management are always maturing every year in the field. That's why it is said that the Project Management sphere never rests. And the new features are released continuously by the existing project management. However, some people also think that project management might not seem to be an industry, experiencing many changes, but this is not the case. 
Different organizations and enterprises are rapidly progressing and are employing several techniques to match the requirements of markets. Now the question arises, can the project management method helps companies to adopt these changes? Our project management tools and techniques being updated to meet the need and requirements of the organization? So, the answer would be yes, of course. Project management has been continuously and continuously evolving and growing to meet the demands of the project. 
Here, is a well-researched article that lists project management trends:
1) Project management creating value at work
Well, the definition of project management is transforming every day. Furthermore, the role of the project manager would not be as same as it is in the present. They probably find themselves taking up more varied responsibilities in the company, and are going to prove themselves more valuable to the company.
Companies do consider Project Manager for a permanent organizational or managerial role, including strategizing for the company, setting the desired goals, and even applying their leadership and managerial skills outside of a project. Moreover, the structure of the organizations has completely transformed itself in today's era. It is not as same anymore as it was in the past. Organizations do not use the same strict roles and hierarchy at all. They are now looking forward to sharing the responsibilities of management, and besides, the project managers are in an excellent position to assist the same.   
2) Design thinking
It is another essential skill, which we are going to witness in project managers, going forward is Design Thinking. Organizations, & hence project managers deal with projects related to:
Developing new products,

Designing new processes or

Developing new solutions for typical problems.  
The goal here is to change for a better. Moreover, the ability to create is handy also a necessary tool for project managers. They also require problem-solving, and to solve a problem, a project manager will design a new product, solution, or workflow. Besides, it assists them in using creativity at its best and innovatively finding the answer. As we know, a Project manager who could use creativity, as well as innovation, is an asset to any company. 
Provide new requirements

Finding creative ways to meet these requirements

Understand customer's requirements and market's needs

Find out the systematic solutions for typical issues
They can react with flexibility and sensibility to a delay or problem. They remove the boundaries applied to their roles, and project managers can take on projects of various scales, on different aspects and complexities.
3) Improving employees capabilities and skills 
As in the present, the customer is the king, but also, many organizations are focusing on developing and sharpening the skills of their personals to achieve long term goals. Also, the organizations would invest in their employees to speed up the progress of the organization as a whole. Organizations would want to polish and enhance the skills of their project managers as it means more than project management for them. Teams could learn how to manage things financially, or control of human resources and could learn the techniques to improve products.  
4) Virtual teams
Companies might require many skills for a project, management office, and they can find workers with this skill in many places. Due to the technology, the workers are not required to be in a similar physical location. They can find skilled workers anywhere across the globe with virtual teams' assistance. 
Virtual communication platforms are more stable as compared to earlier, which implies that individuals can work in different locations in the world and in different time zones. It has many benefits like no more travelling, logistics, and other administrative costs. Organizations are leveraging the power of these skills in the form of remote workers and teams.
5) Risk analytics
For years project management consisted of critical chain analysis and resource management. The risk was measured and defined by crucial chains, while the resources loading analysis was supposed to cover analytics. Since the rise of agile methodologies has removed focus from the critical strings. And in the world of continuous delivery and gradual cyclical progress, the critical chain is no longer relevant. 
And in many cases, it can not be even calculated. With no critical change, all that's left to figure project confidence analysis is resource management only. 
Conclusion
So, to end, I would want to say the project requires a lot more than resources. Modern projects are complex, and their project structure requires significant coordination and operational effort. Knowledge gaps drive risk, and the plan can fall apart due to unexpected changes.
Get the Conversation Started!
Get the Conversation Started!
[contact-form-7 id="34486" title="Side Form"]