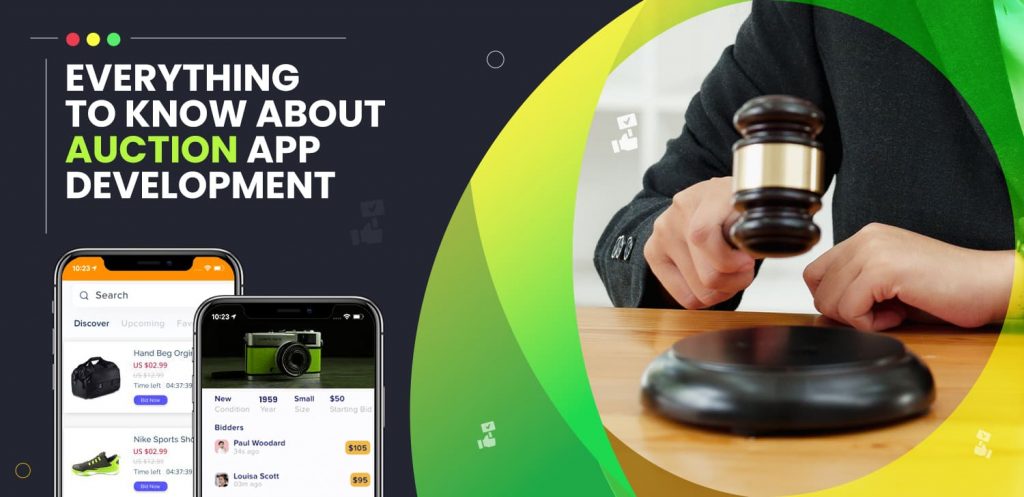 How to build an auction app? 
That's one of the major questions of the businesses working in the eCommerce sector. Online auction apps have become a major trend worldwide. Brands like eBay, Catawiki, and Artsy have, in fact, generated large revenues by investing in auction app development. 
Whether retail, real estate, automobile, or even artworks, you can sell everything worldwide with an auction app. According to some online sources, the auction app development market is set to grow by $1.90 million by 2026! The same report also suggests that 41% of that growth will originate from North America. That's a fantastic opportunity for people looking to start a profitable online business.  
But, creating an online auction app may not be a simple task, especially for newcomers. That's where Matellio comes into play! Today's blog will discuss everything you need to know about auction app development.  
From features and tech stack to the development process, let's begin our journey to create an engaging online auction app! But, first things first. 
The market for auction app development will surpass $1.90 million by 2026. A majority of the growth will be from North American region.

 

There are multiple types of online auction apps, including English auction apps, Peak Auction apps, Dutch Auction apps, etc.

 

You need to select a proper type of auction app you want for your business. Based on that, you need to select appropriate features and tech stack for your app.

 

Try to look for an app development company that offers free consultation and market analysis services.

 

Always test your app before launching it in the market. It will ensure a smooth and streamlined working on multiple platforms.

 

Pay heed to UI/UX, monetization model, and the app development methodology. Follow the agile method for a hassle-free development experience.

 
What is an Auction App? 
The online auction app is a robust on-demand platform that facilitates online bidding and auctions. It is a marketplace platform like eBay and Catawiki that brings together buyers and sellers and offers great deals for them. You can sell or buy almost every product online using an auction app.  
Unlike traditional auction places, an online auction app lists all the products that a seller wants to sell. Then the interested buyers bid on them, and the person with the highest bidding gets the product. The auctions are held for a specific time so that the seller can get the best price in a short time.  
Well, most of the online auction apps work that way. However, certain apps have a somewhat different approach. For instance, in Vickrey auction apps, the highest bidder wins the auction. But the price paid is the second-highest bid.  
Listed below are the types of auction apps prevalent in the market. Before moving forward with your auction app development, you must choose a specific style!
Types of Online Auction Apps

What are the Must-have Features of an Online Auction App?
So, now that you have finally decided to proceed with auction app development, it is time to discover some magnificent features for it. In today's competitive world, you can succeed if you have some unique value prepositions.  
You need to have features that are different from your competitors and completely resolve the concerns of your target audience. So, as a leading app development company, we have listed the most useful features for your online auction app here.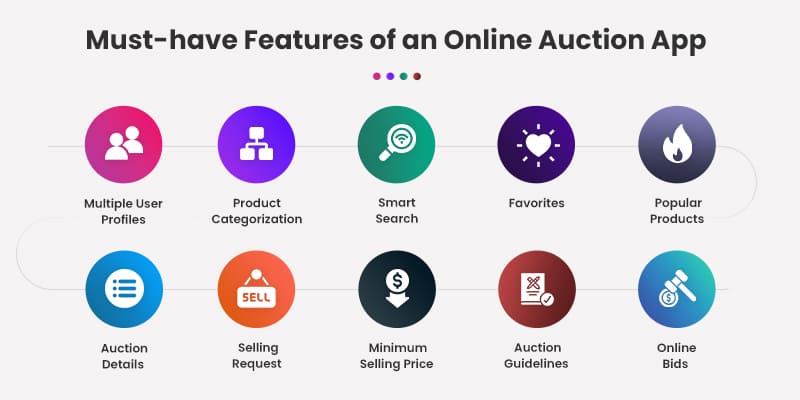 Multiple User Profiles
Your online auction app should have multiple user login facilities. That means buyers, sellers, and admins, each user should have a dedicated panel on the app. That will allow your auction app to gain more traffic and become a centralized platform for all your user needs. 
Product Categorization
In today's fast-paced world, nobody has enough time to search for a specific product amongst a pile of other things. That's where product categorization becomes important. You must provide various categories on your app, including home appliances, furniture, electronics, gadgets, instruments, etc.  
Smart Search
Today's era calls for smart search options, including voice and image. Almost every other app uses those functionalities to offer more ease to its users. So, why should you lag? Hence, your app must incorporate smart voice and image search functionalities. You can do so by implementing AI in your online auction app!  
Favorites
Sometimes, a user might not buy anything but mark certain products for future purchase. That's where a favorite module comes into play! With that functionality, you can allow your users to mark their favorite products that they need to buy in the future. You can also send personalized notifications to alert users of a sudden price drop or an ongoing auction on those products.  
Popular Products
In this feature, your users can see the most popular products people are bidding on in any ongoing auction. They can then bid on the same products or easily purchase them through the app.  
Auction Details
You need to offer an accurate auction detail to your users before the event occurs. For instance, the time of auction, lowest bid value, the type of auction happening, product details, etc. Besides that, sending real-time auction notifications to the users is also a part of the same functionality.  
Selling Request
The users of your app can easily sell any product using the Selling Request feature. The seller can decide the product price, information, lowest bid, and many more things in this module.  
Minimum Selling Price
The minimum selling price of any product or the least bidding value can be determined from this feature. The admin or the seller can easily fix the least cost that must be paid by any user to purchase or bid on any specific item of your app.  
Auction Guidelines
All the guidelines to be followed by the buyers, bidder, and seller must be mentioned in your app. You can do so by using this feature. Moreover, you users can also access the guidelines described in this module.  
Online Bids
The admin can access the bids of all the users participating in certain auction events using this functionality. They can also check the lowest and highest bid of any auction using the same feature. The details of the product and the users can also be accessed through this functionality.
Besides the features mentioned above, there are other basic features like blog posts, user management, law and regulations regarding auctions, etc. You can connect with us anytime to discover meaningful features for your bespoke auction app.

How to Build an Auction App?
So, we are at the most awaited section of our article, how to develop a custom online auction app tailored to your business needs. Honestly, creating any custom application requires careful analysis and coding.  
However, following the right steps can make it a piece of cake for yourself! Here's how you can create an online auction app tailored to your business requirements. 
Define the Scope of Your Auction App 
Understanding your business requirements is the foremost step in creating an online auction app. You need to have a very clear idea of your business goals. Moreover, your strategies should reason with those goals you have planned.  
For instance, what sort of audience do you want to target? What are the concerns of your target audience? How will you monetize your app, and what will be the features? Answering questions like these will help you frame an effective business strategy that will yield a successful project development.  
For that, you can conduct market analysis and competitor research. You must know the latest market trends and your competitors. In your case, for example, eBay or Catawiki could be your potential competitors. 
In short, choose a company that can help you with your discovery phase. At Matellio, we always welcome our clients' ideas and ensure to convert the best of them into a successful reality. You can schedule a free consultation with our experts today!
Read More: Essential Checklist for Successful Mobile App Development
Choose a Reliable App Development Partner
That's one of the most important to a successful auction app development. The app development partner you choose can greatly impact your project's success. Hence, you should opt for an experienced and reputed custom app development company that can smoothen your app development journey. 
The company, for instance, should be able to analyze your ideas and process them to match the current market trends. Whether front-end, backend, UI/UX, digital marketers, designers, and even testers, your chosen app development company should have dedicated resources throughout your app development cycle.   
Not to mention, they should also have immense knowledge of various next-gen technologies. AI/ML, AR/VR, and IoT can build your project's success. At least, that's what we offer at Matellio.  
Besides the above-mentioned, we offer our clients no-obligation quotes, code review services, app architecture redesigning, and cloud integration services. Free expert consultation, market analysis, and competitor research are some of the perks you get by partnering with us.  
You can also access a wide range of professional app development services for your choice of platform. Feel free to connect with our experts for your custom auction app development!  
Select the Most Competitive Features and Tech Stack
We have already mentioned that features play a critical role in defining the success of your custom application. Hence, you need to pay extra attention to choosing the most suitable features for your auction app development.  
The chosen features can vary as per the type of auction app you want to develop. However, basic features, including auction details, online bids, multiple user profiles, and popular auctions, can be implemented in every online auction app. You can explore some useful features for your app above in our features section. 
However, you will need robust technologies to implement such amazing features in your app. Here's what we follow at Matellio to build an online auction app. 
We use both classic and cutting-edge technologies to design and develop your custom online auction app: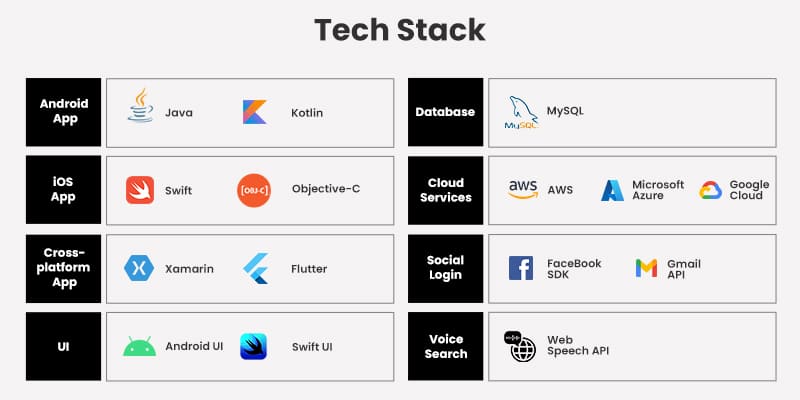 Have specific features in your mind? Connect with our experts to get a feature-specific tech stack for your action app. Fill out our free consultation form today! 
Next-Gen Tech can be Helpful
Have you ever wondered how a custom chatbot works in most auction apps? Or how do the healthcare apps get real-time data from their patients? Well, all that is possible by implementing next-gen technologies. AI, ML, AR/VR, IoT, and cloud computing are quickly gaining momentum in the app development market. 
Whether retail, education, healthcare, or finance, every industry is leveraging those next-gen techs, and eCommerce is no exception! Hence, we strongly suggest you implement at least one of those next-gen technologies to become a pioneer in your field.  
You can connect with your app development partner to know business-specific next-gen technologies for your app. Or else, simply click the link below to schedule a free consultation call with our experts at Matellio!

Do Not Overlook Security and Compliance Issues
With the rise in digitization, cybersecurity concerns have also increased significantly. And while dealing with the auction apps, you will closely deal with your user's accounting and bank details. We are sure you do not want to put that information at stake! That's why security and compliance are major factors during auction app development! 
Hence, the digital frameworks used in your app must be powerful enough to help you reckon the security challenges posed by your business niche. Moreover, things like servers, firewalls, and payment APIs must be implemented, keeping security in mind. 
Nowadays, many companies use blockchain as a service to ensure transparent and secure digital transactions. You can also leverage security testing or two-factor authentication to provide a safe payment environment for your users.   
Always Begin with an MVP
MVP stands for a minimum viable product and is an excellent approach to begin your application development. An MVP is built with your chosen features and designs. In short, it is an approach to transforming your ideas into a reality without actually developing your app. 
It is a functional prototype by which you can know how certain features will function and how accessible your app will be for your users. If you want to change functionalities or make your app easily navigable, then doing at the MVP phase is the best solution. That way, you do not have to spend more resources to re-develop your app.  
You will get more time to market your product, and the testing time will reduce to a great extent. All in all, if you want a cost-effective online auction app with the best features, then creating an MVP is the only solution!  
Test, and Deploy Your App
Lastly, you need to develop your app using the agile methodology. With an agile development approach, you get constant updates of your app after every development stage. That means fewer surprises and expected product development.  
Moving ahead, you should test your app using a manual or automated testing service. Testing ensures that your product runs smoothly across various platforms and devices. You can identify the unnoticed bugs during the auction app development process.  
Hence, always choose an app development company that offers testing as an integrated app development service. Finally, you need to deploy your app on the cloud platform. You can choose AWS, Azure, or Google Cloud as your cloud platform by partnering with Matellio.

Ready to Begin Your Auction App Development with Matellio? 
As a leading software development services studio, we at Matellio are the first choice of marketers when it comes to online auction app development. Whether enhancing your existing digital product or creating a new one based on your business requirements, our experts can offer the best services for your business.
We have a complete team of expert developers that carefully analyze your ideas and requirements to transform them into a reality. You get a free consultation, and market and competitor analysis to ensure maximum success for your project.
Besides that, we also offer MVP development services, and a need-based scaling facility to our clients to help them hire the best developers as per their project needs. So, why wait when you can start today? Fill out our free consultation form and get a no-obligation quote for your online auction app!
Need Help With Development?