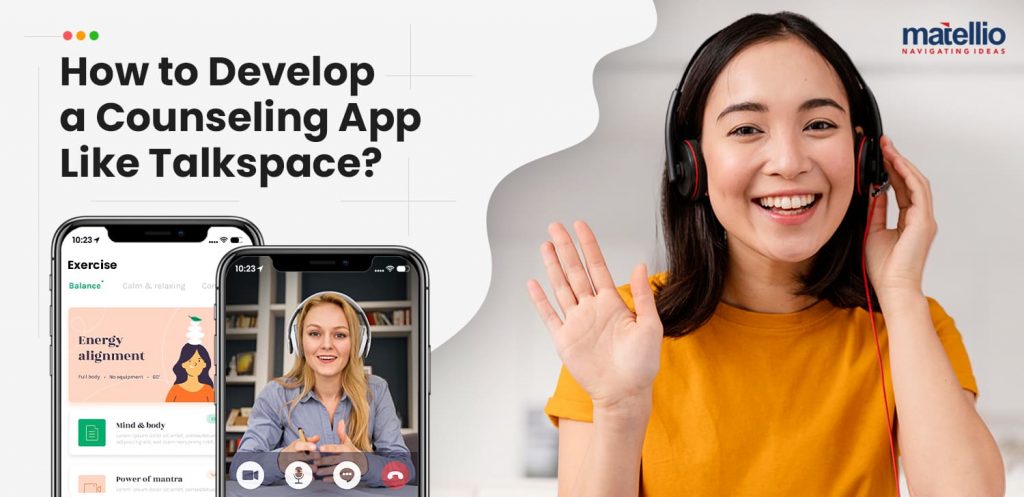 The demand for mental health apps is increasing because of rising awareness of the value of mental well-being and, to some level, due to the pandemic's limitations placed on in-person therapy sessions.  
Nowadays, more and more people are using stress relievers and therapist apps. Using an app is more convenient, secure, and affordable than treatment. 
Many entrepreneurs seek custom mhealth app development as mobile users drive the most traffic and dominate the industry.  
We'll discuss counseling app like Talkspace in this blog post and how much it will cost to develop a mental health app. On top of it, we'll go over how to build mental apps and walk you through all the crucial steps. 
We will also talk about the advantages of creating mental health apps. So, to learn more, keep reading!  
According to the research, by 2027, the market value of mental health applications will be expected to surpass US$3,709.2 million. 

 

Some of the key features

in a e-counseling

 app like

Talkspace

are live therapy sessions,

audio and video

chat,

gamification

, self-monitoring and much more.

 

There are three major monetization Models for e-counseling

 apps, the subscription model, advertisement and a freemium model. Explore the blog to know more. 

 
What is an E-counseling App? 
An e-counseling app offers mental health care over the internet through text, video conferencing, online chat, or phone calls. It works exactly as well as a typical treatment session, allowing individuals to stay home. 
Nowadays, there are many therapist apps in the market. Amongst them, Talkspace is one of the most prominent ones! 
Apps like Talkspace are the best method to look after your mental health, especially if individuals find it challenging to travel for appointments or are committed to physical distance.  
Talkspace

: Quick Overview!
Image Source
A therapist app called Talkspace provides subscriptions for messaging-based and in-person talk therapy for adults, kids, and families, and also for psychiatrists. Users with busy schedules and ease with text-based therapy and brief video sessions should use the app.  
The apps' features can be as basic as tracking users' emotions and giving them motivational quotes, or they can be sophisticated and complex; for instance, Talkspace connects users with professional therapists who specialize in specific treatment fields.  
Is It Profitable to Invest in Mental Health App Development? 
The market is one of the many compelling reasons to develop an app like Talkspace. 
According to the reports, the market would increase at a CAGR of 20.5% to reach $3.3 billion by 2027.  
There are many reasons and benefits to developing a mental health app. Some of them are listed below: 

Accessibility
Due to the growing usage of mobile devices, professionals, mental health app developers, and specialists may offer mental health therapy anywhere. This reinforces the uniformity of society. Getting treatment at home for many issues is empowering and beneficial.  
Reporting
The application may input your daily, weekly, or even monthly statistics to assist you in keeping track of your mental health aims, and it will then show you how far you've come in readable graphs or figures. Many therapist apps directly connect to smartwatches or other gadgets, and they immediately submit data such as running distance.  
Confidentiality
Patients' worries during mental health treatment may relate to privacy. As these applications don't require the personal sharing of information, many people prefer to use them for therapy. Due to this, data security is crucial for a reliable mental health app. 
Cost-effectiveness
Although demand for treatments for mental disorders has increased, many people may still find them to be rather expensive. Individual treatment sessions are more costly than mental health apps, which are occasionally free.  
After looking at the market statistics and benefits, it is clear that developing a therapist app like Talkspace can be an excellent investment in 2023.  
If you are also looking forward to healthcare app development, then let's discuss,  
Top

Features

to

Consider While Building

an

App Like

Talkspace

!

 

 
Users have clear objectives for an app, so you need to be clear about your aim. Additionally, there are a few cutting-edge features that the majority of the best therapist apps must offer. 
Let's discuss the features you can take into account while healthcare app development:- 

Track

P

rogress
A progress-tracking functionality should be included in mental health apps. It needs to be apparent to the patient's therapist as well. This tracker will track the patient's attendance at all tasks and sessions. It will then produce a graphical or statistical depiction. The graph will show the patient's progress on a daily, monthly, and annual basis.  
Also Read: 10 Best Fitness Apps for Android to Track Your Workout In 2022
Dashboard
A dashboard is a useful functionality for gathering data. With all information in one location, therapists may better manage cases by developing treatment plans that are more effective and by keeping an eye on patients' health. Patients benefit from better treatment and more attention; as a result, becoming more involved in their therapy.  
Gamification
The addition of a gamification feature in the form of interactive games and awards for reaching milestones could also boost patient involvement. Additionally, reminders sent to patients to remind them to exercise or take their medications at specific times could also be included.    
Self-monitoring
This function is regarded as the mainstay of mental health app development. It enables users to monitor their emotional health-related data, such as stress levels, mood patterns, and other vital indicators. This feature will help you monitor the symptoms and success of treatment if a person is dealing with a mental disorder.  
Emergency
C
ontact
Emergency contact is a must-have feature of mental health apps like Talkspace. For those who suffer from anxiety or other problems, this is ideal. So it's good that they can send an emergency text to their doctor with just a single click. It is also necessary to implement emergency contact numbers so patients can call for assistance.  
Audio and Video Content
In situations where a counseling session or immediate assistance isn't required, it's a smart option to include alternative video and audio resource options. It may feature calming elements, mood-lifting affirmations, learning value, stress-relieving activities, symptom mitigation or aggravation stage prevention, therapy for sleep loss, etc. Additionally, if users or counselors like to rewatch their sessions, they can upload audio and video files. To create a mental health app, this functionality must be included. 
Personalization
The process of creating an app specifically for a given user's needs is known as personalization. Simply put, it improves the convenience and value of the service. The majority of mhealth apps have onboarding questionnaires. Such as the patient's ultimate objective, how they're feeling right now, and how frequently they wish to be engaged. Personalization of the experience is vital in the healthcare industry because it matches patients with the proper professionals with the necessary education and skills. 
Multiple
S
essions
If an app is difficult to use, it is flawed. Due to the fact that each person has a unique mix of complex mental challenges, many mental counselors advise that finding the right session is essential. Therefore, counseling apps should include many sessions, such as meditation, music therapy, chat sessions, etc., to address people's difficulties adequately. The optional elements, such as connect and greets with preferred therapists, will bring a revolutionary solution. 
Security Against Data Breaches
The internet revolution is both a gift and a curse. The benefits of privacy and comfort when using digital gadgets have altered due to several spyware strikes, flaws, and phishing techniques. Patients should exercise greater caution since any privacy compromise could make them more stressed and anxious. So, when creating an app, data protection must be carefully considered. A mobile app development company must take all reasonable precautions to protect the confidential information about the app users and counselors that will be included in the mobile counseling app. The required security can be guaranteed by strict security features like multi-factor identification, dynamic passwords, biometric verification, voice recognition, OTP validation, etc. 
Also Read: How to Make Custom Healthcare Software HIPAA Compliant ?
Live Therapy Sessions
Real-time video conferences have become the standard. Because of this, it's crucial to include chat and video conference functionality when creating a mobile treatment app. Along with improving connections between users and counselors, it can boost app engagement. Patients can join a live session that is being offered by several counselors via the app and interact with them based on their needs. To make the counselling sessions more engaging, you can also include extra abilities like recording videos, screen sharing, file sharing, and so forth. 
Reservation 
Users get assisted by the app in scheduling therapy sessions. The app ideally integrates platform-native calendars, such as iCal or Google Calendar. The option to schedule and monitor the duration of counseling sessions, as well as participant records on the back end, are also implied by this. 
Connect
Patients can choose the most practical method of communication by chatting with therapists via audio and video. Users can engage in a video call with a counselor and can also connect to the counselor via audio. This can benefit both parties when they wish to communicate via video call and receive treatment. We can set up an audio function so both parties can communicate and interact. 
Groups
A lot of people discover that taking part in a group can help them get over their mental health problems. Users can find hope and build beneficial relationships by telling their stories in a secure and private setting. Users can participate in conversations with those suffering from mental diseases using this functionality.  
Webinars
All patients should have access to this webinar feature. After finishing each session or webinar, the participants may also be given certificates. In this sense, individuals can view it as a victory in their fight with their mental disorders.  
Apart from those mentioned above, there are many other functionalities that you can consider adding to your custom therapist app, like Talkspace.  
Connect with Matellio's experts to know more advanced functionalities you can include in your therapist app!  
Moving ahead, let's discuss,  

How to

Develop

a

Counseling App Like

Talkspace

?
The most contemporary methodologies used to power the software in this division must be learned if you're wondering how to develop an app like Talkspace. A typical development approach for a mental health app is shown below. Take a look! 

Define

Your Target Audience 
First thing first, you need to define your target audience before starting healthcare app development. The best therapy applications are built out of problems that necessitate better solutions.  
Every mental health app does not have to be an overnight success. However, your unique app should provide a significant, quantifiable improvement compared to other apps. Ask questions like: 
What will users do with this app?

 

How will it benefit your target audience?

 

What solutions does it provide that other applications don't?

 
Design UI/UX
The user experience must be visually appealing for an app to be adopted. Consider wireframes as detailed sketches that show you exactly how the pages of your application will appear. Building a simple prototype first, then improving it as testing and feedback are undertaken, is frequently the best course of action.  
Your custom therapist app will be enhanced, made more user-friendly, and given a solid foundation for a more successful healthcare app development process through alpha and beta testing of your prototype. 
Choose the Suitable Monetization Model
The most well-known therapy apps like Talkspace, use the following set of techniques for their revenue generation: 
Subscription Model – Top-rated apps like Talkspace have a way of monetization. Users must pay each time they want to renew their subscriptions.

 

Ads – Pay-per-click or pay-per-view are the two options. By displaying users' relevant in-app adverts, you can make money.

 

Freemium Model – While some of the app's functions are free, only paying customers can leverage the benefits of advanced functionalities of the application. 

 
Development Phase
The design stage of the mental health app development process is over, so it's time to start working on the significant part "Development."  
If you don't have a team of mental health app developers, you lack the time, or there are simply too many things that need to be done, there are a number of different ways to develop an app like Talkspace.  
The simplest method is to work with a reputable healthcare app development company. The development company can assist you in turning your ideas into reality because they have skilled mental health app developers, QA testers, and years of industry experience. 
Also Read: How to Develop a Mental Health App? 
Do

Extensive Testing
The workflow for healthcare application development must include quality assurance (QA) testing because it guarantees the application's stability, scalability, and security. It would be best if you created test cases that cover every aspect of evaluating the built application to ensure that your solution has been considered thoroughly.  
By carrying out the testing process, keeping track of fixes, and recording test results, test samples are used to evaluate software quality. It's a good idea to involve the quality management team in the computation and setup process. Knowing your application's functioning principles and objectives can help you create clear test cases.  

Conclusion 
There are still many opportunities for advancement in the mental health app development field. The most vulnerable areas of counseling app development available in app stores are effectiveness and security. 
Want to develop an app like Talkspace? Hire dedicated developers from top mental health app development companies for quality work, flexibility, and superior results, Matellio can assist you with healthcare app development. For more info, get in touch with us. Our experts can give you a project quote right away!  
Get the Conversation Started!
Get the Conversation Started!
[contact-form-7 id="34486" title="Side Form"]