How to hire a mobile app development company to build an app?
Updated on Apr 23rd, 2021
Businesspeople are impatient streaks, and this lack of patience keeps their brain working most of the times, relentlessly. Typically why we have so many amazing innovations in our lives.
We no more have to wait for the food or even cook it. By the time we're home, it's already there from our favorite restaurant waiting to land on our tables. Courtesy: Food delivery apps.
In another example, we no more walk long distance even when ailing, we now launch the apps on our smartphones, and expert help is just a click away. Courtesy: On-demand doctor apps.
While these are merely two examples, life is full many. Our living now revolves around these groundbreaking ideas, and we just can't miss loving them.
If your brain is a repository of such ideas or even has one, you definitely need an expert friend to help you out. We call this friend, a mobile app development company.
You hit search on Google, and it'll throw an extensive range of options to choose from. And while making a choice, you can consider the following points to make sure your idea gets a partner that does justice to it.
#1. Explore their portfolio to know their experience
The first step to hiring a mobile app development company is to explore its portfolio. After all, you deserve to know their capabilities and potential. Find out the projects they have worked on, type of clients they have worked with, the services they have provided, etc. Make sure you try using at least 2-3 apps they have built in the past to know better about the quality delivered by them. And this should not miss out the vertical your app falls in. Ensure to check if they have experience of developing apps in your niche. That will enable them to help you better and of course, make sure that it doesn't become a punishment for you.
#2. Go through the reviews and ratings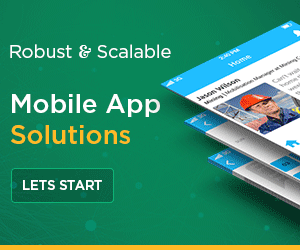 Well, the experience they delivered to the clients in the past, or the current ones will also determine how they interact with you. Isn't it? Moreover, a great mobile app development company has no reason to let you not know its value. Thus, make sure to go through the reviews and ratings the company garnered in the past few years. Try approaching one of two of their clients to know how was their experience working with the mobile app development company.
#3. Focus on quality rather than the price plans
Quality of mobile apps doesn't just speak for the services of the mobile app development company but also decides how your business will appear to your buyers in the future. So, rather than fixing a pricing matrix, go for setting the quality standard. In the ever-growing mobile app development arena, you might be bombarded with wildly different pricing structures. And in such situations, it is pretty easy to get carried away with the lowest price.
However, finding the one that offers a low price is not always wonderful. Definitely not when you could have got phenomenal quality, had you paid a little extra. After all, being profitable in the long run is smarter.
#4. Explore the platform options on offer
The platform of your mobile apps is a determinant of its success. But here, we are not just talking about the choice of platforms, but the mobile app development that is capable of addressing the platforms with a precision that they need. Depending upon the business and demographics of the target audience, you may be planning iOS app development or the android app development. You can also go for targetting all the platforms simultaneously by opting for cross-platform app development. Make sure the mobile app development company that you choose adds value to it.
#5. User experience is of the prime importance
An app is of course built for the users, and if they don't offer a great user experience, they turn off the users. And we need not say it affects your RoI. You can build a superb app with the most innovative concept and exceptional functionality, but if it fails to deliver value to users, it's of no use.
So while you hire a mobile app development company, make sure it pays attention to the user experience and aesthetics of the mobile apps they deliver.
#6. Build a business relationship than merely a Client-Vendor relationship
Any service that you book or a mobile app development company you hire should be done keeping long term goals in mind. Find someone who gets the value of building a long-term strategic partnership by working alongside you while understanding the organizational goals. That will not only make sure that your experience turns out sooth, but also make sure that you have them a call away when you need them for your future requirements. Moreover, you can expect some lucrative business your way soon.
Matellio LLC is an IT studio delivering cutting-edge digital solutions to clients worldwide. With our versatile technical acumen, we have built over 600 successful projects over the past twenty years. We take pride in blending our tech expertise and business intelligence to foster excellent result-oriented software engineering services for the clientele based in more than 100 nations. At Matellio, we relentlessly work hard to enable the customer relationships that deliver values beyond just the contract.
Get the Conversation Started!
Get the Conversation Started!
[contact-form-7 id="34486" title="Side Form"]