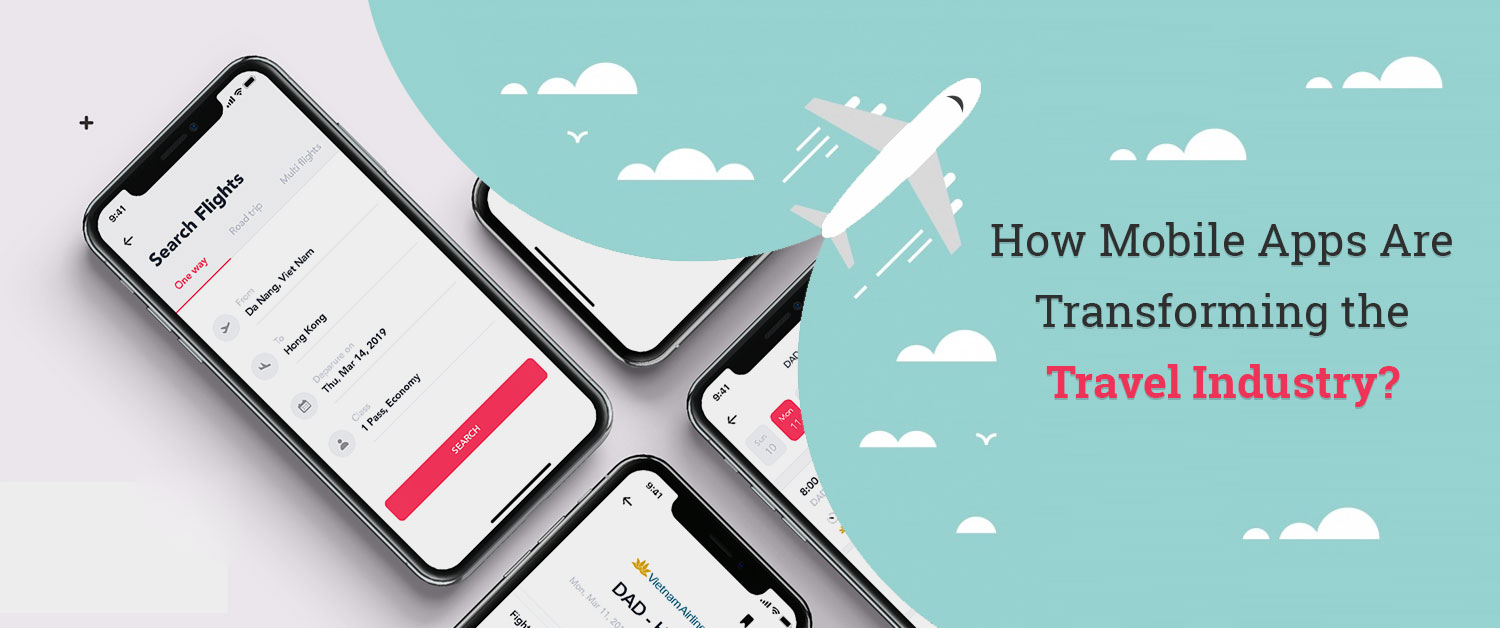 The active participation of people has demanded more online platforms where they can easily choose options or variants. They seem to enjoy the digital journey and find comfort in it through all means. Major such revolutionizing changes are seen in the travel industry in the last few years. At present, the travel app development is at its peak and considered the best means to organize the trip. Nowadays, travelers or visitors do not prefer consulting the agents rather than they manually want to make bookings on their own. It also gives the freedom to plan every minute of your trip according to your preferences through an online travel guide. In no time with the help of your fingertips, you can easily schedule the journey and make the necessary arrangements online.
 You can say at present that the travel and tourism industry is depending a lot on mobile applications. The mobile applications for the travel industry have totally replaced third-party involvement. According to your generalized requirements, you can prepare for the applications for booking your trip. Let's dig more into the beneficial aspects of this application in the travel industry.
Easily attracts the customers and visitors
 Mobile app development services in the travel industry have contributed a lot to attract potential customers. There are a number of apps like Expedia, MakeMyTrip, Yatra.com and many more where you can easily carry the online show for your bookings.
Accessibility towards photos and videos of destination
 Isn't this is the best service provided through mobile applications? All of us would love to have a preview of the destination they are planning. Going through these details will also enable one to plan more specifically. The visibility factor in photos and videos is certainly the best thing.
Reservation of provisions and checking
 As soon as you have decided 'where to go' you can then proceed with the itineraries checking for the trip. The further arrangements with flights, hotel booking and arrangements can be done easily. With the help of the application, you can also book local cabs or meals over your destination. The significant thing is you don't have to worry about the budget as you can easily check them suitable to your range.
Total customization
With the help of travel app development, the whole concept of trips and tours have been simplified. Unlike earlier, you don't have to be dependent over agents or specific persons all across the process for their services. Mobile applications have included all the necessary service providers that you might meet and hence you can book them.
No hectic paperwork
With the help of a digital platform, you don't have to go through large paper works. As your booking is online, payment transactions are online, receipt and the rest of the things are also done online thus, you don't need to carry a bunch of papers with you everywhere. Just make a folder in your phone with the soft copies of necessary documents and take it and you are done.
Mobile applications are proficient marketing tools
With the help of mobile applications, it is very easy for marketing platforms to demonstrate their services and allure visitors. With the help of social media, it is easy to reach the maximum population and this can be powerful in the travel industry.
Fulfill the client's requirements
Most of the platforms are enticing customers by providing them profitable offers and discounts. This generates transparency and gathers the loyal client base which ensures more and more visitors every time. The representatives also get a chance to create an authentic client base with major ratings.
You will be amazed to know that 150 million tourists or travelers use mobile applications in order to plan their trip. On a single click, you can book a number of amusements for your trip. The major spark of all this is you can pay online and the method is also simple and secure. In the end who likes to stand in queues waiting for their chance on their vacation or trip? Following just the benefits is not enough as we are discussing the mobile application's contribution to the travel industry. It is now very important to learn a few of the facts considering the travel applications- 
     

Around 80% of the population prefers online applications for travel and tourism.

     

For the combo offers with flights and bookings, around 30% of travelers prefer online applications.

     

For planning the upcoming tour, around 15% user uses the online applications.

     

For the category of most downloaded apps- travel app development ranks 7th.

     

Before starting the trip around 15% travelers download the mobile apps.

     

Large numbers of application developers are hired in

the

travel and tourism industry.
Learn the various services
 You might be shocked to see the facts but they are certain anyway. In case you are curious to know why mobile applications in the tourism industry are given such importance. It is understood that with online platform you can easily book you are tickets, hotel rooms, meals and a lot more but a smart traveler will not satisfy here. There are a number of other services required by travelers when they are on a trip or at a destination. Following are the figures to learn the purpose of this application- 
     

For GPS navigation- 48.1%

     

In order to search nearby resorts or restaurants- 62.1 %

     

For hotel booking- 46%

     

For purchasing the tickets- 8.1%

     

For using the road maps to locate spots- 50 %

     

For utilizing the offers- 34. %

     

For setting constitutive reminders- 24 %

     

For shopping- 37 %

     

For knowing the weather updates- 56%

     

To learn the public transport and routes- 13%
Final thoughts about the mobile application's role in the travel industry
 The travel and tourism industry today is in absolute need of more and more applications that can add comfort while booking. Earlier travelers used to carry maps, compass, guide books, and language translators during their journey but they all have been successfully replaced by mobile applications. Mobile app development services have boosted a large number of travelers to opt for the services. Radiating idea need a persistent push and that can only be achieved with a competent mobile app development company. Matellio is known by its loyal customers for its creative edge given by experienced developers and the portfolio speaks story itself.