How to build a Parking Assistance App?
Updated on Jul 20th, 2021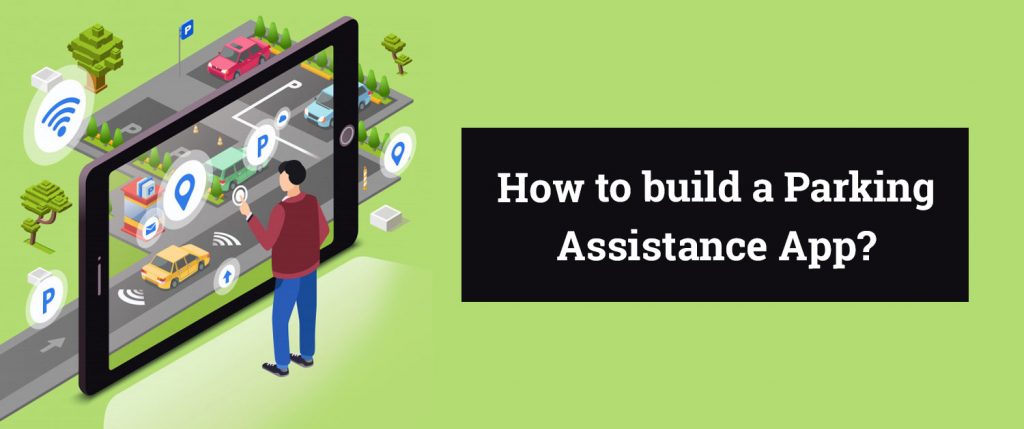 Life in tier-1 cities has its own pros and cons.They are full of world class buildings, amenities and infrastructure but there is a second side of this coin too. Business, unavailability, mental fatigueness are some of the unavoidable circumstances that one has to face. Parking problems are no exception. Hassles of locating a proper spot for parking has become a headache for everyone. Sometimes, one is made to park in the spots they are totally unfamiliar with. As per a popular saying, "necessity is the mother of invention", parking assistance solutions come into play. 
What Is A Parking Assistance App?
Parking assistance app aids in locating a vacant spot beforehand. The users of this application can reserve space in advance and avail discounts. This kind of software keeps the traffic problem in control and also an online booking platform costs a lot cheaper than the "first come first reserve" method. Pre-booking clears the whole picture ahead in time and prevents last minute chaos. The global market for parking applications is expected to grow to some 43 billion U.S. dollars by 2025. So have you ever thought of stepping up into this domain of software application, if so,then hold on. Before proceeding any further, skim through the topmost players in the market. 
Image Source
ParkingPanda allow the drivers to find and reserve a spot online, in advance. Apart from equipping drivers with a mobile app, ParkingPanda also help the garage owners to manage their inventories. This software stands out for its partnership with Sports leagues, stadiums and popular attractions which facilitate easy parking in nearby areas. 

Image Source
ParkWhiz facilitate drivers to locate and purchase parking on a daily, monthly basis through the mobile solution. It allows the comparison of prices, locations and amenities. After a driver located the spot and processes the payment, they are presented with electronic parking pass that can be printed or shown on a mobile device.

Image Source
It is an online parking service that connects drivers looking for spots within parking spaces, garages and valet services. It lets you book and for your space via phone, but it also promotes its exclusive deals and discounts on the parking spots. 
Image Source
BestParking claims to have 850,000 monthly users, and originally focused on helping drivers find parking at 105 North American airports. Today, this app is one of the major sites for parking garages in 110 cities across the country.

This software has a lot of potential. It shows you unoccupied spots by using live information from sensors. One can keep a track of the location drivers have parked their car. It helps you find paid spots and navigate local parking rules by designation. Parker has a handy timer for avoiding tickets and garage payments.
6. Spacer
Spacer is yet another extremely useful local parking app that offers monthly parking facility by connecting you with unused spaces. Whether you need to park your vehicle right before your office, or near the vacation spot, this app has got you covered. With features like advanced search, ticketless parking, online payments, and more, Spacer offers a lot more convenience to the users. In fact, if you have any unused space, you can rent it on Spacer as a parking lot to earn extra money!

Image Source
Functionality Of Parking Assistance App
| | |
| --- | --- |
| Admin Panel | User Panel |
| Dashboard | Register |
| Manage Bookings | Locate Vacant Spot |
| Digitised Payments | In & Out Timings |
| Discounts & Coupons | Schedule Booking |
| Add New Locations | Heat Map View |
| Alerts & Notifications | Make Payments |
Features Of Parking Assistance App That Are Hard To Overlook!
1. Resolves Multi Space Parking- The app users will be notified if in case they have double-parked their car. Notifications for their actions will be sent on their mobile device ensuring better space management.
2. Heat MapView- A lot of times, parking spots are tightly packed owing to occasions, events or busy hours. Under such circumstances, finding a suitable space for car parking is quite hectic. A parking assistance app will give a real-time view to users and generate alerts in case of Heat MapView.
3. Notepad For Forgetfulness- Some of the parking applications come with notepads. These pads allows the driver to jot down the exact location of the spot where a car has been parked.
4. Capture the Spot-  Many times, an address for parking spot is not sufficient for locating the vehicle. Some of the parking assistance applications allows the user to capture their spot's picture. This facilitates the traditional searching method.
Design And Develop The Parking Assitance App With Matellio
Matellio has a lot many expert minds filled with innovative ideas. Our developers are highly efficient in offering a scalable, robust and creative solutions. Matellio with its two-decade long experience is guided by agile methodology. Hence, to step up the corporate ladder and giving your business a new edge, contact Matellio and unleash new opportunities. 
Get the Conversation Started!
Get the Conversation Started!
[contact-form-7 id="34486" title="Side Form"]