How to Build up a Voice Chat App like Clubhouse?
Updated on Aug 5th, 2021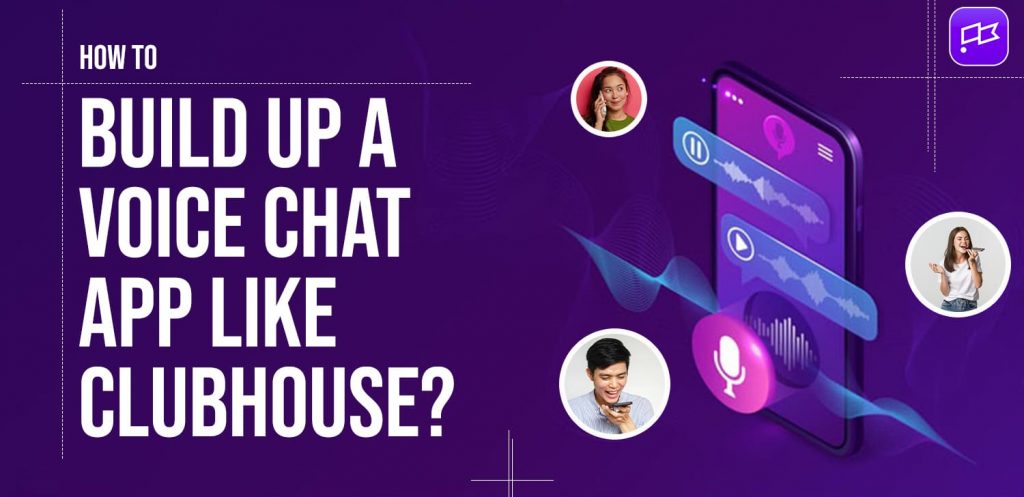 The Internet has become a vast platform with billions of users across the world. As per a Google survey, 94.3% of the internet users uses the mobile device to access this technology. Stats like these are the reason for mobile application's success. Every person uses their smartphones to connect with their family, friends, colleagues, pen-pals, etc. And an app like Clubhouse helps them in doing so.
With billions of users, these voice chat apps have gained massive popularity in the last few years. Their user base is substantial, and revenues are flying off the charts. Every entrepreneur is dreaming of developing a voice chat app like Clubhouse.
The Clubhouse is not like any other audio chat app. It differs in various ways with popular platforms like Facebook, Twitter, Instagram, etc. These popular apps have implemented a generic method of communication that has been being followed sing the last decades, where you post something on your friend's wall, message them, and tag them in photos or videos. Now, users want from a social media application.
An app like Clubhouse has delivered the unique platform the users were craving for. It is an audio-based social networking app launched in the year 2020. It helps you connect to other users via audio chats. Yes, during the pandemic! It helped numerous people to make the most of their quarantine period. People needed to talk with their loved ones, but added features doubles the fun.
However, the way Clubhouse got its success overnight was sensational. It has an "invite-only" feature and is only available on the iOS platform or App Store of Apple Inc. The company have declared recently that they are planning to launch it on the Android platform soon.
Launching the much-needed voice chat app at much needed time has raised the number of downloads of Clubhouse to more than 9.2 million. This app consists of three primary and famous concepts such as voice calls, podcasts, and Twitter.
Many renowned celebrities like singer Drake, Tesla Motors CEO: Elon Musk, singer Demi Lovato, Oprah Winfrey, Facebook CEO: Mark Zuckerberg, and various others, have joined the platform since May 2020. These numbers and names suggest that your idea of a voice chat app like Clubhouse can make it big too in the market. Let's understand the process to deliver such apps.
Clubhouse: Introduction & Reason Behind Its Popularity
 Image Source
The Clubhouse is an audio social network, and users can communicate with each other in real-time in themed spaces known as "rooms". If you look behind the popularity of this app, you will find that it is an amalgam of Zoom, podcasts, audio streaming, and radio. The name of the app signifies the atmosphere of this app; you will find yourself answering specific questions about your interest. You can join in the party and connect with people with similar interests only if you have the invite from the speakers of the rooms. Also, you can create your own rooms in Clubhouse and invite people to join your rooms and have fun.
The concept of this app is not unique, but it has focused on a single feature and made advancements as per the current trends and offered extraordinary features. For instance, before Instagram, users posted their photos on Facebook, but Instagram focused on only one niche and became successful. This app targeted the basic need of the users and made the most out of them.
Various reasons and added features contribute to its popularity and make this voice chat app different from other social network platforms.
This app is only audio-based. As the data indicated that most users are inclining towards voice technologies and voice messaging, the cashing thing feature has worked in Favour of Clubhouse. As the world moves towards new technologies, some people will still choose audio conversation over video conversation any time of the day. Audio conversations have been proven to be the best ways to socialize for the people of this category.
Everything on this app happens in real-time. This was launched during the pandemic when people were eagerly searching for like-minded people to talk to and were willing to give a chance to any other pre-existing social media platforms.
It has conquered the social barrier as extroverts and introverts both can use this app to the fullest. You don't have to show your face, and you don't have to reveal your original self to the people on this app. Just sign up, participate in conversations or set up your rooms. If you don't wish to speak, it's totally cool; you can just listen to a 'room' conversation and leave without being noticed. All the communications that happen over this app are totally natural and spontaneous.
This app has benefitted most from the presence of various renowned celebrities on the platform. You can talk to celebrities live if you have an invite, and unlike interviews and podcasts, you can actually talk to them in real-time. The Clubhouse was on the rise because of its unique concept, but it went widely famous after onboarding of the celebrities like Oprah Winfrey, Elon Musk, and many others.
When you add the word 'private' to any place or thing, the value of that thing or place increases socially. This app benefits from this social dilemma as all the rooms are private, and the only option to join is through an invite.
Features to be Included in the Development of a Voice chat app like Clubhouse
As this app is only audio-based, there is a lot of scopes to research about the unique features that your app, like Clubhouse, should possess. You always have the option to build and test an MVP or a prototype to get honest feedback. However, several features remain the same as the working of an audio social networking app.
1. News Feed
This feature is similar to the news feed section of Facebook, but instead of showing the posts from other users, it displays the list of all the virtual classrooms that are operating at the time.
2. User Registration and Profile
This is a generic feature of any app and a mandatory one. There are plenty to choose from; however, if you want your voice chat app to function like Clubhouse, your user would have to enter their name, contact information, and picture. There should be an option where the user can provide a short description of him/her. And just like that, your user is onboard. However, you can always try a different approach.
3. Virtual Rooms
Your app should have a section covering a particular topic to discuss. The user has to press the start button to join a can select any of the virtual rooms from the list and join it by pressing the Start button. Please make sure that users can find the information about every moderator, speaker, and audience members in that particular conversation or 'Room'.
4. Clubhouse Hallway
This feature can be a life-saver for your voice chat app like Clubhouse. After registration, the users can enter the clubhouse hallway and have a preview of the running chat rooms. The function of this feature is to allow users to invite their family and friends or other acquaintances. This feature also allows the users to search for any speaker or a topic.
5. Clubs
Clubs in a voice chat app like Clubhouse are similar to the groups in WhatsApp or Facebook with slight changes. A user can gather an audience with this feature by creating communities and host various clubhouse meetings. The responsibilities of the founder of a club are to describe the club to the member invite members and moderate the settings of the club as required. The founder of any club can assign an admin whose responsibility is to decide who can join the club. The followers of a room cannot enjoy the perks associated with these clubs unless invited.
6. Invitation
The main feature of an app like Clubhouse is the invitation. The users can invite family and friends to a room on the app. To access this feature, users have to sync their address book with the app. After the address book is synchronized with the app, the user can send out invitations.
7. Push notification
This the most generic feature in any app like Clubhouse. This feature sends notifications to the users each time someone sends in a request, a room is updated in their club, or any new follower is available. You can program this feature to notify the users that haven't used the app in a while.
8. Activity
The activity feature consists of a section that displays a list of interactions and activities carried out by the user in the application during a specific period of time. You can try to customize this feature and divide the list of interaction into different categories.
9. Upcoming Events
You can update your user of an app like Clubhouse with this feature and display the upcoming discussions and the name of the topic, speaker, and date and time.
10. Moderation
Being an audio-only platform, there may be verbal abuse in some of the groups or clubs. This feature allows you to control & manage any kind of verbal abuse happening in your app. From a social point of view, moderation is essential for a voice chat app.
11. Elegant Call Quality
The base of your app like Clubhouse is audio interactions; hence, delivering a high-quality call is mandatory. Your app should have an in-app call facility that delivers elegant quality audio call.
Development Of a Voice Chat App Like Clubhouse
The Clubhouse is very young in terms of its launch date, and since it is now in the market, there is less information available on the tech stack used by the developers of this app. However, the tech stacks used in this app development is similar to a streaming app. You have to make sure that your app delivers extraordinary audio streaming quality.
The other thing you have to monitor is privacy. The Clubhouse has openly stated that it does not record any conversations and can only be listened to live at the broadcasting time. As there will be no need to store the audio data, you can take audio storing servers of your task list.
The next level is the estimate to develop your voice chat app. Like any other mobile application development process, the cost of your app will solely depend upon the number and quality of features, the experience of the app development agency, its geographical location, and the design you choose for your app. While developing your project, you have two choices: hiring a freelance developer or going for a highly experienced and highly rated mobile app development company.
The Clubhouse has been launched only on a single platform, i.e., iOS. You can either launch your app on a single platform that will cost less or launch it on multiple platforms that will cost you more. Although if you prefer to build on multiple platforms or just on android and iOS, consider itself a long-term investment. With good marketing strategies, you can make the most of it.
Testing your app before launching should be the top priority. Test it in terms of platforms and any defects in the apps such as lags, bugs, etc. If you consider the case of Clubhouse, you will notice that they are still testing theirs on only one platform.
Human resources needed for your project would consist of 1-2 iOS developers (if developing on a single platform), one backend developer, 1 UI/UX designer, 1 QA engineer, and one project manager to supervise the development process.
The overall cost of the development process of your app like Clubhouse, will depend upon the complexity, the amount of time invested in building an audio-only social network app and the type of development partner you choose.

Wrapping Up
The idea of developing a voice chat app has been floating in numerous minds until an app like Clubhouse emerged. There is enough room for another similar project in the market as there are certain debatable features that Clubhouse is unable to deliver. The audience in these times loves to interact without being socially intimidated by anyone. Audio-only social apps are a perfect place for people of this category. Apart from other things, you can get in touch with several prominent people of various industries on these apps.
As long as you got the right idea and a result-oriented approach towards your target audience and solely focus on their need, your project can make it big. Your app should be helpful, functional, and unique that make your project stand out from others.
Matellio can help you in developing an audio-only social networking app with our vast professional experience in mobile app development. Our expert engineers have designed and developed numerous user-engaging app like Clubhouse. Call us!
Disclaimer: Please note that the content of this blog including links, texts, images, and graphics is only meant for informational purposes. We do not intend to infringe any copyright policy or do not possess any third-party material. If you have issues related to any of our content or images, kindly drop your message at 

info@matellio.com

 
Get the Conversation Started!
Get the Conversation Started!
[contact-form-7 id="34486" title="Side Form"]