How to Create an App Like OYO Rooms?
Updated on May 29th, 2021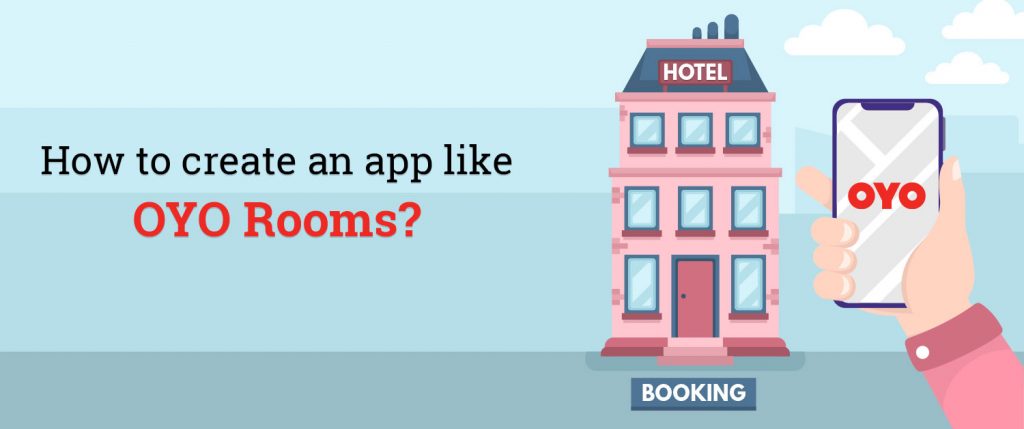 In today's technologically advanced age, online apps and platforms are guiding humans for everything and hotel booking is no different. Online hotel booking app development platforms like OYO rooms has become popular rapidly and people are willing to invest in this trend. Hotel booking apps including OYO rooms came into existence in order to solve the problem of predictable and affordable stays. It took a great deal of effort to find a good hotel at affordable prices and they want to make it easier for the consumers. If you are a frequent flyer or want to plan a vacation, OYO rooms, one of the best mobility software solutions can help you like more than anything to have a pleasant stay. The investors do look for the evergreen market, for putting their investment where the hotel industry lies at the top in terms of ROI. Putting forward the technological interference in the traditional style of businesses, now user prefers to book stays online. Therefore, it has become necessary for business owners to get an app built like OYO Rooms.  
What are OYO rooms?
OYO Rooms is the biggest platform-based budget hotel network currently functioning in India. It is a premier hotel booking app and has become the most widely used for hotel booking apps. It is the default destination for a large number of people especially for the younger generation and business associates. It has become the bridge between hotels and guests in finding a suitable hotel room to stay. Right now, the OYO application is working pretty well in the budget area of the hotel business and because of the plenty of advantages it is serving for various organizations, there is an increasing trend of the development of OYO-like apps.
Power-packed features of OYO rooms
OYO rooms are the biggest chain network which is managed by a top mobile application

Simple registration and login to access the application

Users can easily search the hotels based on locality, city or landmarks

Check the room availability and can have a comparison with the facilities and prices of all rooms within the hotel and with other hotels also

Technology-driven services like updates, notifications, and reminders

Easy modification in booking and canceling services

GPS functionality to know more about the shopping places and restaurants in the specific city
Why develop an app like OYO rooms?
Today, with the help of online hotel booking app development like OYO or Zolostays, one can find a sharing apartment or private room without much stress, that too with the comforts of a low budget. This has become the major reason why Android and iOS apps like OYO rooms become more popular and quickly earned reputation. OYO-like apps made a huge demand for software businesses as it becomes the preferred option for travelers and tourists and because of this, OYO is picking up a tremendous footing in the market.
If you want to create a hotel booking app like OYO, you must remember that the project needs a huge team of professionals and investments to accomplish the goal of competing in the giant travel and tourism industry. The prominent things you need to consider in the app developing are- 
The concept regarding the app

Ideas as well as unique thoughts

Clear understanding about the rivals or competitors

Competitive benefits you have to focus on

Business and marketing strategies that should apply
Expectations from OYO-like hotel booking app development
Easy registration and Login access
If you want to retain the customers, registration and login options are the significant features to have. The features can also help in contacting the user through emails and notifications concerning any personalized offers or grudges. This kind of customer business interactions holds back the engagement with the company which will be resulted in more inclination to return in case if they need your services. 
Search feature by landmark or location
The potential customers want to search for a specific hotel according to their own wishes and this demands a search feature to be included in your online hotel booking app development project. Furthermore, the search bar must have various filters too so that the customers are able to narrow down the potential hotels based on their wishes and preferences. These filters can be location, budget filter, locality or city based which will make the app more user-friendly. 
If your hotel booking app like Expedia has such a feature via the users can compare it with other hotels, then your app will get registered in their good books. If the users can compare the hotels based on various parameters like facilities, prices, transportation and so many on their choices, it will help them to get a better deal and also check it out again when they need it in the future.
Booking and cancellation services
The evident feature on which the hotel booking mobile app industry revolves is the booking services. However, it is a fact that many often overlooked this step. It is really important to have convenient booking services for your app. The app should also provide easy modification in canceling services as well. The comfort a user can receive in the booking or cancellation services will make him come back to the app on the second time. 
The payment portal can act as a big bonus for your app like Expedia. It not only provides smooth online transactions but also can save the hotels from customers who might chaffer. Also, your payment entrance should be secure and should follow the current market standards. With OYO, the users can have their own wallet services. 
A hotel booking app is a service provider which helps you in the process of finding a suitable hotel for staying and booking it at pocket-friendly prices. Nevertheless, it may happen that the customers leave with a bad taste which may not good for your business. Customer service functionality can help you in this to satisfy a dissatisfied customer. 
Cost to make an OYO like app
It is impossible to give an exact estimate of the exact cost required for the development of an app like OYO rooms. However, it is dependent on certain factors especially on the application features including- 
App platform

Mobile wallet

Size of the app

App design

The developer of the app

Its basic features
The most important is the number of hours required for the whole hotel booking app development process of the app and the iteration you will be taken for reaching the final product. Considering all these factors, you can create a hotel booking app that can offer high-quality user experience and thus, making the process of hotel booking seamless and hassle-free. Matellio is a credible mobile development company, which can offer you a perfectly working and feature-rich app. A reliable partner can let you leverage the potential of a powerful platform.
Disclaimer: Please note that the content of this blog including links, texts, images, and graphics is only meant for informational purposes. We do not intend to infringe any copyright policy or do not possess any third-party material. If you have issues related to any of our content or images, kindly drop your message at 

info@matellio.com

 
Get the Conversation Started!
Get the Conversation Started!
[contact-form-7 id="34486" title="Side Form"]