COVID has turned our work lives completely around with lockdowns happening in almost all parts of the world. But it has opened up companies to be more and more accepting of the remote work. The companies are significantly paying more, considering they have to pay for complying with safety norms and office rent even though no one works at the office, but if work is done then it's ok with them too.
This all could have been avoided as a business if they first prioritized and accepted remote work. With ongoing backlash over remote, we have decided to write on how to deal with Agile and Scrum in a remote environment. While the question would seem debilitating to most people at first glance, we will list simple practices you can adopt to make sure Scrum Masters can maintain the agility while working remotely.
Let us begin with things to keep in mind to ensure the remote work goes smoothly in the agile environment.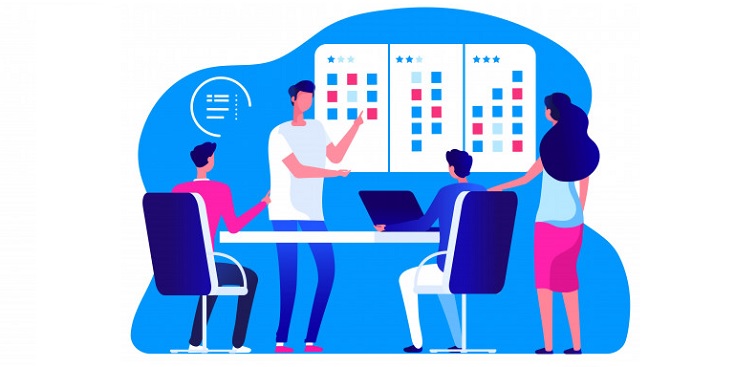 1. Focus on sessions to make people adjust to remote work.
As Scrum Masters, the responsibilities of making the team comfortable about working remotely falls on their shoulders. Working remotely for longer durations, if not done right, would seriously affect the productivity and the overall project. The simple solution to this is ensuring you brief the team about the best practice of remote work in small sessions before commencement of the project.
While the sessions should be comforting and not forceful, their primary purpose is to get the team member comfortable with the Scrum Master, and the overall team. The work will be very much the same, only the working environment is going to change, which can affect people based on how they see it. The manager's job is to make sure they can make connections with the team, so the virtual team can be sought out as real as possible.
2. Rethink working agreements
Both working agreements and responsibilities tend to change when the employee shifts from the office to working remotely. Managers often confuse why the policy should change and try to force one for all policies in remote cases. One can consider the example of working time policy, it is tougher to monitor employees working remotely, so all managers can depend on is the time they take to complete the tasks.
Scrum Masters should also clearly put in their considerations in the working policy, assuming they would want the team to have daily video meets when its time for standup meets. Clearly state things like maximum tolerable delay when pinged, to keep things clear between the team and all the members. Team working with Scrum is highly used to work-related turbulence, but even they won't like surprises when it comes to working on preset middlegorunds.
3. Communication and dependencies
In an Agile environment, many dependencies are on the communication part, but it doesn't take a lot of time compared to the actual development part. While the communication part doesn't take up a lot of time, it is one of the most essential processes in the agile development methodology, it is vital to communicate effectively.
Now when working remotely, the obstacles for this particular part are many, and so we must plan accordingly. Setting meeting times windows every hour could be one way, setting a specific operator for fixing a meeting is another, and there could be many more ways. Since communication directly affects dependents, it is well worth to keep delays in the equation when handling a remote Agile team.
4. Rethink Scrum ceremonies
One of the most essential parts of agile and scrum in a remote environment is Scrum ceremonies. What keeps the agility flowing is the Scrum ceremonies, so to take any advantage of agile development methodology, the first step is to get the ceremonies right.
Sprint Planning
Sprint planning should be done when all team members are present, it should be scheduled with this in mind. Try to set both outcomes and the meeting agenda well in advance and try to fix the meeting schedule at least 1 day before the actual meeting.
Sprint Review
Sprint review needs to be done at the convenience of the product owner and the stakeholders. The scrum master will be the intermediate between the two parties and must plan the meeting at a time which suits everyone. Video conferencing should be a must for sprint reviews, if that's not possible, screen sharing should be in place and the product tested well before showcasing.
Daily Standup
One of the biggest challenges when the team works remotely, is the difference in time zones. Daily standups are a very important part of the agile methodology and should be considered the highest priority while planning. Take into consideration the timezones of all employees to make sure the meeting works well.
5. Try to be considerate without being lax.
Before entering the remote work phase, all Scrum Masters must learn to realize that the team members might be under immediate obligations from those around them. While the points above revolve around this point, it is imperative to highlight it explicitly. Most team leaders believe that if the person works remotely, they should summon at a once, but being considerate that the person might be busy in a task would be better.
There are different ways for different people working; most people like to finish the task on hand if it's a complicated one. If someone from the team isn't available to an unplanned meeting, it should be completely acceptable. Daily standups, too, should be fixed at a convenient time for the whole team, without exceptions.

Conclusion 
These were some of the most important practices to follow when dealing with Scrum and Agile in a remote environment. At Matellio, we follow all the steps mentioned above to ensure that our developers can work most productivity, even when working remotely. Our Scrum Masters are equipped with every tool they need to manage their teams, to ensure a smooth flow in the agile environment.
If you have a project you want to discuss, you can reach us here. We would be happy to work with you.