How to Develop a Fantasy Tennis App?
Updated on May 4th, 2021
As per the latest numbers, tennis is the world's third common sport, only superseded internationally by basketball and football. By many tennis enthusiasts globally, the fantasy tennis app has grown in popularity. The fantasy tennis app gave enthusiasts a chance to showcase their skills and ability by playing in the app's fantasy esports competitions. Thanks to the high positive outcome, many companies and businesses began the fantasy app arena journey after making money.
In a competitive world, the market for fantasy sports is multiplying. The fantasy sports app business is going to surpass all market records and stats. Over 65% of male users in the US play fantasy sports. You won't believe that tennis is not a national sport of any nation; however, it's still a widely played sport in the world.
These days' entrepreneurs and business owners invest in fantasy apps to make a good amount of money out of the bucket. Let's move forward and discuss the fantasy tennis app, revenue model, features, tech stack, and much more in detail.
So let's go.
What is a Fantasy Tennis App?
The fantasy tennis tournament is a competitive fantasy game whereby participants can pick players to compete with many other participants based on their success and draught a fantasy team. The winner is selected and awarded with fantasy points centered on examining the historical and contemporary results of participants.
Fantasy tennis tournament is mostly played on three variations:
Daily fantasy tennis –

These competitions are done routinely and are most favored by participants for their higher possibility of winning.

Round fantasy tennis –

This variation is equivalent to daily fantasy tennis, but it can take up to 2-3 days.

Season-long fantasy tennis –

This fantasy tennis tournament is organized seasonally in this manner; several cycles of games are held to determine the winner.
Tournaments covered in our Fantasy Tennis App
Australian Open.

Mutua Madrid Open.

Roland Garros.

Wimbledon.

The French Open.

US Open.

Rogers Cup.

Davis Cup.
How to make money with the Fantasy Tennis App
There are numerous ways to make money with a fantasy app. As mentioned below, you can generate a significant amount of revenue from your fantasy tennis app in one or many ways.
Monetization models are:
Tournament entry fees

– Collect match entry fees to earn a monthly income from participants who want to play in fantasy tennis tournaments; because of the pull-roaring activities carried out, participants could repeatedly use your application.
In-app purchasing – The income of Fantasy apps has dramatically improved by adding the e-commerce segment into these applications. This integration will allow app users to purchase their favorite merch and all the other things they want.
Promotions – fantasy tennis apps are an incredible tool for brand marketing with a growing user base. Advertise advertisements for a fixed price from third-party companies or businesses.
How is Fantasy Tennis played?
Pick from a selection of regular competitions available on the app. Users can select either a premium or a free tournament based on their spending.
To choose the best players for their squad, the user needs to use their tennis skills and experience.
After that, the user needs to log live recordings and updates from your match.
Regarding the existing standard of success on the court, users gain points. The winner evaluation is straightforward. If your team gains more points than your rivals, you win the game.
Let's move forward and discuss the must-have features and functionalities that take your fantasy tennis app far ahead from competitors.
Must-have features in Fantasy Tennis App
The application's success depends entirely on features and functionalities. Believe it or not but features play an important role. Below we've listed some top features which you've to consider in your fantasy tennis app.
Referral Bonus –

A worth picking up feature for an application for fantasy tennis. Let your users be your promoters or marketers. Let them use various media( email, social media, and Whatsapp) to share their accomplishments and milestones or invite their friends and family to join and play on your fantasy app and receive a cash reward or referral bonus.
Social model –

With the fantasy sports changing trends. It's not just about winning money anymore. The future is social, and through this feature, users can chat and connect on your fantasy app to share their successes and strategies.
Leader-board –

This feature will amuse your users with the best-of-the-art leadership board. This feature helps users to see how well they are doing at various stages. You can also enhance and increase complexity by adding filters and portion options in the leader-board so that the user will get detailed stats.
Team selection –

This feature helps users make the most educated choices about their fantasy tennis team and handle them; besides that, this feature also provides detailed information to a user about modes, statistics, and other player's supportive parameters.
Team analysis –

This feature supports administrators in customizing their squads and exchange players on the team analysis monitor based on each player's ranking and efficiency breakdown. These features enable them, based on extensive comprehensive analysis, to choose the beginning line-up.
Multiple tournaments and leagues –

Allow various leagues and games to be created by your fantasy tennis app. users like exclusive(private) leagues, social (public leagues), Head-to-Head competitions, and many other like Facebook & Twitter tournaments; this makes the game more enjoyable. This feature also allows them to create and organize a fantasy tennis tournament on any other social media platform, which increases the app's visibility & awareness and enhances engagement.
Private groups –

The day when users would have to compete against other anonymous users have vanished. This feature will allow users to select their group and play among such a selected team. Allowing a user to make his/her custom group and invite their friends, family, colleagues to play fantasy tennis sport makes perfect sense.

This feature helps them via fantasy app owners via, without any additional effort or ad investment, gain a new user base.
Live betting –

Users can enjoy streaming tennis tournaments and matches and keep track of the live coverage that helps them correctly and smartly position their bet. This feature will give the user experience of betting in the real world.
Player selection alerts –

It can be very tricky to select a fantasy team, and sometimes users or participants would have to have some professional assistance. This feature sends customized reminders to users about the optimal combination and how many men and women players will be chosen.

This feature helps you to earn the trust and loyalty of your application users.
Draft & budget –

Empower users, depending on their interests and choices, pick players within the same pre-specified budget or on draught night; choosing the one that will work for the user would be up to them.
Player info –

Until creating a fantasy tennis team, this feature allows users to complete the complete description of tennis players like player's performance, matches played, matches won, years of experience, and many more. If the user drafts their team using this feature will improve their likelihood of success.
Game schedules and custom emails –

Scheduling feature tag all forthcoming tennis matches and tournaments with their comprehensive details in a calendar to keep the user posted. Whereas, the custom email feature will send custom email reminders to notify users about the forthcoming fantasy matches to be played out.
Location-driven browsing –

The GPS enabled monitoring system can be triggered by users to locate tournaments and matches placed near their areas.
Assistance –

Incorporating the real-time chat feature into the fantasy tennis application enables the administrator to resolve the grievances of users involved in various fantasy tournaments and matches efficiently and effectively.
Leagues updates –

By providing real-time information about ongoing matches or tournaments, this analytical feature will allow users and admin to make faster, better, and quick decisions. This feature also includes the reports of the application's performance, matches played so far, and winner details.
Secure Payment –

Users will pay entrance fees for entering tournaments and matches using the different payment options built in your fantasy app. Also, to ensure safe online payments, the app can be embedded with crypto-currencies payment methods.
Email reminders –

The detailed information of upcoming matches can be shared with the app's users through this feature. This feature can also be used for targeted media campaigns and marketing.
Push notifications –

Through this feature, users are informed of upcoming matches and tournaments, completed matches, and match results. This feature can also be used to notify a user about ongoing offers and discounts to make payments.
Real-time analytics –

By providing real-time insights through an occurring match, the fantasy app's analytical feature will allow users to make faster, better, and quick decisions. In this, the data is stored and continuously updated in real-time. Whereas GPS position tracking and monitoring are essential.
These are essential viewing must-have features in your fantasy tennis apps.
To include the above-mentioned features in your fantasy app, you require a robust tech stack. Below we've listed some leading technologies that help you build a top-notch, part rich fantasy tennis app. So have a look.
Technologies used to build Fantasy Tennis Apps
For Android –

Java, Kotlin, Android SDK, Node JS, ROR, Codeigniter, React, Vue JS.

For IOS –

swift, objective C, Node JS, ROR, Codeigniter, Laravel, fabric IOS.

Database –

MySQL, MongoDB, Redis.

Cloud –

AWS, MS Azure.

Payment gateways –

PayPal, Stripe, Braintree, Mangopay.

Push notifications –

Twilio, Amazon SNS, MAP.

Analytics –

Gleam IO, Google Analytics, Spark.

Another stack –

Sketch, Joomla, Magento, Drupal, Prestashop, Xcode, GeoFence, SASS, ZOHO, express JS, Vanilla JS.
As of now, we discussed features, tech stack, and the potential of the fantasy tennis app. Developing a fantasy tennis app is not a game for one person only; it requires a development team of different departments to make your idea into reality. To build the best in class fantasy tennis app, these fellows are required.
Android/IOS developer.

Front/back-end developer.

UI/UX designer.

QA testers.

Project manager.

Business analyst.
As of now, we've discussed all the aspects of fantasy tennis apps. Let's move forward and discuss the core part of this blog, which is App Development Cost. So let's go.
Our Development Process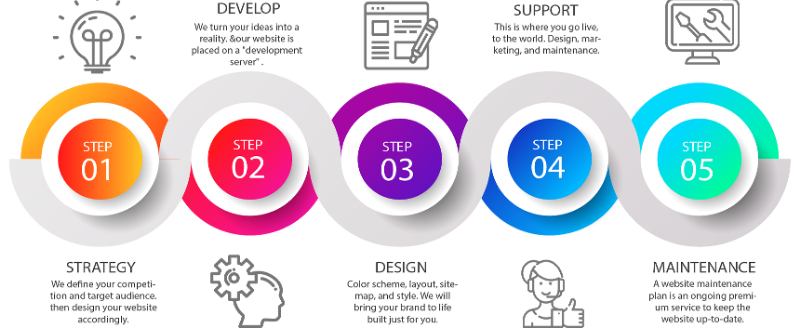 How much does it cost to develop the Fantasy Tennis App?
A fantasy tennis app's development cost majorly depends on various factors like features, platform, geographical regions, and development firm. If the application is developed for IOS, the price will be higher compared to Android. Besides that, if your application contains only basic features, the development cost will be less than an application with a more advanced feature. On a rough basis, the application with basic features will cost you around 10k Dollars to 20K dollars, and the application with high complexity and functionality will cost you 30K dollars to 45K dollars.
Bonus: Partnering with the best development firm like us will give you an advantage because experts know how to build highly competitive apps in lessening time. They are the only ones who know what's happening in the market.
Conclusion
We hope that you have understood all the details and plans required to build the Tennis  Fantasy App. The market demand for fantasy apps is growing rapidly worldwide. The process is not that difficult if you want to launch your venture with fantasy apps. You can also start well enough if you are straightforward with the information mentioned above that you would like in your fantasy tennis app.
Partner with top fantasy app development company like us and become a successful budding businessman by investing in a fantasy sports app.
Experts at Matellio has been operating in the field of fantasy app development for many moons. Their skills and ability helped so many clients to set the best competitive advantage with top-notch fantasy apps.
We will get it finished; no wonder what you are aiming for in the fantasy tennis app. Our fantasy app is designed with a broad range of considerations, even if you hunt for a high-end framework or a simple and elegant fantasy app version that best meets your needs and budget.
To know more about us, visit our website: www.matellio.com
Get the Conversation Started!
Get the Conversation Started!
[contact-form-7 id="34486" title="Side Form"]