How to Develop AI-based Medical Transcription Software Solutions?
Updated on Dec 8th, 2022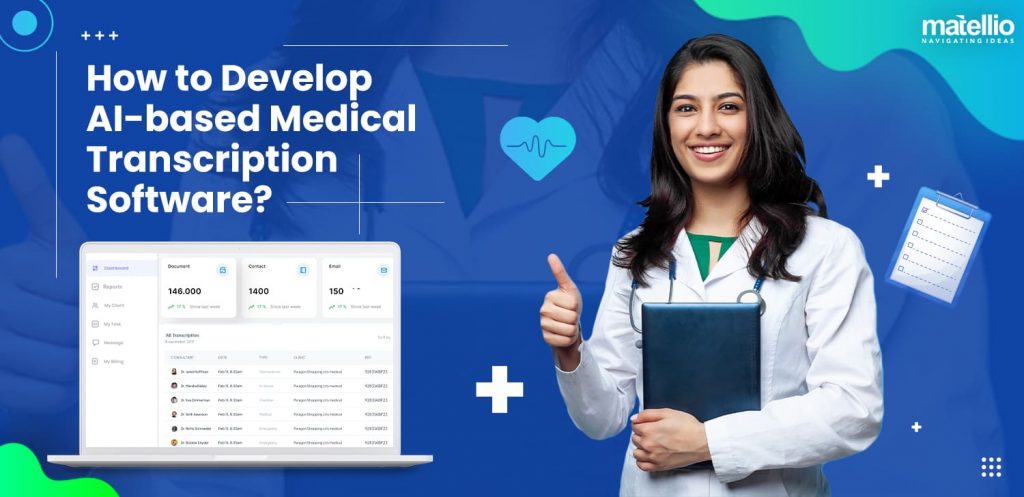 The healthcare sector has experienced steady technological developments over the past few decades. From maintaining rooms upon rooms full of physical, paper-based medical documentation and patient records to storing data in digital format, the healthcare industry has come a long way.  
Today, thanks to next-gen healthcare software development services, hospitals and clinics can employ cutting-edge technologies to provide better healthcare services to their patients and become more efficient and streamlined as a business.   
Artificial Intelligence is perhaps the most in-demand next-gen technology in the healthcare sector nowadays. AI solutions in healthcare are a huge market these days, and for good reasons. From helping hospitals and clinics improve disease detection and treatment to eliminating extra workload on the management side by automating repetitive tasks, AI-powered healthcare solutions are a boon for the entire industry.  
AI-based medical transcription software is one such breed of AI-based solutions that has been gaining much traction these days.  
Nowadays, most doctors are using these software solutions to decrease their transcription-oriented workload and dedicate more time to treating patients. And in this blog post, we will discuss what AI-based medical transcription software solutions are, what are these key benefits, and how you can build one for your business.  
To develop a solution like this, it is prudent to hire a healthcare software development company like Matellio that has years of experience building AI-based medical software soltuions for businesses of various sizes.

 

Medical transcription is process of building compliant medical documentation from a physician's session notes.

 

AI-based medical transcription software solutions take the load off the physician's shoulders by automating the transcription process.

 

AI-based medical transcription software solutions provide real-time documentation, heightened physician productivity, and improved patient experience.

     

 
So, without wasting any more time, let's jump in!  
What is an AI-based Medical Transcription Software Solution?
Before we move on to understanding what AI-based medical transcription software solutions are, it is paramount to understand the medical transcription process.   
According to research, doctors spend at least half their day creating comprehensive medical documentation about their patient sessions. All the notes taken during a session are documented properly as patient medical records. Most medical records exist as Electronic Health Records, meaning doctors have to manually type their notes into the system to save them as digital records.   
Therefore, it is understandable that most doctors see this process as a complete waste of time and their talent since the time it takes them to type up comprehensive notes of a single patient session, they could've helped three more patients.   
To help doctors combat this problem, medical transcription services came to be. Simply put, medical transcription is the process by which a third party converts dictated medical notes from a doctor-patient session into proper medical documentation.   
Different types of medical transcription services have emerged over the years.   
Transcription services provide a transcriptionist who listens to the audio of a doctor-patient session, types up all the notes, and then sends it back to the doctor as documentation. But though thorough, it is a long process that takes a lot of money.   
Another medical transcription service is medical dictation software. Instead of typing, doctors can narrate their notes, and the voice recognition module in the dictation software converts them into text. But that is about as far as a solution like this goes. It can't properly convert these notes into workable documents. Furthermore, we're simply replacing typing with speaking, thus reducing none of the manual work from the doctor's side.   
The medical scribing industry is among the fastest-growing sub-industries in the healthcare sector. Physicians use med students, mid-levels, and residents to not only type up their notes but to map the relevant information into EHR. But while comprehensive and top-notch in quality, medical scribes are expensive, thanks to the growing demand, and not a viable option for many physicians.  
That is why a new kind of medical transcription service has emerged in the past several years- AI-based medical transcription software solutions. These solutions are considered by most as the perfect marriage between quality transcription services provided by medical scribes and the scalability and cost-effectiveness of dictation software solutions. AI transcription software uses high-tech AI modules and Natural Language Processing (NLP) engines to listen to live patient-doctor sessions and jots down all the medically relevant data in real-time. Then it creates compliant medical documentation without needing the doctor's intervention. It even goes one step further and maps all the information to the relevant fields in EHR, which removes any additional work from the physicians' shoulders.   
AI-based medical transcription software solutions are the future of the industry. But if you're not convinced, here are some of the most significant benefits it brings to the table.  
Also Read: A Complete Guide on Conversational AI in Healthcare
Top Benefits of Developing AI-based Medical Transcription Software Solution
Given below is a list of some of the most extraordinary benefits of developing an AI-based medical transcription software solution:  

Real-time Transcription
AI-based medical transcription software solutions listen for medically relevant data in a conversation between a doctor and patient in real-time and only store the important bits and pieces. So instead of recording small talk, like a dictation software would, it only stores the relevant data. Thanks to cutting-edge NLP engines, these solutions can detect nuances in a conversation and thus eliminate trivial sentences and only keep useful information. Furthermore, since AI-based medical transcription software solutions note everything down while the conversation is taking place, doctors don't have to spend hours replicating their notes in digital format. This not only makes the entire process a lot more streamlined but time-efficient as well.  
Improved Patient Experience
It is safe to assume that a person in front of any doctor is not there because he wants to drop by for a friendly visit. No, the patient is nervous. And so when a doctor is distracted by taking notes on his computer screen, tablet, or notepad while performing his diagnosis, the patient gets annoyed very quickly. But with the rise of AI-based medical transcription software, doctors can allot their undivided attention to their patients since the software is taking notes and putting them in the EHR properly. This not only makes the session a lot easier and more comfortable for the patient, but it also helps improve a doctor's efficiency.  
Heightened Medical Transcription Accuracy
Since these software solutions are based on AI, they have the amazing power to learn from their mistakes. So, once they are done creating the documentation, doctors go through them once to ensure everything is in order. And whatever changes a doctor makes, they are used by the AI as data points. If a similar mistake is corrected by the doctor more than a certain number of times, the AI concludes that it is making a mistake and learns from it. This level of sophistication and the ability to self-analyze to improve the services is unmatched by any other technology. And that is why AI-based medical transcription software solutions are so in demand these days.  
How to Build an AI-based Medical Transcription Software Solution?
Healthcare software development is a massive market nowadays. With more and more businesses realizing that they can employ software solutions to make their processes more streamlined and help them improve the quality of their services, healthcare software development companies around the globe are coming up with more scalable and cost-effective services to accommodate businesses of different sizes.  
And if you want to build your very own AI-based medical transcription software, then there are two approaches you can choose from.  
The first approach is that you develop your healthcare software in-house. This will include hiring expert developers, providing infrastructure, and all the necessary people to support your development team. While this approach is favored by organizations that want to keep a close eye on the development process, it is unsuitable for companies on a tight budget. Developing healthcare AI solutions is an expensive affair, one not a lot of organizations can afford. From hiring full-time talent to providing all the required tools, you will be responsible for it all. 
Furthermore, first-time developers have no idea what they are doing. Building an AI-powered healthcare solution is complicated, with many compliance and technical challenges. So unless you have the budget to hire the best possible talent, it would be more prudent to go for the second approach, which is hiring a healthcare software development company like Matellio.  
Getting a technology partner on board will mean that you will work with the industry-best experts who have spent decades honing their skills. There are plenty of software development companies that can provide top-notch healthcare software development services for businesses of all sizes.   
Whichever way you end up going, the following roadmap to AI-based medical transcription software solution development will serve you well.  

Planning and Market Research
Whether you are looking to develop a solution for your own company or a product you can sell, planning is the first, possibly the most significant, step in the entire development process. Before you can start developing your AI-based medical transcription software solution, you need to get your priorities straight. What problems are you trying to solve with your solution? Who will be your competitors? What will make your software stand apart from all the others on the market? What is it that customers like about the competitor's product?  
On the flip side, if you are building a software solution for your own use, what services will your doctors need in a solution like this? There are many other questions like this you must answer before moving on to the next phase.   
You must also decide what features your AI transcription solution must have. Some of the key features to add to a software solution like this are:  
Multiple language support 

 

Cloud connectivity 

 

Flawless AI 

 

Great user interface 

 

EHR access 

 
A software solution is only as good as the features it offers. The above list is the bare minimum that must be present in your software. You can add as many features as you like to your solution as time goes on.  
Hiring the Right Talent 
Once the planning phase is done, it's time to hire the right talent to build your AI medical transcription software. This can be an in-house team or an external technology partner. You need a team of talented and experienced people to make a software solution like this. Building and training an AI is not an easy task. While there have been leaps in this direction, NLP engines and AI modules are still very difficult to get right.  
So, it's best to look for AI developers with skills and proven experience in this area. Furthermore, you need to find a partner who understands the ins and outs of the market, respects your vision, and is willing to work on your terms. AI software development is hard enough without a renegade developer in the mix who likes to take risks and do things their way.  
Once you hire a development team, they can guide you in the right direction. Your initial plan and research will prove instrumental here. Your development team will help you improve your plan and add new layers of sophistication to it. They will come up with a list of technologies and tools that will be required and a complete development plan.   
Developing the Solution
It is standard procedure throughout the industry to develop an MVP before developing an entire solution. MVP, a minimum viable product, is a smaller, base version of a solution with only core features. MVPs help developers determine whether the solution is feasible and worth investing in.  
An MVP helps developers understand the project better without risking the entire budget. AI-based medical transcript software solutions not only have to get the NLP and AI right but also their connectivity to various other solutions. So building an MVP will help you test your app in real-world scenarios and improve if things aren't what they are supposed to be.   
If the MVP turns out well and shows promise, then you can move ahead to develop the full solution.  
Testing and Deploying 
Once the development phase is done, you must rigorously test your software. Keep in mind that medical software must adhere to many compliances. So these compliances should be kept in mind right from the beginning of the planning phase, and the testing phase should be where your QA experts check whether that is the case.  
Once the QA clears the software solution, it is ready to be deployed. If it's an in-house solution, then you can let your physicians start working with it. And if it's a product you intend to sell, then you can make it available to your potential customers and start marketing it.   
Post-launch Support and Updates 
Once your software is out in the market and people are actively using it, you will start seeing a gradual influx of feedback from them. Feedback will help you further improve your product and fix any bugs or glitches that you might have missed.  
On top of bug fixes and patches, you also need to provide a stream of updates and new features to keep your users interested in your software.  
Also Read: How AI-based Computer Vision is Transforming Healthcare?
Matellio can Develop Your AI-based Medical Transcript Software Solution! 
With decades of experience building AI-powered medical software, Matellio has the skills, tools, and portfolio to handle your every requirement.  
Our AI experts are highly trained and skilled and know how to evaluate your needs and pain points and develop the most efficient solutions possible. As a healthcare software development company, we excel at building top-botch software solutions using next-gen technologies, AR/VR, IoT, and of course, AI/ML. We employ the Agile development methodology for our projects which allows us to keep our clients at the heart of our development process. Our client-centric approach and commitment to providing the best in the industry customer experience, combined with our technological prowess, sets us apart from all the other healthcare software development service providers in the market.  
To learn more about our AI and medical software development services, contact us today! 
Get the Conversation Started!
Get the Conversation Started!
[contact-form-7 id="34486" title="Side Form"]