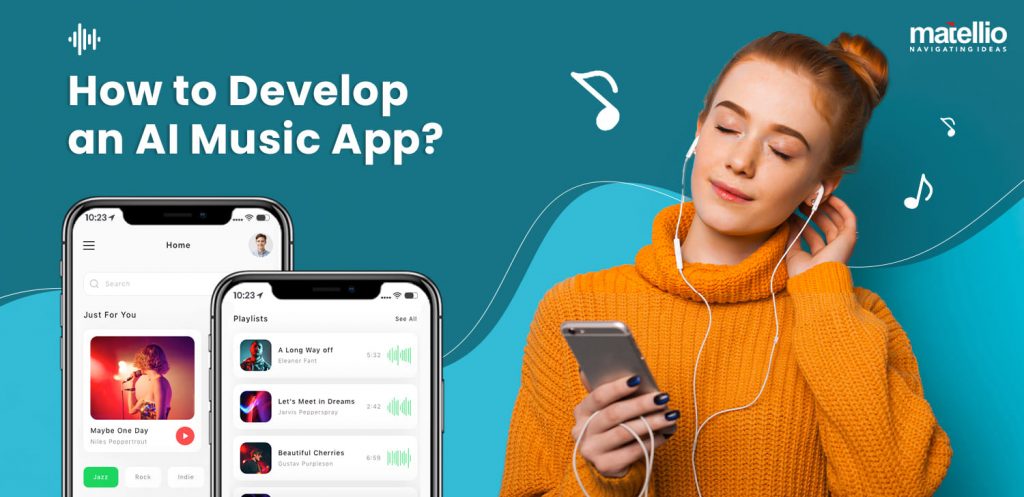 Wandering to understand the basics of AI music app development? Explore the blog to learn how to create an awesome music app empowered with AI. It will walk you through the process, features, cost, and other development essentials you need to know. 
Technology has completely transformed every industry in recent years. And music is no exception to this, as it relies on technical advancements a lot. They have come a lot far from premium subscriptions to allowing users to start their own podcasts instantly. 
Owing to this progress, you can see some staggering numbers associated with the music app industry. Statista predicts that the music streaming industry will attract 913.2 million users by 2025. And that's not all! Revenue from this booming segment is expected to grow at an impressive annual rate of 10.08% until 2025.   
Certainly, much of the credit for this growth goes to AI music app development techniques. Don't believe it? You can simply open your favorite music app on your phone right now. Do you see how you have a playlist of your favorite songs generated automatically? Well, that's AI behind it.
So, if you have an innovative AI music app idea brewing in your mind, now is the perfect time to jump into this pulsating world of music streaming.
It can be a little daunting as big shots of the field have started using AI effectively. But worry not, as this blog will walk you through all the steps involved in creating a successful music app, covering both the technical and business aspects. You'll even find handy examples to make things crystal clear. Ready to create an awesome AI music app? Dive in!
Focus on what features you can add for your business and the user to make your app successful and scalable. 
An intelligent recommendation engine, automatic playlist generation, etc., are some standout AI-based features to consider for your AI music app. 
Start the development process with thorough research and focus on design. 
The core development phase involves deciding your AI music app's final features and tech stack. Remember to keep an expert development partner in close coordination during this phase. 
The cost of your AI music app will depend on your business-based specifications and the complexity of the features.
Craft a Unique AI Music App: Some Standout AI-Based Features to Consider
First things first, before getting all technical, first focus on what features you can add for your business and the user to make your AI-based app successful and scalable. Now, this task will demand a lot of brainstorming on your part.
And as this is the most crucial aspect, don't forget to keep an expert mobile app development company in close coordination to verify that you're on the right path. That said, here are some features to consider to make your AI music app stand tall in the crowd-
Intelligent Recommendation Engine
Don't you love your friends with the same music taste as you? Well, with this feature, you can create an app that becomes that kind of friend for your users.
Your AI music app will go beyond giving mere suggestions with smart recommendations. It could personalize music to users by analyzing their preferences, behavior, and listening patterns. None other than machine learning is behind this to deliver spot-on recommendations. 
We're talking about songs, albums, and tailor-made playlists for each user. The engine considers everything from music genre and mood to tempo and even user context. It's like having a personal music genie who knows what they need at any given moment. 
Generate Playlists Automatically
By adding AI algorithms to your app, you can supercharge the way users explore music. How? Well, imagine this: with just a few taps, your app can automatically generate playlists tailored to their preferences. 
Whether they need the perfect playlist for a workout session, a relaxing evening, or a road trip, your AI music app will become their go-to. 
Not only does this feature save users precious time and effort, but it also guarantees a seamless and enjoyable music experience. 
Emotional Intelligence
Smart algorithms' integration allows you to analyze audio features and lyrics. This helps you understand the mood of each song.
But how's it emotional intelligence? Well, when these algorithms run, they curate playlists for every mood. So, when a user comes to your app, say in a romantic mood, your app steps in like a thoughtful friend, offering a hand-picked playlist filled with love songs. And this is not limited to songs. With these features, your app could even suggest podcasts, tunes, audio stories, and more. This improves the user experience, making it feel more personal and tailored.
Advanced Music Tagging and Metadata
Imagine a user searching for a catchy tune you heard a while ago but can't remember the title. With advanced music tagging, your AI music app can categorize songs based on genres, moods, instruments, etc. It's like having a music librarian who can find the right song for any occasion.
But it doesn't stop there. Metadata enriched the music discovery process. It imparts crucial information about artists, albums, and even song lyrics.
Thus ,with tagging and metadata, you can make finding and organizing music easy for your users.
Real-time Lyrics and Song Analysis
Though many popular music apps already have this feature, having it in your AI music app will still be wise.
So, show your users the lyrics while the song plays to boost engagement. You can also highlight notable song sections, provide song trivia, or even interpret and explain song meanings. Incorporating these features with an expert AI development company can make your app a favorite among music lovers.
Read More: Metronome App Development: Benefits, Types, Features, and Development Process
Remixing Music
With AI-powered remixing capabilities, users can have fun customizing their favorite songs. You can take this as providing a mini studio in your app. The studio will give users the liberty and ease to express their creativity to mix and match tunes.
And this certainly will improve the engagement level of your AI music app. Besides, the features can give you a great competitive edge.
Live Music Composition
Music composition is a different ball game altogether. But offering a tool that simplifies this complex task can prove game-changing for your business.
So, allow your users to generate unique music compositions in real-time through your app.
Again, this will encourage creative minds to explore your platform. Plus, you can make your app a multi-tasking platform that embraces both music and musicians.
Steps Involved in AI Music App Development
Building an app depends on business requirements. But it's always best to stay prepared in adcance for the forthcoming workflow.
So, before exploring the development steps, ensure you have iOS or Android app development services. On that note, let's break down the key steps involved in AI music app development–
Research
Besides brainstorming the creative side of your app, you will also have to do some clerical tasks before starting the actual development. Here are a few research points to bear in mind-
Explore existing music apps to understand features, user experience, and AI integration.

 

Stay updated on industry trends, reports, and competitor innovations.

 

Define your target audience's needs through surveys, interviews, and focus groups.

 

Connect with AI and music tech experts for guidance and insights.

 

Attend conferences, join forums, and network with professionals.
Decide on
AI Music App
Features
Besides the AI-based and basic app features, you can consider adding features that aid user experience. Some of them are-
Allow Users to Create their Profile
Allow users to set up their profiles to create and manage personalized playlists. It's advantageous to you as well as you can then analyze user data and understand their preferences. Moreover, having a profile will enable users to share music and upload their tracks.
Add Music Player
A music player is an essential feature that allows users to stream and listen to music. The player screen controls playing, pausing, skipping tracks, adjusting volume, and more. Users can also like songs, shuffle music, add to their playlists, and view album information and track lists.
Add User's Library
Enable users to create and manage their playlists. Opening your AI music app for unlimited custom playlists can improve user engagement.
Add Artist & Album Profiles
While not mandatory, adding artist and album pages provide music lovers with additional information about what they're listening to. These pages can include release dates, track/album lists, popular tracks, and interesting facts about the artist or song.
Give Users an Offline Mode
Offline access allows users to download and listen to their favorite music without an internet connection. If not free, add this feature to your AI music app's paid or premium version to induce engagement.
Send Push Notifications
Push notifications can enhance the user experience. They inform about new songs, albums, artists, news, events, etc.
Allow Social Sharing
Enabling social sharing through users' social media accounts allows them to share their music preferences with friends and family easily. The sharing process should be quick and simple, requiring only a few clicks.
Ensure Payments Integration
At the end of the day, you want more in-app purchases, such as monthly and premium subscriptions. For this, you should have a seamless payment integration system, eliminating the need for users to leave the app for transactions.
Finalize your AI Music App's Design
Your app's UI/UX design is vital to its success. For starters, ensure your app design is
Appealing

 

Highly Intuitive

 

Modern
The process typically involves several stages:
Wireframing
The designers create a basic black-and-white sketch of the app to showcase the overall design concept.
Mock-ups
They then develop colorful screens with icons, buttons, and other visual elements. It's like infusing life into a structure.
Prototyping
The team creates an interactive model of the app, allowing users to tap, swipe, drag, and experience the app's functionality firsthand.
Ensure you closely coordinate with designers during these steps. It will help maintain the three principles necessary for your AI music app's success.
Finalize Technology Stack and APIs with your Development Partner.
When developing an AI music app, the choice of tech stack depends on the platforms you're targeting: Android, iOS, and the web.
If you have budget constraints, start with one platform and expand later. Alternatively, consider using Flutter or React Native for cross-platform app development with a single codebase.
Here are some programming tools and technologies, and APIs to develop your AI music app:
Category
Technology Options 

Frontend

 

Java, Kotlin (Android); Swift, Objective-C (iOS)

 

Web Development

 

HTML, CSS, JavaScript, React, or Angular

 

Backend

 

Node.js, Python, Django, Ruby on Rails (ROR)

 

Database

 

PostgreSQL, Cassandra, MySQL, MongoDB

 

AI Frameworks

 

TensorFlow, PyTorch, Keras, Scikit-learn

 

Natural Language Processing (NLP)

 

NLTK, spaCy, Gensim, BERT, Word2Vec

 

Deep Learning

 

Convolutional Neural Networks (CNN), Recurrent Neural Networks (RNN), Long Short-Term Memory (LSTM)

 

Recommendation Systems

 

Collaborative Filtering, Content-Based Filtering, or Hybrid Approaches

 

Cloud Computing

 

Amazon Web Services (AWS), Google Cloud Platform (GCP), Microsoft Azure

 

APIs/SDKs

 

Spotify API, Apple Music API, Deezer API, OpenAI API, Google Cloud APIs

 

Infrastructure as Code

 

Terraform, AWS CloudFormation, Azure Resource Manager

 

Monitoring

 

Prometheus, Grafana, ELK Stack

 

Version Control

 

Git, GitHub, Bitbucket

 

Testing

 

Jest, PyTest, Selenium, JUnit

 

CI/CD

 

Jenkins, GitLab CI/CD, CircleCI

 

Security

 

SSL/TLS, OAuth 2.0, JWT, Hashing, and Encryption Algorithms

 

Analytics

 

Google Analytics, Mixpanel, Amplitude

 
Don't forget to consider the following factors before you finalize the tech stack for your AI music app development project–
Budget

 

Level of customization required

 

Maintenance

 

Expertise in AI technologies of your shortlisted vendors

 

Scalability and performance requirements

 

Compatibility with target platforms (Android, iOS, web)

 

Data security and privacy considerations

 

Ability to handle real-time data processing and streaming

 

Interoperability with other systems and software components

 

Ability to handle large volumes of data for AI processing

 

Compliance with industry standards and regulations

Test Your
AI Music App
Precisely
Testing occurs throughout development, but it's crucial to conduct comprehensive tests once the app is fully developed. After fixing any bugs or issues QA engineers find, your app will be ready for a successful market release. Let's move on to the next big question of assessing the cost of an advanced music app.
What's the Cost of AI Music App Development?
The cost depends on factors like features, platforms, and tech stack. Choosing the right platform impacts costs, while cross-platform app development is cost-effective.
Complexity and features also affect expenses. AI-based features, third-party APIs, and libraries add to development time and costs. Business analysis, UI/UX design, testing, and project management contribute too.
Estimates show basic and complex apps with AI-based infrastructure may have price differences. So, it's better not to jump in for random quotations you see. Instead, do your own research or ask experts to be sure.
Additional costs include app store fees, maintenance, marketing, and user feedback updates. But remember, the final price depends on your specific project requirements and tech stack choices.

Experience Successful AI Music App Development with Matellio
Streaming music is booming. You can grab a slice of the market by turning your brilliant idea into a top-notch AI music app. At Matellio, we're here to make that happen!
Our experts have a proven track record of crafting exceptional apps across various industries. We'll work closely with you, understand your project needs, and provide a free consultation.
Don't wait anymore, and reach out to us now to create a successful music app together!
Get the Conversation Started!
Get the Conversation Started!
[contact-form-7 id="34486" title="Side Form"]