How to Develop Apps Like Asana Rebel?
Updated on May 29th, 2021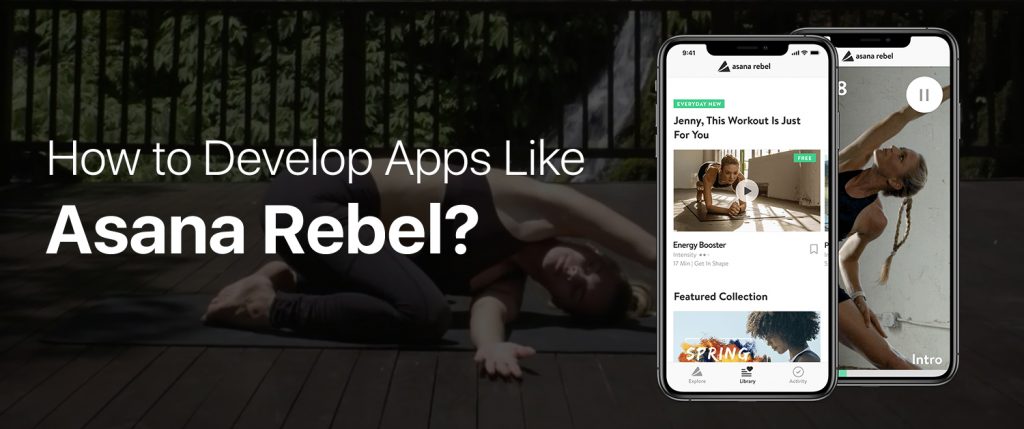 In a study done by The Good Body, as of July 2019, 36 million people practice yoga in the US on a regular basis, with or without the help of a yoga training app. This number is double of what it was five years ago! The Good Body also states in its research that the majority of yogis and yoginis in the US are under the age of 44 as well. What these stats tell us is that more and more young people are getting into the idea of becoming yoga practitioners. And there are good reasons for it. One of the most prominent reasons for the meteoric rise in yoga's fame is the fact that apart from being good for your body, practicing yoga is good for your mind as well. Given the stressful lives that young people live these days, they can develop a lot of psychological problems like anxiety, insomnia, depression, etc. And yoga has been known to help them get rid of these issues and make their lives a little healthier and a little less chaotic. Furthermore, estimates show that Americans alone spend $16 billion dollars on their yoga practices every year. And yet, there is a barrier of course, and that is the same barrier because of which they need to practice yoga in the first place- they are too busy and don't have the time to go to a yoga studio.  But thanks to the smartphone application technology aspiring yogis and yoginis can practice yoga at home and without the help of a trainer.
So if you are a yoga studio owner and want to expand and bring in more customers or a startup trying to get into the yoga mobile app market, then read on because, in this blog, we outline all the basic things you need to know in order to make your own yoga training app. 
Why You should Make a Yoga App?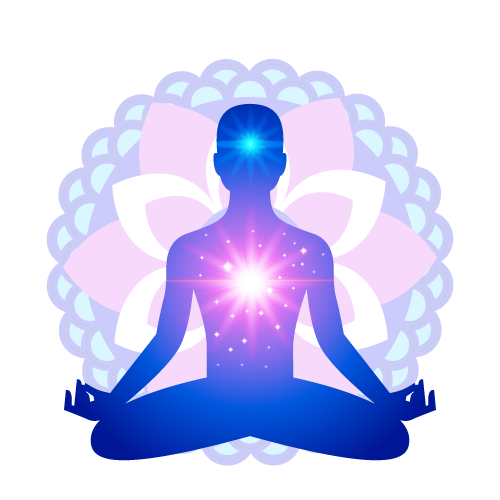 Before we move to how let's talk about why- Why you should make a yoga app? The biggest and most obvious reason is demand. The number of yogis and yoginis in the country is growing and while there are a lot of yoga training apps in the market, it can never be enough because everybody looks for something else in these apps. Another great reason for you to develop a yoga app is that you are passionate about it and want to help fellow yogis and yoginis who are just starting off in getting up to the speed.
Who Will be Your Target Customers?
The answer to this question depends on the type of yoga that you and your app are going to commit to. There are many different types of yoga practices and the reason why a practitioner is going for it. Some of the most common yoga types are 
Ashtanga Vinyasa: 

Mostly done by teenagers
Iyengar: 

Mostly practiced by the injured, old, sick people and pregnant women.
Jivamukti: 
It is popular among all age groups and s basically an American twist to the contemporary yoga practices.
You also need to think if you want to go for free services, paid services or a freemium services model This will vastly depend on your user demographic. If you aim at Millenials then they are more likely to buy your services and make in-app purchases while teenagers are not known to spend much. It will also help you to know that according to a study conducted Breathe, an average yoga practitioner is thirty years old and has a steady income. And now if you put it side-by-side to comscore's 2017 finding that 64 % smartphone users between the age of 18 and 34 made in-app purchases in that year, you can clearly deduce that young people who are looking to live a healthy lifestyle will pay for your services.  
How to Make an App Like Asana Rebel?
What is Asana Rebel?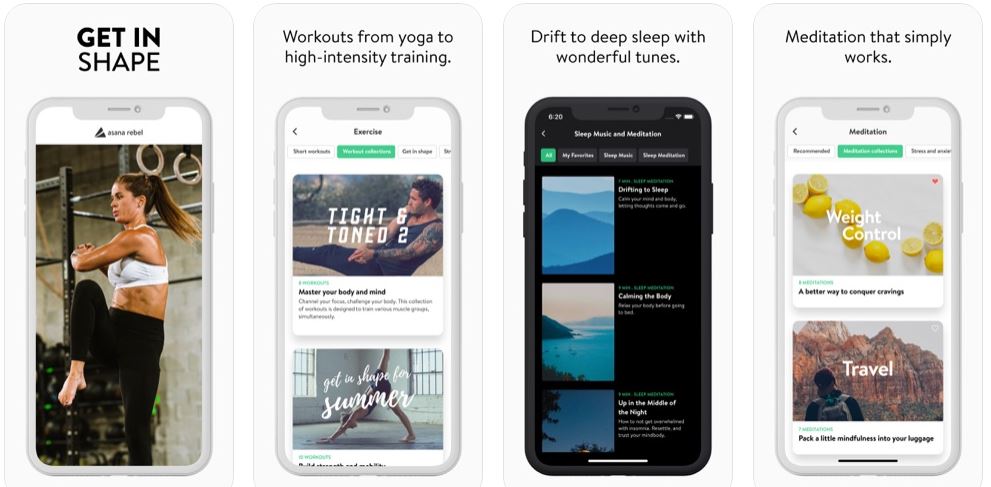 There are many amazing yoga training apps in the market, but among the most popular and efficient ones is Asana Rebel. It is a free-to-download fitness-app that not only helps you exercise and get in better shape, but also helps you with sleep deprivation, lack of focus and meditation. Instead of being focused on exercise or meditation alone, this app focuses on helping its users live a healthy lifestyle. Founded in 2015 with just two people, Asana Rebel is now a startup with 70 people working out of their office in Berlin and was even titled one of Germany's top twenty-five startups to work in by LinkedIn in 2019. They have over 10 million happy customers now and they show no sign of slowing down with constant and satisfying updates coming to the platform on a regular basis.
Now, if you are looking to make an app like Asana Rebel then you need to understand that this is not just a yoga app, but a fitness app that covers multiple areas- meditation, sleep, focus, and exercise. So even though we will only cover the yoga training portion of the app, you need to include features for meditation, sleep and focusing exercises as well if you are looking to make an app like Asana Rebel.
How to Make an App Like Asana Rebel – Top features to Include  
If you want to make your very own fitness app, then it is a good idea to take Asana Rebel as a benchmark because it is one of the best yoga training apps on the market right now. So Below are some of the features that you need to include in your fitness studio app, for both yoga teachers and yogis/yoginis:
Top Features to Add in Your Fitness App for Yoga Instructors:
1. Sign in/Log in:
You need to create a secure way for users to log in to their accounts and sign up for your app, too. Also, allow your users to use multiple ways to log in and sign up, like using their social media accounts.
2. Profile:
An instructor needs to maintain his profile because that and along with his classes is the reason why any student would want to be taught by them. So you need to give your users enough information fields that they can impress their students and flaunt their expertise a little. Also, you need to allow them to manage their security settings like password and blocked people and see reviews and ratings from their profile sections as well. And finally, they should be able to change at least some aspects of their profiles like their screen names, profile pictures, bios, etc.
3. Upload Video Lessons:
Your instructors will upload their video tutorials to the platforms so that their students can learn from them. Additionally, you can also add a couple of editing features and options to add background music in this section to make it a more wholesome feature.
4. Manage Ads and Offers:
An instructor can slash down his prices for a limited time or create an offer to reel in more students. At the same time, he might want to advertise his classes and all the latest offers to reach more users. You need to make sure that you give them that option, too.
5. Calendar:
A good instructor can always score some private students or bookings from your platform. So to make it easier for him to manage his bookings, you need to provide a calendar for him so that he never messes up his dates and books two classes at the same time.
6. Notification:
Whenever a new user signs up for his classes or if there is a new comment on any of his uploads or any other thing of this nature, he needs to be notified right away. Notifications are an obvious way to do that, apart from push notifications as well.
7. Payment:
Make receiving payment easier for your teachers by providing multiple ways in which they can receive it from a user- from eWallets like Paypal and Vimeo to debit cards and credit cards.
8. Payment History:
This section will contain an instructor's payment history and make bookkeeping easier for him.
9. Push Notification:
Push notifications remind your users of your presence on their mobile phones. You can use them to send important reminders, messages, payment notifications, etc.
Top Features to Add in Your Fitness App for Yoga Students:
1. Sign in/Log in:
You need to create a secure way for users to log in to their accounts and sign up for your app. Also, allow your users to use multiple ways to log in and sign up, like using their social media accounts.
2. Payment:
Give your users multiple methods to pay for their classes and stuff they buy on e-Store like debit/credit cards, e-Wallets like Vimeo, Paypal, etc.
3. Profile:
You need to have a separate profile section for your students where they can manage their account information like the list of all the classes that they have taken, their teachers, their progress, etc. You also need to allow your students to change certain aspects of their profiles like their profile pictures, bios, etc.
4. My Sessions:
This is where your users will be able to see all the classes that they have taken/paid for, all the programs they have taken in the past and restart them and how much progress they have made on their current workout program.
5. e-Store:
This is a link to an online store where a user can buy all he needs to practice yoga properly.
6. Blog:
A blog is your chance to shed some light on some tips and tricks to use your app, some good habits your users should adopt, etc. This is the place where you talk and your users listen so make sure you say something crucial.
7. Notifications:
If a new offer has just opened from an instructor who classes a user once took or if there is something new on the e-Store or if there is a sale even, then notifications are the best way for your users to find out about them.
8. Chat:
You can also allow your users to chat with their instructors, but you need to decide how deep you want this feature to be.
9. Push 
Notifications
:
Push notifications remind your users of your presence on their mobile phones. You can use them to send motivational messages, reminders when a user hasn't worked out in a while, etc. Also, you can send alerts about sales on the e-Store or a new video upload from their instructor.
Additional Features You can Add to Your Asana Rebel Clone App are:
1. Live Feed
:
You can allow your users to go live during their yoga sessions.
2. Social Media Sharing
:
You can also allow your users to share their progress on their social media accounts along with the latest class that they took, etc.
3. Real-Time Analytics
:
This feature will allow the admins of the app to get the real-time stats about the app, which instructor is doing the most business and how many people are using the app and at what time.

How Much Does it Cost to Make an App Like Asana Rebel?
It is not possible to give you an exact number that you will spend on your app since a lot of factors will influence this figure. Some of those factors are,
The type of app you want to go for- Native, Hybrid.

The technology that you choose.

How complex you want this app to be.

How many features you want to accommodate.

What third-party applications you want to use.
To get an estimate of how much it will cost you to build a yoga trainer app like Asana Rebel, contact Matellio with your requirements and we will get back to you ASAP. 
Disclaimer: Please note that the content of this blog including links, texts, images, and graphics is only meant for informational purposes. We do not intend to infringe any copyright policy or do not possess any third-party material. If you have issues related to any of our content or images, kindly drop your message at 

info@matellio.com

 
Get the Conversation Started!
Related articles