How to Develop Apps Like Spotify?
Updated on May 29th, 2021
Music has become a part and parcel of our lives, and a lot can be attributed to the music streaming apps. Be it grooving to your favorite party song or finding a musical companion to your boring office tasks, apps like Spotify bring an extensive range of music under a single screen. You can easily find your favorite artists, the trending charts globally, and create your own playlists, and do a lot more. No wonder Revenue in the Music Streaming segment amounts to US$11,509m in 2019. And that's not it, this revenue is expected to show an annual growth rate (CAGR 2019-2024) of 6.2%, resulting in a market volume of US$15,520m by 2024 (Source: Statista).Well, if you are someone who wants to make it big in this flourishing industry, experts at Matellio have curated a comprehensive guide on how to develop apps like Spotify.
Let's get started!
What Is Spotify App?  
Spotify is a digital, cross-platform music streaming app that offers an extensive range of music library from artists and albums across the globe. Users can register to the app to browse their favorite music and filter the results based on artists, albums, genres, and pre-curated playlists. Having established itself as a go-to service for music lovers, the app reported over 96 million paid subscribers worldwide at the beginning of 2019 (Source).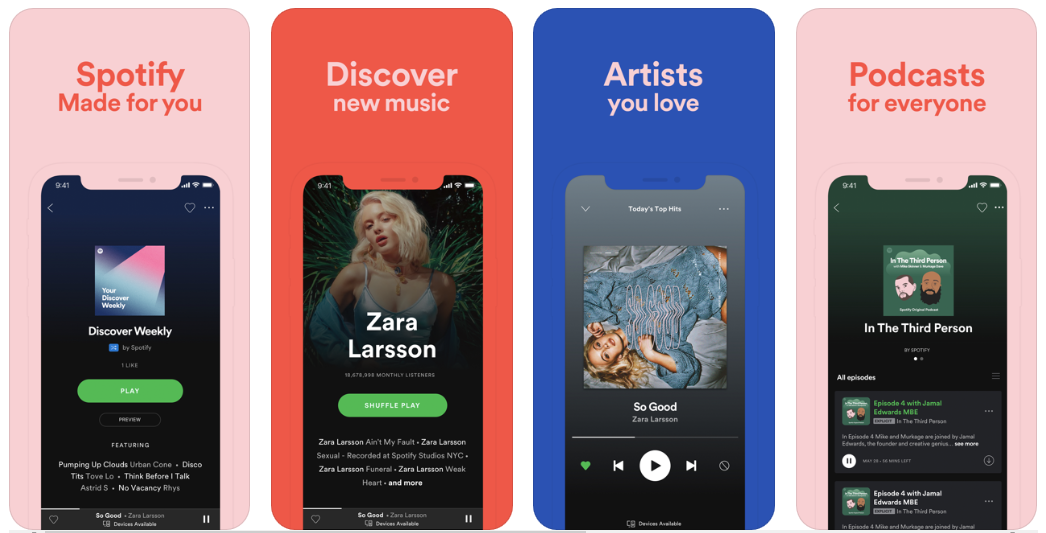 Image Source
  Features That Make Spotify So Popular
Listen to your favourite song, artist, or album
Discover and listen to your favourite podcasts across Music, Educational, Games, Lifestyle & Health, and more
Make and share your own playlists
Choose your preferred languages for music
Find music for any mood, genre, or activity
Listen to your favourite songs on mobile, tablet, desktop, PlayStation, Chromecast, TV, and Speakers
How Does Spotify Work ? 
Compatible with various devices, Spotify is available for its users across web as well as Android and iOS smartphones. Users can simply create their profiles on the platform and discover their favorite music. Instead of loading music to the users' native devices and consuming space, Spotify allows you to stream endless range of music right from its servers. Users can choose songs that they wish to add in specific playlists or can leverage the pre-existing ones. Spotify offers the users to either use the app absolutely free of cost wherein they can enjoy music with a negligible jitter available in the form of ads. To access ad-free music, they can simply upgrade their subscription to premium.
Which Are The Other Music Apps Like Spotify? 
1. Apple Music
Image Source
Launched in the year 2015, Apple Music quickly became one of the best music streaming apps out there. Featuring over 30 million songs along with a wide array of playlists, a 24/7 live radio, and more, the app also lets you upload your music and stream it to the device. With the social feature of the app, one can easily track their favorite artists and stay updated on what they are upto. Users can choose from a wide range of monthly plans, including individual ones, cost-effective plans for students, and  family plans that support over six family members.
2. Deezer
Image Source
Deezer is another from the list of apps like Spotify. Despite its individual pros and cons, the app is one of the most popular ones on the market. Other than a wide range of general music streaming app features that includes playlists, stations, recommendations, etc, the app also lets you create a playlist of personal favorites. With over 43 million songs for users across the globe, the app's availability in most countries than the other apps makes it gain some brownie points. Hi-Fi streaming option with 16-bit FLAC quality only for $19.99 per month is one of the most amazing options provided on the app. Thus making it the most popular among the users who prefer nothing but high quality music.
3. Google Play Music
Image Source
Available for users across Android, Google Play Music is definitely one of the best music streaming apps. Boasting of huge song collection, the app serves as a go-to platform for users exploring a wide range of music. Apart from the already available tracks, users can upload 50,000 songs to the app to customize the selections. Some of the features offered by the app includes playlists, music stations, genre-based playlist selection, and YouTube Premium. This makes it one of the most valuable apps on the market.
4. iHeartRadio
Image Source
If you are a big fan of the curated playlists and radio stations, iHeartRadio is the best ever music streaming apps on the app marketplaces that offers best free radio station market. With millions of tracks for the users, this app boasts of premium on-demand music service and is far better than most of the competitors on the market. iHeartRadio offers one of the best radio selections and comes with two pricing options- $4.99 version that adds on-demand music playback and $9.99 that adds a bunch of extra features to the app.
5. Pandora
Image Source
Pandora is another popular as well as recognizable music streaming app on the market. The most striking part is its availability across tonnes of platforms including some cars. Pandora offers two music streaming experiences- The first one is the radio station-only service that lets you skip tracks and give a thumbs up and down to help the app understand your choices. The second one is a completely on-demand streaming service app like Spotify. All-inclusive on-demand service is available at the price of $9.99 monthly and includes a wide range of additional features other than the free version.
How to Build Music Apps Like Spotify?
Step 1- Ideation & Market Research
Everything starts with an idea. Simply knowing that you need to create a music app is not sufficient. You also need to have a clear picture of your idea's potential.
1. Know your target market
Unless you understand your target users, you don't really know how to give them the best experience that they need. Simply kicking off your process without knowing what your users are expecting leads you nowhere. Here's how to get going with it:
Which are the music streaming apps on the market that they prefer.
Find out exactly what features that explore the most in the music streaming apps.
Which features in the app exactly address their pain points?
Which features of the app adds to the chaos?
Which device do they use most?
2. Know your competitors
Well, understanding the competitors on the market is as important as getting an idea of your audience. There is a lot to figure out here as well:
Understand why are they your competitors.
What is the range of features that they offer?
How people react to their apps?
What is their app monetization model and if users are comfortable with it?
On how many platforms do they have the music streaming service available?
What are the positive and negative sides of their services?
Step 2- Identify The Platform
Once you are done with the market research, it's time to finalize the platform that you would like to launch your app on. This would require you to get deeper into your user demographics. For example, while users of certain age and region would prefer Android, others may want to choose iOS. There could also be cases where both the platforms get equal share. Depending on this you can choose to develop mobile app by pursuing-
iOS app development
Android app development
Cross-platform app development (to cater to users of both the categories)
Step 3- Identify The Features-10  Spotify

features

 that you can count on
1. Registration
The foremost thing to make sure that the users need not be encountered with the interruptions or problems while their profile registration. It must be quick and simple and should not need more than seconds to get signed up or registered. When the users have to rattle between unnecessary clicks and information, then the probability of their disinterest in using app increases.
2. Profile
After getting registered what requires most is that the users should find their page comprising all the essential information like name, date of birth, gender, musical preferences, etc they share within the application. The information given by the user would be utilized in considering and gathering the relevant musical interests of the users so that they would find that rejuvenates them.
3. Social Integration
In the current market place between unprecedented changes in the consumers' need and unbridled methods of marketing, the consumers choice plays an important role in the entire race. Spotify popularised and increased its user base by enabling the users' easy login through social media accounts. Similarly, when you plan to offer them your services, get them empowered with all opportunities where they explore comfortable and easy access. So, don't forget to integrate social media channels like Facebook, Instagram, Twitter and other resources with your app. It enables them not just to log in through their social media accounts but also they can share their playlists, events related to Spotify, and news with their FB friends.
4. Music Content
Today, while some of the other apps like Spotify certain restriction or limitation over your listening experience, Spotify write off certain restrictions. The users of  Spotify get access to different music tracks and also offered to create, edit and share their playlists. So its imperative that you should rack them up with millions of songs comprising their preferences so that they would certainly manage to get subscribed to the app and won't ever find any passage to overpass your app's experience.
5. Track Search
You must be yielding results only if you proffer substantial and quality services to the users. Similarly, the inbuilt search bar in Spotify garners the need of the user, as they can easily search for the specific music track, album, artist, etc through it. There is no need to emphasis its significance due to the basic functionality of a search bar that executes the process required for the app to offer listening experience. So you have to inbuild a search bar to get listed in the ranks of market leaders.
6. Push Notifications
The adaptability of every app spurts its popularity among its users due to some specific features that enrich their experience. So, one of the most important features among all sticks to provide updates or notifications to the users similarly like in case of apps like Instagram, Facebook, etc. Ideally, the timely alerts about the news, new music launches, discounts, tips influence the user experiences and they get informed about all relevant updates more promisingly.
7. Individual Offers
The wondrous aspect that comes with the shared information of the user is an opportunity to scan their demand through their interest and that eventually pays you off. In other words, the user's personal information offers you an opportunity to offer them relevant offers on their possible interest. Spotify knits the loyalty of the users through its "Discovery" feature offering different and interesting playlist to the user that encapsulates organized music compositions matching the user's preferences.
8.Messages
Usually, the Spotify app extensively allows all features that target the users' music listening experience aesthetic and peculiar. But apart from rich and comprehensive features, the Spotify app allows the users to have a conversation with other users through personal messages within the app. Undoubtedly being an auxiliary feature it won't contribute much to the listening journey but it's worth being considered.
9. Spotify Connect
Spotify connect to allow the user to transfer the same music they listen to another Spotify enabled device from their mobile device, tablet or laptop on the same Wi-Fi network. It helps them to pick up the song from the point where they leave it off. It ensures that the users can easily share or uses the same music track effortlessly from the point they stop. So It's suggestive to follow apps like Spotify to provide the identical experience to the user so that they won't be reluctant to use your app.
10. Daily Mixes
Spotify meticulously creates a playlist for you if you don't want to create or unable to create your playlist. It whips up playlist named as Daily Mixes based on your preferences, tastes, favorite tracks, and artists. In other words, the feature astonishingly patronizes the user's actual interest through scanning through their last played song and other relevant information. Here, it's also an important feature to be inbuilt in your app that bolsters up the ultimate user experience in a new shell.
Step 4- Sort The Licensing Requirements For Music Apps Like Spotify
Launching a music streaming mobile app also has to go through the due licensing procedure for all the songs that you did not write, recording made by other artists (including samples, karaoke tracks, or background tracks), ad last but not least, lyrics and music notes that you display. The license varies depending on the type of stream (that is, video, interactive audio streams, and non-interactive video streams).If you are using an existing audio recording, you may also need a master license. Make sure you get also the licensing needs sorted out before your app is launched and the music is posted or streamed.
Step 5- Hire Mobile App Development Company To Design And Develop
Well, of course, now that you have everything handy, it's time to build the app and launch it for the users. You can either choose to hire a freelance developer or hire a mobile app development company. However, having experience with many people who have chosen us, hiring a mobile app development company offers a wide range of perks including:
Wide range of skill-set
Multiple resources to handle each project
Round-the-clock team availability
Regular updates
Project manager availability to address your questions as and when you need
Flexible hiring models like Fixed price and hourly pricing
Portfolio of similar projects and experience earned from them
Well-established process
Post-launch support and maintenance
Step 6- Deployment
Once the mobile app is ready for the users, it's time to finally design and develop it pre-launch. Mainly the stages include-
Prototype development
UI/ UX development
Functionality and feature implementation
QA and testing
As the app development team implements your requirements, make sure that you keep track of the same so that last minute surprises (or shocks) can be avoided. Closely stay in touch with your team throughout the process.
How  Much Does It Cost To Build Apps Like Spotify?
Building an app of any kind is a big deal and the cost for the same is dependent on multiple factors like-
What features would you like to include?
Which technology would you like to go for?
Which platforms would you like to target?
How many regions would you like to target?
What is the ideal team structure that you need?
And much more, if you are ready with all the answers, reach out to us and get an accurate estimate.

Ready To Build App Like Spotify?
And that's all from our end. If you already have an idea to build an app like Spotify, the time to begin is now. With more than half of the world going mobile, people are increasingly loving mobile apps to fulfill their life needs and finding the right music to listen out is no exception. Reach out to our experts today to leverage the best-in-class teams in Matellio comprising project managers, UI/ UX experts, and mobile app developers with QA and testing engineers to build a top-notch mobile app like Spotify today.
Disclaimer: Please note that the content of this blog including links, texts, images, and graphics is only meant for informational purposes. We do not intend to infringe any copyright policy or do not possess any third-party material. If you have issues related to any of our content or images, kindly drop your message at 

info@matellio.com

 
Get the Conversation Started!
Get the Conversation Started!
[contact-form-7 id="34486" title="Side Form"]