How to Develop Local Business Directory App Like Yelp?
Updated on May 29th, 2021
The digital transformation affects the way, marketing is done. The marketing is a powerful tool, which when hit the bull's eye can make any business achieve the desired user attraction. From one aspect, the local search directory app helps businesses to stay in the mind of the user and play as per their budget, while on another hand, it assists customers to find the best location easily,
The most famous local business directory app Yelp was started in 2004, by Yelp Inc, which gained attention in a very short period. Since its inception, it has been targeting the needs of its app users.
What exactly is the Yelp app?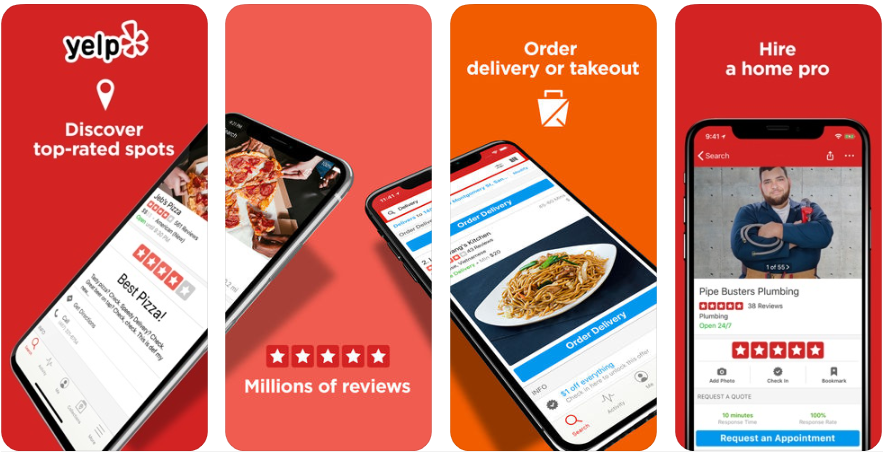 Yelp is a local business directory app developed by Yelp Inc which is the US-based company. The app enables you to find a hotel, restaurant, pub, medical facilities, schools or any other kind of establishments. You can choose best out of any of them by their reviews. It provides you the number of possible options after detecting your location while users can also filter according to their needs. The app offers the user a wide array of information including, location, contact number, number of average footfall, opening hours and service cost. It will also guide you to the opted destination by Map. For making the tasks easier for users, Yelp also enables the customer to give review and feedback about the particular place. According to an estimate, more than 142 million people are using the Yelp app and now the growth of the company is constant. The popularity of Yelp invites new competitors to invest time and money to create apps like Yelp and offer similar services. If you are a stakeholder and wants to build the app with similar services like Yelp, you are likely to make deep research into the market and the business stats. Additionally, the customer tends to expect your app to include similar features. Here is a quick guide for essential features, Yelp offers:
Features supported by Yelp-like Local Search Platform
1: Embedded review:  It enables the customer to embed reviews on his platform by using the code. The customer has to use the code for his review.
2: Google Map Integration: Through this feature, one can locate restaurant, office, pub, medical facilities, etc on map. The integration of google map is needed for navigation.
3: Cloud Storage Integration: The data is secured through the cloud storage system. Amazon data center or Google cloud storage helps in safe storage of data.
4: CMS: Through CMS admin can manage the content of the app. The content can be in text or image format.
5: Payment Gateway Integration: It enables users to make secured payment through different payment gateways like stripe, PayPal, Braintree, debit and credit card transactions, etc.
6: SMS API Integration: It enables to send notifications of updates through SMS API integration by its user to their customer.
7: Email or Contact number verification: The consumer can log in safely through their email ID or Contact number and system verifies it. It mitigates the risk of bots and saves the application from eavesdropping.
8: Reporting and analytics: For the Business owner, this local business directory app is an amazing tool where they can track activities like users visits, comment, reviews bookings, etc. Any update of activities will be notified to the admin.
9: Functionality according to the location: This feature provides as little customization where it tracks the user's location through Google map API and offers the navigation map to the desired location. It is both time and cost-effective approach for users.
10: ASO Strategy: App store optimization is an imperative step to invite more users, just like Search engine optimization. The platform which you choose for launching your app plays a vital role in finding potential users.
11. Media Sharing: Videos and photos speak more than words and the users are more interested in viewing the video instead of reading feedbacks. Yelp allows the user to share the personal experience through short video and photos on Yelp. It makes them feel so realistic about sharing their reviews and gradually the engagement of users increases.
12: User Profiles: You must offer the profile management option to users with simple steps. The profile of user stores the reviews as well as visited place. Any of your friends can check your profile and browse through your last visited places.
13: Gamification: The user can stay engaged to the app through gamification like virtual currency, nomination, ranks, badges, etc. It can be a handy source of additional income.
How to make your local business directory app earn revenue like Yelp:
Before developing an application like Yelp it is recommended to research over the revenue model. The success of an app depends on how long it survives and the survival solely depends over revenue of the app. Here are a few methods, you can also make money through the app:
Local advertisement: 

Yelp has earned the 73-% of its total evaluation through local advertisement. The income from local businesses increased in the second quarter by 21% from the last year to $226 million.
Sponsored search: 

Yelp charges CPC from local business for bringing traffic to their website. The process goes similar to google search. It increases the ranking of businesses and increases visibility.
Deals and offers: Discounts and deals 

Yelp offers impressive inbuilt discounts and offers on available services. Yelp earns revenue from the sale of its services.
Customization:

It provides paid customization of business pages to their local businesses with attractive images and videos. It enhances their visibility.
Reservation:

Yelp makes their users able to reserve their seats in listed restaurants and hotels through their app. This is a great tool for generating revenue.
Excerpts
The app like Yelp is widely appreciated among the locals when it offers transparent two-way communication between customers and business owners. The innovative app Yelp is for everyone. You have an amazing store and want to increase the footfall, you will go for help. You have a small business at the outskirt of the city, you need more crowd, you will advertise over Yelp. You have no solid physical presence and then also you would market over Yelp. If you are a stakeholder and looking for the app with the features like Yelp, you must take the user profile management seriously. I will recommend to associate with an experienced app development company and discuss well all aspect of the company. The success lies in the satisfaction of the customer, the key is with him.
Disclaimer: Please note that the content of this blog including links, texts, images, and graphics is only meant for informational purposes. We do not intend to infringe any copyright policy or do not possess any third-party material. If you have issues related to any of our content or images, kindly drop your message at 

info@matellio.com

 
Get the Conversation Started!
Get the Conversation Started!
[contact-form-7 id="34486" title="Side Form"]