How to Successfully Develop a Stablecoin on Ethereum?
Updated on Dec 1st, 2022
With each passing day, the world of cryptocurrency grows in popularity as more individuals become aware of cryptocurrencies all over the world.
Non-stablecoin cryptocurrencies include Bitcoin and Ethereum; we observed their value vary dramatically, often overnight, as they grew rapidly. That's why stablecoins were formed as a response to the volatile nature of cryptocurrencies.
But,
What is stablecoin? And why is it so important?
Well, that's what we're going to cover in this blog!
Key Takeaways:
Stablecoins combine the advantages of cryptocurrencies — such as visibility, security, immutability, wallets, rapid transactions, minimal fees, and privacy — with the confidence and steadiness of fiat currencies.

Stablecoins hold the opportunity to replace conventional currency to promote faster, more reliable, easier, and simpler cross-border payments for everyone. Stablecoins enable smart financial contracts to be used that are enforced over time.
What are Stablecoins?
Stablecoins are digital currencies linked to a "stable" reserve asset, like the US dollar or gold. Stablecoins are less volatile than hyperinflated cryptocurrencies such as Bitcoin and many other currencies. Stablecoins combine the advantages of cryptocurrencies — such as visibility, security, immutability, wallets, rapid transactions, minimal fees, and privacy — with the confidence and steadiness of fiat currencies. 
Why are Stablecoins so Important?
Stablecoins hold the opportunity to replace conventional currency to promote faster, more reliable, easier, and simpler cross-border payments for everyone. Stablecoins enable smart financial contracts to be used that are enforced over time. Smart contracts are self-executing contracts that indeed run on a blockchain. Another advantage of stablecoins is that they may be used with blockchain-based smart contracts, which, unlike traditional contracts, do not require legal permission to be executed.  
Benefits of Stablecoins
Reduces Volatility  

Cryptocurrencies like Bitcoin and many other have a lot of volatility, sometimes even by the minute. Buyers and sellers can indeed have confidence that the price of their tokens will neither grow nor fall unexpectedly in the near future if the asset is linked towards a more stable currency

.

Easy to Trade and Store

Stablecoins

don't require a bank account to hold, and they're simple to move. The value of

stablecoins

may be readily transmitted around the world.

Usability

Stablecoins

are more accessible to convert than US dollars and provide faster transfer times and improved fraud prevention.

Ensures Easy Interest

There are several simple ways to earn revenues on a

stablecoin

investment which is often higher.

Ensures Fast Processing

Stablecoins

like USDC are an excellent alternative for transporting money all across the world because of their fast processing and transaction fees.
Stablecoins avoid the volatility of non-pegged cryptocurrencies while retaining some of their most valuable benefits like:
Stablecoins are easily accessible by anyone
Stablecoins are secured
Stablecoins are fast and can easily be transmitted
Easily programmable
Stablecoins are less volatile
Moving on, let's talk about, 

Types of Stablecoins!  
The following are several types of stablecoin models, along with their principal advantages and how they function. Let's check!
1. Fiat Collateralized Stablecoins
Well, stablecoins of this type are the most prevalent. They are backed by a fiat currency such as the Euro, the British Pound, or the US Dollar. The basic stablecoin varieties with a 1:1 ration support are fiat-collateralized stablecoins. One stablecoin is like equal to one unit of currency, such as a dollar or a Euro, according to the 1:1 ratio. Every fiat-backed stablecoin is supported by real fiat dollars in a bank. Users can exchange their coins by instructing the company in charge of the stablecoin to withdraw the appropriate amount of fiat currency from their reserve and deposit it in the user's bank account. Simultaneously, an equal number of stablecoins are removed from the market or burned. Fiat-collateralized stablecoins have the disadvantage of not being visible or open to scrutiny by everyone. As a result, users must have faith in the provider in order to trade in these currencies, as there is no way to verify whether or not the exchanges are acting appropriately.  
Examples of fiat-collateralized stablecoins are: 
2. Crypto-Collateralized Stablecoins
In general words, it means stablecoins backed by cryptocurrencies are collateralized with cryptocurrencies. Compared to fiat-collateralized stablecoins, crypto-collateralized stablecoins provide more openness. Stablecoins supported by crypto could help processes become even better by improving security and transparency. Furthermore, some crypto-backed stablecoins have many cryptocurrencies backing them to ensure efficient risk allocation. Stablecoins backed by crypto has the added benefit of increased liquidity.  
Examples of crypto-collateralized stablecoins:
3. Commodity-Collateralized Stablecoins
These stablecoins are digital currencies backed by stable assets such as rare metals, gold, property, and oil. This supposedly suggests to investors that all these stablecoins have the ability to appreciate in tandem with the worth of their underlying securities, increasing the incentive to own and utilize them. Additionally, commodity-collateralized stablecoins allow anyone anywhere in the globe to invest in precious metals. Previously, such luxuries were exclusively available to the wealthy. Commodity-backed stablecoins, on the other hand, open up new investing alternatives for the common citizen.  
Examples of commodity-collateralized stablecoins are: 
Digix

 

Paxos Gold

 

Tether Gold

 
Moving on, let's talk about,  
How to Develop a Stablecoin on Ethereum?
Well, if you want to develop stablecoin on ethereum, then you must follow the below-mentioned points: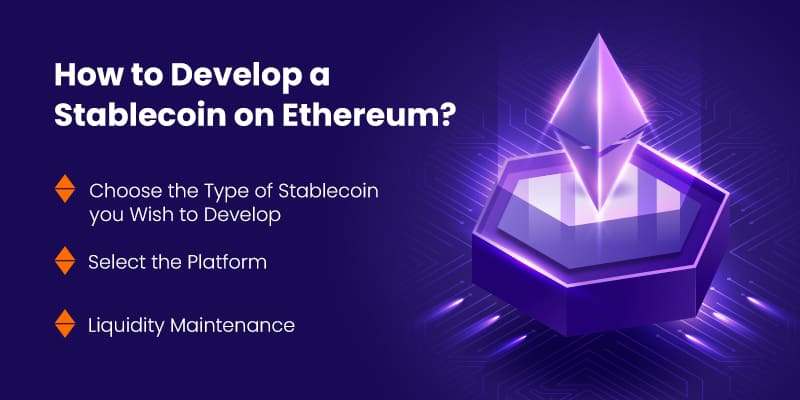 1. Choose the Type of Stablecoin you Wish to Develop

 
As previously said, stablecoins are divided into three categories: collateralized, non-collateralized, and commodity-collateralized stablecoins. As a result, it's difficult to conclude whether one sort of stablecoin is better than another. Ask the following questions to determine which type is ideal for you: 
How much liquidity do you want stablecoins to provide?

 

What level of flexibility are you looking for?

What level of simplicity or complexity do you want the overall architecture to have? 

 
Once you've answered the questions above, you'll be able to choose the type of stablecoin you wish to create.  
2. Select the Platform
Once you've decided what kind of stablecoin you want to make, you'll need to choose a platform to build it on. Stablecoins could only be created on Ethereum at first. But why? Ethereum has established the benchmark and established a strong position in the market as an accessible blockchain ecosystem, thanks to its solid on-chain logic. Ethereum is used for trading the majority of today's assets. It passes many audits with flying colors because of dependable, smart contracts. With its respect to profitability, Ethereum allows for easier token trading and streamlines developer work. With the help of ERC 20, vital information like the total number of units, the balance of tokens in each owner's account, pending transactions, token transfers, and determining if the user has the minimum number of tokens required to complete a transaction may be discovered. Not only this, Interoperability is a strong suit for Ethereum. Stablecoin generation is challenging on other blockchain networks due to compatibility. Ethereum's cross-chain functionality is proper since stablecoins could only be deployed on the primary chains where they were generated. After you've decided on the platform and technologies, you'll use to create stablecoins; you'll need to move forward to the very next step, which is to examine liquidity management.  
3. Liquidity Maintenance
It is crucial to have an automatic monitoring system in place. With its assistance, you will be equipped to provide daily currency and index rate information to your users. Do consider split transaction fees if possible. These fees should be structured so that a portion of them goes to the stablecoin partner and the rest goes to the liquidity reserve for future enhancements. 
Moving on, let's check,  
How much does it Cost to Create an Ethereum-Based Stablecoin?
The cost of developing an Ethereum-based stablecoin is determined by a variety of factors. It depends on the project's scale, the use of blockchain technology, and the country in which it will be launched.  
If you want detailed information about stablecoin development, then contact Matellio if you want to create a high-performing stablecoin. Our team of talented developers will develop tailored solutions specifically tailored to your company's demands. 
But,  
Why Choose Matellio as your Preferred Stablecoin Development Company?
Matellio's stablecoin development services could open up endless possibilities for your company. We begin by analyzing business processes and identifying methods to improve them using stablecoin and other blockchain solutions, always providing a tailored service. You can achieve your objectives and produce actual business performance using a tried-and-true approach that emphasizes a painstaking level of detail.  
Our Approach
Define a Roadmap
We create a plan that covers each step of the process and includes an expected schedule when we get to know your company and its goals. We'll consider both technical and strategic objectives here, so you'll know exactly how we'll handle your project.
Research
We define the target audience based on the information you provide and the research we conduct. We prepare a report that includes important data like user segmentation, demographics, and interests in order to better understand your audience and develop a stablecoin solution that fulfills their demands.
Security
As the safety and security of your company are so important, we begin by implementing a solid security report that will include any prospective threats as well as a history of security breaches.
Development
Stablecoin development can begin once you're satisfied with the design. Our in-house team is utilizing cutting-edge technology to deliver a seamless stablecoin offering that incorporates all previously mentioned features.
Testing
We'll test your stablecoin before it's released to the public to assure the greatest levels of security and a great user experience.

Conclusion 
Given the fact that stablecoins were designed as a strategic tool for traders, it is evident that their application extends much beyond that. Stablecoins are a powerful solution that lets to develop the cryptocurrency ecosystem as a whole and, sometimes, act as a replacement for unstable alternatives.  
The supply of stablecoins has been expanding at an unparalleled rate in recent months, and the significant strides of stablecoins are forecasted to continue increasing in the coming months. After all, if you still have concerns about launching a stablecoin development project, contact Matellio professionals to clear them up or set up a call to get started with stablecoin development services right now.  
Get the Conversation Started!
Get the Conversation Started!
[contact-form-7 id="34486" title="Side Form"]