Importance of Modern Agriculture Technologies in Farm Management
Updated on Feb 14th, 2022
Modern technologies are paving their way in almost all the major sectors of the global market, and agriculture is no exception. Innovative agricultural technologies have become more critical to address the significant challenges of farm management. Ever-increasing operational cost, shortage of laborers, the rising cost of supplies, and continuously changing consumer needs are some significant issues of farm management. In order to solve such problems, a proper modern set-up is required, and farm management software is one such solution. 
According to sources, the investment in modern agriculture technologies reached $ 6.7 billion until the year 2018, and generated a whopping $1.9 billion in 2019 alone! As evident, people today are actively investing in modern agriculture technologies to automate their operations and make profits and revenues. 
So, today, we will be discussing the advantages of modern technology in agriculture and farm management. Let's get started! 
Advantages of Modern Agriculture Technologies
Adopting disruptive technology and automated farm management solutions can result in tremendous opportunities and profits for the growers. It can significantly improve the overall agricultural activities and can contribute to its sustainable growth and continuous advancement. Here are a few ways in which farm management solutions benefit the growers and people engaged in agribusiness.
1. Detailed Records
The first and foremost benefit of agriculture technologies in farm management is the extensive record-keeping functionality. With the help of effective agriculture solutions like livestock management and farm management software, you can seamlessly track your animals and equipment. 
Pictures of animals and vital data on weight, gender, breed, and birth date, along with RFID tags, can help in better tracking and monitoring your livestock. Additionally, with the help of effective livestock management software, you can even customize the data and fields of the records without any problem. 
What's best? You can even track and manage years-long data of your animals and their diet to help you achieve your overall budget and result in huge savings and profits.      
2. Accurate Feed Data
Knowing the exact feed consumption is vital for agricultural success and operational efficiency. You need to have an accurate record of how much each of your animals eats to monitor and manage their daily track. Furthermore, if you get accurate data of your animal's feeding, you can even manage your cost estimates and future strategies.
Our effective agriculture management solutions can help you with that! We provide customized farm management solutions that can offer the exact consumption level of your livestock. Plus, the solutions can even provide the best nutritional diet chart for each animal. 
Not to mention, the grazing solutions can even track the slightest movements of your animals and herds and can monitor the grazing lands. Additionally, they can inform you about their grazing patterns and how it affects your farm's productivity.   
3. Seamless Accounting
Accounting in farm management? Yes, you heard it right. Accounting is a vital part of the job, whether it be any big organization or even a small farm. However, despite its importance, accounting is the least favorite job of farmers and growers. That's why we have farm accounting software that can lessen the pain of managing accounts and finances!
We can help you upgrade your existing account management software to an utterly scalable farm accounting software. Our expert programmers can include intuitive dashboards and automated tools that can make accounting a piece of cake. 
By integrating third-party software like a warehouse, and supply chain systems, our custom agriculture software makes your farming more productive, efficient, and profitable. 
4. Food Safety and Traceability
Food frauds, safety and compliance, food traceability, and supply chain inefficiencies are some significant issues prevailing in modern agriculture. Knowing due to the perishable nature of the food products, the whole food, and agriculture industry is at stake in risking the lives of the people. That's why tracing down the source of contamination is required in today's modern food industry.
Blockchain is a robust solution for solving all the above problems. Blockchain, along with food traceability software, can help track every movement of the food product from production to procurement. The decentralized structure of Blockchain ensures that each contact point with the food chain delivers some accountable tracing data. Eventually, by tracing all the points, you can seamlessly figure out the source of contamination and resolve that issue. 
Moreover, blockchain technology even provides a complete picture of the overall supply chain. That means you can get to know who is involved in the supply and selling of a particular commodity to see the cause of drastic price variations. It creates immense transparency in the supply chain processes while enabling reliable trading and secure transactions.
5. Livestock Tracking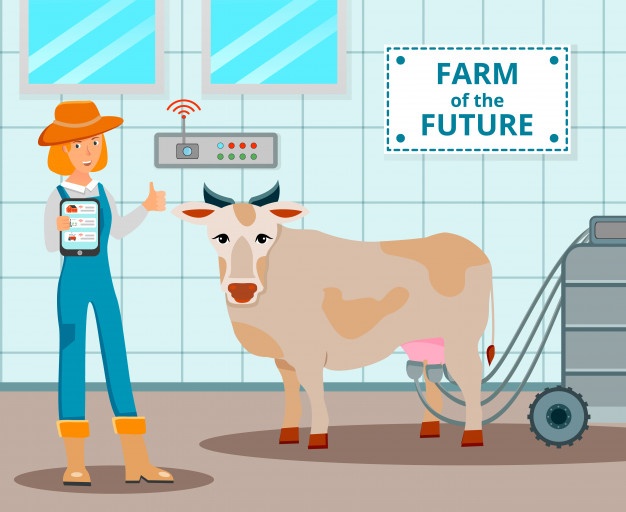 The traditional livestock industry is the most overlooked sector of the global market. Livestock offers the most renewable and natural resources that we feed every day. Whether it be milk, meat, eggs, or even honey, ranching is the basic need and vital aspect of the agriculture sector. 
Having talked of livestock, if you have many animals or different groups of animals, then it becomes tedious to manage them all. That's why we have livestock and animal tracking software that can provide accurate information about your herds and cattle. An effective livestock management solution can quickly track the off-springs and siblings of your animals. 
Moreover, it can even help you produce a higher-quality off-spring at much lesser cost and less guesswork.   
6. Modern Greenhouses
The greenhouse industry is rising rapidly in today's digital era. From research-based work to conventional land-based resources, greenhouses are becoming much more significant for the global market. As per resources, the global greenhouse sector contributes a total of $350 million in vegetables annually! 
As the greenhouses market is growing exponentially, the sector is much-relying on robust agriculture technologies to produce more quality vegetables and food products. They are not using LED lights and automated temperature control systems to increase their production rates. 
Additionally, they are even leveraging warehouse management software and supply chain systems to smoothly deliver their products to the urban centers.  
7. Remote Monitoring
Agriculture has always been an indispensable part of our lives and the global sector. However, a common problem that is still prevalent in our agriculture process is inefficient monitoring. The crops and livestock require continuous monitoring and constant updates on weather and adverse climatic conditions. As such, people cannot predict what the weather will be after one hour or where their animals are grazing.
That's why we have custom weather monitoring and precision agriculture software. With the help of weather monitoring software, you can continuously update weather and adverse climatic conditions. Similarly, with the precision agriculture software, you can constantly update your crop performance and livestock grazing patterns. 
Additionally, with the advancement in AI, drone-based monitoring solutions are also gaining enormous momentum these days. Maybe, drones and other robotic software can be a future of agriculture and farm management! 
8. Farm Automation
Last but not least, we have farm automation techniques that have continuously streamline various complex agricultural operations. With the help of robust agriculture technologies like precision agriculture, AI, IoT, and robotics, today's people are getting huge profits and smoother operations. 
For instance, with smart irrigation systems, the need to continually check and manually irrigate the fields has diminished significantly. Furthermore, the constant updates on weather have helped many farmers to decide which crops should be cultivated to gain profits as per the weather conditions. 
Additionally, the grazing pattern and diet charts by livestock management software have even enabled the growers to save wastages and to achieve high-quality off-springs.  
Future of Agriculture Technology
There is no doubt that agriculture has always been a crucial aspect of our global market, but that doesn't mean consuming all your life doing work and planning for agriculture activities. So, to eliminate that condition and streamline the complex agricultural processes, many robust agriculture technologies are paving their way in the industry.
Technologies like AI, IoT, and robotics have already started to benefit the farmers and growers. However, many others are ready to revolutionize the farm management operations. GPS field monitoring systems and biotechnology are also robust agriculture technologies that are all set to make significant changes in the farm management processes.
All in all, the agriculture sector has already begun to benefit from the powerful technologies and is ready to revolutionize more in the coming years.

Over to you!
Those were some of how the farming sector is transforming for better with the help of disruptive technologies and robust custom solutions. Do you want to become a part of this global revolution? We are here to help you!
At Matellio, we have years-long experience in providing digital transformation solutions for the people engaged in agriculture. We are a software engineering firm that can deliver cost-effective and reliable software solutions for different industries and platforms. Still, have questions? Whether you want to know more or want to start your project, our experts are always available to help you! Reach us today, and get a free 30-min expert consultation on your first visit!
Get the Conversation Started!
Get the Conversation Started!
[contact-form-7 id="34486" title="Side Form"]