Intelligent Process Automation | 2020 Benefits & Use Cases
Updated on May 4th, 2021
Intelligent Process Automation, commonly referred to as IPA, has become a trending aspect in today's digital world. The robust technology has turned the normal processes into benefits for the business world. And that's the main reason that almost 43% of the businesses have deployed the amazing Intelligent Automation (IA) technology in their organization. Furthermore, 32% of the organizations say that they will be implementing IPA very soon at a functional level in their organization.
IPA has been effectively serving the global market since its inception. It has enabled the businesses to transform the unstructured content into a useful form so that it can be analyzed efficiently with the help of AI and ML. You can enhance nearly all types of content including text, images, documents, and much more as per their use and importance in enhancing your business operations. Not only that, but the robust IA technology can also mimic the human actions, and possesses cognitive capabilities, like natural language processing, machine learning capabilities, speech recognition, and much more. Reduction in process life cycle, increased process capacity, and reduction in resources required, IPA technology has a lot more to offer to the businesses of the global world. Maybe that's why the global spendings on this amazing technology was 8.4 billions in 2019, and seeing the effectiveness of IPA in solving business issues, the number is expected to rise to 13 billions by the year 2023.
How Intelligent Process Automation  is Helping Businesses?
Now, having talked about the effectiveness of IPA in enhancing the business processes, let's have a look at some of the top departments of the businesses that are benefiting from the deployment of IPA in their organizations.
According to Statista, the top most department that is gaining huge benefits because of Intelligent Automation technology is finance and accounting. The department alone has attracted the most investment into the intelligence automation field, amounting to $52.5 million approximately. After finance comes compliance, core industries, and IT sector with an investment amount of $34.8, $30.7, and $30.2 respectively. Hence, we can clearly see that the global market is benefiting a lot by deploying intelligent automation into their businesses and core industries. Let's look at some more benefits to better understand the amazing effects of IPA in making global businesses better and more advanced.
How IPA differs from RPA?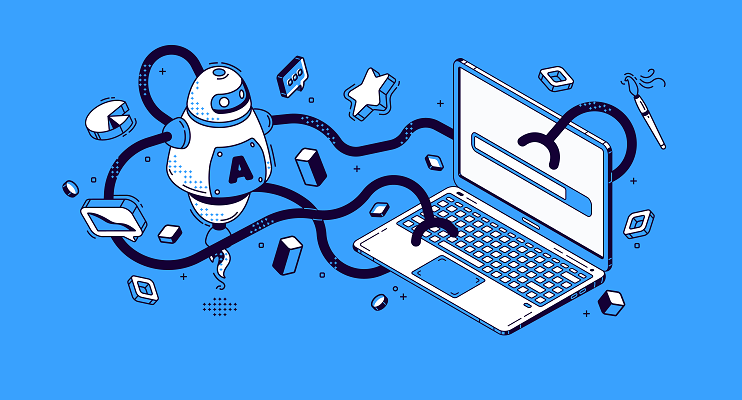 Although many people think that RPA and IPA are both the same thing, it is not so in the real-life. It is no doubt that RPA and IPA are both the robust tools of the automation industry, they both actually differ in the way they work and in the way they benefit the global industries. Let's get down the basic definition of both the amazing technologies tio get a basic idea of the difference between them.
Robotic Process Automation
Robotic Process Automation is an amazing tool of the automation industry that helps the businesses to automate the mundane and repetitive tasks. It is an effective automated tool that only automates the tasks within a predefined process with no intelligence. That means, RPA tools certainly get stuck when a judgement is needed, like what and how is needed to analyze the business information.
Intelligent Process Automation
IPA is something beyond RPA, that further enhances the business processes in an efficient way. It uses smart automation techniques and core AI capabilities to learn about human perceptions and on how to utilize the correct information in times.
So, by looking at definitions, one could clearly differentiate between RPA and IPA seamlessly. Furthermore, as we pointed out in the point mentioned above that IPA uses some advanced AI capabilities to learn from its users, let us learn what all AI techniques it uses.
Smart Workflows
The first and foremost AI capability that IPA created is smart workflows. By leveraging IPA you can seamlessly track the vital business data and can even manage the handoffs between the system and people to identify and solve the bottlenecks of the process. It not only enhances the process visibility but also improves the business efficiency.
Machine Learning
Machine learning, or in other words ML, is also one of the amazing tools that IPA utilizes to further advance its capabilities. You can seamlessly make accurate predictions based on past data and trends and can even get effective insights over recognized patterns.
Natural Language Processing
Now that's a big advancement specifically in the field of AI that IPS is leveraging these days. While using NLP, you can actually train your systems to efficiently understand what the text of the client wants to convey. That further improves the communications with the client and as a result your customer services improves drastically.
Natural Language Generation
Besides deeply understanding your client's messages, you can also train your system to generate narratives from the vital business data to help in decision-making.
Cognitive Agents
Last but probably not the least is the cognitive agents that are a combination of ML, NLP, and NLG in an effective way. By leveraging cognitive agents, you can actually construct a virtual workforce that has the capability to simplify complex tasks and to achieve almost anything that manual process cannot. The system can even offer natural suggestions over business advancement to the human supervisor!
Top 5 Benefits of Intelligent Process Automation
So, we saw above how intelligent process automation is driving the global market towards success. But, it is wise to know all the details of the actual benefits that you can get when you are planning to deploy IPA into your business operations. So, what are we waiting for? Let's head to the top 5 benefits that you enjoy when deploying IPA in your organization.
1. Automation
The first and the foremost benefit that you will get once you implement intelligent automation in your working process is automated tasks. I mean, who does not enjoy the task automation? You can perform any operation within minutes or even seconds and that too with accuracy. Although the word automation may be different for different people or processes, the main is always to simplify the business tasks that take time or are way too complex for others. Be it the mailroom automation, the sales and marketing automation, or even the customer service automation, IPA serves all the purpose very efficiently. And not only that front-end operations, but the back-end business processes like invoice generation, document management, and managing purchase orders can also be effectively streamlined by using IPA.
2. Reduced Errors
When it comes to reducing errors, nothing can match the level of perfectness that intelligent process automation offers. By removing the human involvement in carrying-out the business processes, IPA effectively mitigates the errors that might occur without automation. Whether you are operating an ERP software, or sending vital reports to the executives, a small mistake can lead to great confusions and misinterpretations. So, to solve those issues, IPA automates all the crucial tasks very effectively.
3. Less Operational Cost
When all your hefty tasks automate and you get less errors then it is for sure that your overall business cost reduces significantly. The same goes for IPA. IPA enhances the productivity and business efficiency that greatly reduces the extra cost while resulting in great cost and time savings. By using robust tools like ML, the intelligent automation technique enhances the business processes so that they can be seamlessly managed without leveraging more resources. That in turn, reduces the overall business costs,and even enables the employees to focus on other vital tasks needed for business enhancement.
4. Increased Compliance
If you are worried about data thefts and privacy issues, then in that case also, IPA can be a great boon for your organization. With IPA, you can ensure the safety of your critical business data and customer-related information in an effective way. Not only that, but the GDPR requirements and the financial information is also effectively managed through IPA. The technology offers an encryption method to secure your customer's personal information and your businesses' details very efficiently.
5. Enhanced Customer Satisfaction
Last but not least is the enhanced customer experience. Well, who does not want an improved customer experience. Afterall, the more efficient services you will provide to your customers, the more popular and loved your brand will be in the global market. So, IPA helps you in that. It offers various automated tools and techniques like that of chatbots, or automated but natural replies to your customers, and so on, to enhance your service deliveries. Not only that, but it even uses NLP, which can take your customer service to a whole new level. By leveraging NLP, your system will better understand the hidden emotions in your customers' texts and will better reply to their queries. All in all, it will become more capable to solve your customer's issues.
Use Cases of Intelligent Process Automation
So, now we know the amazing benefits of implementing intelligent automation in our organization. But what about the areas that can actually benefit form that robust technology. Well, the answer to this question is quite simple – nearly all the areas can benefit from IPA. However, to make things more clear, we have listed some use cases of IPA in 2020. Let's have a look at how the areas where IPA has already been deployed are benefiting from this amazing technology.
1. Insurance
IPA is the perfect automated tool in the classification and annotation of a new claim. With intelligent auction technique, you can route the insurance claim to the appropriate SME so that it can be evaluated and processed efficiently. All that results in faster turnaround time and improved accuracy while processing claims which eventually drives customer satisfaction and business efficiency.
The commercial underwriting processes often require a lot of resources and major time investment. Why? Because it includes thousands of pages and critical documents. However, IPA can drastically improve that whole process by creating an underwriting process that can be seamlessly analyzed enabling the employees to score their customers efficiently. That results in reduction in overall response time and improved accuracy of the organization.
2. Banking
The banking sector has also benefited a lot after the adoption of intelligent automation technology. The banks today are actively leveraging the IPA technology to classify and extract unstructured information from customers onboarding documents to make them usable for the bank's management system. That eventually results in higher customer satisfaction and faster time to revenue for the bank.
Similar to commercial underwriting, loan underwriting processes can also benefit a lot from the IPA technology. The banks can readily adopt the IPA technology to streamline their mortgage process. Meaning, with the use of image recognition and document analyzing systems, the banks can fasten up the mortgages approving process. That makes the banks more effective and  customer-friendly.
3. Investment Management
As discussed above, IPA can be greatly used to analyze the critical documents of the business or related to your customer's. In the case of investment, it becomes of utmost importance to know about the financial health of the organization that you are going to invest in. In such a scenario, IPA provides you the accurate financial information of that particular organization. That helps in making an informed decision.,
Trade Processing Automation
In the case of investment management, IPA can be of great help. It is often seen that the investment firm receives the trade processing information via emails and in PDF formats. In such a case, extracting the vital and relevant information becomes a tedious task. However, that's not the case with IPA. while using intelligent automation technology, you can seamlessly extract the relevant data from the unstructured content and can even integrate that data with investment management systems. All that eliminates the extra time that would otherwise have been wasted in the manual processing of the data.
Final Takeaway!
To conclude, we can say that the world is changing at a much faster-pace and so are the global demands. In such a scenario, automating the tasks is the best thing you can do to save time and to deliver your services efficiently to the customers. And we all know that in today's competitive world, time is money. And when you automate your tasks, you save a lot of time, that means you are saving  a lot of resources and obviously money! So, whether you want to know more, or you want automated enterprise solutions, Matellio is always here to help you. We have got expert programmers and experienced  software engineers and testers that makes sure nothing hinders the growth of your organization. We help you in developing some best-in-class automated software solutions to satisfy every need of your enterprise. Whether you are associated with retail, real-estate, media and entertainment, logistics, or even legal industry, we help you develop effective solutions for all the industries. So, what are you waiting for? Visit us at www.matellio.com/request-a-quote to book your free 30-min consultation today!
Get the Conversation Started!
Get the Conversation Started!
[contact-form-7 id="34486" title="Side Form"]