Kiosk Software Development: All You Need to Know
Updated on May 5th, 2021
In this fast-paced world, things are changing drastically and are evolving into a more improved version of themselves. Whether it be the hospitality, healthcare, or even banking and finance sector, all the industries have evolved significantly to help their users and customers. Kiosk software is one such robust application that has emerged as a helpful tool for the modern-day man. Kiosk software, a self-service tool, and a robust security platform help to empower the businesses to transact directly with their clients. These powerful security solutions transform the PC and tablets into self-working kiosks that can interact with the customers remotely.
And it's not only that the kiosk software runs exclusively on a preferred platform, but it also performs amazingly well on almost all the standard operating systems like Windows, Mac OS, Linux, and so on. The kiosk software benefits people a lot, and that's why its demand is increasing day by day.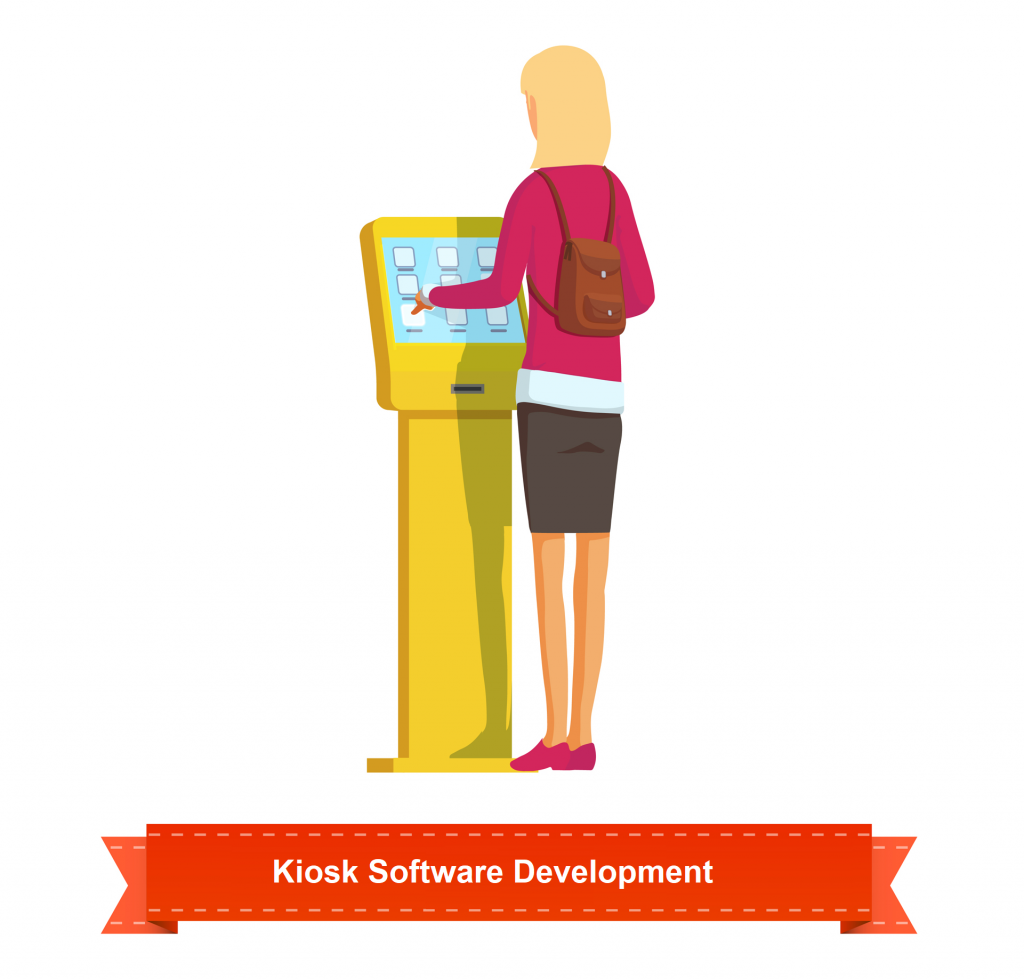 Why Invest in Custom Kiosk Software?
The kiosks software is a modern-day tool that is specifically designed for increasing the engagement and brand value of an organization. Its main aim is to provide better customer services and to help the brands get better returns on their investments. Moreover, the kiosks also offer some amazing digital tools that are flexible and ensure high cost and time savings. You only require a minimal hardware component to develop a custom kiosk software to satisfy your business needs.
According to Statista, the market revenue of the global kiosk market is expected to reach $48.11 bn by the end of 2025. According to another trusted source, the kiosk market is expected to grow at a CAGR of 4.6% during 2020-2025. Let's learn more about the benefits of this emerging tool here in this article.
Benefits of Kiosk Software Development
To understand more about the robustness of kiosk software, let's discuss some of its benefits.
1. High Level of Connectivity
The first and foremost benefit of investing in kiosk software is an increased level of connectivity. The users can seamlessly connect with their clients even from a remote location with the kiosk software solution. Not only that but also the programmers can fix the issues of the kiosk software while sitting remotely.
2. Resource Saving
Besides providing a high level of connectivity, the kiosk software also helps to save crucial resources of the organization, particularly the resources related to staff and time. For instance, the kiosk software enables the visitors to self-check-in without intervening with the staff members and thus enabling the team to focus more on other crucial aspects.
3. Easy Adaptability
One of the capabilities of the kiosk software is to adapt to the emerging requirements of the organization seamlessly. For instance, you can efficiently leverage a kiosk software to accept the online payments and, at the same time, can use it to display wayfinding maps.
4. Better Services
With kiosk software, the ease of the customers significantly increases. The users find it very convenient to use self-service kiosks then to visit the counters. The kiosk software is efficient enough to provide quick and seamless checkouts to the customers, and all in all increases customer satisfaction.
5. Improved Customer Satisfaction
Enhanced customer service is also one of the added benefits of kiosk software development. The custom software solution has an extensive range of capabilities that serves almost all the needs of the customers in a well-fashioned manner. And we all know, a more satisfied customer signifies more future customers.
6. Optimized Profits
It is no doubt that self-service kiosks include a little more initial investment with them but also ensure hefty returns on investments. With enhanced customer satisfaction, seamless connectivity, and faster services, the organization not only reaps better profits but also experiences improved brand value.
Now that you have got a clear insight into the amazing benefits of investing in kiosk software development to let's quickly glance at the types of kiosk software that are available on the global platform.
What are the different types of kiosks?
Kiosks are rapidly becoming a major aspect of the global world. Be it ATMs, retail stores, hotels, and restaurants, or even cinema and airports; kiosks are used in almost every sector today. Here are some of the common types of kiosk software that are used in the global market.
1. Financial Kiosk
The kiosk software is used by the finance industry more than any other sector of the worldwide market. The financial kiosks are widely used in ATMs and banks to facilitate smooth withdrawal of cash and deposits for the customers. Moreover, financial kiosks are also leveraged by users to get account-related information and transaction details.
2. Purchase Kiosk
Purchase kiosks are widely used to purchase tickets for services and for paying the bills. The purchase kiosks can be seamlessly located and leveraged at the service providing offices.
3. Check-in Kiosk
Another significant kiosk that is being used these days is check-in kiosks. These types of kiosks offer self-services and e-check services to the customers and enable them to process their significant numbers.
4. Self-Service Kiosk
Last, but not least is the self-service kiosk. The self-service kiosks are the most popular kiosks of the modern-day world that help the customers in dealing with payments and in issuing certificates.
Where are kiosks used?
Due to amazing benefits and user-friendly functionality, the kiosk software is being used in several industries and businesses of the global market. To name a few, we have:
1. Healthcare Industry
The Healthcare industry is a popular sector that has been leveraging kiosk software for quite some time now. The check-in kiosks are widely used in the hospitals that let the patients check-in themselves without any assistance. It not only facilitates an accelerated check-in process but also frees up the staff and enables them to concentrate on other vital tasks. Besides that, the check-in kiosks are also helping the healthcare institutions to reduce their waiting time and in enhancing their healthcare services.
2. Retail Industry
The retail industry is another crucial sector that is utilizing kiosk software at its fullest. Today, we can see many malls, and stadiums with purchase kiosks to help the customers make better purchase decisions. Moreover the customers can even leverage the kiosk software to browse the directory to make an order utilizing the digital payments.
3. Schools and Universities
In this tech-driven world, today's digital students expect all the digital content to be utilized in their schools and educational institutions. That's why the touch screen kiosks are being implemented today in almost all the big campuses and educational organizations. These interactive kiosks offer a variety of tools for wayfinding, and for facilitating effective collaboration among study curricula.
4. Hospitality Industry
With the advent of the interactive kiosk software, the hospitality sector is also leveraging them to enhance its operations. Today, we can see many hotel arenas with robust kiosks to help their guests explore activities and events available in their hotels. Furthermore, a virtual concierge system is also being utilized by these hotels to educate the guests about local culture and history of a place.
5. Corporate Offices
Last but not least, the kiosks are also actively used in the corporate world to enhance their internal and external communication processes. It is no surprise that effective communication is very much essential in driving customer engagement and building brand value. And integrating kiosks in their workplace is undoubtedly the best idea to achieve that. The kiosks can help you facilitate smooth communication between the employees and customers. That not only enhances customer engagement but also improves the marketing content while boosting sales.
What things to consider during Kiosk Software Development?
Now that you have finally made up your mind to develop a custom and feature-rich kiosk software for satisfying the needs of your organization, here are a few things you need to consider.
1. Custom Design and Development
The first and foremost aspect that you need to consider while planning to integrate a kiosk software in your organization is to go for a custom kiosk software development. That's because custom kiosk software will have all the essential and advanced functionality that you will need to enhance your business operations. So, it is wise to opt for an experienced software development company like Matellio to get your kiosk software developed.
2. Powerful Third-party Integrations
Another aspect that you need to take care of is software integrations. It is no surprise that every software, irrespective of its niche, requires some additional tools to enhance its performance and functionalities, and kiosk software is no exception. So, make sure that whichever software engineering firm you opt, it ensures you to provide support for third-party integrations in your kiosk software.
3. User-Friendly Features
Besides third-party integrations, you also need to consider functionalities and features of your kiosk software. The customer is king, and this saying still holds good in today's digital era. You need to keep in mind that the main aim of your kiosk software development is to enhance your customer service and provide ease to your customers. So, your kiosk software should have easy-to-use and straightforward functionalities that every user understands well.
4. Security and Compliance
Security always remains the topmost priority for every business irrespective of their niche. That's why the marketers should never compromise on the quality of their kiosk software solution. Meaning, they should always opt for a trusted and experienced kiosk software development company that assures them fully secure transactions using cloud-based services. Also, developing a PCI, and ADA compliance software is always a wise choice, so go for that.
5. Latest Upgradation
We all know that the world is evolving drastically, and so should you change to match the fast-moving pace of this tech-driven world. You need to upgrade your services continually and should always try to bring innovation in your business model to accelerate growth. For that, you can leverage technological advancements like AI, ML, big data, etc. to stand out from the competitive world. You can even leverage the voice or face recognition system to serve your customers well.
6. Kiosk Management and Maintenance
Last but not least, the kiosks also need maintenance services to work efficiently. For instance, when it comes to virtual kiosks and touchscreen systems, cleaning should be a primary concern. Meaning, your machine should be cleaned as per the methods recommended by the manufacturer. Moreover, regular testing of the device should be incorporated in your routine to ensure the proper functioning of your kiosks.

Final Takeaway!
To conclude, we can say that kiosks have emerged as a robust tool in the modern-day world, to help the users and businesses alike. This self-service platform has enabled nearly all the industries of the global market to improve its customer service and boost its sales. The time-saving and money-saving capability is also an amazing reason for the development of this powerful software. So, if you are planning to develop this robust software, then Matellio is always there to help you. Our expert developers and certified testers promise an error-free and smooth development process to ensure that nothing hinders the growth of your organization. Got more questions? Feel free to contact us by visiting www.matellio.com
Get the Conversation Started!
Get the Conversation Started!
[contact-form-7 id="34486" title="Side Form"]