Load Planning Software Development – A Complete Guide
Updated on May 25th, 2023
How do you create load planning software?  
That's one of the most asked questions of businesses when planning to optimize their logistics operations. Load planning has always been a concern for logistics and transportation companies. However, the advent of load planning software has made it much easier.   
Most companies invest in load planning software development to optimize their shipment process and generate more business opportunities. Some brands have even implemented smart AI features in their load planning systems to handle modern-day business challenges.  
But what exactly is this load planning software, and why should you invest in load planning software development?
Load planning software is an excellent digital solution for optimizing your load planning and shipment processes.

 

You can choose from various types of load planning systems matching your business requirements. General, multimodal, aviation, and vessel stowage are the most common types.

 

Balance management, 3D visualization, and capacity planning are essential features of a top-notch load planning system. However, you must also add advanced features like a chatbot, AI-based stacking options, and smart tracking.

 

You can easily streamline your development process and ensure quality product development by partnering with the right software development company.

 

Always begin with MVP and do not forget to test your product. Also, pay heed to the UI/UX and next-gen tech for a successful digital solution.

 

 
What is Load Planning Software?

 
Load planning software is a robust logistics solution that streamlines the shipment process. Through this software, you can combine the power of your trucks, fleets, railcars, cargos, and other transportation channels to carry an optimum number of products at a time.  
The main goal of load planning software is to reduce costs while mitigating the shipment risks associated with road, water, and air shipments. By analyzing different means, load planner software offers you the best transportation channel for your specific shipment. Using that plan, you can reduce the delivery time, making your customer happy and your business profitable.   
You get more delivery time with optimal planning, which eventually suggests more business. Moreover, the risks also get mitigated, and your company's revenues increase drastically!  
But What are the Concerns Associated with Traditional Load Planning?
Logistics companies always have different deadlines for each order they receive. Besides that, they also have fleets and cargos of varied capacities. Hence, when done manually, planning what shipment will be delivered through what medium becomes a chaotic task.   
That's where dedicated load planning software comes into play! With load planning software, you can get the real-time status of your transportation channels along with their capacities.   
Here's how the load planning software can mitigate the concerns of manual load planning!  
Reducing the Product Delivery Time and Cost 
We all know that manually planning hundreds of deliveries daily for different locations and other deadlines and compliances is a troublesome process. We cannot determine what product should be shipped through what means and what routes should be taken for minimum delivery time.   
That's where load planning software comes into play! With the dedicated software, you can easily optimize your load planning operations. Whether checking the real-time status of your vehicles or calculating the optimized load capacities for each shipment, everything can be automated with software.   
That results in less delivery time and more business opportunities. And we all know that more business eventually means more revenues!  
Failed Accounting and Audits 
For the workers' overtime, undertime, total stoppages, and varied workloads, many factors are difficult to calculate manually. However, each is critical when auditing or making salaries for your employees. Hence, with load planning software, you can access all that information anytime for any of your users.   
There is no need for data entry as everything is synched and recorded by the solution in real time. Plus, the calculations of salaries and other taxes can also be done using the same solution by integrating an accounting module.   
Inefficient Planning with Risks 
There are risks associated with product delivery when delivering in multiple locations or using different channels. For instance, the chances of accidents in road transportation or the threat of product exploitation through seaways.   
There may be times when even the paths used every time may be damaged. There comes the load planning system. With load planning software, you can easily predict your transport medium's real-time routes. You can suggest safe ways or change your transportation method using the software.   
Compliant and Profitable Business 
Well, we all will agree on this. The logistics company does not get orders from a particular location only. They deliver the products worldwide, so following different regulations and compliances becomes a tedious task.  
But you can leave all your worries to dedicated load planning software. You can easily manage all the legal documents and follow various compliances. All that eventually results in safe and fast delivery, a profitable business!

What Type of Load Planning System Will Suit Your Business?
So, you have explored the amazing benefits of investing in load planning software development. But what type of load planning software will benefit your organization? Let's find out!  
FCL/FTL Shipping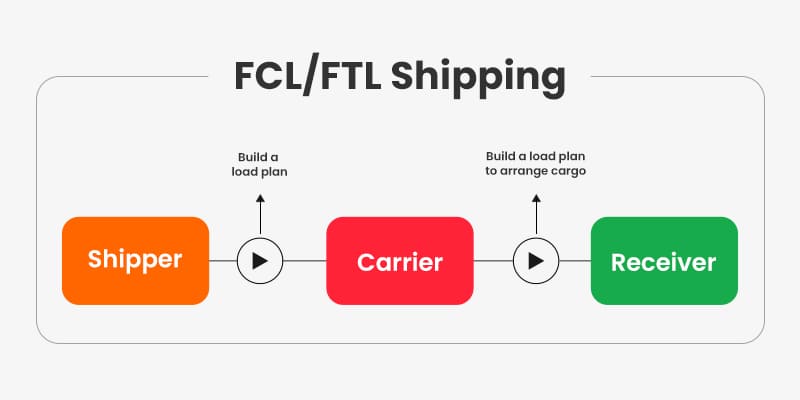 FCL/FTL stands for full container loads/full truck loads. It is a load planning system in which the shippers or the manufacturers directly load the shipments to the carrier. Then the carriers ship those products to the final destination.   
However, a common challenge in FCL/FTL shipping is that if the products are of various types, the manufacturer has to decide the order for loading the shipment. In other words, optimal load planning is done by the manufacturer.   
LCL/LTL Shipping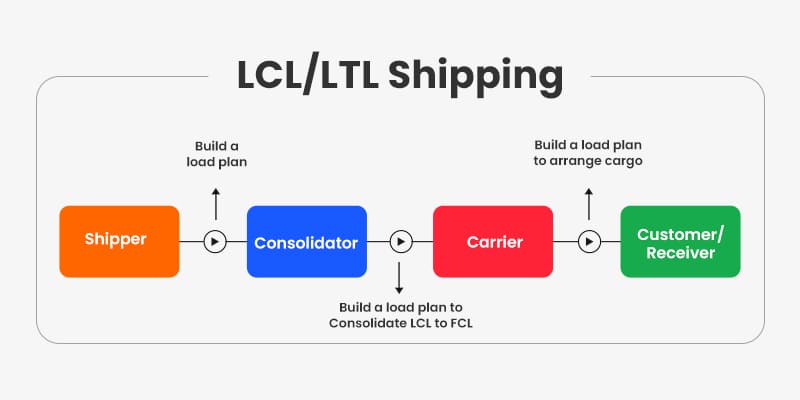 LCL/LTL shipping stands for less than truckload/less than container load shipping. It is cost-effective to ship various products under different categories in the same n the same lot. In this approach, a third-party shipper deals with arranging the products rather than the manufacturer.   
That means the products are first shipped via multiple carriers using the LCL approach. Once that is done, the consolidator groups all the products using the FCL approach. Now, as soon as the products reach their destination ports, they are again sent to the dispatchers using the LCL approach.   
Apart from these two shipping methods, many more tools are used for load planning. To name a few, we have:  
General-objective load planning tools: A user-friendly load planning tool used in air/sea/rail transportation, truck trailers, etc.  
Multimodal shipping tool: Used in shipping for multiple modes and various products.   
Aviation load planner tool: Generally used for load planning in aircraft or other air transportation modes.   
Vessel stowage planner tool: Used for load planning in ships and other marine modes.   
What Features to Add to Your Load Planning Software?
Once you have selected the type of load planning software for your organization, it is time to decide the best features to enhance your custom load planning system. Features play a crucial role in determining the success of your digital enterprise solution.   
If you do not offer unique and engaging features to your target audience, they will never become your loyal customers. Hence, as a leading logistic software development company, we have listed some essential features that you must implement in your load planning software.

3D Visualization
Visuals are great for understanding the concept of optimal loading for each of your shipments. Hence, you must implement 3D features in your load planning software to easily demonstrate your load planning approach and locate products on the go.   
Container Capacity
You can easily know the capacity of all your containers and cargo to optimize the load planning and shipping processes. You can plan which products should be grouped together with detailed capacity planning for efficient and cost-effective transportation.   
Sequence Picking
The sequence picking functionality makes it easier to design the containers to reduce the pick path. You can pick the right products appropriately to minimize delays and logistics chaos.  
Constraints Support
Load planning is not only about placing certain products and loading them into trucks and fleets. Rather, it is proper planning to optimize the loading capacities and shipping process; you must analyze various factors.   
Hence, your load planning software should have constraints support feature to consider various factors, including regulations, temperature, equipment constraints, and more during load planning.   
Balance Management
Balance management is an important aspect that must be present in your custom load planning software. You must properly balance the products so that the axles of your trucks and other vehicles are not impacted by force.    
Trailer Management
A reliable load planning system always offers a complete database of the containers and trailers you can use for your logistics company. Hence, you must integrate such a feature to decide the best trailer and container size for efficient load planning.   
Advanced Features
Besides the basic ones, some advanced features in your load planning software must distinguish you from your competitors. For instance, these days, the concept of AI in logistics is gaining huge momentum. Hence, you must also leverage that trend to gain maximum benefits.   
AI-based Chatbot
An AI-based chatbot is essential as it reduces your operational cost of hiring more resources while enhancing your customer support operations. By implementing an AI-based chatbot with NLP services, you can help your customers to get answers to all their queries in real time.  
The NLP-based chatbot understands the main intent behind your user's message and offers them the appropriate solution. You can even help your employees to get the details of a particular load with a custom chatbot solution.    
Automatic Stacking
An AI-based enterprise solution can help you quickly identify the stacks of your products. That means you can quickly know which products are single-stacked and double-stacked for assessing load volume and axle loading.   
Automatic Trailer Selection
Trailer selection is also a critical process involving much analysis and complex calculations. You need to know various parameters and compare them to get the best trailer and container capacity for your load. However, you can reduce all that chaotic work with AI solutions development.  
A smart AI solution can easily identify the best trailer for your shipment and offer the optimal capacity and stacking option for an efficient shipment.   
Smart Asset Tracking
Asset tracking is critical to eliminate thefts and accidents of your vehicles. It is also essential to ensure the safety of your drivers, as they are the most vital assets of your organization. Hence, we strongly suggest you implement an asset or vehicle tracking system during load planning software development.
How to Begin Your Load Planning Software Development with Matellio?  
Implementing load planning software into your logistics business may seem a tedious task to some of you. However, things can become easy by partnering with the right software development company like Matellio!   
Here's how you can easily create bespoke load planning software with Matellio tailored to your business needs.   
Discuss Your Business Requirements with Our Experts 
The first step in creating load planning software is understanding your business requirements. You should be clear about your business goals, and your strategies should resonate with those goals. That means you should know why you need a custom solution and what problems it will solve for your business.  
Once that is done, you must share your ideas and requirements with our experts. As a leading logistics software development company, we have years-long experience in identifying the perfect solutions to your business problems.  
Whether automating the most complex processes, analyzing your competitors, or even offering you the latest market trends for your project, we do everything. You will get a tailor-made business strategy to help you accomplish your digital transformation goals.   
Besides, we also analyze your ideas and need to offer you a free cost and time estimate of your software development so that you can make an informed decision. You can book a free consultation slot right away!  
Choose the Most Effective Features and Tech Stack 
One of the things that can greatly impact your load planning software will be featured. Choosing the right features that are unique and essential to your target audience is vital for the project's success.   
If and only if you offer the right features to your audience that can help them run a smooth business, they will become your customers. Hence, as an experienced enterprise software development company, we carefully analyze the market and offer useful features for your project.  
We have already discussed the top-class features essential for the success of your load planning system. However, you can connect with our experts to discover many more exclusive features for your custom solution that we offer.   
Talking about the tech stack, here are all technologies we use at Matellio for developing your load planning software.  
Front-end: AngularJS, ReactJS  
Backend: Java, Python, .NET  
Database: MySQL  
Cloud Services: AWS, Microsoft Azure, Google Cloud  
Integrate Powerful Plugins and Third-Party Tools 
A single software is not capable of doing multiple things at once. That's why we have third-party integration to enhance its capabilities. With Matellio, you can easily integrate powerful third-party systems into your load planning system, including ERP, CRM, route optimization software, and freight management solutions.   
We can integrate your custom solution into route planning tools so that the load planner can easily optimize the loading sequence. Similarly, we can also help you integrate smart BI modules (business intelligence modules) into your load planning software to help you get actionable insights into your company.  
Not to mention, the integration with ERP, CRM, and the supply chain solution would further elevate your logistics process. Everything will be streamlined and transparent, from demand to supply and delivery.   
Create an MVP 
MVP stands for a minimum viable product. It is an exceptional approach to ensure successful product development for your business. So basically, an MVP is a functional prototype built with your chosen features and designs.   
In short, your ideas are transformed into a reality and are presented to you by our developers and designers. Once that is done, you can easily explore how your solution will look and work when it is developed. You can alert the features, change the buttons, and even simplify your software's navigation by checking the MVP.  
In short, beginning with an MVP is the best solution to reduce your load planning software development cost. You get an expected product and fewer surprises, resulting in reduced testing time. Since the product is built with your ideas, there is less scope for changes and unwanted functionalities.    
Choose Your Development Team 
Luckily, with us, it is you who chooses the development team. Right from developer to tester, every resource is hired by you. We also offer flexible hiring models that you can leverage to hire software developers at reasonable prices.   
For instance, the turnkey model would be the best for a short-term project. However, choosing the time and material model would be the best solution if you have long-term project requirements.   
You can even scale your development team as per your needs with us. That means adding or removing the developers easily as per your project requirements.   
Develop, Test, and Deploy Your Custom Solution 
Lastly, our experts develop, test, and deploy your custom solution to your choice of platform. We follow the agile development methodology to create your custom solution. That means your project is divided into various sprints, and you get notified after each sprint ends.  
Meaning you can monitor the development of your load planning software. Even if you want changes at any stage, you can do so without returning to the previous stage. That means reduced development time, less cost, and expected product development,   
Furthermore, you also get testing as an integrated part of our load planning software development package. We offer manual and automated testing as per your project requirements. With thorough testing, we ensure that your product remains glitch-free throughout its lifecycle.   
Lastly, we offer cloud integration services to help you deploy your solution in the cloud. We even provide security testing services to ensure your critical data is safe from thefts and fraud.

Final Takeaway!  
Today's era is about digitization and better services, and the companies that fulfill those criteria succeed in the market. That's why a leading logistics industry segment is adopting smart enterprise solutions, and load planning software development is one such robust trend.  
With a smart load planning system, you can easily scale your operations, redefine your working approach, and build more revenues. Not to mention, the load planning software also ensures the safety of your assets and better customer support. Hence, load planning software development is one of the best investments if you seek to expand your business and grow your brand value. You can connect with our experts over a free consultation call to discuss more and begin your load planning software development.
Get the Conversation Started!
Get the Conversation Started!
[contact-form-7 id="34486" title="Side Form"]