Matellio Supports Our Industry, Team, and Clients
Updated on Apr 29th, 2021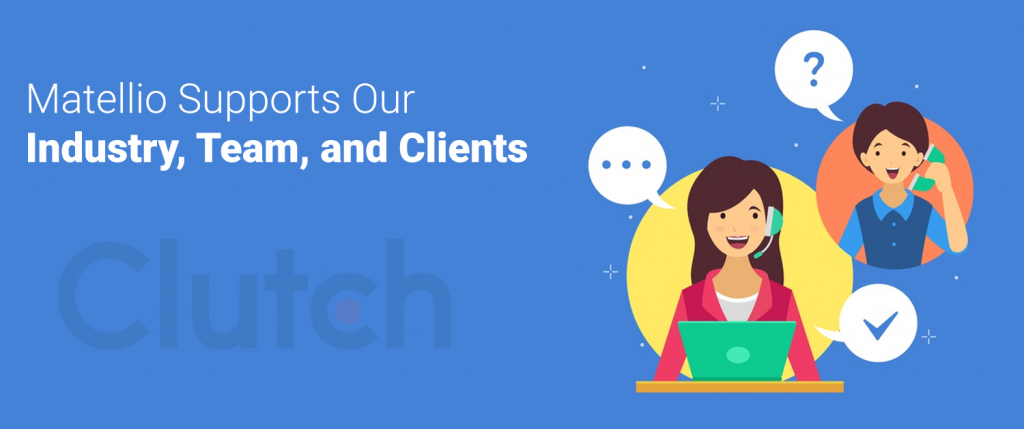 At Matellio, as is the case for many other companies across the globe, we've had to adjust our working methods and service offerings to account for the ongoing effects of the worldwide pandemic. Though our business is very important to us, we are most concerned with ensuring the health and safety of our clients and our team members across the globe.
Empowered with hybrid product realization, we have smoothly transformed our office culture into an execution-focused WFH landscape while retaining productivity and delivering a seamless experience to our customers. Carefully considering cybersecurity infrastructure and project engineering needs, we have revamped our policies, enabling our solutions and delivery team to meet uncertain challenges with flexibility, proper project management, monitoring, and reporting to ensure continued quality and timely delivery.
Some of the steps we've taken include virtual collaboration (allowing seamless collaboration with WFH-focused communication tools), infrastructure preparedness (providing cutting-edge computing power and network accessibility standards, security processes (VPN controls, encryption technology, and access management for remote teams), and remote project management (standardized rules and practices for task allocations and reporting).
Our team members are as determined and dedicated to Matellio as the management team is. They are going above and beyond to support our customers during the time of this crisis. We've empowered them with robust project management tools that help each team member stay ahead of the development updates. Additionally, we organize monthly meetings and virtual events for teams to maintain the sync and spirit of working together.
With careful planning and prompt execution, we have been fortunate enough to able to retain our entire workforce and ensure our teams don't feel any financial pressure during these uncertain times.
Our teams are constantly in touch with clients to make sure they don't lose the spark of their project's development with regular meetings and updates. All the while being flexible with our teams for work hours while they cope with family commitments. We have also taken responsibility for helping employees build an adequate work environment at home with proper desks and chairs, reimbursement of internet bills, and other WFH essentials.
We at Matellio are equally concerned and empathetic for our customers during this crisis as we are for our teams. We have worked closely with our customers to accommodate and adapt for the pandemic. Supporting our industry has always been essential to us but it is crucial now more than ever.
Right now, it's hard for businesses to stand out, but we have leveraged Clutch, a B2B ratings and reviews platform to set ourselves apart from our competitors during this time. We've also been listed on The Manifest, a business blog that features leaders around the world.
We also want to help our clients stand out, so we offer benefits such as round-the-clock support and maintenance for technology solutions, robust services in client's timezones, zero production backlogs implying on-time project deliveries, and cutting-edge testing services and certification of quality delivered individually at the end of each sprint. We've also implemented closely synchronized teams that update clients on the progress their project is making and highly secured infrastructure that keeps their projects safe. We're here to help you with your next development project, so reach out to us and let's get started,
Get the Conversation Started!
Get the Conversation Started!
[contact-form-7 id="34486" title="Side Form"]