Reasons Why Your Business Needs Cloud Migration
Updated on May 4th, 2021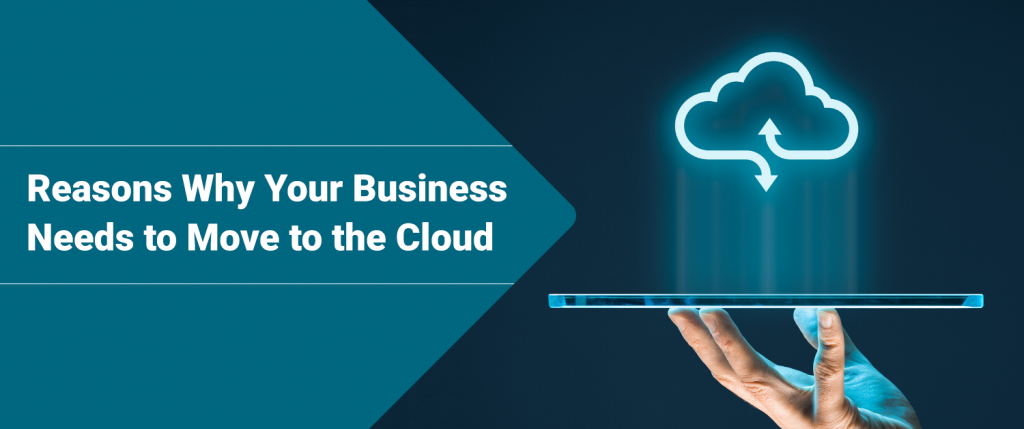 The cloud migration services market valued at USD 119.13 billion in 2019 is expected to touch USD 448.34 billion by 2025, at a CAGR of 28.89% over the forecast period of 2020-2025.
Investment in cloud migration is at a peak over the past decade now. Small, medium, and large enterprises are increasingly interested in allotting significant portions of the IT budget to cloud-based solutions and upgrading their systems.
However, this is a significant portion of global businesses that are still weighing cloud migration's pros and cons. For such organizations, we have listed some of the fantastic benefits of cloud that'll give you a clear picture of why cloud adoption is higher.
Let's begin!
1. Commendable flexibility and scalability for the businesses to enter new markets quickly, anywhere, anytime.
With the cloud, organizations are free to choose from various service models that suit their needs. They can make a choice between SaaS, PaaS, and IaaS that enables them to deploy software in public, private, and hybrid environments based on organizational security requirements, budget, and risk appetite. Unlike on-premise storage solutions, cloud services also enable businesses to access software and storage that scales to meet their real-time needs. Apart from this, organizations operating on private could also optimize the applications by selecting various tools and features to personalize their products.
With public cloud services, organizations can take advantage of the almost unlimited storage capacity and scale up operations with predictable monthly payments reflective of usage.
Simultaneously, organizations operating on a private cloud can leverage cloud bursting configurations and scalable operations. This scaled agility level provides organizations with an untapped advantage over competitors –ranking 'operational agility' as one of the top drivers for cloud adoption.
2. Efficient disaster recovery to help businesses secure their vital data.
With the evolving technology landscape, businesses are under a constant threat of data loss or breaches. Malicious code, hackers, natural disasters, and employee negligence can wipe out vital data without anyone noticing until significant damage has been reported. This data loss can lead to irreversible damages to your business, majorly impacting productivity, revenue, reputation, and customer experience.
However, businesses with cloud migration strategies in place can overcome this by an effective disaster recovery plan. In the cloud, a disaster recovery plan refers to storing critical data and applications in the cloud where businesses can leverage pay-as-you-go storage solutions from anywhere anytime.
Creating, testing, and updating a DR plan can prepare your organization for an unexpected disaster and ensure your business's safety and continuity. A comprehensive DR plan should consider your infrastructure, potential threats and vulnerabilities, most critical assets, and the order of their recovery, and workable DR strategies. The integration of cloud computing services in disaster recovery allows you to design a DR plan and automate each recovery process step. Backup and disaster recovery in cloud computing can be automated, requiring minimum input on your part.
3. Cloud is more secure as compared to the on-premise data storage alternatives.
75% of IT professionals view the public cloud as more secure than their own data centers.
Files store on secure cloud servers benefits from the robust security infrastructure. This is achieved in multiple ways, such as:
Advanced Firewalls: All firewalls inspect traveling data packets where the basic ones examine the source and destination data while the advanced ones verify packet content integrity. These programs then map content to known security threats for early detection and remediation.
Intrusion Detection: Online storage solutions are accessible to multiple users simultaneously. Successful cloud security systems regularly monitor the existing infrastructure for intrusions. Various levels of detection prevent network breaches, thereby securing your data.
Event Logging: Event logs record network actions. These logs help security analysts to build a narrative of network incidents to predict and prevent security breaches.
Internal Firewalls: Access-level security is essential. Not all the accounts should have complete access to cloud storage. Internal firewalls help ensure this by limiting secure cloud access and provides the relevant view for the user category.
Encryption: Encryption safeguards data against unauthorized access. If attackers steal encrypted files, they would still be inaccessible without the secret key.
Best-in-class cloud infrastructure relies on giving users the ideal balance between access and security. For a security system to be complete, users must adhere to a security awareness training program. Even the most advanced security system cannot compensate for negligent users.
4. Cloud enables workforce mobility.
It is predicted that 70% of all software interactions will occur on mobile devices by 2020.
One of the major forces driving digital transformation and cloud software adoption is the need for workforce mobility. This has forced tech leaders across the globe to develop newer and better ways to keep room for improved mobility front and center.
IDC research has shown mobile workers in the United States will grow to 105 million by 2020. It's no wonder several companies, including major players like Microsoft, Google, and Apple, have developed entire suites of programs that we can access from any device, furthering our mobility.
To satisfy this mobile workforce's need and help them function smoothly, cloud migration is a must. Cloud-hosted applications enable organizations and their employees to be more flexible in their work practices as systems. Real-time data can be accessed quickly and easily, anywhere, anytime over the internet on devices such as smartphones and laptops.
5. Increased collaboration for the mobile workforce is only possible with the cloud.
Collaboration is the backbone of mobile teams spread across geographies. While fifty-four percent of business leaders invest in easier-to-use collaboration solutions, sixty-four percent of those surveyed report that collaboration with external parties has increased in importance (Source: Cisco).
Enabling effective collaboration for remote teams, the cloud can help you gain top position here while helping create various collaborative suites that allow team members to work different projects through co-authoring and sharing files. Typical cloud collaboration tools offer integration to optimize online communication, file exchange, real-time assistance, and conferencing. The solutions leverage cloud computing benefits, thus eliminating the collaboration obstacles that prevent remote decentralized groups. Most cloud-based collaborative solutions are aimed at helping businesses keep their employees on the same page. Essentially, files and documents can be uploaded to a central cloud where every employee can access them, make changes, and receive real-time assistance.
6. Cloud migration is cost-effective and profitable.
A recent Rackspace survey states that of 1,300 surveyed companies, 88% of the cloud users experience cost savings, and 56% noted increased profits.
Although the initial cost of the cloud migration can be higher, it has been observed that it becomes cost-effective over time if organizations learn to use and operate them more efficiently. Regardless of type or size, businesses can save a substantial amount by reducing the expenses on equipment, infrastructure, and software. It allows you to leverage as much data storage you need without investing in massive data centers. As the Cloud platform is utility based, you only pay to the service provider for what you use when you need it. Thus, with a pay-as-you-go,subscription-based cost structure, cloud services require a lower initial investment and typically much lower overall costs than 'on-premise' models. Additionally, organizations can cut down the capital and operating costs by using cloud resources rather than spending on hardware, software, or licensing and renewal fees.
The contract with most cloud service providers includes the costs of system upgrades, new hardware, and software.
7. Automatic updates to boost team productivity and optimize time utilization.
It isn't productive for the overburdened and busy teams to wait until the system installs the updated software. You can quickly solve this problem by migrating to cloud-based applications that automatically refresh and update themselves. Therefore, you don't have to rely on the IT department to update the systems manually organization-wide. Thus, businesses can save valuable IT staff time and money spent on consultation.
8. Deep insights for efficient team operations and business decisions.
Data is a vital part of your business. It gets you detailed information on various aspects to make informed and data-driven decisions.
Cloud solutions offer integrated analytics for bird-eye data visualization. With information stored on the cloud, you can quickly implement tracking mechanisms and build custom reports to analyze your organization's data. From those insights, you can increase efficiencies and create action plans to meet organizational goals.
Are you ready for cloud migration or to build a cloud-based solution for your organization?
If you have come this far, we believe the answer to this question is a big yes.
However, if you are still unsure, Matellio is right here to assist you and offer you a free 30-minute consultation on how cloud migration can help you satisfy your business needs and achieve the goals. From the right team to a strategy that pays in the long run, we help you craft a brilliant digital transformation strategy custom to your specifics. Write down to us and begin in 24 working hours. 
Get the Conversation Started!
Get the Conversation Started!
[contact-form-7 id="34486" title="Side Form"]