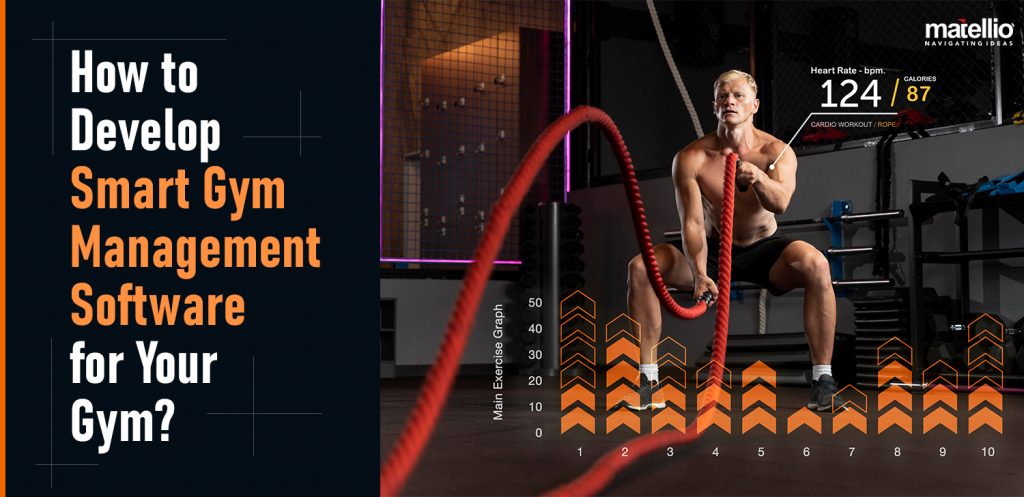 If you work in the fitness industry, you know how difficult it can be to run a gym effectively. The vast duties include arranging lessons, keeping track of memberships, and processing payments. How you operate your fitness facility will be revolutionized with gym management software. 
If you're wondering how to develop gym management software tailored to your gym's needs, you've come to the right place. In this comprehensive blog, we'll walk you through the step-by-step process, ensuring that your custom enterprise solutions will streamline operations and outperform competitors in the fitness industry.
Energy accounting software helps businesses analyze energy costs and identify areas for potential savings, enabling better budgeting and cost control.

 

 

Energy accounting software can predict future energy usage and costs based on historical data, aiding in long-term planning and decision-making.

 

 

Integration with other business systems like facility management, HVAC, and IoT devices enhances overall energy management.

  

 

For businesses with multiple departments or locations, the software can allocate energy costs accurately.
Smart Gym Management Software: Quick Overview!
Digital enterprise solutions like gym manager software are intended to make running a fitness center easier in many different ways. It covers various tasks, including organizing classes, managing memberships, and running marketing campaigns. Regarding streamlining operations, this software is a game-changer for gym owners and managers.
Moving ahead, the following are some other benefits of gym manager software development: – 
1. Efficient Member Management
Effective member management is one of the main advantages of gym management software. This program makes it simple to keep track of member data, such as contact details, membership plans, and attendance logs. This guarantees a smooth member experience, enabling you to offer customized services and maintain member engagement. 
2. Simplified Billing and Payment Processes
The invoicing procedure is made simpler with gym manager software development. It sends invoices, records past-due payments, and automates recurring payments. This saves you time and lowers the possibility of billing mistakes, improving cash flow. 
3. Class and Schedule Management
Gym owners need help managing classes and timetables. You can easily design and alter class schedules using gym management software. Class enrollment is simple for members, and you have effective control over members . 
4. Member Engagement and Communication
For your gym to be successful, it is essential to keep members interested. Thanks to gym manager software, you can interact with members through automatic emails, notifications, and announcements. You can build community by informing them about forthcoming classes, jobs, and activities. 
5. Inventory and Equipment Tracking
Inventory management is essential for gyms that sell supplements and goods or rent out equipment. You can monitor your inventory levels using this program, ensuring you always have necessities. 
6. Data Analytics and Reporting
Making wise judgments requires having a solid understanding of your gym's performance. Fitness center management software offers in-depth analytics and reports on various elements of your business, assisting you in spotting patterns and potential development areas.

Top Must-Have Features to Consider During Gym Management Software Development!
Are you looking to modernize the way your gym is managed? 
It's essential to have cutting-edge gym management software in the cutthroat fitness business of today to stay on top of the competition. You should take into account the following advanced features when developing your custom enterprise solutions if you want to achieve simplified operations, superior member experiences, and increased business growth: – 
1. Member Management
A successful gym's management of its members is its cornerstone. You should be able to easily add, amend, and keep track of member profiles with the help of your gym administration software. Specifics like your contact information, exercise objectives, and preferences or medical information are included. 
It should also make managing memberships easier by letting you keep track of membership kinds, expiration dates, and attendance statistics for members. The check-in process is made more accessible by this functionality, which also offers insightful data about member activity and preferences. 
2. Online Booking and Scheduling
Give your users the option to reserve lessons, private training sessions, or equipment online. Members should be able to examine available time slots, choose their preferred alternatives, and get confirmation via an easy-to-use scheduling system. This improves the overall member experience by reducing the chance of overbooking or scheduling issues while saving time for members and staff. 
3. Payment Processing
A smooth financial operation depends on efficient payment processing. Your gym management software should smoothly interface with various payment channels to collect payments for memberships, class reservations, and products. The renewal procedure for members should be automated, enabling recurring billing for monthly or yearly subscriptions. Providing a secure payment environment is essential to earn your members' confidence and safeguard their financial data. 
4. Automated Alerts and Notifications
Utilize automatic reminders and notifications to keep your members informed and involved. These messages can include information about forthcoming classes, membership renewal reminders, and special offers or events. You can improve member attendance, raise retention rates, and foster community inside your gym by delivering timely and pertinent messaging. 
5. Reporting and Analytics
Making decisions based on data is essential for maximizing the effectiveness of your gym. Robust reporting and analytics features should be included in your gym management software. These technologies ought to offer thorough insights into essential indicators, including member attendance, income production, and trends in member behavior. 
By examining this data, you can make wise judgments about class scheduling, marketing tactics, and member engagement programs. You should be able to concentrate on the precise data that are most important to the success of your gym thanks to customizable reports and dashboards. 
6. Inventory Management
Utilize thorough inventory monitoring to handle gym equipment, supplies, and goods effectively. With the help of this feature, you can guarantee that you never run out of stock and avert equipment-related downtime. You have to be able to monitor inventory levels, keep tabs on consumption, and set up automated reorder notifications for supplies and goods. Effective inventory control improves member satisfaction and helps your gym run more smoothly. 
7. Staff Management
Streamline payroll processing, performance evaluation, and staff scheduling. Using your gym manager software, you should be able to set staff timetables that coincide with class schedules and busy gym hours. Additionally, it should make proper payroll processing easier, including managing employee salaries and keeping track of staff hours. To keep your team engaged and productive, performance monitoring systems can also assist you in evaluating employee performance. 
8. Mobile App Integration
Include a mobile app that takes the gym experience outside the actual facility. Members should have mobile access to the app's class scheduling, workout progress monitoring, and payment choices. Giving members the freedom to control their fitness journey at their convenience improves member engagement, loyalty, and overall pleasure. 
9. Access Management
With cutting-edge access control capabilities, you can guarantee secure access to your gym. This might involve RFID card access, biometric entry systems, or other safe entry procedures. By providing a quick and secure check-in procedure, these safeguards not only prevent unlawful entrance but also improve the overall member experience. 
10. Member Engagement Tools
Give your members access to tools that make goal-setting, tracking progress, and communication with trainers and other members easier. As a result, your members will feel more motivated, accountable, and a part of the group. A lively and active member community can be facilitated through features like progress monitoring charts, workout logging, and social networking within the gym's app. 
11. Integration with Wearables
You can support fitness aficionados by combining your gym management software with well-liked wearables. Members can sync their workout data, such as steps done, calories burnt, and heart rate, with your program via this connection. You can appeal to tech-savvy customers and improve their fitness journey by offering a thorough fitness monitoring experience. 
12. Member Feedback System
Utilize the software's built-in survey and feedback forms to get insightful member input. You can use this tool to learn more about student happiness, the caliber of the classes, and potential development areas. Analyzing member feedback can help you make decisions and continually improve the services offered by your gym. 
13. Waitlist Management
Allow members to join waitlists for fully booked classes or sessions, ensuring that no one misses out on their preferred activities. An efficient waitlist management system should automatically notify members when a spot becomes available, optimizing class attendance and member satisfaction. 
14. AI-Powered Insights
Utilize artificial intelligence to deliver individualized exercise advice and diet regimens depending on users' objectives and results. AI algorithms can use member data analysis to provide individualized exercise and dietary guidance, improving the overall member experience and outcomes. 
15. Virtual Classes
You can embrace the virtual fitness trend by including live or previously recorded virtual classes in your services. This is designed for those who would rather exercise at home or away from home. Your gym's reach and attractiveness are increased through virtual classes, which draw a wider clientele and boost income possibilities. 
16. Maintenance Scheduling
You can keep your gym equipment in top working order by planning regular maintenance chores and monitoring equipment usage. By taking proactive measures, you can reduce equipment downtime and guarantee that your customers can access secure, well-maintained exercise equipment. 
17. Integration with Third-party Apps
Ensure smooth integration with other fitness applications and services your users frequently use. Through integration, members can easily sync their data and preferences with wellness platforms, nutrition apps, and activity trackers. This ease improves members' overall satisfaction and promotes increased use of your gym's services. 
Imagine how your gym management software would function if all these features were effortlessly incorporated. It would be like having a personal assistant for your fitness company. Regarding turning aspirations into reality, Matellio, a leading provider of technology consulting services, AI development, and digital transformation services, can make this vision a reality. We are masters in developing enterprise solutions customized to your specific requirements. 

Gym Management Software: Key Development Steps!
The solution can be to develop smart gym management software tailored to your specific needs. Let's discuss the step-by-step process of creating customized gym management software for your fitness center: – 
1. Define Your Requirements
In custom enterprise software development, it is essential first to comprehend your unique requirements. Think about the qualities your gym must-have. These involve enrolling students in classes, processing payments, keeping track of attendance, and reporting. Your software should be in line with your specific business goals and procedures. 
2. Choose a Reliable Development Company or Team
For a project to be successful, choosing the correct technology partner is essential. 
You need the following members in your team to build effective gym manager software: – 
Front-end developers

 

Backend developers

 

Business analyst

 

QA developers

 

Project managers
The top-tier provider of technology consulting services and services for digital transformation is Matellio. We have a wealth of expertise in developing custom enterprise solutions for various sectors, including fitness and wellness. 
3. Choose the Right Technology Stack
Your smart gym management software's success depends on choosing the appropriate technological stack. Scalability, security, and interface simplicity with other technologies are essential considerations. It's crucial to pick technology that supports your long-term objectives. 
Here's a top tech stack for developing such software, along with explanations for each component:
Matellio, a top digital transformation services provider, can help you make informed technology choices that align with your goals. 
4. Design the User Interface (UI)
Both your workers and members want a user-friendly interface. Create an elegant user interface (UI) with your development team that makes navigating and accessing essential functions simple. Matellio can help with this, of course. Always keep in mind that a well-designed interface improves user experience. 
5. Development
Based on your specifications and design, the software is coded and built throughout development. Working with skilled developers who comprehend the fitness sector and can make a reliable system is essential. As a leading AI development company, Matellio can add artificial intelligence to your gym management software to boost productivity. This can involve automated member contact, individualized fitness advice, or AI-driven workout plan suggestions. 
6. Testing and Quality Assurance
To find and address any defects or problems, thorough testing is necessary. For your members to have a smooth experience, your gym management software has to be dependable and error-free. The quality assurance professionals at Matellio can guarantee that your software has been extensively tested and is prepared for deployment. 
Conclusion
Developing smart gym management software specifically suited to your facility's requirements can significantly increase productivity and member happiness. You can accomplish a smooth and effective software development process by working with knowledgeable vendors like Matellio. Keep in mind that the journey doesn't end with implementation; ongoing upkeep and upgrades are essential to maintaining your software's peak performance.
Whether you own a tiny fitness studio or a big gym chain, making an investment in specialized gym management software will help you grow your company. Make plans now to profit from them later. Get a completely custom and no-obligation quote for your smart gym management software development project today! Simply fill out our form to get started.
Get the Conversation Started!
Get the Conversation Started!
[contact-form-7 id="34486" title="Side Form"]