Smart Healthcare Staffing Software Development – Key Features, Tech Stack, and Development Cost
Updated on Dec 8th, 2023
Are you worried about managing skilled healthcare professionals and putting them in the right place? Do you need a faster way to ensure that your healthcare organization never lacks professional doctors and staff? Well, healthcare staffing software development is your key to success!  
We understand that in healthcare, it's not just about finding candidates; it's about finding the right candidates quickly and seamlessly. Moreover, the various processes involved, like recruitment, application tracking, interviews, and compliance, consume a lot of time. To efficiently manage this demand, healthcare staffing agencies require cutting-edge solutions, and that's where custom healthcare staffing software comes into play.  
With a custom healthcare staffing agency solution, you can not only include your choice of features that automate your workflows but can even introduce personalized themes and next-gen technology dedicated to your business. And creating a custom solution with experts is a piece of cake! Here's a complete list of everything you will require for smart healthcare staffing software development.
Healthcare staffing software is a transformational trend that can streamline various aspects of your organization/clinic, including resume screening, cost optimization, hiring the perfect healthcare workers at the right time, compliance and certification management, etc. 

 

You can get the real-time reports on what your organization requirements are at a specific time and how many part-time/full-time employees you need with what level of expertise with a healthcare staffing agency solution. 

 

While developing healthcare staffing software, remember to adopt a mix of basic and advanced features like predictive analytics, AI-based resume screening, and NLP bot for your healthcare solution.

 

Remember to partner with a reliable consultancy to get end-to-end services for your organization. 

 

Do not forget to test your app and remember that next gen technologies are the future of your custom digital solutions, so go for it!
What is Healthcare Staffing Software, and Why to Use It?
Well, before making a valuable investment in healthcare staffing software development, you should know what it is and what it can do for your healthcare staffing agency.   
So, healthcare staffing software is a custom enterprise solution that efficiently manages the surging demand for skilled healthcare professionals at your fingertips. Whether you want to completely automate the recruitment process, streamline scheduling and shift management processes, or even improve the compliance and credential management processes, custom healthcare staffing software is all you need!  
And that's not all. Here are a few more reasons that can prove healthcare staffing software development is a profitable investment:   
Maintaining Adequate Staffing Levels
One key reason for implementing a healthcare staffing solution is to ensure that your organization maintains adequate staffing levels at all times. What if suddenly, a few of your nurses or doctors can't come to work? That can be a real challenge! That's where smart healthcare staffing software comes into play. Even when unexpected stuff happens, this software helps you make sure you have enough staff.   
Improved Efficiency and Productivity
Custom healthcare staffing software uses technology and smart methods to make your hiring and onboarding process much smoother. This healthcare solution is like a super-powered assistant who can quickly go through resumes and even help your team set up interviews. It saves time and effort, which you can use to focus on other important things.  
Flexibility to Meet Fluctuating Workloads
Another great reason to invest in healthcare staffing software development is the flexibility that it offers. This software helps you adjust your staff accordingly. So, when you suddenly have more patients or things get really busy, you can quickly call in these qualified healthcare pros to join your team.    
Enhanced Financial Management
You know how sometimes you have to pay extra when your staff works overtime or hire full-time employees when you only need temporary help? Well, this software can help you avoid those extra costs. It figures out the right number of staff you need and when you need them.   
Access to Specialized Skills and Expertise
Whether it's recruiting nurses with specific certifications, physicians with specialized training, or allied health professionals with unique skill sets, healthcare staffing agency software can help you find and onboard the right talent.
Getting Started with Healthcare Staffing Software Development – A Step-by-Step Process
So, now let's focus on the main aspect of our blog post – the process of creating custom healthcare staffing software that caters to your unique business needs. Here is a step-by-step approach to guide you toward a successful software development journey!  
Analyze Your Requirements and Market Trends
So, the first step to creating custom healthcare staffing software is to analyze your organization's requirements. Before we dive into the development part, it's crucial to take a close look at your healthcare organization. You need to thoroughly understand every nook and cranny of your healthcare operations. For instance:  
What are the operations that can be streamlined via healthcare staffing software development? 

 

How can you proceed with the development part, and what resources do you need on your journey?

 

How can you track the result of your investment? 

 

Answering questions like these ensures that your software is tailor-made to suit your specific needs.

 
Furthermore, keeping an eye on market trends is crucial. You should be aware of the latest trends in healthcare staffing. Think about how you can leverage the robust AI development services or IoT in your healthcare application. Similarly, cloud integration with DevOps is key to ensuring the success of your custom enterprise solution these days. In this way, your healthcare staffing software will not only meet our needs but also keep up with trends in the healthcare professional world.   
Opt for End-to-End Consultation
The second and most important step in developing software for healthcare providers is choosing to ultimately provide end-to-end consulting. When it comes to developing custom healthcare staffing software, it's not just about the technical side of things. You want a solution that perfectly matches your organization's unique needs and requirements, and that's where end-to-end consulting comes into play.  
But what does it offer you? Well, end-to-end consulting means working with a team of experts who will guide you through the entire process, from start to finish. They take the time to understand your organization from the inside out, including its goals, challenges, and the specific needs of your employees.  
Ultimately, with end-to-end consultancy, you're not just getting a development team. You will discover a team of professionals whose goal is to simplify healthcare software development for your organization.   
Here's what consulting offers you:
You will find experts who will collaborate with you, providing valuable insights and industry expertise. 

 

They will help you analyze your current professional practices and identify areas for improvement. 

 

You will be guided to make informed decisions regarding software features, functionality, and even user experience. 

 

These consultants will work hand-in-hand with your organization, ensuring that custom software is compatible with your existing business processes and integrates seamlessly with your existing systems. 

 

They will help you consider options, develop a roadmap, and prioritize features based on your budget and timeline.
Additionally, with end-to-end consulting, you will have ongoing support even after the software is developed and deployed. This means that when issues or changes arise, you'll have a reliable partner to turn to for help and support.  
And it's not tedious to find a reliable software development company. Simply fill out our form to book a free 30-minute expert consultation for your project, where our experts will understand your goals and requirements to offer you a strategic plan for smart healthcare staffing software development.   
Read More: How to Choose the Right Healthcare Software Development Company
Focus on Compliance and Regulations
Regulations play an important role when creating custom enterprise solutions, and the healthcare industry is full of several rules and compliance. In the case of healthcare staffing software development, there are regulations like HIPAA, GDPR, HITECH Act, and Medical Device Regulations (like FDA/MDR) that you must follow depending on your target location. Hence, you should always choose a development partner that is well aware of all such regulations and follow them during custom software development.   
Well, Matellio has extensive experience working with healthcare organizations around the globe. We have created digital solutions and apps for various healthcare organizations while following all the regulations and state laws.   
Here's a glimpse of what we did for one of our clients:
Client Name: Max MRJ  
Project: A standalone centralized platform to streamline the discharge process of the hospital.  
Services We Provided: Business Consulting, UI/UX Design, Web Development, Backend Development, QA and Testing.  
Features:  
A centralized platform to give real-time details of all the patients ready for discharge. 

 

A referral management module to review all the sources and accept/decline them. 

 

HIPAA and PHI compliance to store and encrypt users' information securely and let them share at their will.  

 
Include the Most Prominent Features with Expert's Help
Once the requirements are finalized, and you have got the perfect roadmap for your custom healthcare staffing software development project, it is now time to make a list of the best features. Features play a crucial role in determining the ROI of your investment. Having the best features that not only fulfill your business requirements but also help you become future-ready is crucial in today's competitive era.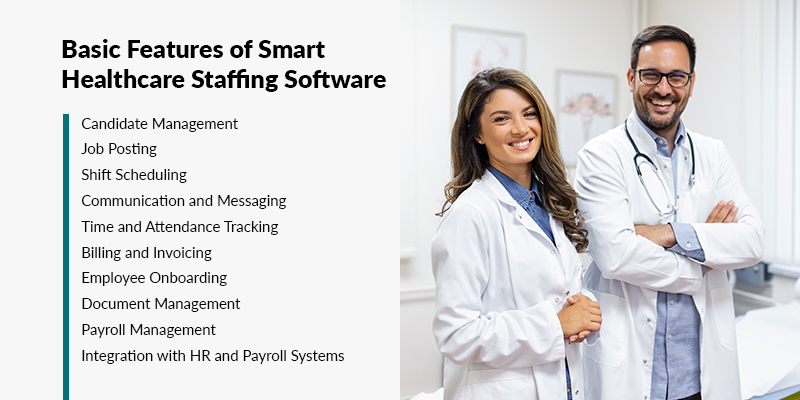 Apart from these common features, there are some advanced functionalities that can enhance the functioning of your custom healthcare staffing solution. Hence, when you opt for consultancy, you get a perfect list of business-focused features that will do wonders for your business.   
Now, as a leading consultancy in the US, here are the top features that we strongly recommend for your custom healthcare staffing agency software:  
Candidate Management
Your custom healthcare staffing software should have a robust candidate management system that allows you to efficiently store, track, and manage candidate profiles. This should include features such as resume parsing, skills matching, and the ability to easily search, and filter candidates based on various criteria.  
Job Posting and Application Tracking
Creating and posting job openings, both internally and externally, with ease should be possible with your custom healthcare staffing agency software. It should have an intuitive application tracking system that helps you track the status of applications, schedule interviews, and communicate with candidates seamlessly.  
Automated Scheduling
AI can play an important role in process automation. Your software should use AI enhancement functions to intelligently assign prospective clients and open changes or assignments based on demand, availability, and preference. This can save time and effort while ensuring fulfillment of the optimal number of worker matches.  
Credentialing and Compliance Management
Healthcare providers are required to adhere strictly to certification and compliance requirements. Your custom software should have the functionality to validate and track healthcare provider credentials, licenses, certifications, and compliance documents. Renewal or expiration reminders must also be sent to demonstrate compliance.  
Performance Analytics and Reporting
Your software should provide comprehensive analytics and reporting capabilities, allowing you to effectively track key performance metrics such as fill rate, fill time, candidate satisfaction, and more. Here again, AI development applications can help you build intelligent systems that can generate insights and predictions from this data that support decision-making and can improve future workforce strategies.  
Predictive Analytics and Demand Forecasting
Using AI technology, your software can use predictive analytics to forecast future staffing demand based on historical data, seasonal trends, patient demographics, and other factors. This can help with staffing planning and avoiding situations of understaffing or overstaffing. 
Natural Language Processing (NLP) for Candidate Screening
You can leverage NLP services to automate and streamline your resume screening process. The AI-powered NLP module can extract relevant information from a resume and analyze it against job requirements. This way, you can save time and resources to find the right healthcare staff for your organization.    
Intelligent Staffing Recommendations
AI can provide intelligent staffing recommendations by analyzing historical staffing data, staff performance, and other relevant factors. These recommendations can contribute to optimal staffing decisions, such as the appropriate mix of full-time, part-time, and temporary staff to meet patients' needs and reduce costs.
Next-Gen Technologies are the Future, So Go for It
So, you have discovered the amazing features that you need for your custom healthcare staffing agency software. But have you thought about how you can implement those features or any other functionalities in your custom solution? Well, it's through the use of a specific tech stack. And talking about it these days, the importance of involving next-gen technologies like AI, ML, cloud, etc., is at its peak.  
Hence, besides the basic technologies, you should hire dedicated developers who can work on next-gen technologies seamlessly. Here's an idea of what tech stack you need to follow for smart healthcare staffing software development:
Remember that this is just an idea of what technologies you will need to help you hire the right resources. You can always book a free 30-minute consultation with our experts to know the exact tech stack required for healthcare staffing software development based on your requirements.   
Use the Agile Method for Smart Healthcare Staffing Software Development
So, now comes the development part, which is, of course, the main aspect of this blog post. So, now that you have the proper expert assistance, a roadmap for your software development project, the best resources, and top features, it is time to turn your ideas into a business-focused digital product. But wait; there's more to it!  
When developing a custom enterprise solution, you need to pay heed to many factors, and the most important one is following the Agile methodology. What is it? It is basically a software development approach where your project is broken into simple, manageable sprints so that you can easily monitor it and get an expected product from your hired development team.   
With a business-focused and expected software solution, you get to spend less time testing since most of the things were verified during the development stage. Moreover, you get more time to market your product or arrange employee training.  
Hence, you should always hire dedicated developers from a software engineering company that follows the Agile methodology. Well, at Matellio, we do that!  
Read More: Benefits of Hiring Agile Software Development Company
Test and Test Until It Becomes Glitch-free
In the end, it's all about testing your custom healthcare staffing software solution and deploying it over your choice of platform. Once you have the final healthcare staffing software ready for your organization, you need to test it thoroughly for different situations. That's because you need to ensure that your software solution performs optimally under various circumstances and peak loads.  
That's why, at Matellio, we offer various kinds of testing services and an integral part of our custom enterprise software development package. You can leverage manual testing, automated testing, functional testing, performance testing, security testing, etc., by choosing us as your healthcare staffing software development partner.      
What About the Cost Involved with Healthcare Staffing Software Development
Well, after determining everything about healthcare staffing software development, many of you might be thinking about the cost involved. And that's completely okay. After all, the budget plays an important role in determining whether to invest in a digital solution or not. But don't worry, like everything else, Matellio has got this one covered, too!  
Our experts take many factors into consideration before giving a final estimate for your project. We consider things like the number of developers working on your project, services opted by you, the complexity of your project's features, the type of testing service opted by you, whether or not you have opted for cloud or any other next-gen technology, etc.  
After careful evaluation of your specific business needs and ideas, we present you with a custom quote that perfectly matches your requirements and budget. So, don't wait and make assumptions. Get a completely custom and no-obligation quote for your healthcare staffing software development project today! Simply fill out our form to get started.
Get the Conversation Started!
Get the Conversation Started!
[contact-form-7 id="34486" title="Side Form"]