The 7 Best Money Making Apps
Updated on May 4th, 2021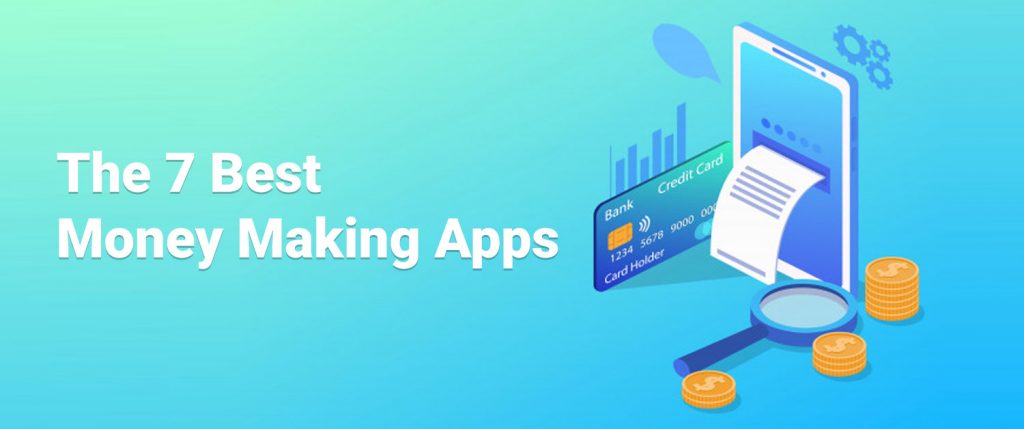 An average person spends around 5 hours daily on the smartphone, and around 90% of the time goes in browsing apps. So why aren't we turning our mindless scrolling into real cash? This article presents the list of top 7 money making apps that can help you earn cashback via different methods. Have an opinion, or love to workout, or simply you're someone who loves investing- then this is the read for you!! 
Keep Reading.
Top Money Making Apps
1. Rakuten
2. Swagbucks
3. Acorns
4. iPoll
5. Sweatcoin
6. Slidejoy
7. Foap
1. Rakuten 
Android: 4.2 Stars
iOS: 4.3 Stars
Formally known as Ebates, Rakuten rewards the users with a cashback from shopping. Partnered with more than 750 stores including Canadian Tire, Amazon.ca, Expedia.ca, Hudson'sBay; the app offers an opportunity of earning and saving upto 30%. These stores pay the app a commission for referring and Rakuten shares it with the users ( cashback form). Join Rakuten today, avail the attractive feature set-
Shop via the app for receiving cash back

Access offers on some of the best selling brands

Earn and save money on your vacation trips.

Receive cashback from hotels.com, Expedia.com via the app. 

Get the payments via check or Paypal.

Sign up for free and have a $5 welcoming amount in your account. 
2. Swagbucks
Android: 4.1 Stars
iOS: 4.4 Stars
Whether you like shopping from our favorite retailers right from your phone, or watch daily news, Swagbucks have you covered. Easily find a fancy hotel or shop a new pair of sneakers from your favorite vendor. This app is the perfect opportunity for extending your earnings wherever you go. 
Discover new products and shop via your favorite brand

Earn points by filling your opinions or say  answering surveys

Share feedback on varied topics like movies, news, products in the Answer tab.

Redeem gift cards for PayPal, Amazon, Starbucks, Walmarts, etc. 

Find new products and services for trying in the Discover tab.
3. Acorns
Android 4.5 Stars
iOS 4.7 Stars
Acorn is known for investing your money to work. It automatically rounds up those spare changes from your credit card purchases and then deposits it to an investment account. For instance, considering you spent $8.50 at lunch, Acorn would round up the amount to $9 and invest the spare amount of $0.50.  
Best app for the ones who want to invest but don't have large sums for investing.

Sign up within 5 minutes and join around 7 million people who take charge of your money. 

Answer some questions about risk tolerance, and the app would recommend a suitable portfolio.

Earn bonus investments from more than 350 brands and have financial literacy right at your tips. 

App includes various pricing tiers such as, $1 for Acorn Lite and $3 for Acorns Personal. 

Powered by brands like PayPal, BlackRock, CNBC, the app helps in growing your financial knowledge. 
4. 

iPoll
Android: 4.0 Stars
iOS: 3.6 Stars
If you're somebody who likes to get paid for taking surveys, then iPoll would be the best choice. The users will just have to answer some questions about services and products that they're already using. Once they complete the survey, the iPoll account would be created. After that, the users can redeem their rewards via the app. 
Avail free rewards like airline credits, gift cards, etc.

Share your opinions about the visited places and bought products.

Photo, audio, and video abilities for interactive reporting.

Reward catalogue for redeeming account balance
5. Sweatcoin
Android: 4.2 Stars
iOS: 4.5 Stars
Need motivation for workout? Download Sweatcoin and wear your sport shoes. The application pays for your every walking step in cryptocurrency. Download the app from playstore and get yourself moving. Walk 100 steps and earn 0.95 Sweatcoins. Once a specific amount is collected, redeem goods like Apple Watch, anti-gravity yoga classes, iPhone, and even vacations. This app demands some serious work- most of the items will cost around 20,000 sweatcoins. Walk 10,000 steps daily and you will fetch 9.5 sweatcoins. This implies that it would take almost 6 years of consistent work (10,000 steps) to earn those rewards. Overall we can say, the app is for serious movers and not the regular fitness freaks. 
Runs in background, doesn't consume much of your phone battery.

Get exclusive offers, discounts, prizes, and much more.

You can fund the charity events with your earned coins. 

Create a group with your friends and family for sharing goals

Set up a new goal and keep track of it via the application.

The app doesn't track your location, and hence no security issues. 
6. Slidejoy
Android: 3.8 Stars
Slidejoy is based on advertisements. Install the app, and you'll start to view ads on your lock screen. Swipe left for getting more information on the advertisements, swipe up for viewing more ads, or swipe right for navigating to your home screen. Every swipe will fetch you Carats, which will be credited to your account the very next day. 
Earn rewards for using the easy-to-use, intelligent lockscreen.

Receive carats and redeem money for gift cards or money.

Every 1000 carats will give you an amount of $1.

Enjoy timely ads and trending news on your lockscreen. 

The app doesn't drain your battery as per the company's claim. 
7. Foap
Android: 3.3 Stars 
iOS: 4.5 Stars
Foap allows both amateur and professional photographers to make extra money by selling photos captured on smartphones. The app is a crowdsourcing platform for marketing agencies and brands to find the purchased images of around 2.5 million photographers round the world. 
Sell your photos to top brands via the app

Have your own web portfolio for selling

Explore beautiful pics from round the world.

Receive feedback on your captured pics. 

Be part of the international community and enjoy unlimited uploads. 

The easy way of cashout owing to integration with PayPal.
Wrapping Up!
Well there are many money making apps available in the market, but we have only covered the seven best based on our intense research. If you're a hustler and have a phone all the time, then money making apps are a thing for you. 
Don't mind getting the legwork out of the way and filling some registration forms for the next one hour, then get started with the ones listed above. 
Didn't you find your favorite app in the list? Give us a shout in the comment box below and we shall update. 
Like what we write? Then stay tuned with us!
Get the Conversation Started!
Get the Conversation Started!
[contact-form-7 id="34486" title="Side Form"]