For quite some time, Artificial Intelligence has been taking the world by storm. We can witness the power of AI in almost all the major and minor sectors of the global market. Be it education, healthcare, research, or even the retail industry, everybody today is leveraging AI-based applications to make their tasks more enhanced and simplified, both at the same time. And the exciting thing is that AI has worked wonders in improving global businesses and enabling enterprises to enhance their customer experience.
That's why AI has been readily adopted by almost 42% of companies worldwide. That's nearly 270% more than the previous years. Moreover, the total growth of the AI sector was a whopping 154% in the year 2021. Many new startups and even the well-to-do companies today are leveraging AI in some form or the other. In fact, AI has become a common trend among the people of all regions. 
More than 42 percent of the companies across the world have adopted AI.

 

The AI software market is expected to reach $22.6 billion by the end of the year 2022.

 

Amazon Alexa and Google Assistant are the two most popular AI-based virtual assistants.

 

K-Health uses machine learning to understand the pattern of treatments used by doctors.

 

Youper has been winning hearts with its efficient working as an AI-based healthcare assistant.
What is Artificial Intelligence (AI)?
AI is a massive term in today's tech-driven world, and almost everybody is familiar with it. Still, for those who do not know very much about AI, this section of the article will give you a brief about it. AI, or in words, artificial intelligence, is a robust technology that has enabled marketers to provide an excellent UX and enhanced business operations. AI makes computers intelligent by helping them learn from past experiences and by leveraging a massive amount of data on the internet. AI is somewhat different from rule-based automation, as it undertakes technologies like ML (machine learning) and NLP(natural learning process). 
The word artificial intelligence first came into existence in the year 1956, during British wartime. After that, the research on AI went through various ups and downs to finally become what it is today. In fact, computer scientists are still working hard on the further advancements of AI. Furthermore, AI can be broadly divided into two main categories, viz. Artificial General Intelligence (AGI), and Narrow AI. Some of AGI examples include Google search, image recognition software, Siri, Alexa, self-driving cars, etc. On the other hand, Narrow AI includes ML and deep learning networks to help in some exciting developments. 
How is AI being used?
AI is used in almost all sectors of the global market today. In fact, some experts believe that AI will be as vital to us as electricity in the coming future. So, what impact has AI created on the global platform? Let's look at it!
Here are some astonishing facts on AI to efficiently see its impact on the global world.
Almost 80% of the future technologies will have AI as a foundation by the year 2022. (Source: Gartner)

The global revenue from the AI sector is predicted to reach $97 billion by the year 2023. (Source: Statista)

The size of the AI software market is expected to reach $22.6 billion by the end of the year 2022. (Source: Statista)

The maximum utilization of AI talent is in two sectors: technology and Finance.

(Source: Adobe)

 

Almost 44% of executives say that AI can be a lot beneficial in providing data to make informed business decisions. (Source: Chatbot Magazine)
The facts above clearly predict that the powerful and amazing AI technology has penetrated every global market sector and will continue to gain popularity in the coming years. And as we journey down to 2022, we will surely see more explosions of AI into the global market. And not to mention, these AI advancements that will be seen in our mobile apps will make our lives more hassle-free and exciting. From self-driving cars to human-like robots, AI will bless our lives in the coming future.
Top 10 best AI apps for 2022
So, we are at the most awaited section of our article, the top 10 best AI apps of 2022. Now, before proceeding further, you need to know that we have categorized the AI apps based on their core function like healthcare apps, camera apps, utility apps, and so on. So, what are we waiting for? Let's dive in! 
AI Virtual Assistants
AI virtual assistants are the most popular app category that is trending in the global market these days. These AI-driven personal assistants are considered to be the closest we've gotten in intimidating human intelligence, especially in the form of gadgets and mobile applications. They can do almost all the tasks by utilizing our voice commands or sometimes by leveraging our searching history. For instance, personal assistants can help you to place a call, order your favorite food, or even manage your day-to-day tasks. Here are some of the fantastic AI virtual assistants of 2022. 
1. Amazon Alexa
Available for: Android and iOS 
Price: Free
Well, who doesn't know Alexa? I mean, the global market is already flooded with Amazon's personal assistant Alexa, and the reason is pretty simple: it does what you want. Amazon Alexa is probably the best AI-driven personal assistant that works wonders when teamed with Amazon Echo. Amazon Echo is a smart speaker that can play music, answer all your questions in a human tone, and even control your smart home devices.
2. Google Assistant
Available For: Android and iOS 
Price: Free 
After Alexa comes Google Assistant, which has made its top position in the global market in recent years. Like Alexa is to Amazon, Google Assistant is to Google. Meaning, it can also do literally all the possible tasks that you won't like playing music, searching your favorite restaurant, calling your friend, etc. furthermore, the GA can even help you get useful information from the search giant Google and even tell you jokes. And like Alexa, GA also works best with a smart speaker called google home that does the same thing as Amazon Echo does. They, of course, come in different sizes and at different prices.
3. Siri
Available For: iOS 
Price: Free 
"Hello Siri, please play a romantic song for me!" 
You might have heard or even said these lines many times during recent days. Siri is another popular personal assistant that is specifically designed for iOS users. We can, without a doubt, say that Siri is equally popular among people as its brand Apple is. Siri is pre-installed in iOS devices like iPhones, MacBooks, and Mac Pros. And just like the other two popular personal assistants, Siri has a voice partner called HomePod. Want to develop an app like Siri? Read our blog here to get all the helpful information! 
AI Camera Apps
Next comes to the camera apps. Camera apps always remain the top loved category of almost all people, and this trend is still thriving in the global market. That's why almost 40 million people worldwide downloaded a camera app in the year 2019. Furthermore, the recent advancements in AI have today led to a new age of camera apps. Today, mobile camera apps can click some amazing pictures and even offer some amazing filters to further enhance the image. Let's look at some best AI camera apps here in this section.
1. Spectra Camera
Available For: iOS 
Price: Free 
Spectra camera is Apple's one of the best camera apps that is available on its App Store. It is one of the amazing AI camera apps that can help you capture some amazing snapshots and can make them even more memorable. You can also take pictures with long exposures. Sadly, this best camera app is only available for iOS users. 
2. Adobe Photoshop
Available For: Android and iOS 
Price: Free 
First released in Dec 2019, Photoshop Camera is already one of the best AI camera apps for all the users of the global platform. It leverages the power of Adobe Sensei to produce high-quality images. The app can even instantly recognize the subject in your images and can automatically apply some amazing features. 
3.

Picai
Available For: Android and iOS 
Price: Free 
Price is another amazing camera app that leverages disruptive AI technology to capture some best moments. You can even pick some amazing filters that are offered by the app to make the picture even more fascinating. Additionally, a feature that sets Picai apart from other AI camera apps is its split-screen filter. 
AI Health Apps
Healthcare is the most vital genre in mobile applications. Almost everyone wants a healthy lifestyle; that's why nearly all people today have at least one healthcare app on their smartphones. AI has been playing a vital role in enhancing the functionality of these healthcare apps. For instance, the patients and the doctors can now seamlessly communicate via an AI-driven mobile app. They can even share vital reports and healthcare documents using the same platform. Let's look at some best AI healthcare apps of 2022.
1. K-Health

 
Available For: Android and iOS 
Price: Free 
K-Health is an amazing AI healthcare app that leverages machine learning technology to understand how other doctors treat patients with the same symptoms. It then utilizes this information to help users address their health issues. You can always get trustworthy answers from the K-Health application on stress, anxiety, and common health disorders.
2. Ada
Available For: Android and iOS 
Price: Free 
Ada is another big name that comes to mind when we talk about AI healthcare apps. It's an AI healthcare app that expert healthcare providers have created to help you leverage amazing healthcare services. Ada is also referred to as a "health companion." It does a pretty simple thing; it captures your symptoms, matches them with other patients having the same age and symptoms, and then reports the statistical likelihood of your disease. All in all, it's like a personal doctor for you! 
3. WebMD
Available For: Android and iOS 
Price: Free 
WebMD is again the most popular AI-driven healthcare app that has been trending on the global platform. It's a part of the popular health site WebMD that has now enabled users to access better healthcare facilities through their smartphones. WebMD app is a symptom checker app that checks your symptoms with other users with the same conditions. It works well with a smart speaker like Amazon Echo to deliver a fully personalized healthcare service. You can even leverage the app to set medication reminders, fitness alerts, and so on.
AI Photo Editing Apps
Apart from AI camera apps, there are ample AI photo editing apps that can transform your pictures to the next level using some smart AI features. These AI photo editing apps seamlessly deliver state-of-the-art and high-quality images using some expert filters. Let's look at some best photo editing apps of 2022. 
1. Snapseed
Available For: Android and iOS 
Price: Free 
Well, who doesn't know Alexa? I mean, the global market is already flooded with Amazon's personal assistant Alexa, and the reason is pretty simple, it does what you want. Amazon Alexa is probably the best AI-driven personal assistant that works wonders when teamed with Amazon Echo. Amazon Echo is a smart speaker that can play music, can answer all your questions in a human tone, and can even control your smart home devices.
2. Prisma
Available For: Android and iOS 
Price: Free 
Prisma is another most popular photo editor that is available on the global platform. It is so popular among the users that almost 50 million downloads were recorded on the Play Store for this robust app. You can leverage over 250+ filter styles to convert your picture into a beautiful art piece. Well. at least that's what the tagline of this super amazing app is- "helping you unleash your creativity." 
3. VSCO
Available For: Android and iOS 
Price: Free 
Last but not least is VSCO. VSCO is another most popular AI photo editor app that is playing big in the market. You can leverage this robust app to take some best snapshots and can even edit those snaps to make them perfectly fit for your moment. VSCO is also a step further from other photo editing apps. It has dedicated communities where everyone can upload their pictures and even share them with the other app user. 
AI Content Discovery Apps
Content discovery is one of the most effective options for everyone out there who is related to research, be it students, researchers, tutors, and so on. Content consumption has always been a constant part of our daily lines. And with the introduction of AI, content consumption has become even more amazing and accessible. Let's look at some top content discovery apps that have enhanced their functionality even more.
1.

YouTube
Available For: Android and iOS 
Price: Free 
Who doesn't know YouTube? This amazing application has been gaining enough momentum since its inception. YouTube has always been the topmost priority of the users to look for relevant content. That's why it has over 2 billion users worldwide. Although it is the most popular content discovery app, many of you might not even know that it works on AI principles. That means, whenever you search for a particular content over YouTube, its search algorithm displays the relevant topics in its search results only for you. All in all, YouTube provides personalized content according to the needs of every user.
2. Spotify

 
Available For: Android and iOS 
Price: Free 
Spotify is always considered the king of music, even higher than Apple Music and Google Play. It's a music streaming platform that seamlessly provides you access to thousands of DRM-protected music tracks. And what else? It is available for both users, viz. Android and iOS. You only need to search for a music genre, and there you are, all set to go! The platform even offers a paid version to eliminate the ads that come in between the music tracks. Want to develop an app like Spotify? Here's the link for that!
3. Pinterest
Available For: Android and iOS 
Price: Free 
Pinterest is also one of the best-regarded content discovery apps that a large sum of the population has used. Whether you are looking for educational content or fashion advice, Pinterest has it all. It is also a popular choice of platform for video content and high-quality images. Moreover, sometimes people also refer to Pinterest as a social app + search website. 
AI Travel Apps
Are you in love with traveling? Well, maybe AI travel apps can help you to explore some amazing vacation spots. AI travel apps are a great source for locating and exploring some amazing and budget-friendly travel spots to refresh your mind and soul. So, let's look at some of them.
1.

Mezi
Available For: Android  
Price: Free 
Mezi is a great AI-powered travel app that can help you plan travel trips and book tickets for your travels. American Express has acquired this robust AI travel app, and since then, it has shown tremendous improvements in its services. You can explore some amazing travel spots by leveraging the suggestions of the app and can even book hotels and restaurants on your travel seamlessly. 
2. Hopper
Available For: Android and iOS 
Price: Free 
Hopper is again a cost-effective travel app that enables you to book tickets and plan your travels seamlessly using its robust features. It is an AI-powered travel app that helps you save a lot of money by predicting the travel prices up to 95% accuracy up to one year in advance. Meaning, you can reserve your hotel room or book your flight tickets whenever they are cheap during the entire year. 
3. Airbnb
Available For: Android and iOS 
Price: Free 
Last but not least is the Airbnb mobile app. According to experts, every time you interact with Airbnb, you are some ways or the other interacting with the smart AI technology. The travel platform utilizes artificial intelligence techniques to see the world uniquely. Meaning, the app allows the hosts to provide free space to travelers at a much cheaper cost. That way, both the host and the traveler can benefit from the AI travel app. 
AI Communication Apps
Communication has always been the most vital tool for every business, irrespective of its domain. Today, AIU has transformed the way we used to communicate with each other. Meaning, from spam folders to social media channels, every communication system we see today leverage AI in some form or the other. Let's have a look at the best AI communication tools for 2022.
1. Gmail
Available For: Android and iOS 
Price: Free 
A powerful mailing platform of the search giant Google, Gmail has been trendy among people since its inception. But not many know that the platform leverages artificial intelligence to provide unique service to its customers. For instance, it predicts typo errors while you are drafting an email. Moreover, it also helps to predict which mail is of no use to you and which ones are important for you by viewing your priority patterns.
2. Twitter
Available For: Android and iOS 
Price: Free 
Twitter is another powerful social media app that has gained enough momentum during the past few years. While everyone knows that via Twitter, we can seamlessly express our thoughts over the global platform, what one doesn't know is that it leverages artificial intelligence for that. Yes, your favorite social channel Twitter actually uses AI to rank tweets, crop images, and prevent inappropriate tweets. It works so smartly that even Mark Cuban in 2017 said that "They (Twitter) finally got their act together with artificial intelligence." 
3. Facebook
Available For: Android and iOS 
Price: Free 
Last but absolutely not least is Facebook. Well, who doesn't know the social media giant? It efficiently connects people on a single platform. And I guess everybody today understands very well that Facebook has long used artificial intelligence to enhance their customer service and provide a more efficient social platform. Facebook uses AI in many ways, like for analyzing the search content, transforming photos and videos into something valuable, and blocking inappropriate content seamlessly. Moreover, it also prevents the sp[read of hate speeches and racist comments, and even fake news and their likes.
AI Utility Apps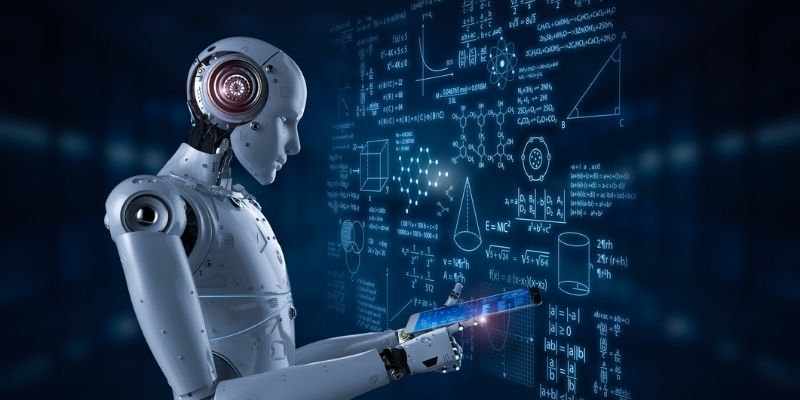 Utility apps are among the most popular tools needed by almost all people engaged in some kind of business, job, or even learning institute. You can never know the value of these apps until you have them on your list. Let's take a closer look to understand more about them.
1.

Gboard
Available For: Android and iOS 
Price: Free 
Gboard or Google board is also a robust tool that is offered by the search giant Google. It is a powerful keyboard application that is specifically designed for mobile users and is empowered by robust AI technology. You can seamlessly search for a particular topic or can even send GIFs and emoticons straight away from your mobile app using the app. Furthermore, the AI technology of the app even gives you accurate suggestions for your search based on your past search. And not to mention, the AI app also comes with a voice-to-text feature, meaning you speak and the keyboard types for you! 
2. Google Translate
Available For: Android and iOS 
Price: Free 
Google translate is another effective AI-driven app that Google offers. It is seamlessly used to convert any global language into an understandable form. Meaning, if you trade overseas and want to solve any of your client problems over there, then Google translate will make that work seamless for you. It can transform nearly every word into your desired language that, too, with precision. 
3.

iOnRoad

 Augmented Driving App
Available For: Android 
Price: Free 
Last but probably not least is the iON augmented driving app designed specifically for Android users. It is a magnificent AI-driven app that can make your driving experience a safe and memorable one. It is an augmented reality app that uses smart AI features to protect cars from accidents on the roads. It efficiently measures the driver's speed and notifies them about the traffic ahead and the approximate distance they have to travel to reach their destination. It even leverages computer vision and mobile camera power to enhance the driving experience in real-time. 
AI Video Editing Apps
Video editing apps have been top-rated in recent times due to their ability to enhance videos with special filters and effects. And today, with the introduction of AI in these video editing apps, they have become more efficient and powerful. Let's look at some of them to understand more. 
1. Adobe Premiere
Available For: Android and iOS  
Price: $19.99 per month 
We all are aware that Adobe, the creator of Adobe premiere, maintains a high brand value in the field of creativity. Premier is another robust product from Adobe that has brought a revolution in the video editing sector due to its smart AI features. The app offers a range of intelligent features like auto reframing tools to zoom and crop the footage for the best exposure and even provides some animation creating tools. Although mobile users cannot enjoy its Pro version, Premiere Rush is well designed for users of both platforms, viz. Android, and iOS. 
2.

Magisto
Available For: Android and iOS 
Price: $4.99 per month 
While talking of robust AI video editing apps, Magisto is also a popular name that is trending these days in the global market. This robust app can make amazing social media videos utilizing some smart features and functionalities. It offers some attractive filters to make the videos more engaging and even provides you insights into your video and images that you upload on your social media channels. Besides making attractive videos, you can generate more leads and increase your brand value with this robust AI-driven app.
3. Quick
Available For: Android and iOS  
Price: Free 
Quick is yet another most effective and popular AI video editing app that is available on the global platform. It is a feature-rich and flexible video editor app that can even help you add music and transform your images into high-quality pictures. With the help of the Quick app, you can add some amazing filters and effects and can even sync your video and photos with the background music. All in all, creating magnificent videos is now just a click away after the introduction of this robust app. 
Other Popular AI Apps
So far, we have discussed some top categories where AI has transformed the application for the betterment of people. But, more AI apps are currently trending on the global platform and are generating some huge revenues because of the disruptive AI technology.
1. ELSA Speak
Available For: Android and iOS 
Price: Free 
Here's an app for you all for the people looking for the best app to learn the English language. ELSA Speak is a great AI app that helps the user learn English efficiently and pronounce the words more effectively with the help of short dialogues. The robust app leverages speech recognition technology to make the learning experience more effective and seamless for the users. Due to the increased effectiveness of the app, it has a user base of almost 3.6 million across 101 countries. 
2.

Youper
Available For: Android and iOS 
Price: Free 
Youper is a magnificent app in the field of healthcare. It is an AI-powered healthcare assistant app that has brought significant transformations in the way patients and doctors communicate with each other. It is regarded as one of the best mental healthcare apps that are available in the global market. The app provides efficient mental healthcare tips to the patients and even connects them with doctors or similar patients that are suffering from the same trauma. 
3. Fyle
Available For: Android and iOS
Price: Free
Last but surely not least is Fyle. Fyle is a perfect business tool that accurately monitors and automates your company's expenses. It uses AI technology to track and automatically upload all the expenses that take place in your organization, either by you or even by your employees. Furthermore, it also extracts vital information from all your uploaded documents to provide you with smart tips for cost savings and expense management. 

Are You Planning to Launch an AI App for Your Business?
So, these were some of the best AI apps that are prevalent in the global market. All the apps mentioned above have brought some significant changes in their respective fields and are expected to bring some more drastic changes with the further advancements of AI. And not only these apps, but with more progress in the field of AI, every sector will witness some considerable changes that will transform the way people work and operate their businesses. And with these changes, the companies will inevitably become more effective in solving customer issues and in providing excellent UX. 
Hence, if you want to become a part of this fantastic community of users leveraging AI, we are always here to help you. We at Matellio have decade-long experience in providing smart AI solutions for various industry verticals in an efficient way. Our experienced developers and testers promise to deliver an error-free and feature-rich product based on the best industry standards. Whether you are from healthcare, real estate, education, or even retail, we can efficiently serve all your problems. We offer a range of flexible hiring models that keeps your budget in check. 
So, what are you waiting for? Book your free 30-min consultation with our experts right away! 
Get the Conversation Started!
Get the Conversation Started!
[contact-form-7 id="34486" title="Side Form"]