Whether you are travelling home from work, heading towards your gym, or even doing laundry, listening to the podcast is never a bad idea. With this amazing tool, you can access the latest news, comedy shows, in-depth storytelling and much more. Besides that, the podcast can even offer you a lot more features like automatic downloading, sorting of the latest episode of your favourite show, managing your subscription, and much more.
According to sources, almost 36% of the global audience, especially the younger generation tends to listen to the podcast more often than any other form of audio content. Here's a chart by Satista that well describes the popularity of the podcast amongst the top countries of the world.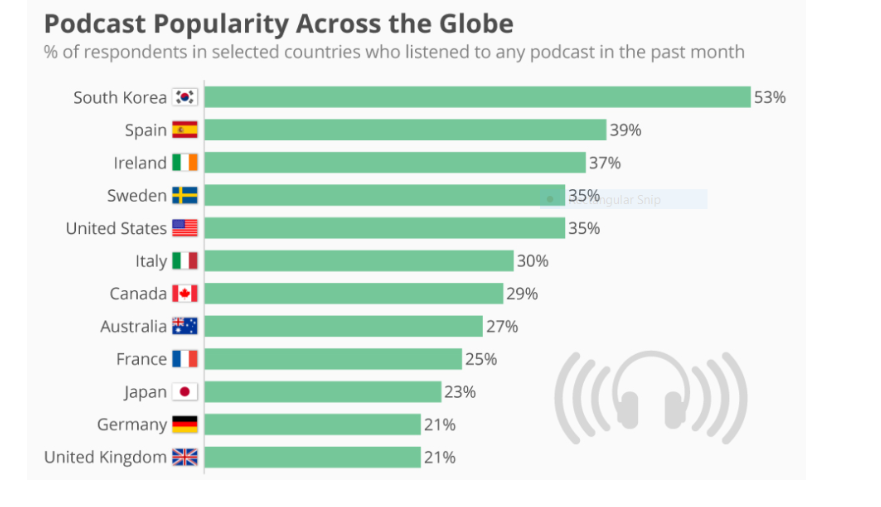 As evident from the chart mentioned above, we can see that almost all the top countries of the world leverage podcasts to access some amazing audio content. And it's not that the podcast became one of the popular audio listening sources within a few days, when we look at the stats, in 2006 the total users of the robust platform in the USA were only 22%. However, with the increase in accessibility and enhancements of the features, the number rose to a whopping 70% in 2019. That's quite a significant increase!
However, as we all know that the digital world is full of options, whether for a food item, or for a mobile app, and podcast apps are not an exception. While there are a few podcast apps that offer you brilliant listening experience, and access to new podcasts, there are others that can turn your smartphone into a recording and editing studio. And choosing between these hundreds of podcast apps may seem a tedious task.
But, why to worry when we are here! In this article, we will give you the top 10 best podcast apps that are trending in the global market in 2020. So, let's get started!
Pocket Casts – The Best of All

Anchor – Unlimited Hosting

DoggCatcher Podcast Player – Ultimate Customization

Spotify – Music and Podcasts in One

Google Podcast – Google all the things

Podcast Addict – Super Powerful

Castbox – Hidden Gem

Podbean – Podcasts and Audiobooks

Scout FM – Just for you

Stitcher Podcast Player – Exclusive Podcasts and Shows
Let's discuss all of them in detail!
1. Pocket Casts – The Best of All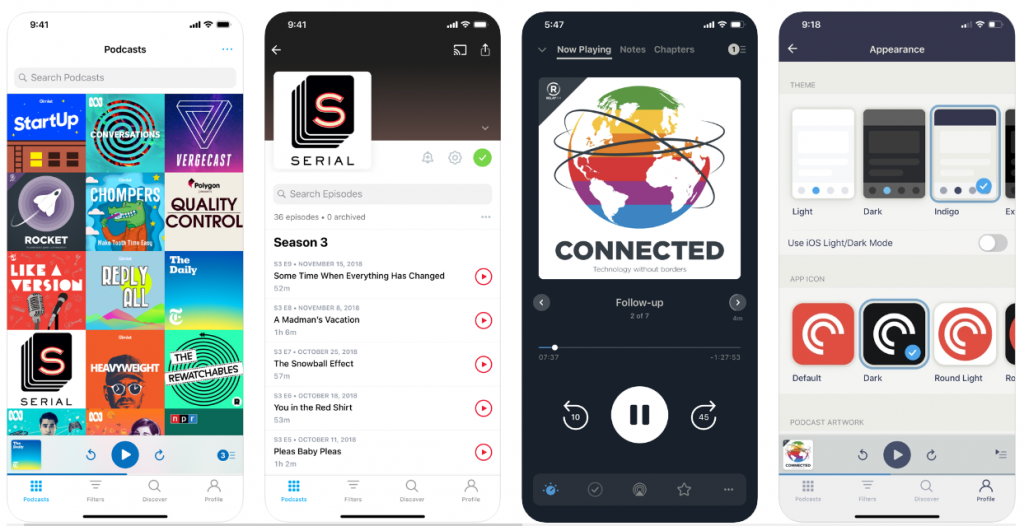 Available For: Android and iOS
Price: Free
When it comes to the top podcast apps, then Pocket Casts always tops the list. It is an awesome app for the people of both Android and iOS platforms, who like to listen to a lot of new podcasts. That amazing podcast app offers great UI, with light and dark themes, useful search filtering options, and much more. Furthermore, the app also gives you an option to pick-up from where you left off last time. Although the app is free to use, PocketCasts has also introduced their paid subscription model in the global market.
Features
Volume Boost
Trim Silence
Variable Playing Speed ( 3X and 5X)
Chapter Navigation
Apple Watch Controls
2. Anchor – Unlimited Hosting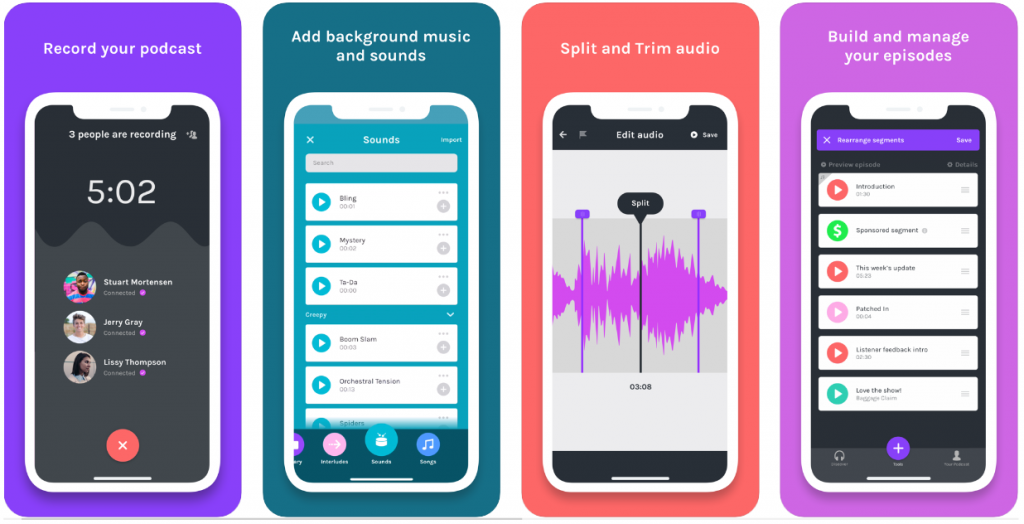 Available For: Android and iOS
Price: Free
Anchor is yet another amazing podcast platform that offers unlimited hosting capabilities to its users. Anchor is equally accessible by both the Android and iOS users and lets them stream or download their favourite podcasts. While leveraging this amazing podcast platform, you can seamlessly record your audio and can publish them at different places like iTunes, and Google Podcast. The app even offers you to upload your favourite podcast from a device of your choice in a seamless manner. It has got a great business model that lets both, the app and its users, make money in an effective manner.
Features
Seamless Approach for Creating Podcast
Unlimited Hosting Capability
Audio Upload Facility
Clean Interface
Accessible by Android and iOS Users
3. DoggCatcher Podcast Player – Ultimate Customization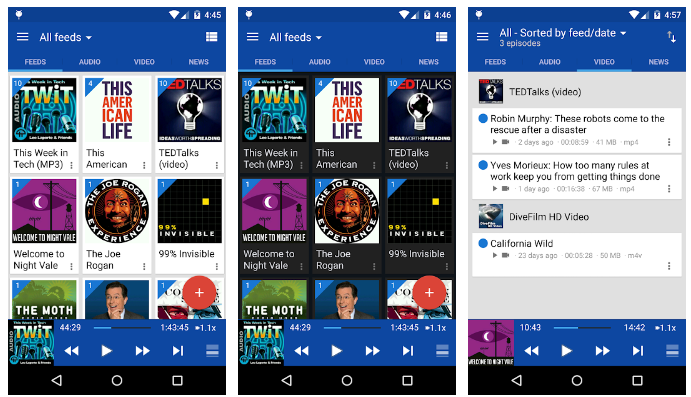 Available For: Android
Price: $2.99
When you are an Android user and wants a podcast app that is specifically designed for the Android users, then DoggCatcher is the perfect option for you. This amazing podcast app has over 10,000 positive reviews and that's why it is regarded as the "best podcast app" for Android users. The app offers support for things like Android Wear, Android Auto, and Chromecast. Not only that, but DoggCatcher also offers customization facilities for all its users.
Features
Offers Automation Facility
Massive Library of Podcast
Playlist Support
Variable Speed Playback
Interactive Themes
4. Spotify – Music and Podcasts in One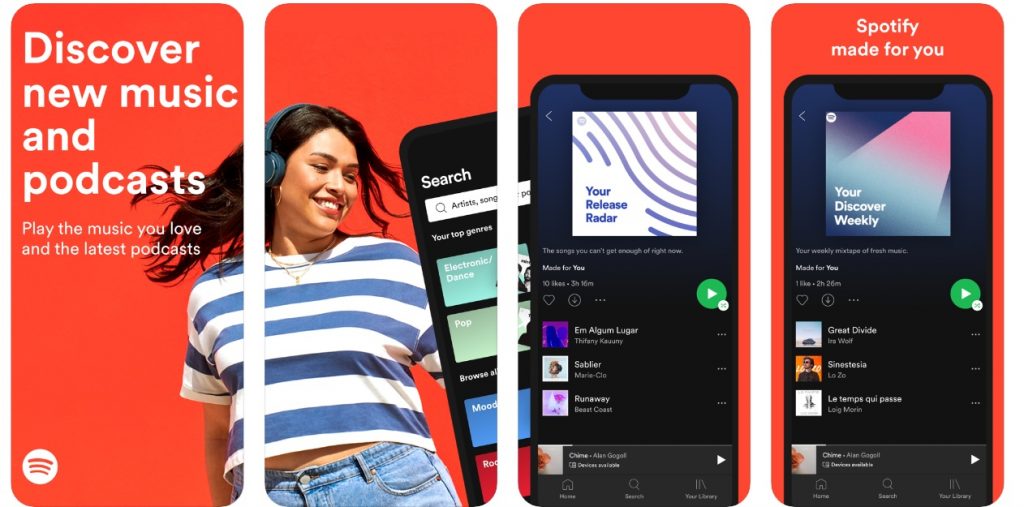 Available For: Android and iOS
Price: Free
Well, who doesn't know Spotify! It is the world's best and most popular music streaming apps that are available on the global platform. And since 2016, Spotify also started to offer the podcast services to its members. Although, recently there are not so many podcasts available on the platform when compared to other podcast apps, the number is soon expected to skyrocket. Though, you can seamlessly request the app to list your favourite podcast on their platform. Now, that's something different from other apps!
Features
Cross-Platform Podcast App
Easy to list your favourite Podcast
Effective Services
Can also listen to Best Music
Everything at One Spot
5. Google Podcast – Google all the things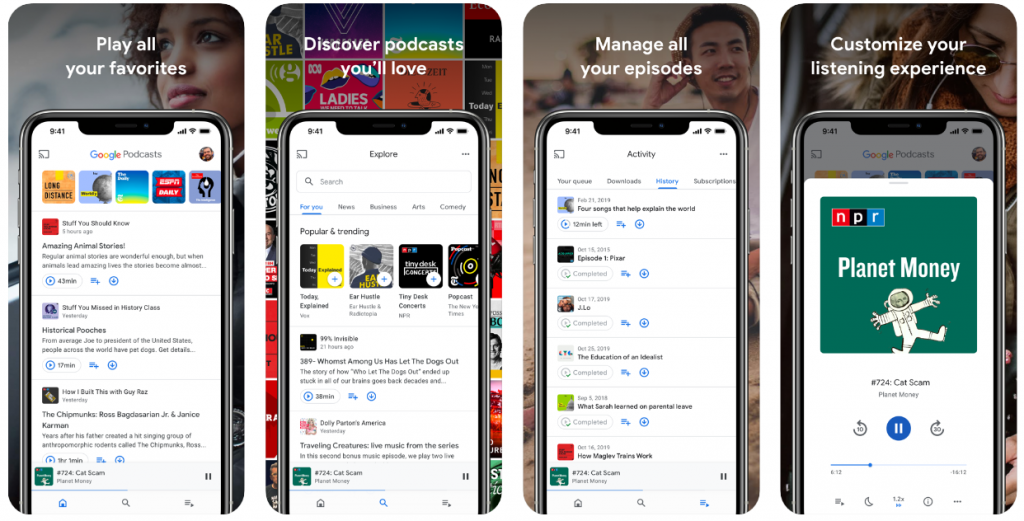 Available For: Android and iOS
Price: Free
When it comes to amaze their users Google never backs off. Be it a virtual assistant or even a podcast app, Google has it all. And when talking about the podcast apps, Google Podcast is one such example. Released in 2018, Google Podcast is a one stop solution for all the android users who were in search of a perfect podcast app. As the name suggests, besides streaming some good podcasts, the platform allows you to seamlessly integrate with all the Google services. And things become quite amazing when you are a podcaster. Why? You can find all the resources and badges for your site here. And the best of all! The app also offers AI-powered capabilities which is expected to advance in the coming future.
Features
Access to all Google Services
Offers Direct Linking to Podcasters
Simple and Interactive Design
Playback Control
Supports Google Assistance
6. Podcast Addict – Super Powerful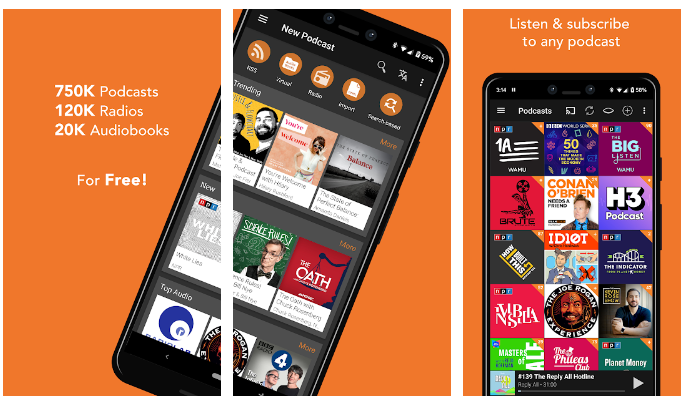 Available For: Android
Price: Free
For the past few years, Podcast Addict has been the favourite podcast apps for most of the android users. It has some great functionalities, though the UI part is a bit outdated as compared to the other mentioned podcast apps. However, when it comes to working, Podcast Addict never disappoints anybody! From Chromecast and Sonos support, to advanced playback features and sleep timer, the app offers everything to make your streaming experience a hit.
Features
Different Discovery Options
Advanced Playback Features
Live Radio Streams
Access to Youtube Channels
Podcast can be downloaded
7. Castbox – Hidden Gem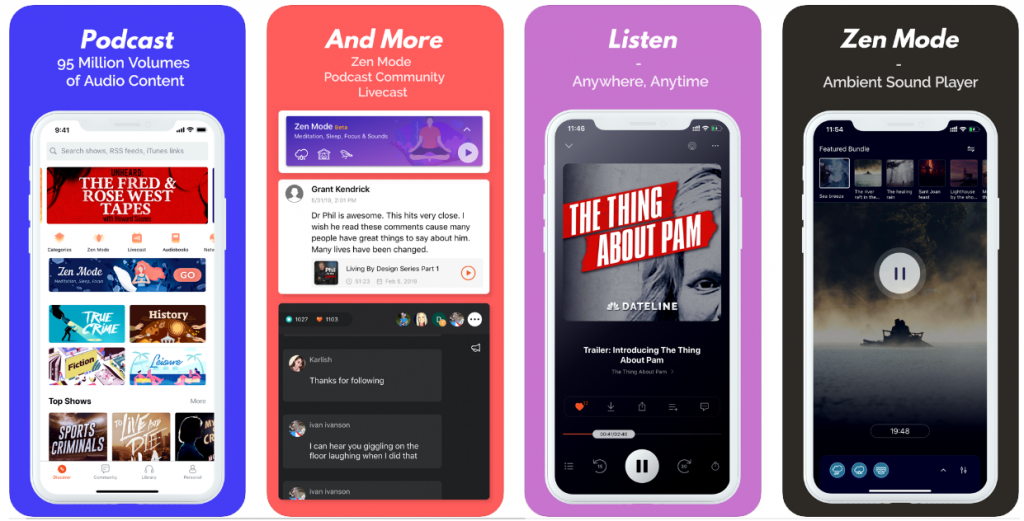 Available For: Android and iOS
Price: Free
Castbox is comparatively a new podcast app as compared to all the podcast apps that we have mentioned in our list. That's why many times it get unnoticed by the people, but, we strongly suggest you to have a look at this super-amazing podcast app. The Castbox app have some amazing user-friendly features and has also won many 'best of' awards from Google and Apple in the past couple of years. The app not only allows you to explore all the amazing content, but also enables you to access some unique and original audio content that cannot be found anywhere else.
Features
Integrated Community Hub
Live Radio Streams
Amazon Echo Skill
Apple Watch and CarPlay Support
In-Audio Search
8. Podbean – Podcasts and Audiobooks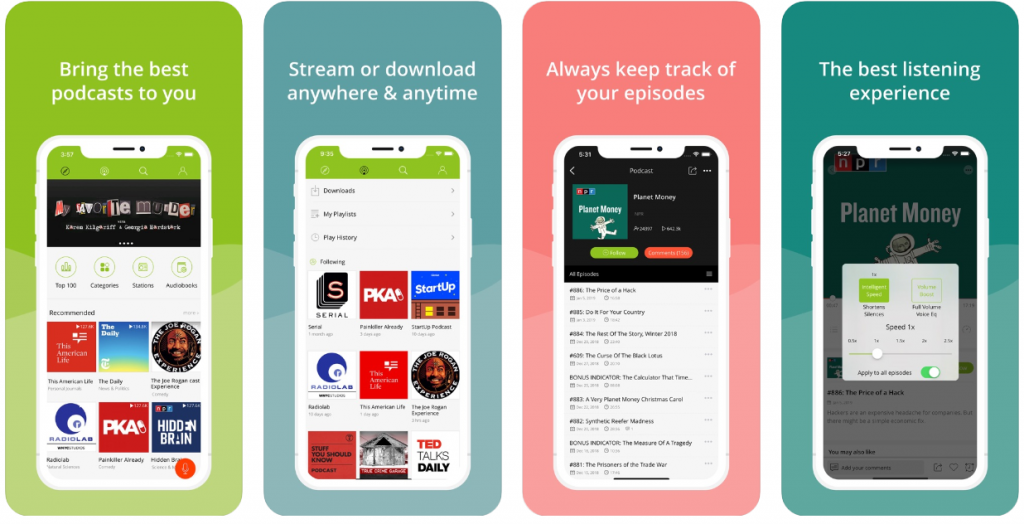 Available For: Android and iOS
Price: Free
Podbean is a popular podcast hosting company that also offers podcast apps, and now comes with Alexa skill. It is regarded as one of the most seamless podcast apps that is easy to navigate and utilize. Maybe that's why most of the users of this robust app have given Podbean 5-star ratings. The app lets you organize the amazing podcasts into various categories to make them more accessible for its users. Furthermore, it also comes with lock screen controls, Chromecast Support, and Android Auto support, which makes the app more effective for its users.
Features
Provides Streaming and Download Facility
Offers Amazing Audio Effects
Integrates with Amazon Alexa
Sorts Podcasts into Categories
Can be used Virtually Anywhere
9. Castro 3 – Unique Podcast Player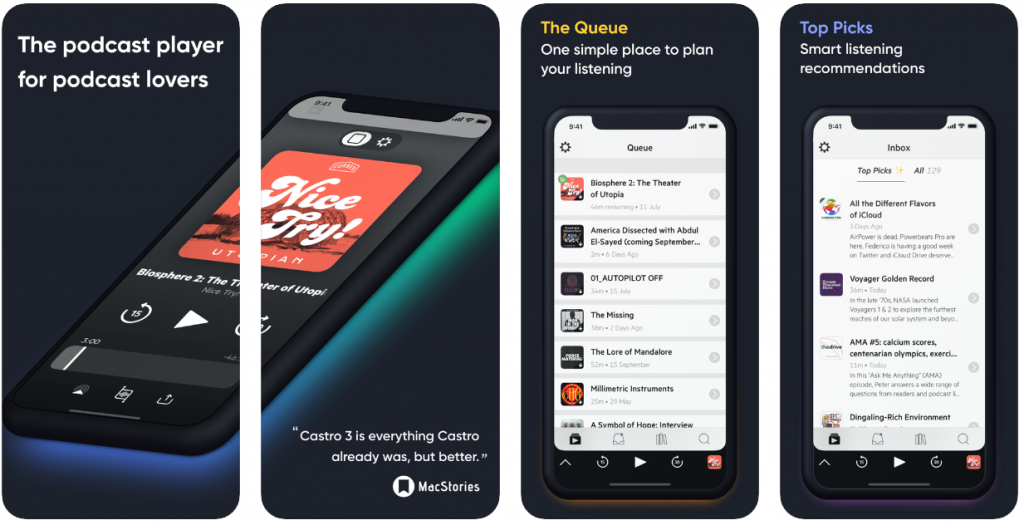 Available For: iOS
Price: Free
Finally a podcast app that is specifically built for the iOS users. Castro 3 is a unique podcast app in a good way. Meaning, it uses a different subscription approach for its users. When you subscribe to any show, it automatically adds all of its episodes in the form of a queue. Now, that thing is very effective if you watch a show that has daily episodes. So, when you put that favourite show in an automatic queue, you never miss any episode. Also, you can achieve any show or its episode to watch them later. All in all, if you are someone who finds it difficult to manage new episodes of your favourite shows, then Castro 3 is the perfect fit for you.
Features
Innovative Library Management Approach
iMessage and Apple Watch Support
Night Mode Option
Ability to Queue New Episodes
You can Achieve any Podcast
10. Stitcher – Exclusive Podcasts and Shows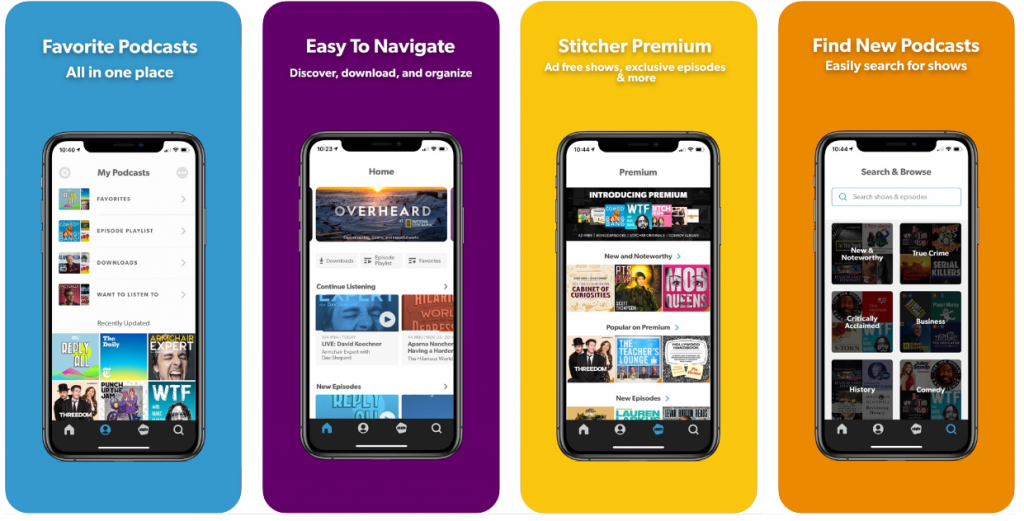 Available For: Android and iOS
Price: Free
Last but not the least we have yet again a popular cross-platform podcast app called Stitcher. Now, a unique thing that this amazing podcast app offers is the ability to search for a particular episode instead of the whole podcast. And like all the other podcast apps mentioned above, Stitcher also enables you to search for the latest news, create your playlisty, and listen to your favourite podcasts. Although the app is free for its users, you can utilize its paid version to access some of the exclusive podcasts and shows available on the platform.
Features
You can Search Episodes
Offers Exclusive Content
Has won many "Best of" Awards
Free to Use
Cross-Platform App

Final Takeaway!
So, these were some of the most popular podcast apps that are gaining huge momentum in the year 2020. Now, as you all know that things change very rapidly in today's digital world, and so are the podcast apps. Hence, apart from all the above mentioned podcast apps, there are more that have not been mentioned in the list. Reasons may be because of their less popularity or because of some other advanced features that the ones mentioned above provides. So, although we have tried to cover all the popular podcast apps, if you feel you have some great options then we are always happy to listen. Also, if you have any idea regarding your mobile app development then we are always here to transform them into reality. We have almost 20 years of experience in developing software applications, and mobile apps for various industry verticals. Reach us today to book your free 30-min consultation! Visit www.matellio.com/request-a-quote