Learning a new language is never a waste of time! Whether you are planning for a vacation, or preparing for an exam, or even looking forward to expanding your business overseas, having knowledge of a new language can surely add up to your portfolio. But, in these busy times, it is somewhat difficult to go to a language learning class to enhance your skill. But, why worry when we can learn a new language with the ease of sitting at home?
Yes, you heard it right! Thanks to the digital age that we live in, today anything and everything is possible with just a few clicks and taps on our smartphones and computer screens. And that's what today's article is all about. In this article, we will provide you a list of top ten best language learning apps that are trending on the global platform in 2020. So, what are we waiting for? Let's dive in!
1. Rosetta Stone – Best for Auditory Learners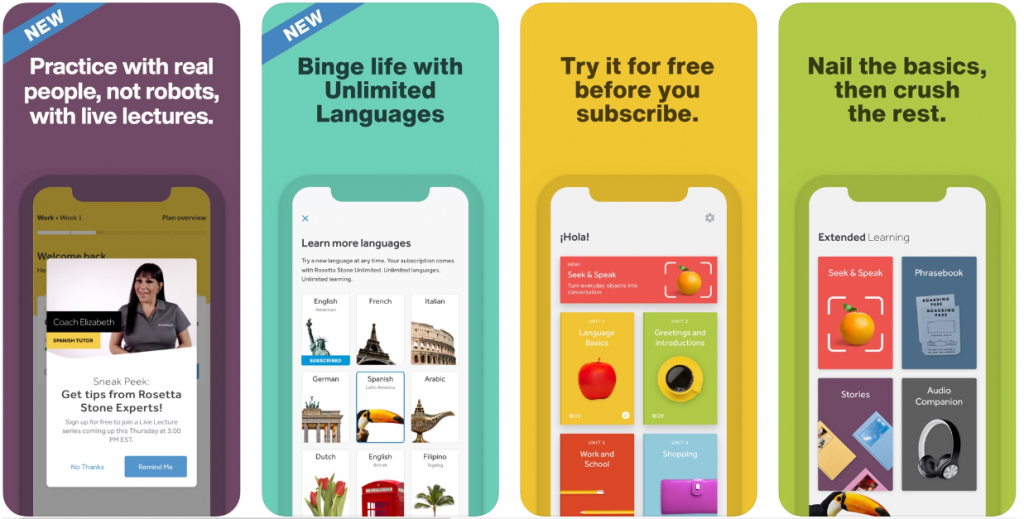 When thinking about the top language learning apps, the one name that first strikes in our mind is Rosetta Stone. This exemplary language learning mobile app has been serving in the global market for the past many years now. And for seven continuous years, the amazing learning app has been considered as the best learning language app by PCMAG Editors Choice. And why not? This robust mobile app has it all!
Meaning, the amazing Rosetta Stone app offers almost 24 languages to choose from and start from their basics. You can listen to the correct pronunciation of the words, and can even match them with their correct pictures. The Rosetta Stone app also offers its users to track their progress and even enables the users to customize the app as per his/her compatibility and learning preferences. And the best of all, they also introduced AR into their language learning mobile app.  That means, now you can point out any object from your camera and can get the translation of that object into the language that you are learning.
Available For: Android and iOS
Price: $27 per three months

2. Memrise – Best for Learning New Language Casually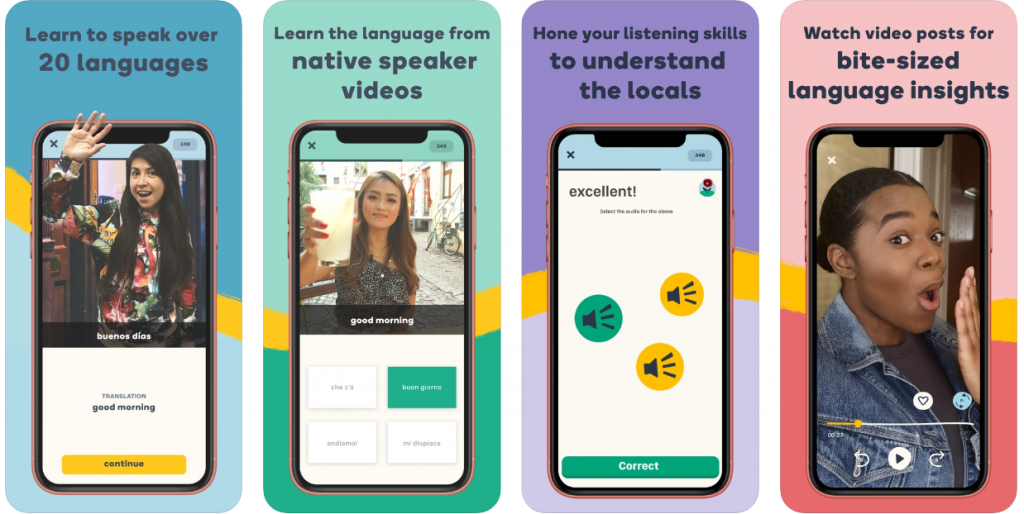 Memrise is a perfect place to find all the fun vocabulary. Any language you think in your mind, and Memrise can offer you the learning course on that language. Furthermore, you can even access several custom courses that are created by the vibrant community of users of Memrise app. The app offers some standardized courses based on popular textbooks, and also provides some entertaining vocabulary translations in your learning language, like those of the Harry Potter series.
A unique aspect that sets Memrise apart from all the other language learning apps is its gamification and memes property. Meaning, the app makes the learning process an easy and fun task for its users by creating a funny association with the studies words. The new words or sentences are conveyed in a meme form, so that the users can remember it seamlessly and more effectively. That's a fun way to learn new words, and furthermore, anybody in the community can create theri memes. That makes it a more interesting and user-friendly language learning app.
Available For: Android and iOS
Price: $9 per month

3. LinguaLift – Best for People Looking for Guidance like Tutor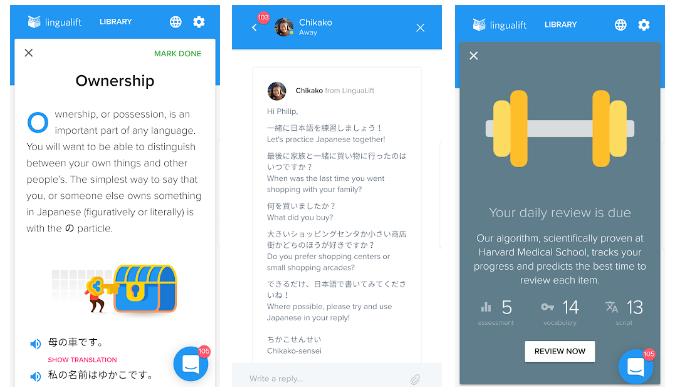 LingualLift is yet another amazing language learning app that has created a boom on the global platform. It's a language learning app that is more geared towards serious learning users, or best for those who want guidance like a tutor provides. Although all the language learning apps are self capable enough to help the users learn a new language, an extra support or guidance is never a bad idea. In fact, it acts like a cherry on the top of the sundae.
So, in LinguaLift app, expert tutors are available 24*7 for the users that can guide you and make you understand things in an appropriate manner. Moreover, they even allot homework, and assignments to the interested users, and even suggest extra useful resources to enhance their learnings. LinguaLift even provides two levels viz., beginner, and intermediate, with correct grammar explanations, script knowledge and deep cultural insights that you won't find in any other language learning app. Add the tutors are always there to help you during your entire learning journey.
Available For: Android
Price: $29 per month

4. HelloTalk – Best for Connecting with People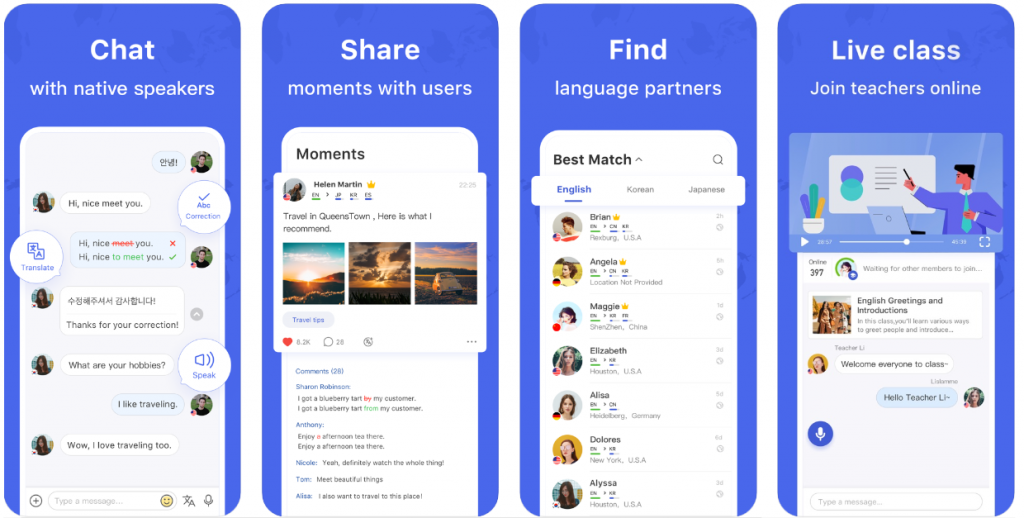 HelloTalk is an amazing and perfect language learning mobile app, as it does something unique and effective. Unlike all the other language learning apps, HelloTalk connects you with the actual people who speak the language that you want to learn. And it does not end here! In return, you have to teach your language to the person with whom you are communicating.
Now, that's an incredible idea to immerse you in the language you want to learn, as in that approach, you can both be teacher and student at the same time. Furthermore, the app even enables you to select your entry level based on how much you already know, and then allows you to connect with the correct person. Many amazing tools like correction, translation, and speaking capability makes the app a next level thing for communication. All in all, HelloTalks breaks the barrier of different countries and promotes learning new languages in a true sense.
Available For: Android and iOS
Price:  Free

5. Busuu – Best for Goal-Oriented Users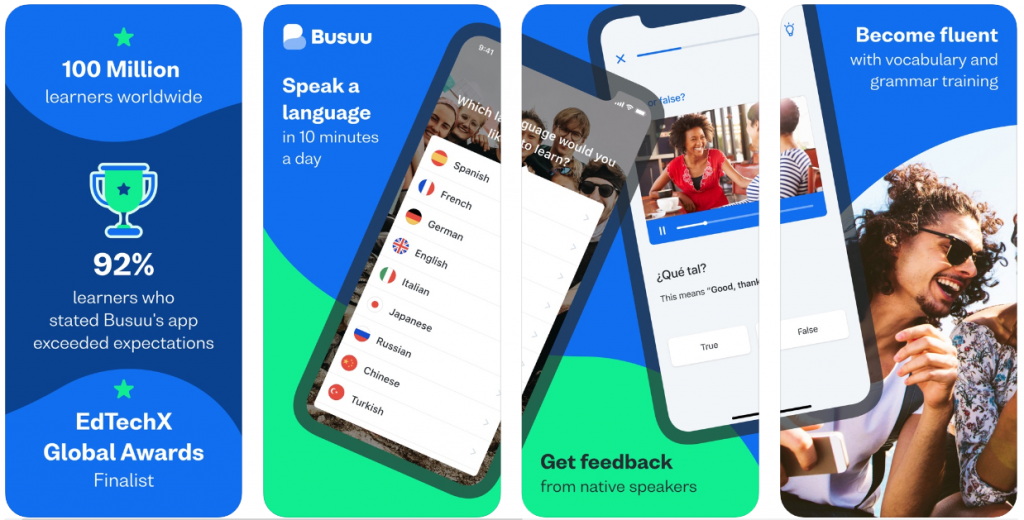 With almost 80 million global users, Busuu is in its niche the most interactive and user-friendly language learning app prevailing in the global market. This amazing app offers learning courses on over 12 languages, with full course, and preparation exercises for its users. Not only that, but the app also provides native speakers, and accent training sessions to give you an in-depth knowledge over that p[articular language.
To check your knowledge, the app provides an entrance test that you can take to exactly know the level of your understanding. The test can also help the skilled learners, who already learned a language before and just wanted to brush up on a few concepts. Offline access, grammar tips, and official certificates are some of the perks of leveraging the unique Busuu app.
Available For: Android and iOS
Price: Free

6. Duolingo – Best for Learning Multiple Languages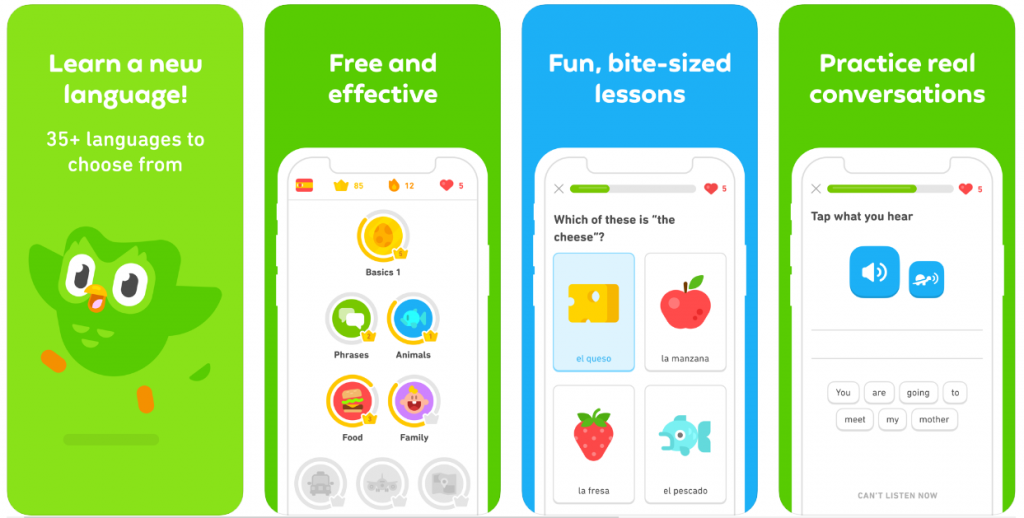 I guess many of you might have heard this particular question, when trying to explain about a language learning app – 'Is it like Duolingo?' Well, that question already shows how popular this amazing language learning app is amongst the global audience. And why not, after all it offers such a huge benefit to its users to learn multiple languages while playing games!
Yes, you heard it right. With Duolingo, you can seamlessly access over 12 languages and can learn each of them in an interactive manner. The mobile app is integrated with gamification modules, that lets you learn different languages (not only English but others too) while you play some fun games. Furthermore, most of the courses here are created by the native speakers, so it empowers the users and language passionate to involve in the learning process more efficiently.
Available For: Android and iOS
Price: $9.99 per month

7. Lirica – Best for Learning Spanish Musically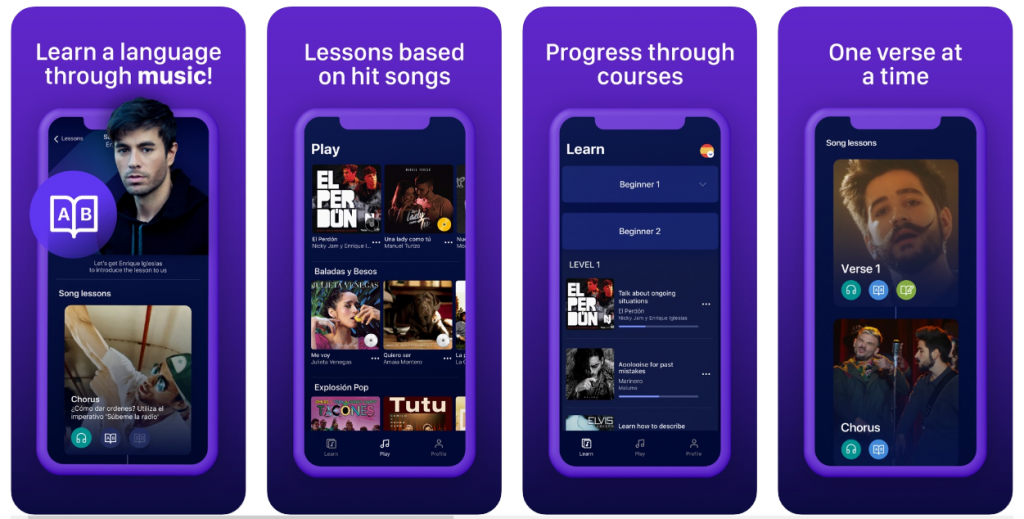 Now here's the deal! Almost all the language learning apps that we have discussed till now were based on either tutor support, or learning through games and memes. But things could also be learned musically, like what we learned in childhood. And that's what Lirica does!. It is an amazing spanish learning app that teaches you the super cool language musically. The robust app leverages popular music by Latin and reggaeton artists to help the users learn Spanish words and grammar.
Furthermore, you not only learn the language through this fantastic approach, but also learn a lot about the music and culture of Spain via this effective language learning app called Lirica. What else? The app provides you some fascinating facts on the artists while you are listening to the music and learning new concepts. For now the app only offers learning courses over Spanish language, but it is soon expected that they will expand their services in the coming future.
Available For: Android and iOS
Price: $4 per month

8. Drops – Best for Visual Learners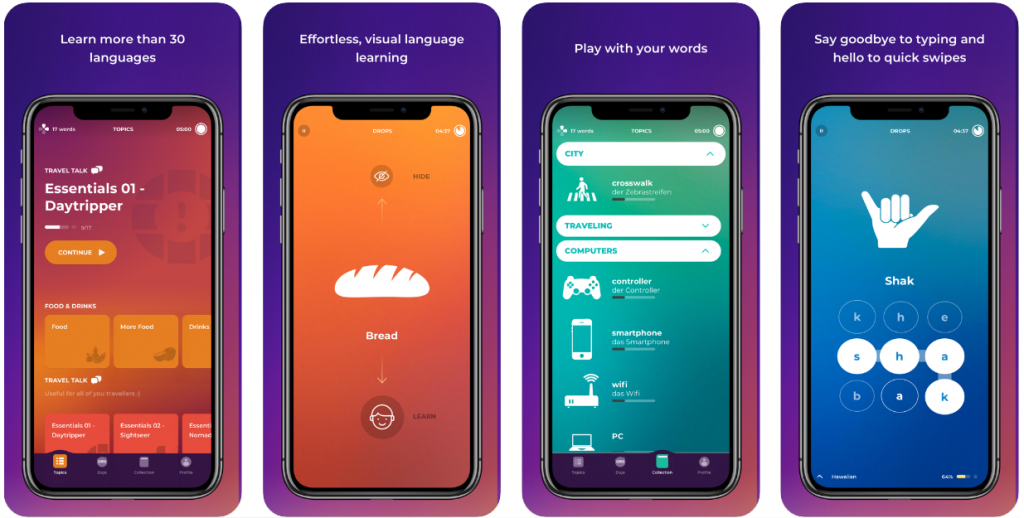 Imagine a fun, colourful layout mobile app, that has its fonts and styles. Semed great, isn't it? That's what Drops language learning app is all about! It is a Greek language learning app that showcases all the words in Greek and English language with an image of the word below it. Though, the app has now extended its services beyond Greek language, and now offers learning sessions over multiple indigenous languages like Japanese.
The initial access level is free, i.e.e, you don't have to pay anything when accessing a particular lesson. However, to access another lesson for free, you have to wait for another 10 hours, though you can view your progress after completing a particular lesson. With Drops learning app, you can even listen to how a particular word sounds when it is spoken. All that can give you a kickstart when you start your next lesson.
Available For: Android and iOS
Price: $9.99 per month

9. Pimsleur – Best for Instant Learning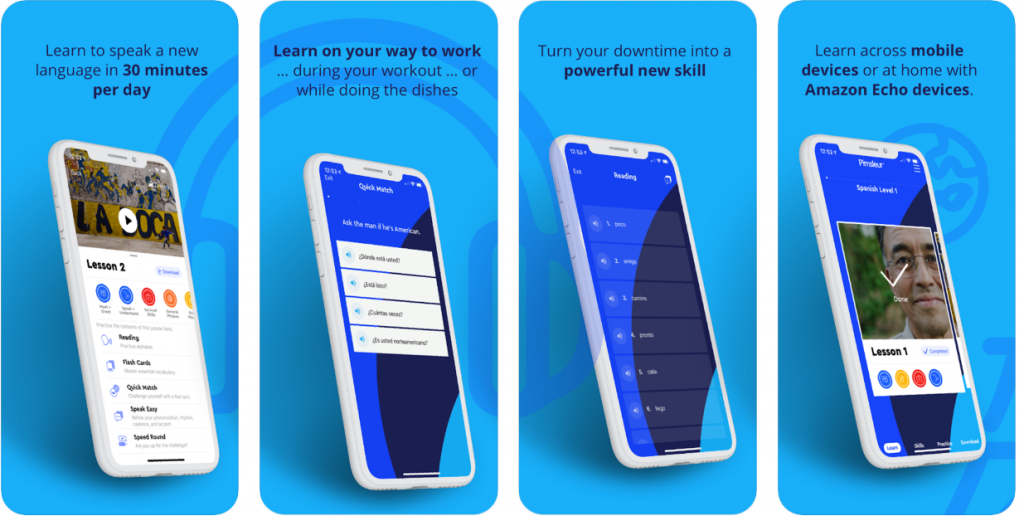 Pimsleur offers a whopping learning lesson on over 51 global languages. This extremely amazing and powerful language learning app makes it feasible for you to become multilingual in just a few days. It delivers the learning lessons in the form of podcasts and offers a 30-minute auditory lesson in the initial phase of learning which is Alexa compatible.
Moreover, Pimsleur also has a driving mode, meaning, you can access the learning courses by listening and not looking at the screen. You can enhance your language learning capabilities with this amazing app and can even leverage a 7-day free trial to test your compatibility with the app.some of the features of Pimsleur are reading lessons, roleplaying challenges, and digital flashcards.
Available For: Android and iOS
Price: $14.95 per month

10. Mondly – Best for Learning Phrases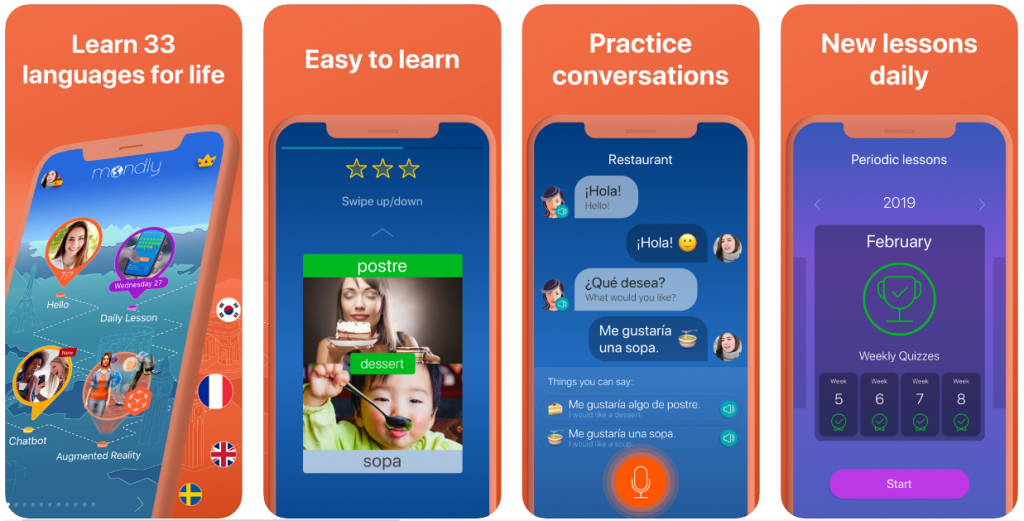 Last but certainly not the least is Mondly. Similar to Drops, mondly is also a fun and colour rich language learning app that helps the users to learn new languages in an effective manner. You can seamlessly learn many new words and phrases and can even implement those words in your day-to-day messages and conversations.
Moreover, the app also pays great attention towards the grammar portion of the new language. For instance, if you tap on any verb, the app will show you different conjugations. Additionally, Mondly also comes with magnificent images, translations, and auditory aids to help you enhance your learning capabilities. You also get an instructor facility that makes it further easy for you to recall things in a melodious way!
Available For: Android and iOS
Price: $9 per month


Final Takeaway!
So, these were some of the top language learning apps that are trending in the global market at present. To conclude, we can say that things are changing drastically in this digital world, and so are the industry standards and opportunities. In such a competitive scenario, learning something extra than your competitors is always a wise decision. Be it any technology, or any language, having an additional skill always makes you stand out of the competitive market. So, leverage the top language learning app list and kickstart your learning process today!