Top 5 Benefits Of Salesforce For The eCommerce Industry?
Updated on Apr 20th, 2021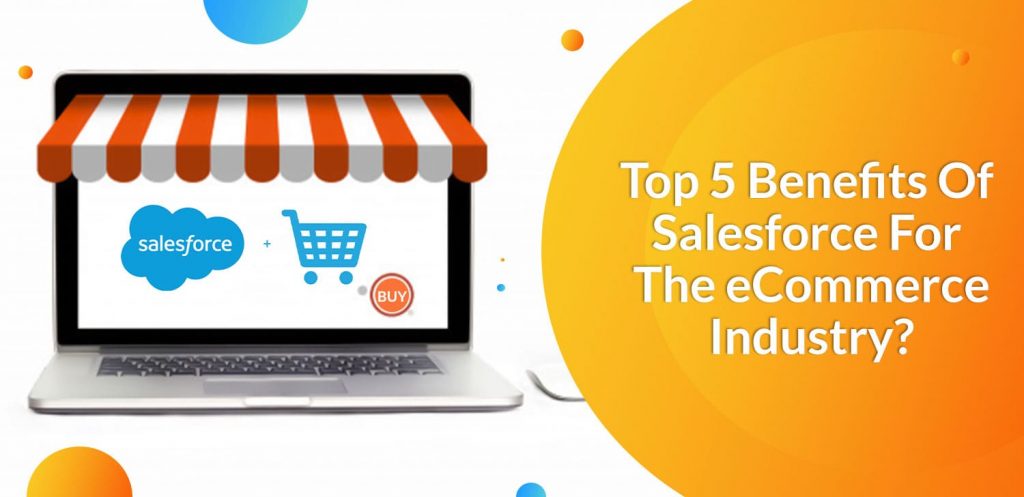 The eCommerce industry has grown from small stores to massive megastores in a period of only a few years. But we see as the epitome of online retail has a lot going on the backend, and managing it is a task of its own. There are so many processes to deal with in an eCommerce business, be it logistics or support, you need one perfect software to manage them all. Salesforce for eCommerce assists you in multiple ways, we leverage that plus our own expertise to help you build the greatest in eCommerce.
The eCommerce industry is different from the others, especially with a wide range of products on offer and a lot of different customers coming in for purchases from all around the world. We will create software through which you can control everything in your system. If you want, we can bifurcate the CRM we create and integrate the Salesforce CRM into, to make sure your staff is able to manage it all. Our software development services combined with our web and app development services can help you become the top eCommerce solution.
What is Salesforce CRM and the Salesforce Commerce Cloud?

The Salesforce Commerce Cloud is built to assist retailers and online markets to make their processes smoother and easier to manage. While Salesforce is one of the best CRMs and cloud service providers out there, we assist you with more than the scope of Salesforce itself. Our custom Salesforce integration services help you leverage the best of Salesforce while ensuring you still get everything you need right at your fingertips. We make sure the solution we create for you fulfills all your business needs and requirements, to improve sales and efficiency both at once.
Let us now begin with the top benefits of using Salesforce for eCommerce.
1. Inventory Management
Managing a large inventory is difficult, especially for eCommerce businesses as they deal with 10s of 1000s of different products on the daily basis. To make a successful eCommerce business, it is a must to get integrated inventory management software. For this, we use the best in Salesforce CRM and combine it with our own expertise to give you the best software to manage your inventory.
To make sure you can keep with a unified management system, the software we create for you ensures maximum efficiency between departments. The centralized CRM system will let you manage it all, and make your inventory management much easier and synchronized with other processes in your system. To ensure you can manage your inventory better, we also have an option to choose from our AI-based inventory management software.
2. Marketing
Marketing of an eCommerce business is but a necessity in today's times, as it is indeed competitive in terms of online retail businesses. The Salesforce Marketing Cloud can be a perfect addition to your marketing strategy, it has a plethora of tools to choose from enabling better marketing in almost every vertical. Marketing is essential, the Salesforce integration makes it easier and better in all possible ways.
Our marketing solutions perfectly complement what you get with the Salesforce Marketing Cloud, it helps you with almost and beyond, while being connected to the rest of the system. The software solution we create for you will be built with the bigger picture in mind, enabling more to all of your teams along with the marketing team as prime. eCommerce is an industry that demands the most in terms of marketing, and we enable it for you with ease.

3. Customer Service
Customer service is essential when people are directly buying products from under your name, you need extensive support and a plethora of data to support your customer service wing. The Salesforce Commerce Cloud already features a lot in this aspect, taken further along by the Salesforce Service Cloud, which is aimed at providing better customer service. If you are willing to have a complete solution that takes care of all the aspects, we can build on it for you.
The custom software solution we create for you will enable more than just management, it would enable your team with insights that can help them provide better service to all your customers. Other than the management of an eCommerce business, perfect sync is particularly necessary for providing better customer service. Cross department sync becomes a major necessity and we ensure you know it all right from the dashboards we create for you.
4. Automation
Artificial intelligence and machine learning are fast gripping all the aspects related to making an eCommerce business better. Be it marketing or the management, or even customer support as a whole, our powerful AI integration will make everything much easier than ever before, while doubling the efficiency of your team in many aspects. The Salesforce Automation can also be integrated, directly to complement our AI-based solution to give you the best in eCommerce solution.
The custom solution we build for you will aim at maximum efficiency and automation, as the times today are all about personalization and keeping all aspects in mind. You will be able to generate better leads, more conversions while keeping your customers happy. The maximum benefit of automation will be levied in the process which runs along as the daily chores to maintain and run your eCommerce business.

Conclusion
To make the most out of your investment in Salesforce, we focus on the benefits mentioned above, we ensure from better customer experience to better marketing, while improving core business processes and overall efficiency of your business. Your investment in Salesforce and our custom software development services would bring you a higher RoI year on year, enabling you to expand your business much more rapidly. We are a bespoke software development company with expertise in AI and ML, which adds as a further benefit to your business solution in the current and upcoming time. If you want your eCommerce software solution and a website, and a mobile application built, contact us and we will be happy to guide you and help you.
Get the Conversation Started!
Related articles