Top 7 features that make Android Q/Android 10 Exciting
Updated on Apr 20th, 2021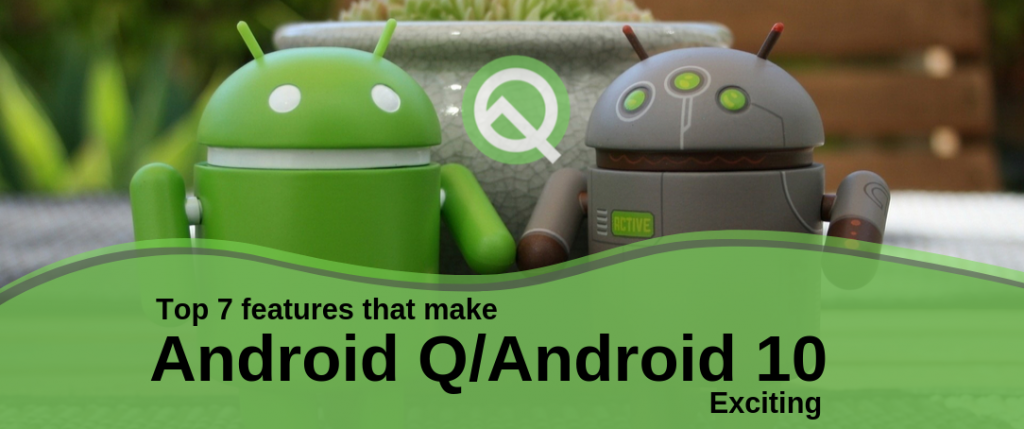 The next major update of the Android mobile OS is nearly here. And perhaps the most significant change will be in the process it is named.
Android updates generally have sweet dishes names. But, before they are officially announced, codenames are used for their convention. For example, Android Oreo was Android O, Android Pie was Android P & Now, it's Android Q. Many have been wondering about which food item starts with Q and whether Google shall continue with dessert names or not?
You got any guesses? Perhaps it is, Quindim, Quince Jelly or Quiche! Fortunately, we needn't scratch our brains, as Google unrevealed that Android Q will be called Android 10 on its launch. Every Android new version brings up new features with itself, and Android Q is no exception. It is focused on security, new gestures, quicker operation, and a lot more which is yet to be revealed. 
Let's take a look at what new this Android Q has to offer:
1. Privacy
Privacy is the central focus in Android Q. Ranging from protection measures in the platform to designing new features; privacy is on the top of the priority list. It's essential than ever to give users, control, and transparency into how information is gathered and used by apps on our phones. Android Q has extensive changes across the platform for improvised privacy and better user control.
For example, in Android Q, the user has greater choice over when to allow access to the location – only when the app is accessed, throughout the day, or never. Skim through the developer guide for details on how to adapt your app for the new location controls.
2. Bubbles
It is Google's solution for better multitasking on the device. It is similar to  Facebook Chat Heads, but the Android 10 implementation is system-wide. In an Android Developers blog post, Google provided guidelines for implementing this feature, and it's allowing any app to use this Bubble notification.
The way Bubbles operate is: On receiving an alert, a tiny circular notification appearing on your screen needs to be tapped. As in a chat app, you'd draw that notification for viewing the conversation thread without the need to have the entire app on the screen. Google recommended the developers to use Bubbles for notes, arrival/ departure times and calls as well.
3. Dark theme
A system-wide dark mode is launching in Android 10, and it's called Dark Theme. One will be able to trigger Dark Theme in two varied ways, and both will be in the notification shade. The first is a Dark Theme settings button that switches between the default Light Theme and the new Dark Theme. 
The second way is to turn on the Battery Saver mode, which by default turns on Android 10 Dark Theme. It is a boon for phones with OLED screens, which will burn fewer pixels by essentially turning off pixels in regions of the display that are intentionally black.
 4. 
Accent colors
There is a new customizable setting that allows one to change the accent color of UI. The colors include blue (default), ocean, green, purple, black, cinnamon, space, orchid. These were initially found in the developer options of the 1st beta. But, in the 2nd beta, a new app called "Pixel Themes" appeared, which probably will house the new accent color customization tools.
5. Project Mainline
At Google IO 2019, a new endeavor was announced called Project Mainline. It enables Android devs to update some important modules of Android without a complete package, without a full update from OEMs. 
These upgrades get downloaded in the background from Google Play and get loaded whenever the phone reboots next time. Mainly they will be used for improving privacy & security, though the Blog post by Android Development mentions that the game developers may use it to update modules for proper platform implementation.
All devices that run on Android 10 will be getting a Project Mainline.
6. Native Desktop Mode
When one connects to the external monitor, Android Q will automatically switch to the desktop. One can move apps anywhere on the screen, open multi-windows & interface look as the version locates Pixel using the navigation bar.
7. Notification Control
Since the last few Android iterations, Google has worked on the filters which let you choose the apps one wishes to get alerts from. It also adapts your thinking by learning which apps you regularly dismiss notifications from.
In Android 10, you get more control options. On swiping away a notification, you can choose to mark the notifications as "silent" or "alert." If you aren't in favor of either, you can press the "turn off notifications" option & choose not to be bothered.
Get the Conversation Started!