Top 8 Technology Trends in Enterprise Mobility for 2020
Updated on Feb 14th, 2022
Organizations, today, clearly understand that mobile-first strategies aren't just the roadmaps or nice-to-haves. However, many of them fail to factor necessary signals and patterns into strategic growth plans, making it difficult for them to make mobile transformations at scale. 
Having that said, a sense of urgency to adopt enterprise mobility while moving into a digitally-empowered era can't be sidelined. As mobility continues to reshape the global arena with notable effect, enterprises push for large-scale transformation to capture the benefits of mobility. Now, they don't just compete with each other, but most prominently with mobile-first brands that hold great market share. Under such cut-throat competition, what does it take to build a winning enterprise mobility strategy? 
Answer lies in these 8 technologies that have been shaping the enterprise mobility realm for quite some time now. Let's check them here. 
1. Artificial Intelligence
Global annual spending on AI is predicted to touch $79.2 billion by the end of 2020 with a CAGR of 38.0% over the forecast period. Garner's study underlines that AI will be among the top 5 investment priorities for over 30% of the CIOs across the enterprises worldwide. 
Enterprise mobility has replaced personal computers today, putting in place a highly advanced, easy-to-use, and convenient, AI-powered mobility structure. 
AI promises to solve the issues that are difficult for human beings to tackle, helping enterprises overcome limitations and minimize the probability of errors. Whether it is about AI chatbots that provide seamless communication between enterprises and prospects or encouraging workers to adopt sophisticated AI products and services. Surely, AI is inviting future investments in the enterprise realm. 
Let's take a look at how enterprises are leveraging AI and ML to enhance operations:
Prediction engines to augment ROI

AI and IoT Integration

AIOps for automating IT functions

Smart cameras for subject identification

Adaptive batteries for resource optimization

Cyber security improvements

Voice operated systems
2. Chatbots
Chatbots are computer applications that help you communicate with users, even without having a human being involved. Enterprise chatbots, today, are driving efficiencies by streamlining the overall service delivery process. 
Being proactive in nature, bots fully integrate with enterprise systems to measure the data proximity combining data from all the possible sources to ensure data agility and receptiveness. Combination of service delivery platforms with chatbots make service delivery smarter, reduces operational costs, improves data access, and boosts operation tracking. improves tracking for a more efficient operation.
These are intelligent applications that hold key to serve various departments such as HR, IT, Business Units, CEOs office, and others, assisting them in providing quality customer support, automating business activities, and providing real-time information on demand. These also exist for social media, websites, and even business to business conversations third-party chat interfaces (slack and skype), reaching out the users to serve them with superior service delivery experiences across any device or platform.
Powered by AI competences, chatbots brings you a lot of analytics data on services and service delivery efficiency patterns. These analytics quickens the businesses decisions. The predictive intelligence and machine learning capabilities integrated into an enterprise chatbot can observe trends and make some recommendations proactively. Examples include fixing the issues that are hindering the business processes, enhancing efficiency, or predicting the service or process related issues prior to the occurrence of damage.
The chatbots analyze each user interaction and get a behavioral map of each user to personalize the communication and serve the content in a more intuitive way. This way it aids users to have uninterrupted enterprise services and resources access while ensuring integrity and agility.
3. Internet of Thing
Widespread adoption of IoT has considerably changed how enterprises function. Besides many examples, enterprise mobility is a significant one. The two sectors seem to be overlapping as businesses power a new era of mobile and wearable technology within corporate networks. Clear enough, IoT and enterprise mobility have come a long way from being buzzwords. Billions of investments are expected in this sector that's regarded as a key metric of digital transformation, even in the coming years. Here are some examples of how IoT and mobility mix have been changing enterprises for ever:
Better productivity with improvised supervision, monitoring and controlling the process off and on ground.

Better preparedness for security breaches with IoT-powered smart devices that help track and examine the patterns of all customer interactions. 

Rapid response to emerging market trends, changing customer demands, and to deve;lop more productive and effective business strategies.
4. 5G Wireless Technologies
Due to global outspread of COVID-19, the world has been divided into two eras, the pre-Covid era, and the one post it. While the future has a lot of these changes to showcase one thing is for sure. It has changed how enterprises function. Most of the resources today are working remotely and that significantly highlights why you need to adopt 5G. 5G offers businesses greater flexibility when it comes to remote working, enterprise mobility applications, cloud services and connected devices. 
Arguably, enterprises are required to make their apps more 5G-friendly in order to stay relevant and competitive while making sure their processes are in place. 
5. Beacon Technology
Beacons are battery-operated Bluetooth Low Energy (BLE) modules that emit broadcast signals to trigger actions in connected apps. These interactions can be logged and recorded to offer business with a wealth of hyperlocal, real-time information and analytics. Essentially, they bring principles of online analytics to real world objects. 
Besides many examples, Beacons are highly fruitful for the enterprises. A striking one can be seen in how they enhance efficiency for both employees and businesses in managing the physical workforce.

For security teams that patrol buildings, beacons can be placed around the buildings to ensure staff's reach to all the checkpoints. 

Equipped with custom apps installed on employees' smartphones, beacons deliver phenomenal experience to the healthcare employees delivering the information that's most relevant to them.

With data as a driving force, data analytics powered by beacons can be used to improve web layouts and provide better business intelligence capabilities. Being able to send out contextual messages to employees and customers, beacons enable businesses to become more efficient that ultimately boosts the ROI. 
Offering in-depth benefits, adoption of beacons is yet to see another spark in adoption in the years to come. 
6. Wearable Devices
Wearables are making a smashing comeback. They are sleeker, they are nicer, and they are a lot better than before.  The wearables market is projected to reach the $150 billion mark by 2026. The reason for their increasing popularity is:
the terrific convenience.

ability to create a safer workplace

potential to better the communication infrastructure

how they push employee efficiency

their flexibility to make customer service smarter and better.
The growing momentum of adoption of wearable technology will push enterprises to integrate it into their business applications. The smart offices of today want to provide their employees convenience and the ability to work from anywhere. And that's how wearable technology will complement the same.
7. Augmented Reality and Virtual Reality
Industry specialists predict the prominence of AR and VR in enterprise mobility throughout the coming years. The combination is forecasted to be the game changer for enterprise mobility strategies, putting them in the forefront of the enterprise mobility management (EMM). 
Both the technologies allow enterprises with opportunities to boost client engagement and ensure optimal process optimization. Trend-setters like Nike are already investing millions to implement AR and VR capabilities that helps them deliver immersive experiences to customers. 
As customers now start to look for next-gen customer experiences, delivering them via your app has a lot to do while your consumers make buying decisions. In fact, studies claim that 100 million consumers will shop in AR and 30% of the web browsing will be done without a screen by 2020. Enterprises really need to gear up and start strategizing to harness the power of AR and VR to become innovative and disruptive. 
8. Blockchain Internet of Things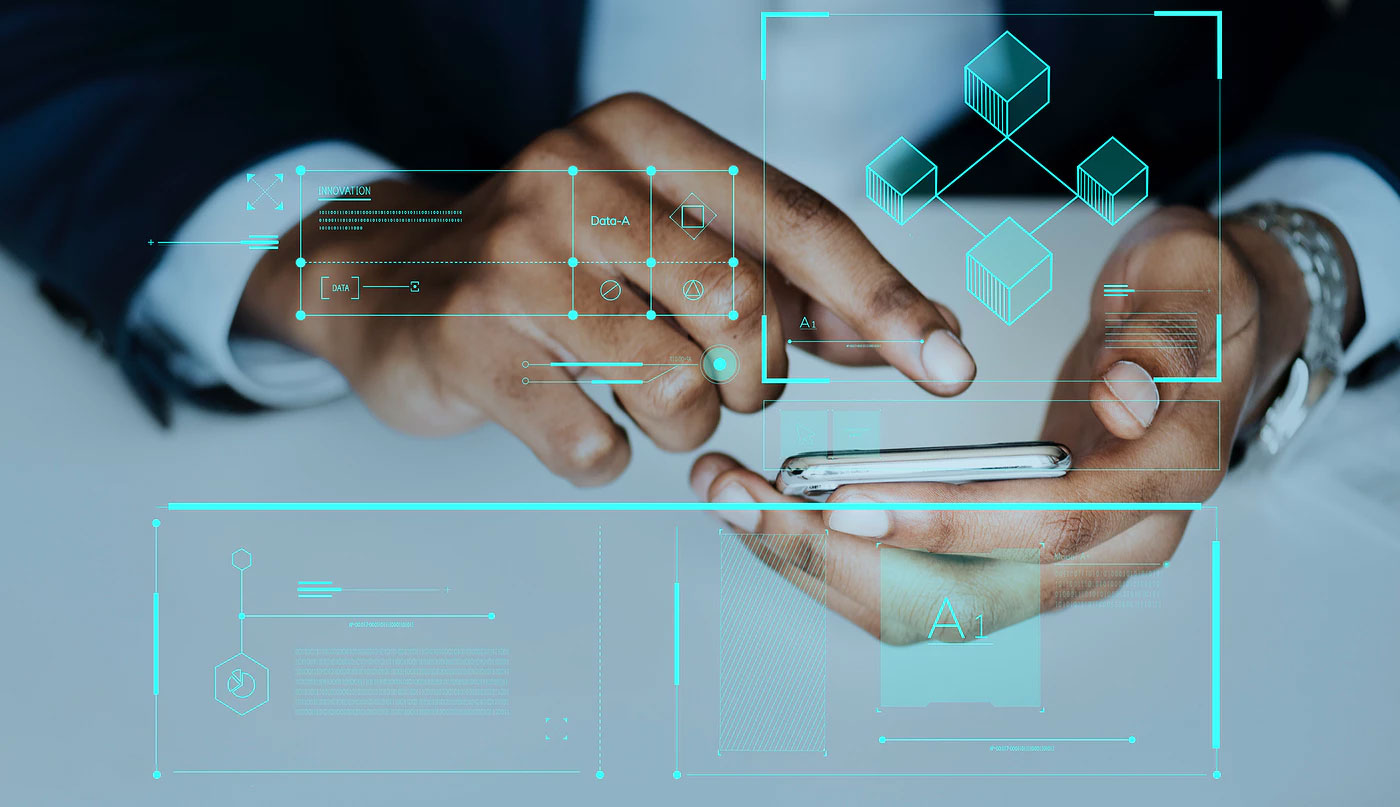 Blockchain and the Internet of Things (BIoT) are disruptful individually. That said, the combination of these technologies is offering an incredible opportunity to the enterprises offering various advantages to their business processes such as accelerated data exchange, enhanced security and reduced cost. Besides, BIoT offers a better communication paradigm that's more secure with stronger privacy agreements. 
No wonder, the market investment in these technologies is anticipated to reach $254.31 billion by 2026., The growing need for automation across various industries such as oil and gas, automotive, and manufacturing are also key drivers in large scale adoption of the technology. 
Ready to Implement Your Enterprise Mobility Strategy?
We have the right technology team here at Matellio. 
Our experts are well trained and certified in the advanced technology stack with over 100s of businesses as clients across the globe. Having the widest portfolio comprising advanced software solutions for various industries, we are proud of helping our clients relish over 25% quicker turnaround time with significantly cost-effective services. Reach out to our business consultants and get started today!
Get the Conversation Started!
Get the Conversation Started!
[contact-form-7 id="34486" title="Side Form"]