Ultimate Guide to the Omnichannel Customer Experience
Updated on Aug 24th, 2022
Customers' expectations are rapidly changing, and businesses must change through digitalization in order to identify the needs and journey of customers. Customer experience is indeed increasingly becoming a competitive differentiator in the decision-making process of customers.  Meeting customers on their chosen platforms and providing them with the experience they desire is a big way to set your company apart from the competition.  Undoubtedly, customers are better engaged and retained when organizations use an omnichannel strategy. 
But what is an omnichannel customer experience, what are the benefits, and how can you put one in place?  
Let's find out! 
It's not surprising that the global omnichannel retail trade market will reach $11.01 billion by 2023. According to retail omnichannel data, 45 percent of executives believe omnichannel clients are worth 11-50% as much as single-channel customers.
Successful omnichannel strategies convert 89 percent of customers into loyal customers, and their consumer satisfaction rates are several times higher.
What is an Omnichannel Customer Experience? 
A multichannel approach to selling and connecting with customers is known as an omnichannel customer experience. It guarantees that your customer enjoys a consistent brand experience across all channels. Omnichannel customer experience allows you to serve your customers in a number of methods that are not only efficient and helpful but also help to improve the image and credibility of your company or business.  
The possibility of customers communicating with a brand over numerous channels, such as social media platforms, digital assistants, and mobile apps, is referred to as omnichannel customer experience. These communication channels are growing in importance, and they have become the focal point for serving clients from any location. 
The omnichannel customer experience model also aids in the tracking of the customer's whole journey, resulting in a consistent and streamlined experience, something the multichannel method does not consider.
Why is Omnichannel Customer Experience so Important for Businesses? 
With a unique view of your customer's journey, an omnichannel customer experience strategy may strongly impact consumer convenience and business sales conversions. Customers that used several channels to engage with companies had a 250%  greater purchasing frequency rate than single-channel users, as per the research. 
Additionally, because the omnichannel strategy helps organizations manage more demands, they are able to discover customer resolutions faster. Furthermore, businesses may give consistent service across numerous online and offline channels, enhancing the entire client experience. Companies can gain deeper insights into the client lifecycle at the same time, making it easier to create a fantastic customer experience and hence enhance customer retention.

Besides, customer loyalty is boosted by an omnichannel customer experience, which offers value. Customer churn is reduced, customer lifetime value is enhanced, and more customers will suggest you company. All of this is the result of a consistent and helpful brand presence, which is communicated throughout the customer journey via attentive and interconnected customer interaction channels.  
Businesses Utilizing Omnichannel Strategy
Starbucks – Starbucks is doing a fantastic job of providing a consistent user experience through its mobile rewards app. Starbucks users earn reward points every time they purchase with a Starbucks card, whether it's a physical card or a mobile app. The associated app allows the user to identify nearby stores, give presents, pre-order drinks for a faster experience, and examine new menu updates.
Sephora – Sephora is just another brand whose omnichannel customer experience has been recognized repeatedly again. Sephora Beauty Insiders can access a lot of data by tapping into the Beauty Bag on their phone or laptop. Consumers may shop, view their favorites list, any previous purchases, and how many loyalty points they have, scan things in store to see different online possibilities, watch tutorial videos, and find a retail outlet.
Walgreens – Walgreens built a unique mobile app that allows consumers to easily repeat prescriptions, which they can subsequently pick up in-store. Users can indeed also use the app to monitor their pharmacy medications, fill out quick refill requests, look for discounts in stores, and place orders for pick-up at a nearby location.
Warby Parker –

Warby Parker, an eyewear retailer, is an example of a business that uses an omnichannel approach. Warby Parker has a web and mobile app that allows users to try on glasses remotely. It gives users a fair idea of how the style will look on their faces. This is an excellent example of how to engage customers by generating unique experiences.

 
Apart from these some other famous companies using omnichannel are: 
McDonald's

 

Adidas

 

Timberland

 

Xiaomi

 

Nike

 

Disney

 
Apart from the companies, omnichannel marketing is helpful in various industries and sectors like the healthcare industry, automotive industry, cosmetics, finance industry, retail industry, and many more.  
What is the Difference Between Omnichannel And Multichannel?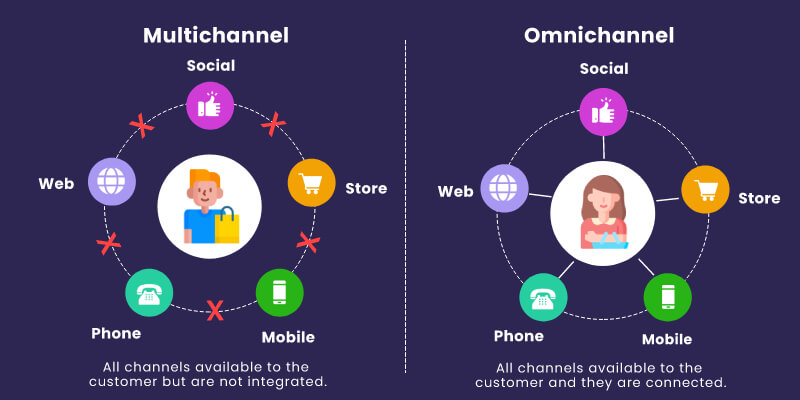 Both multichannel and omnichannel require selling through numerous online and offline channels; the significant difference is how the customer experience is linked together.   
Let's discuss both in brief: 
Multichannel
Multichannel commerce allows you to offer your products to consumers through a variety of channels, both online and offline. You can communicate with your customers on social media, over the phone, and in person. Your web presence is flawless, and your clients are aware of where they can indeed find you. Multichannel marketing is already the best way to get people interested in your business.  
Omnichannel
Omnichannel commerce, like multichannel commerce, happens over several channels. There is no omnichannel without multichannel. The most significant distinction is that omnichannel commerce links all channels. This ensures that your customer's experience is consistent across all platforms.  
It's vital to know that omnichannel is also multichannel by definition because many channels are used. However, the main difference between omnichannel and multichannel is the natural transition from one channel to the next that omnichannel provides, whereas multichannel does not. Customers become the focus point of the company with omnichannel, and they react by becoming recurrent customers. As a result, overall customer churn is lower, and repeat revenues are higher. 
Why Must You use Omnichannel Customer Experience in Your Business? Key Reasons & Benefits!

 
Having a fantastic omnichannel customer experience has various advantages, including the following:  
More sales & revenues




Customer profiling can be done through omnichannel customer experience. Customers' journey maps and previous encounters with your company can be used to tailor future interactions. 
Your company's conversion rate improves as the customer experience improves. Customer loyalty rises as well. These positive qualities increase sales and revenue over time.

 Guarantee more customer satisfaction


Customer retention and satisfaction are higher for brands that seem to have a robust omnichannel strategy than for businesses that don't. The main goal of a successful omnichannel customer experience is to eliminate any extra friction that customers may face while dealing with a brand. As a result, the customer gets what they desire, increasing your customer satisfaction index. You pave the ground for a complete ecosystem for your consumers to exist and engage with you by eliminating reliance and time across different touchpoints. 

Offer more upsell and cross-sell opportunities




Businesses can send emails, SMS, push alerts, and even email marketing to promote complimentary items and upgrades using the information and accessibility to customers that cross-channel strategies enable. In-store, the ship-to-store functionality is an excellent example of this approach since it saves customers' money on delivery while also enabling them to buy complementary items or impulsive purchases in-store.

Ensures higher customer retention and ROI




Customers will always purchase from a business they know and trust. Omni-channel strategies ensure that customers have a seamless experience across all platforms. For each consumer, each platform has a unique and tailored message. Higher ROI (Return on Investment) is also one of the most crucial metrics in any business model. An omnichannel strategy can be pretty successful if segmentation and personalization are done correctly. More conversions and a higher ROI will result from increased customer involvement.

Improves marketing efforts




With omnichannel operations, you can keep track of your customers across all touchpoints, gain a deeper understanding of them, and learn about their preferences. You can learn about the things they've looked at, what they prefer to buy regularly, which offers they're interested in, and so on. With the correct data in place, you can immediately describe and categorize similar types of customers. You may efficiently classify consumer data depending on their intent, the products they buy, the channels they use, and so on. This might assist you in creating sales-driven campaigns and attracting more customers.

Eliminates operational challenges




As the traditional and digital worlds converge, your company has an opportunity to act and develop innovative ways to solve operational problems.  An omnichannel strategy allows you to bring all of your administration systems together in one place. Integrating your stock, customer data, sales information, order distribution, and other business activities into a single location will help you better control and improve your operations. 
Read More: How Digitalization Is Transforming The Retail Industry
How to Build an Effective Omnichannel Customer Experience?

 
Let's take a look at the aspects to consider when developing your own omnichannel strategy: 
Know your customers' demands 


To grasp customer expectations, you must first comprehend their journey. That is why it is critical to research and understand your customers' needs. You can provide more personalization when you interact with clients and try to comprehend them. Gather feedback from customers to obtain a better knowledge of your target market's interests, behaviors, and demands.

Select the right platform 


The demand to be everywhere has pushed retailers to implement an omnichannel strategy. While providing omni-channel experiences to a large consumer base can be difficult.

For the same, technology serves as a bit of a surprise. Advanced technological solutions make it possible to build up digital stores, assist retailers in connecting with users, and boost customer interactions.

Gather & analyze customer feedbacks 


Customer feedback can be a positive thing for businesses because it presents wonderful chances for improving the omnichannel customer journey. Delivering exceptional service entails being available to your consumers in real-time and allowing them to easily give comments.




Brands may communicate with customers across all channels and collect feedback at every stage of the customer journey with an omnichannel customer care approach. Websites, social media, emails, in-app, reviews, and other channels can all be used to solicit client and customer feedback.

Categories your customers


To tackle marketing operations efficiently, divide your consumers depending on the most significant data points and attributes to your business goals. Buyer personas, customer journeys, subscription status, and other factors can be used to create these categories.

Track interactions


It must be done to ensure that all client complaints or inquiries are promptly addressed. It boosts productivity and provides insight into client behavior.

 

Tracking interactions might help you figure out what works and what doesn't. It aids in the refinement of present operations and the increased investment in areas that demand additional attention. 

 

How to Get started with Omnichannel Experience

?
Creating seamless omnichannel experience can involve many things. Let's discuss some notable ways of delivering an omnichannel experience to your customers.
Ecommerce Website

Setting up ecommerce stores is the first step toward providing great omnichannel experiences. These stores are critical components of the digital infrastructure, assisting businesses in serving online customers and increasing sales in physical locations. Businesses can consider developing an ecommerce website for their business and can integrate cloud-based software, comprehensive headless commerce systems, depending on their interests and preferences.

Read More:  How Can Predictive Analytics Transform Your eCommerce Business?

Mobile apps

 Nowadays, many companies are considering ecommerce app development for their retail business to give a better experience to their consumers. Real-time communication capabilities are being integrated into customer-facing apps, and try-on and clientele are also becoming more digital. And, as cashier-less checkout technology improves, checkout lines may become obsolete in the near future.


Software for retail stores

 While your customers are engaging digitally with you, offline stores are similarly popular. For Omnichannel experience, your store needs to be in sync with your digital platforms. Softwares such as POS, Accounting, Rewards & Loyalty etc. are some softwares that retail stores use but most of them are legacy software lacks the capabilities to integrate and provide omnichannel experience. For overcoming this concern, omnichannel retail software development services are available which can enable Omnichannel approach for business.


Headless commerce 

Retailers can create real omnichannel experiences by using headless commerce. Content, payment gateways, and items can be sent to a variety of screens and devices, such as kiosks, smartwatches, mobile applications, progressive web apps (PWAs), and everyone in between. It's easier than ever to add additional sales channels and upgrade omnichannel capabilities.  

Data analytics platforms

A customer data platform is a software solution that allows businesses to combine consumer data from many sources (such as social media, emails, and websites) to develop more comprehensive customer profiles. Businesses are striving to create a more consistent experience across channels with more precise, granular data on each customer.
Conclusion 
An omnichannel customer experience strives to assist businesses in providing a tailored experience to their customers through a streamlined customer journey that encourages repeat purchases and loyalty. If you follow the steps above, you'll be on your way to creating a complete omnichannel experience. You will see increased growth and opportunity as your customer experience score improves.  
Apart from this, you'll be capable of responding to customer requirements whenever and wherever they arise along the journey if you implement an omnichannel customer experience strategy in your company. This will assist you in increasing client pleasure, loyalty, and revenue.  
Get the Conversation Started!
Get the Conversation Started!
[contact-form-7 id="34486" title="Side Form"]
Related articles