What Are the 10 Best Password Manager Apps ?
Updated on Apr 23rd, 2021
A consistent proliferation of modern IT and other enterprises witnessed a heavy dependency on databases, servers, network devices, security infrastructure even for their routine ordinary use. So the number of administrative passwords accessed and controlled these infrastructures, which are provided by browser vendors, third parties and network-based. Furthermore, It not only provides categorization for better credentials management but also guides users about bad password practices like common passwords, password reuse, generic passwords, and weak passwords. With high penetration ratio, password use per user has expected to be grown to 207 by 2020, which is a contemplative issue for both android and iOS app development. It has been a usual perception as well as experience that majority of people use common and, weak passwords and also reuses it on other websites. Basically, You are supposed to get secured by using a strong and unique password, but how?. The solution to your problem is a password manager. Password managers enable your login with the use of unique and strong passwords and provide effective management of all the passwords. There will be only a master password which is to be remembered after it encrypts password database with a master password. Additionally, the user login information is encrypted and stored either in cloud storage or in the local memory of the user's system. While Cloud-based password manager works as a browser extension that creates or improves the functionality and customize the browser, locally based password manager encrypts the password of the user and stored it locally on the devices.
Password Manager Apps
Due to the high appealing security and usability features Password managers has been becoming more popular nowadays becoming more and more popular and there is a huge demand to hire app coder. But there are tons of good options to be considered, So let's get into the picks.
1) LastPass
It is a popular password manager recommended by mobile app development companies which allow a user to import all login credentials which are from browsers after setting up a super secure master password. The user can switch between laptop, computers, and smartphones as LastPass works on all major platforms. It makes user able to test the weak, duplicate and old passwords that they may want to change. It includes free credit monitoring, multiple identities, two-factor identification, and  LastPass browser extensions or apps auto-fills saved username and password while visiting site or app. Furthermore, it also stores encrypted information of users on its cloud servers so that users can successfully login from a computer other than personal PC.
2) Dashlane
It allows users to keep their passwords in an encrypted vault with automatic synchronization across various devices The digital wallet allows a user to keep passwords locally within an encrypted vault, or automatically them across your devices.and also permits effective tracking and making purchases at different online retailers with convenient means. Interestingly Dashlane shows the site logo with saved name and website URL  apart from the user's login details. It security dashboard analyzes user's passwords and suggests the uniqueness, robust and highlights probable instances of dangerous reuse of passwords with password changing suggestion. Dashlane is a simple and intuitive password manager app. Strengthened by two-factor authentication with the ability to change the number of passwords spans multiple websites.
3) RoboForm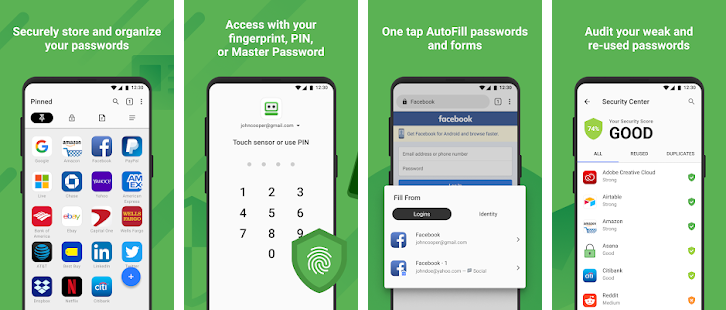 Roboform allows users to sync across devices and offers a limitless time of logins, secure storage notes.multiple platform support and the ability to gain emergency access. It might not be compared with the standard features of LastPass or Dashlane but still it's password generator strongly allows a user to exclude the same characters by specifying the need of special characters for a specific password. Roboform is available for iOS Android, Mac, and Windows which allows secured sync of passwords between computer.laptop and smartphones.
4) KeePass
 It features robust security, a portable installation, allows it to run without installing it on PC from USB, multiple user tons of customization options and downloadable plugins. Its a password database encrypted and protected with either a robust password or a security file and used to store applications and websites password. Users' username or password pairs are kept in a secured encrypted database protected by a single master password. Any security issues can be easily identified and fixed because the KeePass Password Safe allows one to inspect the code for its potential weakness. Furthermore, Users' can easily copy and paste passwords from KeePass Password Safe or make use of hotkeys while they have to compile their database manually.
5) Sticky Password
 It is a versatile password manager with rich features and a unique approach to multi-device synchronization and security. It offers automatic login, storage for personal data, one-click form filling and set and forget password management technology. Stick password relies on an identical security principle and uses cryptographic methodologies. It works with the encrypted database of involved devices, whether a user selects cloud sync or local sync option while transmitting database information. Windows, OS X versions, iOS, and Android app development companies use the same secure database architecture, secure cloud synchronization services, and encryption algorithms.
6) 1Password
1Password  easy to use, flexible and offers digital wallet and functions as a powerful and secure password manager which works seamlessly in every web browser. If you are looking for a similar app, you must contact an experienced mobile app development company. The tool is empowered with a strong password generator which can be accessed by the software or its browser extension, a digital wallet for bank account and payment information, secure notes, and customization of password on user's demand.  It securely stores all user's credentials of digital identity, since it securely keeps account details for email accounts, bank accounts, passports, driver's licenses, wireless routers, databases, memberships, outdoor license. Additionally, It supports iOS, Android,macOS and Windows with plugins for Firefox, Safari, Opera, and Chrome.
7) Keeper
It does all the things which other password manager app does, it also includes secure storage of documents,  images, a dark web sniffer for the detection and warning for compromised accounts. The user can link their payment method secured by two-step verification with the application for smooth online purchase. Keeper establishes itself a secured password manager app provides a sincere focus on security, Digital Vault and built chat service, it Syncs across Android, iOS,macOS and windows. Windows, macOS, Android, and iOS devices.
8) LogmeOnce 
LogmeOnce allows users a passwordless logging feature, using biometric authentication by using any device which is slightly different in LastPass Premium. It uses two-factor authentication where it randomly clicks an image by user's webcam and shows it on screens as well as send it yo user's mobile device, user's authentication on a mobile device, automatically make him logged in. It also offers fingerprint authentication and eradicates the need for remembering the master password. The feature " Mug-shot" takes and saves the picture of a person who logged into user vault. LogmeOnce only has native apps used by iOS and android app development companies, and also supports Mac OS, Linux, Android, iOS and Windows.
9) Padlock
Padlock is an open source software simple and easy to use with utmost security, usability, and performance. Users are able to add their login information by importing it, adding it manually or capturing from a browser through a browser plugin. It doesn't offer, auto filling, a place to store users credit card, secure notes but supports all platforms including iOS, Android, Windows, and macOS.
10) True Key
True key is launched and managed by the Intel security Team and having features like multiple ways of login like fingerprint authentication, face recognition master password and fingerprint-authentication, auto capture, and auto-fill passwords, AES 256 bit encryption, and a virtual wallet. With multi-factor authentication, the user will always be verified by at least two factors before logging in. User's profile data is encrypted locally by AES 256 bit encryption so that only user can access to decrypt and unlock information.
Choose Matellio for Password Manager App
Password management apps are not the buzzword instead of the requirement today. Android and iOS app development both are flooded with some sort of password manager apps where few apps are made to secure the password and push a master password all over the system, while others also offer the possibilities of useful and unique passwords to ward off security breach. Smartphones are not just limited to the medium of communication, instead, they are now the complete business component now, and hackers constantly keep eyes over the security breaches for intrusion and data stealing. This data is then used for malicious activities. Matellio can be your reliable partner if you are looking to hire app coder to develop the password manager app. Your decision can let you get the bang of every buck spent.
Get the Conversation Started!
Get the Conversation Started!
[contact-form-7 id="34486" title="Side Form"]