What are the Best Video Editor Software for 2020?
Updated on Jul 5th, 2022
Video content drives marketing and is an effective way to improve viewer engagement because half of the internet users look for related videos before they visit a store. Apart from this, marketers report that the video content can alone bring in the best ROI. On the other hand, When it comes to video editing, who want to spend hours mastering nuances of video cutting techniques. People need to place several pieces together usually, add fade-ins and outs, subtitles, but in the end, nobody wants to compromise with the final quality. Social media audiences are becoming more sophisticated day by day. Just videos are not enough to impress them and to get their attention, they need slick, and professional-looking videos. However, a bunch of filters can turn a commonplace video into, pro-quality video. The general idea is to cut out the garbage, stitch what's left together and make a new file which is now your final product.  But does this work that way, well sadly no!! We do have numerous video editor software present in the market today, but selecting from those hundreds and thousands of best video editing software is not at all an easy task. 
List of Best 10 Video Editor Software for 2020
1. Adobe Premiere Pro CC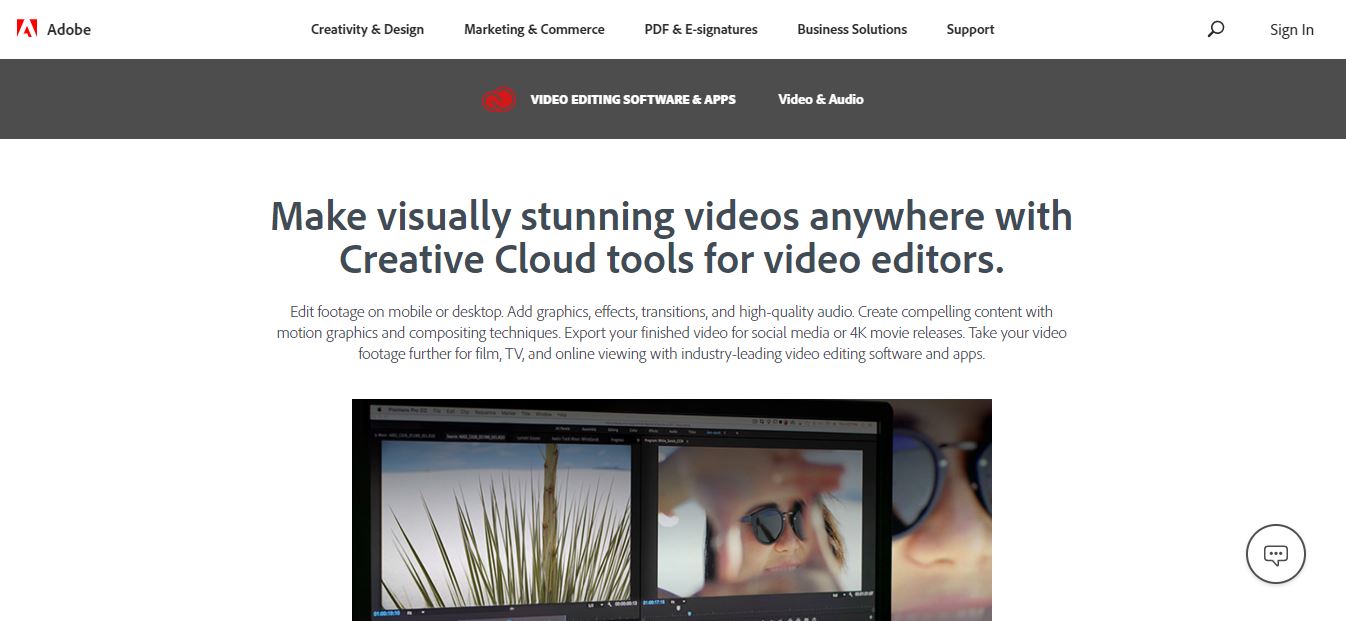 Adobe being a frontrunner in the video editing category has now shown up with the new creative cloud capabilities that make cross-device content sharing seamless. Adobe premiere pro is basically a timeline-based best video editing app created by adobe system, used for everyday video tasks essential for producing better quality, high definition video. Users can seamlessly import video, audio as well as graphics. The brand new premiere pro is very well received in the films. The video editing software provides, access to the 20+ creative apps such as Photoshop, Acrobat, etc. apart from this, it also supports a wide variety of video and audio file formats and codecs on both macOS and Windows. Its workflow integration includes after effects, premier rush, photoshop, Adobe story, Onlocation and prelude.
Cost: $52.99 per month. 
2. Final Cut Pro X
A professional non-linear video editing application published by apple inc provides a premium-quality video with cutting edge tools. Final cut pro X is entirely a re-written application. A native 64-bit application is taking advantage of more than 4 GB of RAM and comprised of filters, motion graphics, special effects and much more. Not to forget, the fusion of hardware and software enables the users to get flawless video editing and the ability to build spectacular videos. Comes up with various built-in special effects, like motion graphics, filters, enhancement tools. Also, support RAW format, HDR materials and 360-degree videos. The users can seamlessly and speedily edit videos because it's developed on state-of-art computing architecture, with which it can leverage the powers of latest CPUs and graphics processors. Final cut pro provides benefits like seamless video editing, organized assets, impeccable sound, etc. Its interface includes event browser, magnetic timeline, auditions, roles, content audio analysis, closed captions, synchronized chips, compound chips, Multicam editing, etc. 
Cost: One-time enterprise licence of $299. 
3. Adobe Premiere Elements
A premier element is the best video editing software, published by adobe systems, a scaled-down version of adobe premiere pro, tailored to editors and consumers. Unlike many, it can handle unlimited video and audio tracks. Offers its users, a clip organization, editing and auto movie generation options. Especially assists, the people who are new to video editing, to develop the videos and share them with family, friends, clients, etc. By using adobe premiere elements, users can easily find the clip and the photos they are looking for. Adobe premiere elements also provide a glance to the users to learn the ins and outs of the video editing application, as it helps them to maximize the use, and enjoy the video editing to the fullest. Premiere elements features include asset organization, editing guides, smart video trim, music remix, quick movies. 
Cost: $99.99/one-time payment 
4. 

Adobe Premiere Rush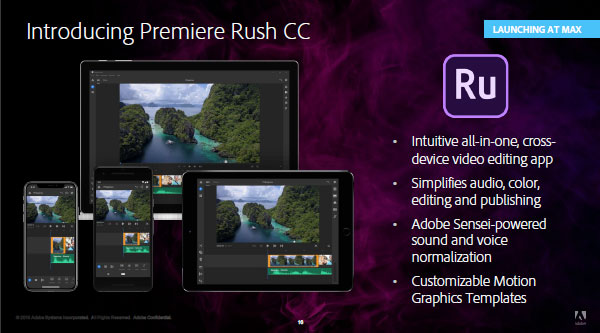 As the name suggests, do it all within the app, create and share videos online. And the tag line indicates go shoot, go edit, go viral. Dip your toes into the video editing world. Adobe reports, the video editing app is designed for people who want to create video online. It also provides exporting options optimized for social media platforms like snap chat, Instagram, Twitter, Facebook. It is best suitable for people who are looking for an all-in-one video editing platform. Powered by adobe sensei, an artificial intelligence framework built into the creative cloud suite. It simplifies video editing, motion graphics and audio mixing capabilities. A new multi-platform video editing tool is pretty straightforward and especially meant for the YouTubers.
Cost: $9.00/per month for individuals and $19.99/month for teams. 
5. KineMaster
KineMaster is a feature-rich and professional video editing software for iOS and Android provides a wide array of video editing functions that also include transition effects, multiple layers of images, texts, results, video, audio. The idea behind the app is pretty simple, i.e., to provide professional-quality, video editing features. Beneficial for editors as they simply can simply control their videos especially while trimming them. These videos can be shared in one-go on the social media platform, youtube, google, facebook. Some features include effects, adjustments, overlays, stickers, instant preview, audio filters, frame-by-frame trimming real-time recording, etc. 
Cost: $39.99
6. Filmora9
Simplifying the tedious process of video editing, made up of such powerful tools that enable you to produce videos to the limits of your imagination. The easy to use and trendy video editing software lets you empower your story. Filmora, as the name suggests, is a helping hand that enables you to start with any new movie project, by importing or editing the video. Apart from this, you can also add special effects, transitions and can share your final production on the social media platform. Additionally, Filmora allows you to import video, audio and images in various formats. You can add overlays, animation, effects, music titles, etc. and can arrange these elements in a magnetic timeline. It is also comprised of the tools, to crop the footage, increase or decrease the size of the videos. Its includes features like screen recording, audio mixer, chroma-key, video and audio controls. Noise removal, GIF support, media library, etc. 
Cost: $59.99 
7. Pinnacle Studio 22
Pinnacle-studio, a fully loaded, advanced, video editing software, to be reckoned with. Offers you features like, selective colour, split-screen video, titles and overlays, and an updated workspace. Through pinnacle studio, 22 users can enjoy, 2000+ video filters, transitions as well as effects. With the drag and drop, video editing feature users can create movies automatically or can start with video templates. It also includes features like multi-camera capture and split-screen video, that makes every production big-screen worthy. So, pinnacle studio is fully-loaded with the features the users expect to have in a professional video editing software. The users can enjoy the new colour grading controls; they can also create immersive 320 videos, etc. so with all these pro-calibre editing tools, users have everything they need. 
Cost: $129.95
8. Nero Video
Nero software is here to do some impressive video tricks with your digital video content. Well it's an attractive deal. It lets you edit the videos and burn the discs. It is comprised of a library, which helps you manage all your multimedia files, photos and music from your PC. All-in-one software supports many file formats, allows the import and customization of projects created in windows live movie maker. It has a new interface, with simplified menus and settings. Nero is the right software solution that helps users to create images and edit videos accordingly. Nero offers a wide array of enthusiast-level video editing capabilities, with plenty of video effects. 
Cost: $42.95 as per one-time payment
9. Corel VideoStudio Ultimate
Corel VideoStudio ultimate is an award-winning platform and is a video editing software package for Microsoft windows, flexible, and allows users to edit freely and create impressive videos. The ultimate, feature-rich, easy-to-use video editing platform, used by professionals. Users get excellent transition effects and templates. A highly regarded piece of software today includes all the essential features a user expect. Users can easily import video clips, cut and paste them. Additionally, they can add text, captions, audios including 3D texts. The users can seamlessly adjust colours, tune everything themselves, and it also makes panning and zooming effortless. It includes the filters to change the look of the videos, in-built transitions help users to move from one clip to another. Moreover, while creating video files, we can also create discs in various formats, such as DVD and Blu-ray. It's ultimate animated overlays, adds atmosphere to the videos, like the users can generate rain effects or add particles. 
Cost: $79.99 
10. CyberLink PowerDirector
The CyberLink PowerDirector is again the best video editing software bridges the gap between professional editing and consumer-ease of use. It is comprised of the tools that help users to put together a compelling digital movie, complete with transition effects and titles. Its pre-cut tools, let users create multiple short clips from long ones. Its nested video feature combines clip and edit so that it can be reused in the projects. It includes stabilization, transition effects, motion tracking, titles. It runs on Windows 7 through Windows 10, with 64-bit versions recommended. Provides its users with five retail editions, including director suite, ultimate suite, ultimate, ultra and deluxe. Additionally, it provides the fastest way to turn photos, recording and clips into impressive output. The key features include full feature editor, 360-degree footage tools, motion-tracking, encoding and exporting, etc. 
Cost: $139.99
Conclusion
When you decide to buy or develop the best video editing software, its essential to check experts reviews and ratings. As compared to earlier, we have several feature-rich and robust video editing software available today, from that we have jotted down the best video editing software as per the latest market trends and according to your requirements. Get in touch with us, if you wish to create the best video editing software and take advantage of our expertise. 
Get the Conversation Started!
Get the Conversation Started!
[contact-form-7 id="34486" title="Side Form"]