Which are 8 Best Tax Software for 2020?
Updated on Apr 20th, 2021
The average cost of hiring an expert for preparing your tax returns is approximately $275, for any normal tax situation. Undoubtedly, this is a lot of money to put in, and often it ends up being unnecessary owing to the digitised world. You can deduct a significant amount of expense if you can figure out the tax-time priorities in advance and identify the best software for catering your needs. Taxes are confusing enough, and so without multiplying your stress for locating the best tax solution, we have done in-depth research to simplify this not-so-simple activity. Here are some of the finest tax software available in the market that can save you from cramming all those tax documents into your briefcase and head off to an accountant's office. 
List of 8 Best Software for Taxes in 2020
1. TurboTax
2. HandR Block
3. TaxAct
4. Credit Karma
5. Jackson Hewitt
6. TaxSlayer
7. Liberty Tax
8. Free Tax USA
1. TurboTax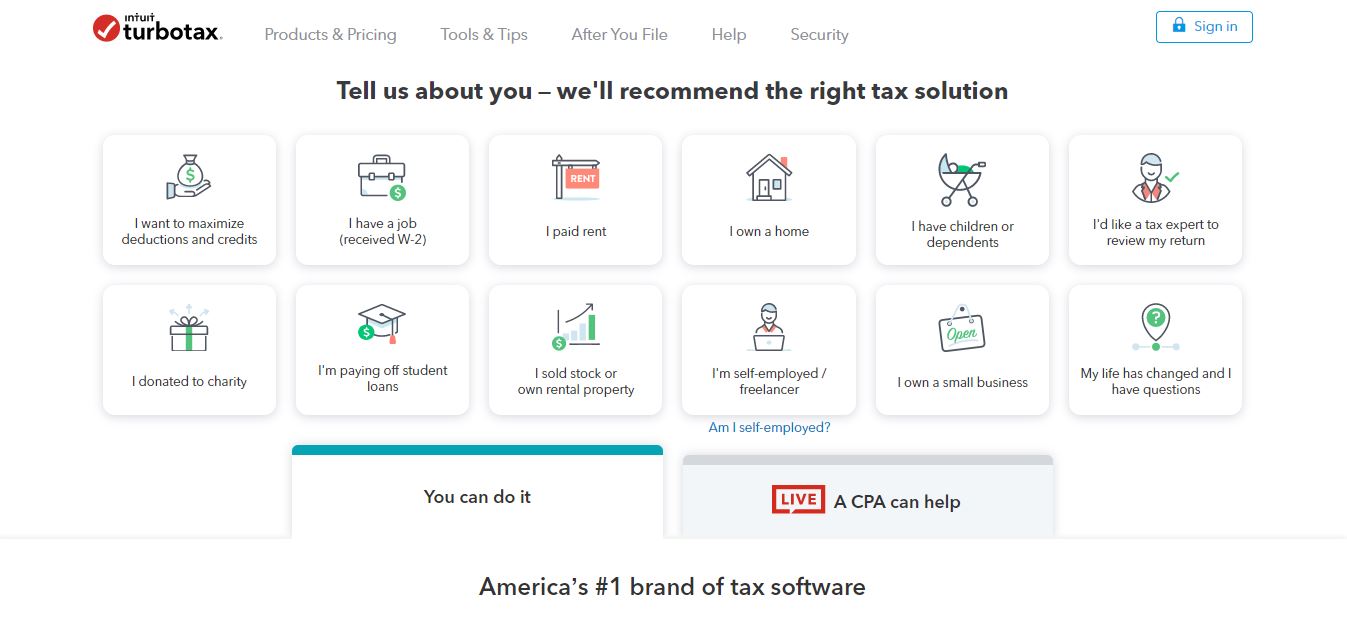 If you have decided to do your taxes yourself, then Turbotax is the app for you. Excelling in design, flow and features for filing taxes online, the tax application is a face of the crowd. The interview-style, user-friendly questionnaire gives a feeling of chatting with a tax preparer. TurboTax asks you questions in a simple language and safely keep your answers for returns. TurboTax Live, one of the outstanding features of Turbotax, gives one-on-one review with an enrolled agent or CPA before you file in addition to unlimited tax advice. The major downside of this application is that it's very pricey in comparison to everything out there. But what is a few extra bucks for the feature-rich online products TrubTax offers, after all they are worth it. Don't they? 
Highlights 
Incredibly easy-to-use software

Free federal and state filing for simple returns

Expense Finder, which assists the self-employed identify every possible deduction

Heads-up audit detection while you file your taxes

Provides self-guided help

TurboTax Live expert video chat for customer support

Wide range of disbursement options 
2. HandR Block
Hand R Block is one of the cheapest tax filing software for the self-employed. This solution facilitates individuals to file their self-employment income. Hand R Block makes it quite easy to kick start in the process; it does so by allowing the person to import their previous returns from other tax preparers like TaxAct, TurboTax and Credit Karma. Entrepreneurs and Freelancers are served best by the company's Self-Employed package, which aids the individual to find standard business deductions, fill out forms like Schedule C and write off startup costs. Varying to some of its competitors, the tax solution discloses its prices openly. If people desire a tax professional for checking and signing their returns, they can do so by springing to the highest tier. H&R Block also offers a "tax prep checklist" for tracking down the documents one needs for preparing the return
Highlights 
Chatty and Friendly

Cheap rates in comparison to competitors

Possess Tax Prep Checklist for tracking docs

Has a Free version called More Zero

Offers basic package for simple returns for $19.95

Offers Premium version for $64.95

Offers Deluxe version for $44.95
3. TaxAct
Often TaxAct is mentioned in the same breath as HandR Block and Turbotax, but it offers something unique, and that is price lock guarantee. The tax solution comes with fewer bells and whistles, but it is capable of handling returns that include investment income and self-employment. Also, it has a functionality called Life Events which zeros in on the potential variations in a tax situation from last year to the present one. The web-based solution offers 19 icons relative to different sorts of circumstances that might apply in real life. TaxAct posses pre-built spreadsheets where information like sales proceeds, reporting category, gains/losses, and other such stock data can be inputted. It also comes with customer support coupled with hyperlinked words and phrases, which gives a lot of explanation. Additionally, it possesses a comprehensive TaxTutor Guidance centre. 
Highlights
Pre-built spreadsheets for saving stock relative data.

Limited state e-filing

Tool named Life Event

Handy Refund Snapshot dashboard

Tax Tutor Guidance Center for giving all the help needed. 

With the Free Edition, file federal tax forms for different tax returns suiting different situations. 
4. Credit Karma
Credit Karma was first launched in the tax preparation area in 2016, and it has made significant improvements for the 2019 filing season. Both the federal and state returns are completely free. Owing to some additional functionality like a searchable "help" database, the interface has improved a lot. Initially, some of the users had problems with the support and guidance. Credit Karma has done its homework and upgraded its customer services. The solution isn't limited to simple 1040A and 1040EZ returns. It is capable of handling major IRS schedules and forms, including the ones in relation to more complicated tax situations. 
It begins by asking numerous questions upon clicking the "start" button and then makes you input the information. Also, one can import past years' returns which were completed availing some competitor's tool.
Highlights
First launched in 2016

Federal and state returns are 100 percent free

Chat help available

Lack of phone support

Searchable help database

Improved Interface
5. Jackson Hewitt
The software costs a little less than TurboTax and Hand R Block, in return for which one gets an extensive and efficient wizard. The wizard has a series of questions walking through which one receives a complicated tax return depending on your answers. The tool covers almost every imagined tax situation for personal filers. Jackson Hewitt Wizard is capable of handling complex tax situations, though one can't count on the explanatory popups to answer the why's and how's of tax situations. Also, there are several help topic links which are even available for live support. Live support is a unique thing which other solutions don't seem to offer. 
Highlights
A questionnaire Wizard

Covers almost every conceivable tax situation

Free version for easy returns

Links for Live Support

Less expensive
6. TaxSlayer
Initially, TaxSlayer was developed for tax professionals; then it grew to aid individuals for preparing their returns. TaxSlayer is a web-based solution, which makes it accessible from any device. The best thing about "Quick File" option which eliminates the need for inputting tax information in sequential order. TaxSlayer offers two choices- "Enter Myself" or "Guide Me". The former allows you to jump around a bit, like Quick File. The Guide Me is a bit slower owing to its more methodical nature. Also, the users have a choice to be guided or not, so if they are confident in their tax skills, they can bypass all the quizzes. Additionally, past year tax forms make it very easy for preparing your tax forms.
Highlights
One of the cheapest options available in the market

Free Tax support by Email or Phone

Offers Premium edition for $37

Life events make one input the basic information correctly

Free tax guidance available in the Premium edition.
7. Liberty Tax
If you have been preparing your tax returns for years using one or other software, then Liberty Tax is the right solution for you. The program suits well to the more experienced fillers. Although the interface isn't very attractive, it is more of let's just get this task done. It possesses a huge number of manual clicks and a tiny bit of searching often, but all of this is fine if you the target and even the way. The solution lets one decide the aspects of a return one wish to work on, present them in chronological order and also give recommendations. The program will ask you to file returns which saves a few tax dollars. TaxLiberty is quite helpful when the individual knows what tax forms exactly are, otherwise it's a bit shady.
Highlights
For experienced ones

Simple interface

Gives warnings

Send reminder emails 

Simple Edition – $19.95

Basic Edition – $29.95

Deluxe Edition – $49.95

Premium Edition – $74.95
8. Free Tax USA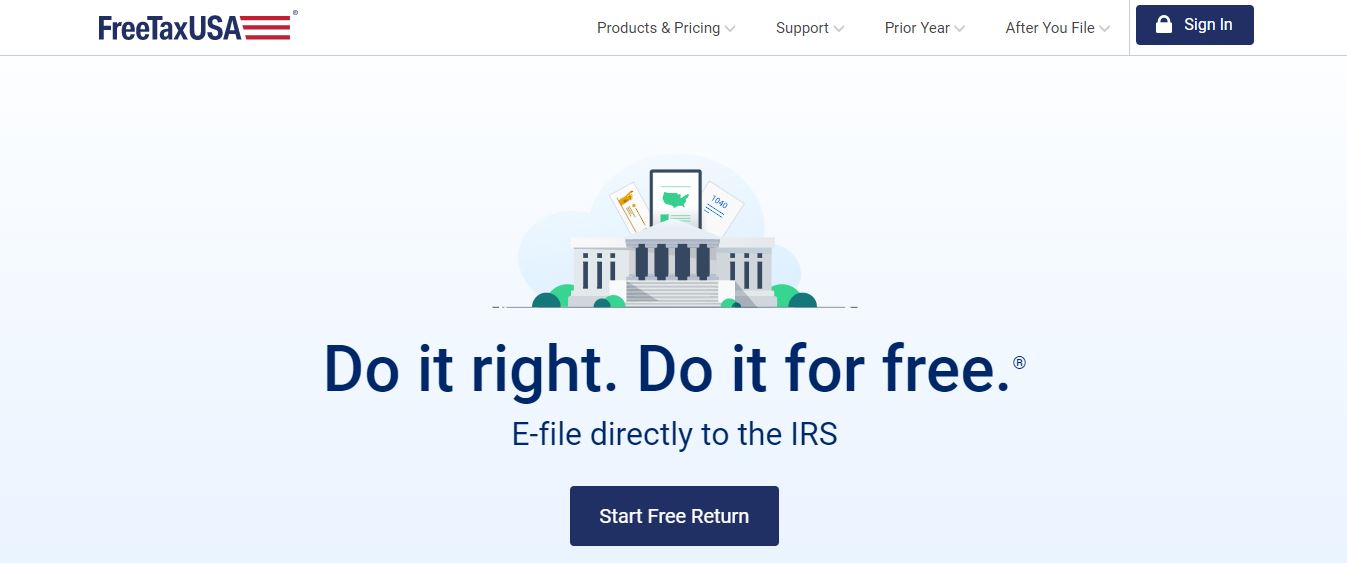 Free Tax USA is suitable for self-employed or somebody who has more complicated returns than that of an average person but is not interested in paying fortunes. The deluxe version of this solution handles situations that most other solutions don't seem to offer unless you pay for their self-employed or premium version. Free Tax USA is equipped with Schedule D for rental gains, Schedule E for rental real estate, and Schedule C for self-employment. Rather than upgrading to access more forms, the Deluxe version has audit support for a low price. Free Tax USA offers free audit assistance in the Deluxe version, which includes access to the audit experts for answering your questions.
Highlights
Customer support via email for free

Chatting available in Deluxe version

Accuracy guarantee that will pay penalties and interest assessed by the IRS owing to the calculation errors in their program.

Free Audit assistance in Deluxe version

Inexpensive than average state returns

Cost of Deluxe Edition is $6.99
How to Choose the Best Tax Software?
There are several factors which a tax software must possess. Here is a comprehensive list of the same:
Audit-Risk Identification 
Under this category, tools that help in identifying red flags which mostly trigger audits, such as breaking the rules on foreign accounts or failing to report your total income.
If the user pays an IRS or interest or state penalty due to some calculation errors in the software, then the company compensate for that by paying back penalty and interest to the user.
A comprehensive tool acting as a knowledge base, live chat or screen sharing, and email support.
Refund Disbursement Options
Users must have an option to choose how a refund is paid, i.e., via some check, prepaid debit card, direct deposit, savings bond or something else. 
The tax software must facilitate easy import of information from the previous tax returns, larger employers, and even payroll services
Versions- Online and Desktop
Filing online facilitates you to pick up right from the point you left off on a different location or device, but some of the users, especially the company owners, may opt for everything saved on their hard drives.
Winding Up
Whether you're filing for your business, or your family, or yourself, the best advice we can give is to be proactive. Even though we all lead a busy life, it is highly recommended to jump on the upcoming tax season and not let the same jump on you. Although we admit that there will never be a replacement for hiring a professional for filing your returns, but if you are looking up to save some dollars and take care of the matter personally, we recommend opting for a Tax software. Consider the above mentioned and opt for the one catering your needs. Got some suggestions? Comment below. Happy Reading!!
Get the Conversation Started!
Get the Conversation Started!
[contact-form-7 id="34486" title="Side Form"]