The hospital sector has been undergoing several developments in terms of technology and patient care management throughout the years. A hospital that is fully automated using software is both easier to run and delivers the best efficiency. With the advancement of technology, every hospital organization has to make the most of it and endeavor to improve patient care.
Healthcare software solutions are becoming increasingly important in the market today, as they assist healthcare providers in managing and monitoring their operations.
You won't believe that,
As per the research by Deloitte Global Healthcare Report, the global healthcare software solutions development industry is currently massive, and it's anticipated to grow much more in the coming years, with a 5.8% increase to 19.3 billion dollars by 2025.
But,
What exactly are hospital software solutions? Why does every healthcare organization or institution consider it in 2022 & beyond?
Let's find out! 
As per the research by Deloitte Global Healthcare Report, the global healthcare software solutions development industry is currently massive, and it's anticipated to grow much more in the coming years, with a 5.8% increase to 19.3 billion dollars by 2025.
Developing custom hospital software solutions is an excellent approach to increase medical facility productivity, reduce stress and burnout, streamline workflow, and improve patients' happiness.
So, let's get started!
What are Healthcare Software Solutions?
Healthcare software solutions allow hospitals to take complete control of all maintenance management tasks while also allowing administrators to have access to the information they need to make smart judgments.
Revenue cycle management and electronic health records are part of the hospital management software solutions. It also covers labs, pharmacies, mobile apps, inventory, radiography, and other services. This method assists in making the entire operation paperless.
By integrating healthcare management software solutions, every part of hospital management may become more structured and productive. Because of software technology, patients can receive professional treatment and counseling in the healthcare unit.
A unique software solution for your healthcare facility emphasizes and meets the demands of your patients. Patients can use it to arrange follow-up appointments and contact doctors about any issues they may have.
Patients' lives are made more accessible and convenient by having efficient and one-on-one communication with their doctors, keeping track of their test results, and refilling their drug stocks via their devices. Patients' additional visits can thus be reduced with customized healthcare solutions that make it easy for patients to interact with their doctors and conversely.
Moving forward, let's talk about,
Types of Healthcare Management Software Solutions!
The basic types of healthcare solutions software are:

EMR Software
By digitalizing all of the documents, this form of software can replace a lot of paper records. Patient histories, digital versions of charts, and other information are all maintained digitally and are very easy to retrieve. These devices can also notify you when preventive measures and screenings are due. EMR software enables you to treat patients on-site by reviewing their medical history and analyzing their results. 
EHR Software Systems
The functions of EHR systems are comparable to those of electronic records. The history, diagnosis, treatments, prescriptions, X-rays, test results, medication, and much more of a patient's information become readily available. The fundamental distinction between the two is the manner in which information is disseminated. An Electronic Medical Record can only be seen in one office or clinic, whereas an Electronic Health Record can be shared with other systems.  
E-Prescription Software Solutions
Various hospitals have long employed e-prescribing to promote patient safety by ensuring consistency in medicine delivery and reducing prescription errors. This version of the software allows doctors to communicate directly with pharmacists about prescriptions. The benefits of e-prescribing software systems include more efficient workflow, fewer prescription errors, less time spent correcting mistakes, and better record keeping.  
Appointment Scheduling App
Booking software allows hospitals, clinics, and medical offices to manage their appointment operations online. A patient panel is frequently included in the software, allowing people to arrange appointments via an app or website. It also offers doctors and patients an email system by combining as well as automatic appointment reminders.  
Medical Billing Software
Medical billing software controls the complete billing system, from scheduling an appointment to receiving payment. In addition to patient billing, this software handles insurance claims, insurance monitoring, payment processing, and patient tracking. The software will alert you if there is an issue, such as a late payment, so that you may respond appropriately.  
Besides, there're many other types of healthcare software solutions. If you want to know more or have an idea to build a custom healthcare software solution for your healthcare needs, contact a top healthcare software solutions development company.  
Moving on, let's talk about,  
What Are the Benefits of Using Hospital Management Software Solutions?

 
Let us examine the advantages of hospital management software solutions to healthcare organizations!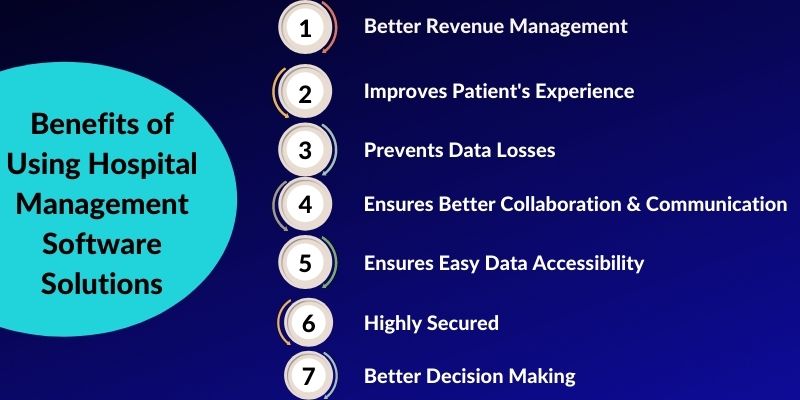 Better Revenue Management 
If revenue management is handled correctly, patients can receive the best services. With advanced hospital software solutions development, hospitals can benefit from quick and accurate transactions. While monitoring the amount owed, interest, invoices, and debts, human errors can be verified. Hospital management software solutions, which assist in the generation of various transactional reports, can determine the scope of income and regions of expenditure.  
Improves Patient's Experience 
Patient participation is possible in hospitals and clinics thanks to open patient information and mobile-based applications. Online appointments can be scheduled according to the doctors' schedules. Patients will not have to wait in line for manual prescriptions, saving them time and energy. As a result, patients gain confidence in the hospital's and services' technological capabilities.  
Prevents Data Losses
The hospital management software apps aid in the safe backup of data by the hospital administration. It occurs with an access control system that is completely impenetrable. The details of a patient's treatment are preserved in electronic medical records. Such records can only be accessed with login credentials. There is no data loss because data backup is done effectively.  
Ensures Better Collaboration & Communication
Doctors, physicians, and other professionals can now communicate and share their knowledge with other experts thanks to technological improvements that have abolished all geographical barriers. It also enables healthcare organizations to collaborate with the world's top healthcare experts and perform better learning and training for their staff. Collaboration with different professionals also leads to more informed treatment decisions for patients.

Ensures Easy Data Accessibility
The data of patients are stored and managed by all medical software. It allows patients to see, download, and share their medical records with a designated individual. Patients can readily access their medical records, treatment plans, lab results, and other clinical information. Furthermore, a few software apps offer training resources to patients in order to improve their engagement.  
Highly Secured
Hospitals and other healthcare institutions, according to experts, still rely on manual systems. This has the potential to leak data and is less secure than automated systems. Developing an automatic custom hospital software solution can protect your data from illegal access and theft. With hospital management software solutions, there are very few chances of making a mistake. This is the primary reason why automated hospital management software solutions are used by healthcare organizations such as trauma hospitals, nursing homes, and rehabilitation centers.  
Better Decision Making
The best hospital management software guarantees that clinical decisions are made in a timely and correct manner. Information is kept safe and secure by a great hospital management software system. The term "process automated system" refers to a system that runs without the need for human involvement. In addition, the software will not be subjected to miscommunication or a loss of focus.   
Moving forward, let's talk about, 
Top Technology Trends that are Empowering the Hospital Software Solutions! 
Top technologies that are transforming the healthcare realms are:
Internet of Things
The Internet of Things (IoT) allows healthcare practitioners to keep a closer eye on their patients. Remote monitoring is now possible thanks to IoT-enabled gadgets, which open up the chances of better treatments for patients without their physical presence. It equips healthcare practitioners with the tools they need to provide exceptional diagnoses and services to patients. Many wearables and other gadgets that offer accurate tracking, end-to-end communication, and remote monitoring are developed using this technology.  
Blockchain Technology
Blockchain is a game-changing technology that can provide complete data protection, increase transparency in financial processes, and simplify billing cycles. Blockchain allows for the secure transfer of patient medical records and the management of the pharmaceutical supply chain. 
Artificial Intelligence
Artificial Intelligence has benefited the healthcare industry more than any other. In the analysis, understanding, and interpretation of complicated medical data, AI can mimic human cognition. AI systems rely primarily on input data to make educated guesses. AI analyzes data across the healthcare system to mine, automate, and anticipate outcomes. It's mainly used to predict patient admissions, optimize clinical processes ICU admissions. 
Conclusion
Hospital software solutions are rapidly changing. It's the appropriate time to take advantage of digital services and compete with other healthcare providers. You can notice significant changes in hospital services and patient outcomes if you use hospital management software.
The hospital software solutions can be used to build a supportive environment amongst doctors, hospital workers, and patients. It provides top-notch service at all times. As a result of the healthcare automation system, an increasing number of hospitals are upgrading their services and focusing on better patient care. 
Developing custom hospital software solutions is an excellent approach to increase medical facility productivity, reduce stress and burnout, streamline workflow, and improve patients' happiness.
If you are looking for a top healthcare development company, contact us. For years, Matellio has created custom software solutions for healthcare providers, and we'd like to assist you as well.
Get the Conversation Started!
Get the Conversation Started!
[contact-form-7 id="34486" title="Side Form"]