5 Best Reading Apps In 2020
Updated on Apr 29th, 2021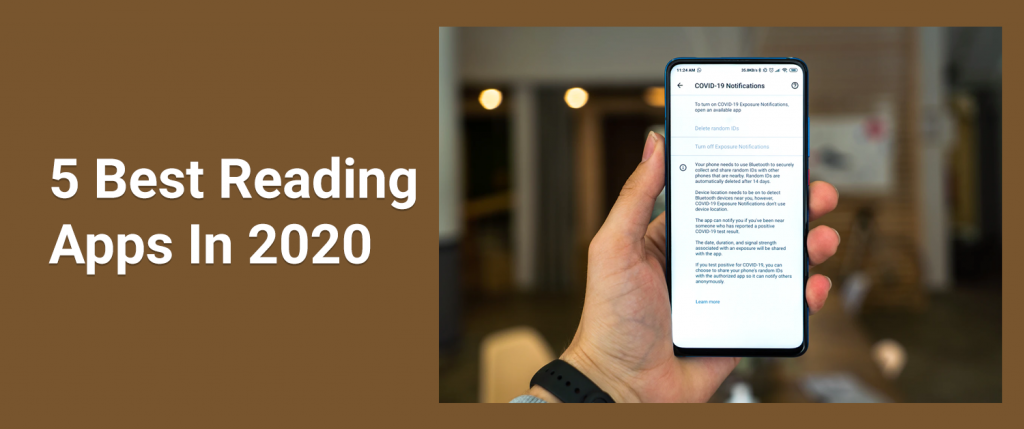 Nowadays, reading is not how it used to be! Hardcopies have become rare. People have started opting for digital books more than paperbacks. The reasons are many- one of which is space. People prefer one device over piled-up shelves. For reading digital books, we need robust apps. That's  where reading apps come into the picture!
List of 5 Best Apps for Reading
1. Kindle
2. Comixology
3. Wattpad
4. KyBook
5. Kobo
1. Kindle
Android Ratings– 4 Stars
iOS Ratings – 4.8 Stars
With an extensive library and numerous features, Kindle is one of the most popular reading apps in the market. The app allows you to read anytime and anywhere with millions of eBooks, including comics, novels, and textbooks. Turn your smartphone into a book with a robust application.
Amazing Features
The app comes with an in-built dictionary.
Users can link their accounts with Twitter and Facebook for social sharing.
Choose from a wide range of eBooks- novels, comics, textbooks, and much more.
Enjoy anywhere and anytime with a user-friendly interface.
Lookup for places, words, and people while you read for a better understanding.
Bookmark the pages of your eBook and take notes while reading.
Sync your reading material across devices for an uninterrupted experience.
2. Comixology

Android Ratings– 3.8 Stars
iOS Ratings– 3.4 Stars
Comixology is one of the most popular applications for digitized comic books. Now owned by Amazon, the app includes more than 100,000 graphics novels, digital comics from major publishers like DC Comics, Marvel, Image Comics, and others.
Read in the full-screen view or in a panel-by-panel style (called Cinematic Guided View) for consuming content.
Amazing Features
Start exploring Comixology with a 30-day free trial.
Comprises more than 100,000 graphic novels and digital comics.
Gives an option of saving your downloadable ebooks
Equipped with a Guided view for an immersive reading experience.
The library includes books from DC Comics, Marvel Comics, Dark Horse, Image Comics, Manga, and others.
3. Wattpad
Android Ratings– 4.2 Stars
iOS Ratings– 4.7 Stars
Wattpad is a global storytelling platform that connects 80 million writers and readers via the power of stories. The app is not just for readers, but for writers as well. Whether you're looking for cyberpunk fairy tales, LGBT meet-cutes, technothrillers, or family drama- Wattpad offers everything!
Amazing Features
Writers can share original stories for sharing it with global readers.
Read stories in more than 50 languages shared by writers all around the world.
Sci-Fi, Romance, Comedy, Adventure, or something else- Wattpad has it all!
Become a member of the international community and Connect with passionate writers & readers.
Bookmark your pages for enhanced reading experience with the app.
Search for authors, publishers, times of publication, and their genres.
4. KyBook
iOS Ratings: 4.6 Stars
KyBook is an app for Apple products that modernizes the reading of ebooks in a user-friendly style. By supporting all major ebook formats like Cloud Storage and OPDS catalogs, it has become quite popular amongst iPhone users. Listen to audiobooks, read graphic novels, and access free online content with this robust application.
Amazing Features
Save your favorite books on Dropbox, iCloud, and Google Drive.
Change the color schemes for preventing eye-strain.
Curl, scroll, or slide for a better reading experience.
Custom fonts, page margins, text size, paragraph indentation, background, etc.
The app comes with a free and premium version.
Supports text-to-speech technology for an excellent reading experience.
5. Kobo
Android Ratings – 4.4 Stars
iOS Ratings – 4.6 Stars
Discover the collection of 5 million ebooks and join the community of book lovers with Kobo. The reading app supports various formats like CBZ, PDF, and CBR for an enhanced experience. Browse audiobooks, ebooks, children's books, graphic novels, and enjoy reading on your device or smartphone.
Amazing Features
More than 5 million publications and ebooks.
Supports multiple formats like CBZ, PDF, and CBR.
Easy to use, and appealing interface.
Check out the trending and popular ebooks, updated frequently.
Offers a new system of social reading where you can share your views
Enjoy the clear and crisp text in preferred style and format.
Offers rating & review options for booklovers.
Take Home Message
There are hundreds of reading apps available in the market, but here in this list, we have only listed the ones covering all requirements. We hope this article will help you to select the one suiting your needs.
Do you like what we share? If yes, then hit the bell button.
Stay tuned!
Get the Conversation Started!
Get the Conversation Started!
[contact-form-7 id="34486" title="Side Form"]