Dating App Development – A Complete Guide
Updated on Jun 25th, 2021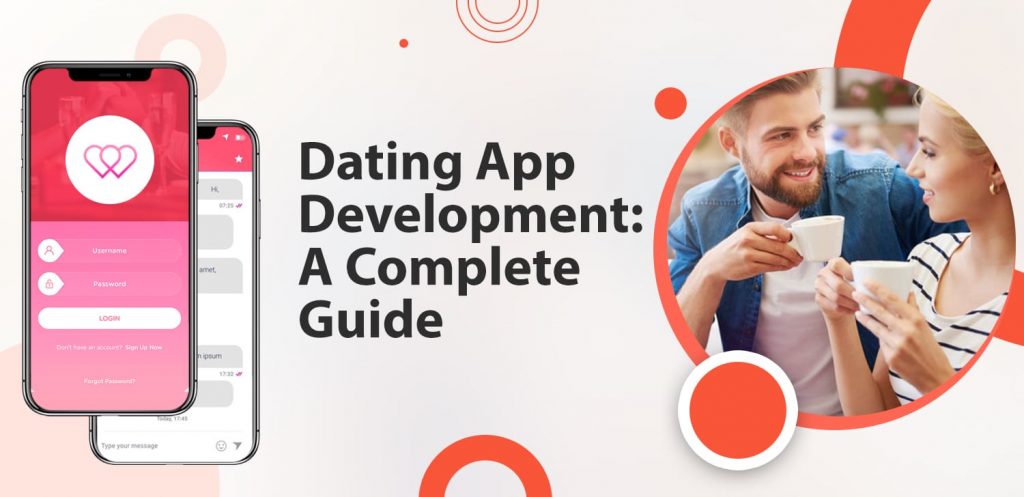 Do you remember the days when the only option to contact your loved ones was letters or trunk calls that took hours and, in some cases, days? Earlier it was the only option to make new connections. Then the evolution of technology began that gave us various social platforms to connect with many people and make new friends. Along with social platforms, dating apps came into existence and made the headlines. It is now easier to connect with people who share common interests and meet physically with online dating platform. As a result, online dating began a trending thing, and a majority of people were attracted towards it. Dating in earlier days can be possible only through limited options such as meeting through friends, meeting in college, meeting at social places, etc., but now you have hundreds of dating platforms that connect you with the opposite sex that shares the same interests. Along with the dating apps, the user base proliferated, increasing the demand for mobile dating app development. 
As per the reports, there are currently 9000 plus dating websites or apps operating on the internet from all around the world. Indeed, the competition is real, but some features and functionalities are still missing that users want from such apps. This can be your cue to start your dating app development that awe the users with its extraordinary features and match their expectations. Who knows, your project could surpass the top contender. In case you have made up your mind to jump into the field of dating app development, you should know about the development process. 
What is Dating App and How it Works? 
A dating app is an online dating service that is availed on various devices connected to the internet. It takes advantage of the device's capabilities such as GPS, photo gallery, continuous hands-on presence, and mobile wallets for payments. These apps help the user in matching them with other people who have a number of things in common. The common factors can be anything such as interests, location, cuisines, etc. 
Since the year 2012, the dating market has seen extensive growth after the launch of the popular dating platform Tinder. The massive popularity of Tinder paved the path for a feasible custom dating app development. 
Various dating platforms follow a standard process to match the individuals, such as a personality test. They ask for their likes and dislikes and their opinions on various things and match with the people with a high percentage of similar answers. Now with the advancements in various technologies, these apps use custom algorithms that simplify the matching process. These apps deliver numerous options to match users with the person of their choice. However, if both the individuals sharing the same interests got matched up on these apps find each other unappealing, they can reject them and continue their search.  
The reason for the popularity is time and cost-saving on these apps as you can have hundreds of matches before meeting the person you selected. Another benefit of an online dating platform is the person can chat before scheduling a meeting and chatting boosts self-confidence in introverts and other kinds of people who are shy to talk to strangers.  

Working of a Dating App  
Online dating applications focus on a young demographic audience that has a keen interest in dating. Today, more than 5% of the people in the US claim that they have found their significant one on a dating website or app. Since the launch of the iPhone and other various smartphones that offers great functionalities, the numbers of people using online dating platforms are skyrocketing high. When users sign up on a dating platform, they are presented with a registration that asks them several questions to know them better.
The next step involves matching the person with another one that has a higher percentage of similar answers. These individuals with similar interests are shown to each other on their respective profiles. If both the users like each other's profiles, then it's a match, and they can chat for further communications. In case they don't seem to like each other, they can move on to other options without wasting any time and money. 
Market Size of Dating App Development  
In the early days, online dating was looked at as taboo, but modern technologies have changed the perspectives. Now it is one of the cool things that happen over the internet. Of course, it is always better to look at the stats of a subject before investing in it. However, dating app development has been on the rise since the last decade and will continue to grow as the different generations have different interests and perspectives. To fulfil their demand, new apps are required. 
As per the surveys conducted by the PEW research center, more than thirty percent of the users who participated confirmed that they have either used an online dating service or are using them. In terms of accessibility, more than seventy percent of the users confirmed that it's easy to meet people of similar interests on these dating platforms as compared to real life. We all know how much time users spend on various social media platforms these days; in the case of dating platforms, users confirm that they spend more than an hour on online dating apps. 
As per the report of eMarketer, the user base of these dating apps has increased rapidly from 22 million users in the year 2019 to 26 million in the year 2020. However, in the times of the COVID-19 pandemic, these numbers broke all-time records. According to Google, more than half of the population using these apps are between the age of eighteen and twenty-four. Among those fifty percent population, more than sixty-five percent users have confirmed that online dating is a diversified and more viable platform. 
Apart from the traditional figures, a number of features also impact the user base figures. One such example is a dating platform named Bumble, which experienced an increase of seventy percent in its usage after the integration of a video call and chat feature on its platform. 
In terms of revenue generation, the online dating industry is projected to cross the 454 million US dollars mark in the year 2021, as per Statista. Furthermore, the annual CAGR of the dating industry has been projected to be twenty percent. By the year 2024, the custom dating app industry will be valued at 783 million US dollars. In addition, the user base of this industry is set to cross the 55 million mark by the year 2024. 
Types of Dating Apps  
As people all around the world have a huge diversification, these dating apps also come in all shapes and sizes. If you are planning to start your custom dating app development, you don't have to worry about the huge number of competitors in the market as there are various types of dating platforms. You just have to deal with the competitors in your niche. Dating is a personal subject and depends on various factors such as location, ethnicity, marital status, etc. However, the diversification in these apps delivers users an ease of accessibility to find their significant one. Here are some of the common types of dating platforms.
1. Dating App Based on Marital Status   
Marital status plays an important when you are looking for a partner. However, there are some people that don't mind the marital status of the person as long as their interests are aligned. There are datings apps designed for singles and divorced. It's not that the divorced and widowed individuals cannot sign up on a singles' dating platform, but having a dedicated platform enhances the chances of finding a match. There are various dating apps that are dedicated to the divorced people finding love again. These applications have seen a massive increase in their user base in the last few years. As a matter of fact, the USA ranks number 3 on the list of most divorces in a country in a year. Hence, it is only logical to deliver these people a dedicated app. Some popular examples are eHarmony, JustDivorcedSingles, OneSinglePerson, etc. 
2. Location Based Dating Platforms   
While dating anyone, location plays an essential role as the majority of people don't prefer a long-distance relationship. Users always want to date a person that is in their vicinity or at least within their city. These location-based apps deliver users the flexibility to choose the distance radius for their potential matches. For example, Tinder offers geographical location-based matches, users can set the distance, and it will only display the users that are present in that radius. Another perfect example is an app called Coffee Meets Bagel that follows the same concept. 
3. Community Based Dating Mobile Apps   
People love to be in the community and enjoy their ancestral traditions. However, communities are not always based on ethnicity; there are various communities being formed every day. For instance, there are vegans, pet lovers, tech enthusiasts, etc. Community-based apps offer matches between people that share a common community and interests. For example, DateMyPet is one such app that offers dating services to a community of pet lovers. Furthermore, it has been seen that the majority of the time, the reason for break-ups is a common disliking of things between two individuals, and these types of apps solve that problem. 
You can create dating platforms for people of various communities, and they will be attracted to your app as long as their expectations are met. For example, Veggie is a dating app specially designed for the people of the vegan community and has a significant amount of revenue generation and user base.
4. Algorithm Based Dating Apps   
The dating platforms based on various complex algorithms that help users in getting a perfect match are most popular. These apps are similar to various social media platforms but slightly different. Algorithm-based dating platforms match a user's profile with all other users on the app, and based on the similarities, it fetches the desired results. The common matching algorithm that these types of the app follow is they rank the profiles based on the attractiveness and number of likes on their profiles. Thus, a user with a higher number of likes is displayed in the top results. 
With these fantastic stats and diversification of custom dating apps, you can now get assured of the fact that it is a productive sector with a lot of opportunities.  
Advanced Features to be Included in Your Dating App Development  
Dating platforms have taken the world by storm via their amazingly designed concept and functions. The main attraction of these fantastic apps is their outstanding features. Without any functional features and functionalities, your dating platform will face difficulty in coping up with the trends. While starting your custom dating app development, ensure to integrate some advanced features that will differentiate your app from existing ones.  
However, there are some features that are common in all the app development methodologies such as, onboarding that gives a brief about your app's operation, push notifications to alert the user about a match or offers on the app, profile creation, etc. Here are some of the advanced features that will please the customers and increase your user base in no time.

1. Face Verification   
When it comes to dating, trust is a dominating factor. Hence, your app should be able to verify an individual's information. Various popular dating platforms have this feature that instructs users to move their face in the camera in a designed way that AI understands and later matches those movements to the uploaded photos. If the real face matches the uploaded photos, users are rewarded a verified sign.
2. AI-based Chat  
The apps that have an integrated AI-based chat option are more successful as it makes your stand apart from the competition. In the dating field, the first lines of any conversation have a long-lasting impact. The AI-based chat can suggest various conversation starters to make an impression. Make sure to integrate this feature into your app. 
3. Events and Meetups Finder   
When dating a person, you tend to like other person's interests. To take a step further, events and meetups are proven to be beneficial to a relationship. Users could use this feature to explore various events and meetups right from your app. To make this more interesting, you can allow them to book the tickets for an event from your platform.
4. Profile Match Percentage   
Dating is a personal subject, and you want to be sure about the other person before taking a step forward. Initially, a dating platform delivers a questionnaire to the users, which consists of various questions to understand their likes and dislikes. Needless to say, another person also has the same questions, and by comparing the answers, your app can deliver a match percentage that gives an idea of the compatibility to the users.
5. AI-based Video Chats   
Not everyone likes to interact on chat when it comes to dating, and some people prefer to get connected on video calls. AI-based video calls are necessary to maintain the decency and security of the platform and the users. AI can detect any obscenity or nudity during a call and inform the users or directly disconnect the call.
6. Facial Recognition   
Dating fascinates people, and they have a list of expectations from the other person. Sometimes, users want to match only with the person that has certain traits. For instance, it is pretty normal to desire to find a person who looks like your favorite celebrity or athlete. Facial recognition can help the users in finding the person that looks as per their expectations. 
7. Undo Likes and Dislikes   
Sometimes it happens that a user mistakenly likes or dislikes a profile in which they are interested and want to reverse the action. Delivering the exact features to the users, you can enhance the popularity of your app. This feature will reverse the action of dislike and likes on a profile if a user wants to perform that action.
8. Gamification   
Users love games, and if you can integrate gaming with your app, it would make the users more interested. For instance, you can start a game that asks users some specific questions to introduce them better, and at the end, they are rewarded with a certain number of superlikes. Other games can be based on situations that would create an imaginary scenario and deliver them an option with the next steps to take. 

Dating App Development Process  
How to create a dating app? Well, the answer to this question is quite simple, with a set of unique features and a dynamic strategy, you can develop a successful custom dating software. However, the development involves a set of foundational elements that will have a deep impact on the quality of the product. So, let's understand the development process in detail from the right approach to monetizing the app. 
Market Research will play an important role in forming your app development strategy. In any sector, there are a number of competitors who follow different strategies and obtain different results. You need to know everything about your competitors, from their business plan to their app's functionality and their user base. Surveying the market thoroughly will get you various insights about the dating market that will help you in laying out your strategies. Deep research will also help your mobile dating app development company understand your expectations and deliver you exactly what you want. 
Identifying your user base will help you in executing your business plan easily. As you know, there are different types of dating apps; you can choose any one of them, and based on the type, you can start your development with the right set of features and functionalities to awe your users. Identifying your user base will assist you in getting to know their expectations. Delivering exactly what the user wants will get your app in the top leagues. 
Now that you have identified your user base, you can focus on creating a USP that will set you apart from the competition. You can implement several features that other apps in the same genre do not have. Apart from the features, you can design the functionality or operation of your app in a unique way that will compel the users to prefer your platform over others. For instance, you can implement a reward system, searches based on recognition, prevent fake accounts, etc. 
The design of an online dating platform should be appealing to the users; it should be pleasing to the eyes and functional at the same time. The design is what makes users stay on your app for a longer period. Ask your dating app developers to create a draft design of various panels of your proposed app to get an idea of the final design. It is better to sort out the errors at the beginning. Creating a prototype design will save you time that you can invest in other parts of development.  
After the designs are finalized, move towards creating a state-of-the-art app architecture. Your user panel and admin panel should have extraordinary features and functionalities. A functional front end will attract more users, and a proficient back end will help your admins maintain the app easily and keep it functional. Make sure to integrate top-rated databases and security features that will help your app in staying afloat all the time. 
APIs can be used to avoid developing several functionalities straight from scratch. Either you developers can create APIs from scratch or buy them online to save time. These APIs have different features and deliver ultimate performance. In addition, you can use APIs to simplify the processes on your app for various purposes like payments, location search, and many more. 
Now that your app is ready with the design, architecture, and APIs, you can move towards the testing phase. Testing your app will reveal various factors that can possibly affect the performance of the app. It is better to test the app and resolve issues than to launch it and pause it later for correction. Your development agency should have a set of qualified testing engineers that will test every inch of your app and enhance the usability, functionality, and complete performance rating of the app.  
After the testing phase has been completed, you can schedule the launch of your custom dating software. Although, it is recommended to launch a beta version first and collect feedback from the users to improve the app up to their expectations. In the case you are short on funding, you can launch the beta version and ask investors for funding to launch a full-fledged app. You can also launch your app with your capital as it's a one-time investment, and with the right approach, you will achieve a break-even point in no time. 
However, even after you have launched the product, your job doesn't end here. You have to come up with an excellent marketing plan to keep up the numbers of the users and enhance the reputation.  

Technologies To Consider  
A custom dating platform comes with a variety of exceptional features and functions, and to power those features, a result-oriented tech stack is required. Choice of your tech stack will decide the sustainability of your back end and front end. Additionally, various languages and frameworks are available in the market that you can use to power up your application and deliver your users an amazing experience.
Top dating apps are using a combination of traditional and advanced technologies that deliver their user's extreme feasibility. Programming languages are the initial foundation of your app, there are various programming languages that you can use, but successful custom dating apps use Java, Kotlin, Swift, Xcode, Maya, Objective-C, etc. 
Frameworks are important aspects of the development, and you can consider frameworks like Node.js, Express.js, Next.js, React Router, etc., for your app. For the purpose of application and data, you can use JavaScript, jQuery, Python, React, NGINX, CloudFlare, AngularJS, Amazon S3, Amazon CloudFront, Kotlin, Moment.js, HBase, Cassandra, PostgresSQL, MongoDB, Redis, etc. 
Payment is an integral part of any app, and to facilitate the ease of payment to the users from your app; you can use various payment gateways like Braintree, PayPal, Stripe, EWallets, Netbanking, etc. Admin panel should be functional and string in terms of operation, and you can use Angular Material for this purpose.  
To understand the behavior of users, you will need a cache; Hazelcast can be used for the same. For a more robust and feasible back end, you can use C#, Visual Studio 2019, Net Core 2.3, MySQL, Swagger, etc. Similarly, for a functional front end, you can use TypeScript 3.2.0, WebStorm, Angular, etc. 
API integration will take the functionality of your app to the next level. There are a ton of APIs you can use for your dating app that serves different functions. Various famous and functional APIs for the dating sector are Google Cloud Vision API, AWS Rekognition API, Geolocation APIs, Apple MapKit API, Google Geolocation API, In-App Video Calling APIs, Dolby Video & Voice API, Mesibo Video API, Vonage Video API, Astro's REST API, Astrology API, MEi Crush Detector API, Instagram Basic Display API, Love Calculator API, etc. 
Team Required for the Development  
To create a dating app, a diligent team of experts is mandatory. Since the dating sector is different from other sectors in various terms, you should look for a dating app development company with a reputation in the market and excellent ratings. A team with qualified experienced and a zeal to create something new can deliver you an app of your expectations.  
You always have the option to hire a mobile app development company that offers various engagement models that suits your budget. Although there are freelance teams that will charge you per hour but it doesn't come with a guarantee of satisfactory work. Consult with your in-house team and decide what you want from your app. A fundamental development team consists of a diligent project manager, front-end and back-end developers, UI/UX designers, Quality Assurance Lead, Analysts, etc.  
However, the team requirements can change as per the requirements of your app; you can always ask your development partner to deliver you the required team for successful development. 

Monetization Models for Custom Dating Apps  
The ultimate goal of any investment is revenue generation and earn profit while delivering quality service to your audiences. Monetizing your app will assist you in earning profit and improve your app further as per the trend. You can monetize your app in various ways that will deliver you a handsome profit but make sure that these monetization strategies do not affect the user experience.
In-app Purchases:

You can offer some of the functionalities or features of the app to the users for free and charge them for using advanced features. You can also offer them some goodies to purchase in the app that enhances the chances of getting a match.  

Advertisements:

 This is the most convenient way of earning capital from an app. You can allow various brands of the dating industry to display their ads on your platform and charge them for the same. You can also offer them to display advertisements, and whenever someone purchases through that advertisement, you get a commission.

 

Subscriptions:

 Users have to purchase a subscription pack that consists of validity and various perks. Tinder uses the subscription method and offers the users a prioritized version called Tinder Plus. You can implement this model, and users are willing to pay for a subscription as long as they are getting results.

 
Factors Affecting the Cost Involved in the Dating App Development  
The cost to make a dating app depends on a number of factors. The cost can be divided into two parts, pre-development and post-development. 
In the pre-development phase or during development, your app could have a change of requirements, and the cost will fluctuate accordingly. In addition, a number of features to be included will also affect the cost, the technology stack will affect the cost, and APIs are sometimes costlier than before and could impact the cost to make a dating app. However, the cost of APIs is justified as they save your time and enhance the functionalities. 
In the post-development phase, you have to pay the dues of the partnered mobile dating app development company that will depend upon the chosen engagement model. Furthermore, apart from the development company, you have to plan for proper distribution and maintenance plan for your app. Therefore, you should plan ahead for these factors to save your budget. However, there are companies that offer a 30-day free maintenance period for your app, and Matellio is one of them. 

Why Choose Matellio?  
Dating app development is moving towards a future filled with massive opportunities, and current statistics do support the claim. With years of professional experience and a highly-skilled set of experts, Matellio has earned a reputation of being the most preferred mobile app development company. Our experts are highly trained and possess a variety of experience and deliver you the project of your expectations. 
With Matellio, you get a choice of three different hiring models that will suit your budget efficiently. We deliver excellent bug and error-free products with a 30-day free maintenance period. In any phase of product development, you can contact our experts for any suggestions or feedback. Our experts strive to deliver perfection, and that's the reason for our high client retention rate. If you are looking to develop a custom dating app, contact our experts for a free 30-minute consultation call now! 
Get the Conversation Started!
Get the Conversation Started!
[contact-form-7 id="34486" title="Side Form"]