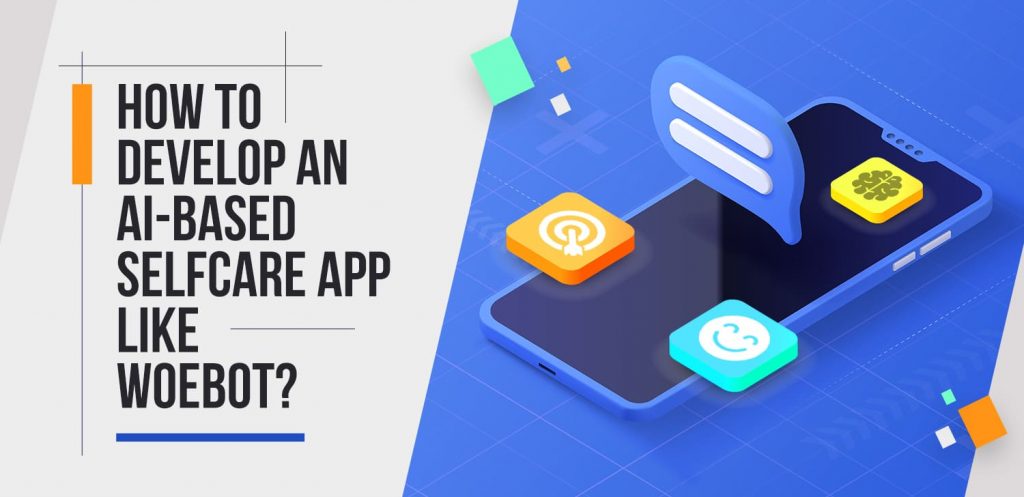 For all the conveniences and comfort this generation has, the fast-paced nature of the era has created a great gloom over their mental health. As per Hopkins Medicine's latest report, one in four adults are suffering from diagnosable mental disorders. On top of that, the pandemic-induced disruption in daily life has worsened the situation, where one out of every five people agree to the fact that the lifestyle changes due to Covid-19 have worsened their mental health status. As such reigning in the situation has become the need of the hour.
Now not everyone can afford to have regular visits to a practitioner. Rather we need solutions that are effective, accessible, and inclusive. Enters AI-based Mental Health Selfcare apps. Apps like WoeBot are not just great tools by themselves offering first-aid self-help to the users to maintain and help their mental health, but can also aids psychiatrists in offering more personable support to their patients.
In this post, we will discuss how selfcare apps function? How they're helping with today's pressing concerns? How you can invest-in, and monetize an app similar to Woebot?
Anxiety and depression rates are at an all-time high with one in every four US adults being confirmed with a diagnosable mental disorder.

 

To fill the much-needed self-care gap, an app powered with AI/ML is doing a great job of becoming a market worth USD 6.2 billion by 2022.

 

Pandemic has brought unprecedented growth in the demand and market worth of mental health apps.

 

Top 20 mental health apps saw a 30% increase in their usage in just the first quarter of 2020.

 

FDA is also promoting the use of counseling apps and has even eased their registration process.

 
What are AI-based Mental Health Mobile Applications and What can you Expect from Them?
AI is disrupting the mental healthcare landscape like nothing else did before. The user-friendliness of AI-powered apps, their easy accessibility, the ability to evolve to offer more personalized outputs, and the basic fact that in general people are more comfortable discussing their deeper turmoil on their mobile phones than to a person directly, have made these apps a great success among their target users.
What makes these apps so effective, other than the external factor discussed above, is their ability to always follow through with the best health aid practices. They use techniques like cognitive behavioral therapy, mood monitoring, gratitude journaling, visualization, and cognitive skills training flawlessly to help their users deal with their specific problems. These apps usually begin their conversation with users on basic topics and then eventually, make their questions more meaningful and deeper to help them find the root causes of their mental health issues. In doing so, the apps also help users find different ways to deal with their issues through firm and steady practices.
As such, these apps are helping a substantial part of the populace in finding their mental peace. In fact, these apps are so effective that just within a couple of years, their user base has grown at an exponential rate. What more? the results of these have even compelled FDA to ease the entry of such counseling apps. As such if you're thinking of investing in an app like WoeBot, you will never find a better time to do so than now. But before you do that, let's learn a little more about it.
WoeBot App and How Does It Work?
WoeBot is a leading and the first global selfcare mobile app to maintain a healthier state of mind for people dealing with stress and anxiety. Launched in mid-2017, the app has since garnered a user base of over two hundred thousand across 135 countries worldwide. The app has been proven effective on many grounds including helping people feel better in stressful situations to improving their daily life with healthier mindset.
Here's how the app functions to make its job so effective. 
The users are allowed access to chat with the bot right from the start, and the first few messages are about inputting necessary details.

 

The chatbot then gives a tour of the app and explains what each feature is doing.

 

The app then asks some insightful questions.

It then compares the answers to the AI/ML models designed on CBT theories.

 

It also uses techniques like mood tracking, stress level, sleep patterns, etc. to draw a more detailed picture of the user's mind frame.

 

The app then begins with small suggestions to improve the user's mind frame based on the latest findings. This includes breathing exercises, guided meditation, stretching, etc.

 

In more dire cases, the app offers stronger suggestions including connecting to a real-life practitioner.

 

In most case though the app creates a healthy mindset plan for users filled will tool like audio and videos of guided exercises.

 
And just like that the app creates a personal therapist and mental health aid for all the users.
Outstanding Features to Include in Your WoeBot Like Selfcare App
We have already touched on some of the important features of the app while discussing how the app works. Here's a list of the rest of the important features of the WoeBot app.

User Profile
Since the app is all about offering personalized suggestions a section to manage the user profile is a must for the app. This would contain details like the mood history, anxiety levels, recommendations, and treatment history.
Push Notifications
Since the app is supposed to help the user regularly, it has to have the means to remind the user to use the app or ask for feedback on the treatment practices it has suggested. The best way to do that with the app is by sending timely push notifications.
Settings
To change the frequency and type of push notifications the user wants to receive, the theme of the interface, use of accessibility-specific features, etc. should be a part of the settings feature of the app.
App Onboarding
The app has to have messages and a navigation section to help onboard the users. This would include user registration, authentication confirmation, inputting of important details, etc.
Gratitude Journal
The app has a unique feature based on the latest findings that gratitude is the single most effective way to improve a person's state of mind. It has a gratitude journal that the user can fill every day. The app also suggests to users the smaller events and things a user can be grateful for to help them focus on the more optimistic things.
Mood Tracker
An essential feature for people in general and specifically the ones suffering from mental disorders like bipolar, depression, etc. The app helps the user find their triggers and other variables that lead to changes in their moods, and then treat them as per the best practices.
Guided Meditation
The app is filled with useful guided meditation clips for different situations and user requirements. With regular reminders, these guided mediation and muscle relaxation clips are played to the users. Once played, the bot asks users to input their feedback, and based on that the app continuously ensures that it offers the ideal clips to all of its user bases.

Sleep Tracker
Sleep is yet another important factor in a person's state of mind. This is why the app helps users track their sleep, the duration of it, its quality, how easy it was for them to fall asleep, and how the person felt right after waking up. This is the long run will help users identify patterns disturbing their ideal sleep schedule and then the app will suggest the corrective measures.
SOS
The app has a very important feature of letting people seek help immediately. The feature appears directly under the toolkit so it's easy to access yet not always visible to make the app look gloomy. Once a user clicks on the button, it sends a message to the bot 'SOS' and triggers its crisis system. Later the app will help connect the user with a registered practitioner from government-approved mental crisis agencies.
List of Topics
Other than the conversational means, the app also allows users to look for their chosen treatment form from under the list of topics. It contains titles like Managing Emotions, Stress & Change, Coping with the Pandemic, etc.
Natural Language Processing
The app is a pro at understanding human conversations and associating the cognitive biases and issues with them. By doing so it helps users figures out the negative thinking patterns that they have and offers corrective measures like restructuring of thoughts, and calming exercises.
CBT Learning
Not only does the app help users in identifying and correcting their cognitive issues, but also aids them in learning and identifying the wrong patterns to help them become more independent when resolving their negative thought processes. 
With such interactive and helpful features, the app has helped and is still helping hundreds of thousands of its active users daily. And since the app has proven its effectiveness, its monetization game is considered to be quite strong. Here's how you can develop a similar self-care app to aid more people in dealing with their mental stress and help open new revenue streams for your business while doing so.
Read More: How to Develop a CBT-Based Self-Therapy App Like Stresscoach?
Comprehensive Development Process for WoeBot-like Mental Health App
Creating an app this advanced needs a sophisticated approach to the development process. The app will require the development of complex natural language processing algorithms, deep learning models, and other basic mobile app functionalities. Moreover, since the app is supposed to offer the omnichannel experience to its users, it needs to have a safe data repository, with configurations complying with the regional laws, to store the personal and rather private data of the users and keep the app primed for their usage no matter from which device they're accessing it.

Ideation
Even though WoeBot is among the first few mental health self-help app, more have been introduced in the market since; more famous ones being- MoodKit, Talkspace, Headspace, and MindShift CBT. As such the market is no longer without any competition. So now in order to give your app a competitive edge, you need to introduce it with some more innovative ideas. It can be related to better treatment options, improved interface factors, or even easier access to more important features. The idea is to come up with as many feasible functionalities to make your app a better alternative for your target audience.
Market Research
Once you have decided on the distinguishing features of your app, you should look up other similar apps to learn from both their vices and virtues. Idea is to offer your target audience everything they have come to expect from a self-care mental health app, but also resolve their pain points that the apps hitherto haven't been able to solve. During this stage, you should also look up the different monetization strategies for your app to keep it sustainable.
Read More: How to Develop a Mental Health App?
App Wireframing
When you know everything about your app; how it would function, and what features it will involve, you can start with the development of the app's wireframe. Here you will decide the internal workflow of the app, how each element of the app will communicate with the others, the dependencies of the features, navigation of different screens, etc. By building such wireframes, you will be ready to do the logic implementation part, sans hassles.
Development & Testing
Now, you're ready to begin the development of the app and its first prototypes. It is suggested to use the latest technologies during this stage, and if possible, the official programming languages like Swift and Kotlin. This will ensure long-term compatibility of the app with native mobile operating systems and smoother functioning. While developing the app, or even its prototypes, it's ideal to begin its quality assurance process as well. Testing your app while it was getting developed will help you resolve issues before they can snowball into bigger problems. This will also ensure that the feature dependabilities do not create any bottlenecks in the development process, allowing you to market the app in good time.
Launch the MVP
MVP or Minimum Viable Product is that lean version of the app that offers all the basic functionalities. An MVP is a completely deployable product lacking just the more advanced features and UI elements. Its aim is to offer a real-life experience of the app to gather user feedback, and then develop and deploy a more featureful version. In the previous stage, once you've developed such a prototype, you can name it as the MVP of the product and then launch it to begin the iteration for the next version.
App Maintenance and Updates
After launching the MVP of the app, you can begin working on its next version, all the while collecting and implementing the insights from user feedback. This will be an iterative step and will continue till the end of the lifecycle of the app. Here the aim is to keep your app well-updated as per the market demand and user expectations. This will include the implementation of advanced functionalities, improvement in the UX, security updates, etc.
Useful Technologies to Consider for WoeBot Clone Development 
To develop a feature-rich and complex app like WoeBot, you will need a stack of robust technologies to manage various aspects of it most efficiently. From front-end to back-end, and from deep learning algorithms processing to secure management of data, every aspect of the app should be completed with due diligence and through reliable technologies. 
Programming Languages: Swift 5, Kotlin, Objective-C, Java

 

Development Environments: AppCode, Android Studio, XCode

 

SDK: iOS SDK, Android SDK

 

Frontend: Cocoa Controls, JavaScript, ReactJS, Angular JS, Mocks

Backend: Helios, NodeJS, Express JS

 

Web Server: Nginx, Apache

 

Cloud: Amazon S3, EC2, etc.

 

Database: MongoDB, MySQL, Postgre SQL

 

Payment Gateways: PayPal, Stripe

 

Push Notifications: Firebase, User Notifications Framework

 
Depending on your requirements and the skillsets of your development team, you can add or replace any of these technologies. But while doing so ensure that the technology you use then instead has the promise of the longevity of the app. To do so you can consult with our experts.

How can Matellio Help You Develop Mental Health Self-care App Like WoeBot?
Matellio with its decades of experience in development is your ideal partner when it comes to the development of a truly robust mobile application. Now WoeBot or any feature-rich mental health selfcare app uses advanced technologies like deep learning and natural language processing. As such any random mobile app development company would not be sufficient for you. You will need a company with experience and expertise in next-gen technologies. Matellio not only fulfills both the requirements but our experience in mobile apps development and the healthcare industry also enables us to build apps with the ideal interface. 
So, if you have an interesting idea to develop an app like WoeBot, simply fill out this form or book a free 30-minute expert consultation with us to get its journey into reality started. We will draw the project plan with you with technologies, features, timeline, etc., and offer a free quote. 
Need Help With Development?