How to Develop a Mobile App like Robinhood?
Updated on May 28th, 2021
Over time, the global world has changed drastically. The introduction of digitization has not only created an impact on the core sectors of the market but has also changed the lives of the common people. Today, from real estate to healthcare, everything has become digital and has improved its working methodology. The same goes for the investment industry!
With the rise of digitalization and online markets, the investment sector has entirely transformed the way it used to work. We can now witness many robust apps like Apple Pay, Mint, and many other software solutions that offer seamless financing and expense management services. Robinhood is also one such robust application that assists the users in making smart investment decisions. Even people with no trading experience can make the investments and stock trading process much simpler by leveraging the Robinhood app. Let's learn more about this powerful app here in this article.
How Does Robinhood App Work?
Robinhood is a well-designed and cost-effective investment management application that helps the users in making smart investment decisions. The working procedure of the Robinhood app is quite simple and effective. The users can seamlessly create their investment portfolio and trade stocks while using the mobile application. Moreover, the app also offers up-to-date market data and informs the users about upcoming events like dividends on their investments. It doesn't matter whether you are an experienced stock-trader, or if you've just started, the Robinhood app makes your investment process smooth and efficient.
A unique feature of this app is its free stock trading services that it offers to the inexperienced investors. The Robinhood app targets the inexperienced investors and provides them stock trading for free. Not only that, but the app also eliminates the requirements of minimum investment to start the investing process, and that's what makes it stand high in the competitive market. Due to such great features, the Robinhood app has lured many of the professional stockbrokers and entrepreneurs towards it. And, that's why, the market value of the Robinhood app is around $7.6 trillion. That's Huge!
Why is it profitable to make a Stock Trading App like Robinhood?
Now that you have learned about the Robinhood app, you might be thinking, what benefit will you get after building an app like Robinhood? Let's discuss it here!
We all know that with time, the startup trend is going on peek. Today, more and more companies have boosted the stock trading s, and to be precise, around 48% of the Americans hold stocks and trade stocks seamlessly. However, despite the growing trend of stock trading, the conventional methods are failing due to their lack of flexibility. That's where the stock trading apps come into play. Apps like Robinhood seamlessly offers the users to trade efficiently and also enables them to monitor their investments in real-time.
Also, looking at the facts and figures, we can see that the Robinhood app, which was launched in the year 2013, had a market value of around 912 million US dollars during its inception period. But, that amount rose to a whopping $7.6 trillion by the mid of 2019! Also, a survey by Statista revealed that almost 15% of the users in the USA said that they are aware of stock-trading apps, and 20% of users said that they would probably use the stock trading apps soon. The reasons mentioned above clearly signifies that the global market is soon going to witness a boom in the stock trading apps. That's why it is a wise decision for marketers to invest in the stock trading apps and get good returns on their investments. And for that, the fintech app development company can help you a lot. An experienced fintech app development company can help you develop a feature-rich and cost-effective stock trading app to satisfy your business needs. Besides that, it can also provide you with expert advice over which technology you can utilize to outgrow your competitor and to build success for your app.
Many people have leveraged this opportunity and have launched their stock trading app in the global market. Let's have a look at some of them to get a better understanding of the market and future possibilities.
1. E*TRADE
E*TRADE is one of the most significant stock trading apps after Robinhood that is available in the global market. It has an easy-to-use functionality and works smoothly over both the platforms, i.e., Android and iOS. Not only that, but the app also works seamlessly over Apple Watch. Some unique features that this powerful app includes are customized stock screening, live streaming of the Bloomberg TV, third-party research ratings, and so on.
2. TD Ameritrade
TD Ameritrade is also one of the significant stock trading apps that offer two mobile applications for its users, TD Ameritrade Mobile and TD Ameritrade Mobile Trader. The former application is dedicated to everyday investors, while the latter one is specially designed for active traders. The TD Ameritrade application has a user-friendly interface, and upon successful registration, you are directed towards your watch list, which is synced with thinkorswim.
3. Fidelity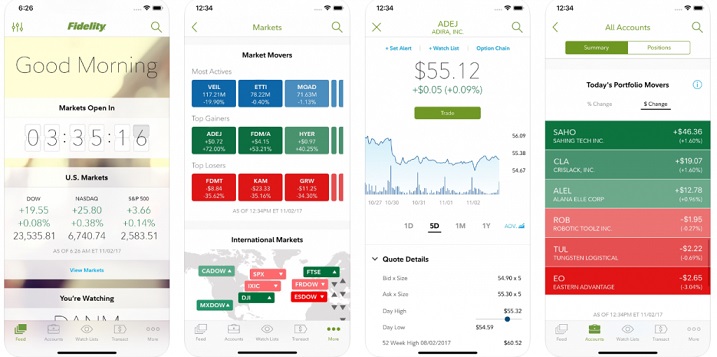 Fidelity is a cleanly designed and bug-free stock trading application that offers some useful functionality to its users. The app delivers a fantastic experience to its active traders and enables them to learn, track and trade, anytime and anywhere. Besides that, you can seamlessly view your investments and balances and can efficiently access your retirement savings, health insurance options, and much more.
4. Trade Station
If anybody is searching for a stock trading app that serves perfectly for satisfying the needs of both the active traders and the regular investors, then TradeStation is a perfect choice. It is meticulously designed stock trading software that offers a full suite of advanced trading services, online brokerage services, and so on. You can leverage its commission-free trading functionality and can utilize its 2000+ tools to explore powerful trading ideas.
So, these were some of the stock trading apps that are currently trending in the global market. Now that you might be convinced in developing an app like Robinhood let's discuss the steps involved in the mobile app development process.
How to Develop an App like Robinhood?
Developing a mobile application is not a piece of cake; one needs to have a clear understanding of the technical aspects related to the mobile app development process. However, besides that, there are certain more things that the user needs to understand. Let's discuss them here.
1. Define Your Target Audience
The first and foremost step of developing a robust mobile application is to know your target audience. You should be well aware of the people that you are going to target, viz. Generation X, millennials, or Gen Z. That's because the type of audience that you will select will help you frame the rest of the features for your stock trading application. Hence, you need to ask yourself what type of audience you are planning to target.
Also, not to mention, the number of users who deal in stock trading varies as per the locations. For instance, there are about 55% of the investors in the USA, and around 13% and 18% of the investors in Germany and the UK, respectively. Hence, it would be wise that you start with the USA, and gradually increase your business in other parts of the world.
2. Select a Suitable Platform
After identifying your target audience, the next crucial step is to select a suitable app development platform. For that, you firstly need to conduct a survey on what percentage of the users use Android, and what percentage uses iOS. After that, you will get clear insights over which type of platform will be most beneficial for you. However, you can also opt for cross-platform app development, i.e., an app that runs smoothly on Android and iOS devices.
3. Include the Necessary Features
The third crucial step in the app development process is to identify and include the necessary features that would help you outgrow your competitor. To help you better, here we have listed some crucial features that you could include in your stock trading application.
A user can seamlessly create an investment portfolio and can leverage automated algorithm functionality to purchase and sell all the shares efficiently.
Real-time data feature pulls all the relevant data in a real-time mode and enables the user to monitor the changes in his portfolio to make purchases and sales more precisely.
The users can get real-time notifications about their dividends, investment opportunities, and also about any upcoming events.
Lure more users by allowing them to manage free services without any minimum down payment requirement.
Secure all the critical data of your stocj=k trading application by leveraging the encryption functionality for your mobile app.
The users can leverage this functionality to transfer any significant amount from their bank accounts to the stock trading application.
An intuitive dashboard functionality that offers the users to view all the vital information like balances, watchlist, holdings, etc. from a centralized platform.
Your users can track a particular stock and its performance to decide whether to buy or sell that stock.
4. Select an Appropriate Business Model
After identifying all the essential features for your stock trading app, you need to opt for an appropriate monetization model for your app. A monetization model is critical to help you generate more revenue from your custom mobile application. It enables you to lure more users and, at the same time, helps optimize profits for your business. Hence, it is vital to select a business model that best suits your needs and wants.
One of the business models that you can choose is by launching a freemium version of your app. That means that the basic features of your app would be available for free, whereas the advanced version of your app would be paid. It is quite often seen that freemium mobile apps bring a lot of profits for the app owners.
5. Pay Attention to UI
Quite often, it is seen that the app owners, while developing the app, do not consider user experience. As a result, their app fails miserably on the global platform. UI and UX are the two most vital aspects that are to be taken care of while framing your mobile application. A good user-interface and well-defined functionalities will enhance your user experience and will eventually add to your customer services.
6. Hire Mobile App Developers
The next and most crucial aspect of the mobile app development process is to hire a dedicated team development team. You can either go for an in-house development team or could outsource a software engineering company. Both have their significant benefits, but outsourcing a software engineering company has more benefits than hiring an in-house development team. An experienced software engineering firm will have all the knowledge of developing a robust mobile application and will surely know all the challenges that will come during the development phase. Also, they could help you utilize the trending technological platforms to enhance your app and could help you outgrow your competitor efficiently. Want to know more? Read our article about the benefits of outsourcing a mobile app development company.
7. Test and Deploy
Last but not least, the final stage of mobile app development is to test and deploy your product in the global market. You need to run all the quality tests to ensure that your app runs smoothly and all its functionalities work seamlessly. After that, you should run enough campaigns to market your product in the global market. You could even leverage the powerful social media campaign to market your product to a broad audience.
Cost Associated with an app like Robinhood
Like any other on-demand app, the cost of developing a stock trading application depends on many crucial factors. To note down, we have:
Complexities Involved
Platform Opted
UI/UX Services
Website Integration
App store submission
Apart from the above-stated factors, the physical location of the Development company and the developer's cost also play a significant role in cost estimations. It is evident that a company in the USA will charge somewhat extra than a development company in India. Still, if you have any issues or wanted to know the approximate cost of your mobile app development, then you can contact us at www.matellio.co.uk. Our expert developers will help you in the best possible way!
Conclusion 
To conclude, we can say that the world is changing at a much faster pace, and growing; the companies need to match that fast-paced nature. Digital services are, without a doubt, the most powerful tools that marketers and entrepreneurs could leverage in growing their business and making it apt for the modern-day audience. With a feature-rich mobile application, the marketers can help the people in solving their issues and could optimize the profits for their organization, both at the same time. Hence, consider all the points mentioned above in the article, and you are ready to go. Also, keep your logic simple and your graphics clear to lure more and more customers. If you still have any doubts, or want to know more then feel free to contact us, we, at Matellio, are always present to solve all your doubts and queries and to make you stand out from the competitive world.
Disclaimer: Please note that the content of this blog including links, texts, images, and graphics is only meant for informational purposes. We do not intend to infringe any copyright policy or do not possess any third-party material. If you have issues related to any of our content or images, kindly drop your message at 

info@matellio.com

 
Get the Conversation Started!
Get the Conversation Started!
[contact-form-7 id="34486" title="Side Form"]