Developing A Mobile Event App: Best Features to Include
Updated on Apr 20th, 2021
Have you ever been a victim to poor memory and missed out an event, or probably couldn't attend one of your favorite band's concerts for the same reason? Well, no need to shy away. We all have at some point in our life, thanks to the busy life and hectic schedules.
But times have changed. We are now into the digital era that gets us a mobility solution to keep up with the upbeat life. Event apps are just another example of the same that let you follow events, plan them, and do a lot more in just a few clicks.
Bored? Find something to hit nearby at the ease of mobility. Visiting a new place? Discover the best gatherings to meet new people. Hosting a tradeshow/ conference/ or sports event? Launch the event app and reach out to the worldwide audience.
You name it and event apps have got you covered. No wonder that 45.6% of the event managers find event apps really worth the while, while 26.1% are considering the possibilities (Source). Not only this, 91.1% of the meeting planners find these apps truly relevant.
Thus, if you are pretty inspired by the idea and looking for opportunities in the event mobile app development, here's are the features that you can watch out for.
#1. Easy onboarding
"First Impression is the last impression"
Of course, it is, and so user's first interaction with you should be worth remembering for you as well as them. Make the process concise, and ensure that you have all the information you need.
For instance, imagine a music lover student signing up on your event mobile app. While it may be a great idea to suggest him random events on the go, what will serve to be more fruitful is customized search based on his/ her interest. You can get them all the music concerts near him or curate the list of his specialization based seminars, etc. at the tip of fingers. But, that only if you know what attracts him.
That said, it doesn't have to make their onboarding a tough task. You can integrate social media sign up and deduce the information from there. Alternatively, you can have small questions at the time of sign up to analyze the same.
#2. Password protection and user authentication
In a world that constantly emphasizes on data security, depriving your users of this privilege can turn out to be a factor in your failure. Thus, the second feature to consider while developing an event mobile app is password protection and user authentication.
You can leverage advanced features like fingerprint and face lock, or make it an easy combination of username and password.
#3. Mobile Content Management System
Having a mobile app for events and then going to the web interface for adding/ updating the events is annoying. And hence, the next thing on our list is the "Mobile Content Management System". Dedicated to the Admins, this feature takes care of their convenience by allowing them round the clock access to an intuitive dashboard from where they can create events and update the details regarding the same.
But that's not it, you can think of combining some other tasks to the same like sending push notifications, viewing statistics, and many other tools.
#4. Event Sessions and Schedule
Well, one of the most important features of an event mobile app is this, and of course, something you cannot afford to miss. But the task here is not just to display the event sessions and schedules. It also includes their display in the most pleasing way while ensuring user's ease of mind. You can think about distributing the events or sessions into various categories and have them displayed accordingly.
You can also include a section for the events that might attract users based on their interest. Or some that their friends are going to. Some food for thought, if you are exploring more options, you can also think about partnering up with business analysts who have long been into the event app development realm to find out possibilities.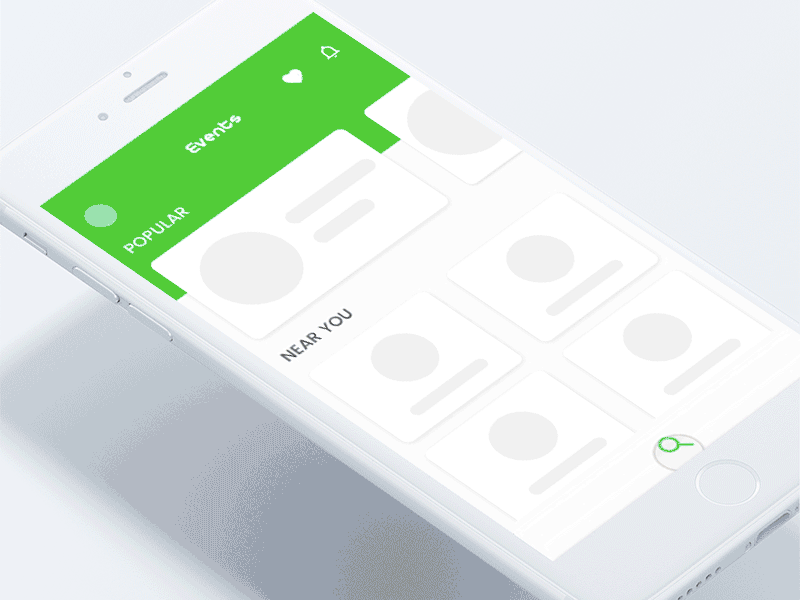 #5. Search events
Not every time the user is exploring options, sometimes, they have made up their mind to attend an event or maybe a type. And the search feature is simply for them. A point worth mentioning here is that a user might know the event name, but in the cases where an event can be held at multiple locations and they do need Filters. Thus, allow the users the benefit of Searching features combined with smart filters like location, date, duration, cost, popularity, etc.
#6. Make the Bookings
Event display does not really serve the purpose if users cannot make the bookings. Moreover, this is the service right that users need to have. Thus, a time-saving and convenient option to make bookings in the app will earn you many brownies points. You can integrate a mobile wallet to your application while ensuring secure payments, and get the feature live.
#7. Custom user schedule and bookmarking
A perk dedicated to the attendees specifically. You can think of incorporating the functionality to create custom schedules and bookmarking/ setting up favorites. Additionally, you can extend other intuitive tools to the application like PDF presentations, blog posts, articles. Let the users create their own plan rather than planning up for them. Remember, no one loves to be instructed.
But what you can do here is to suggest then plans. For an instance, if a user is attending a conference for two hours on a particular day, you can suggest them additional things to plan for the remaining day. It can include a nearby conference may be, or a concert to chill, a yoga session, and anything that suits them.
#8. Interactive exhibitor floorplan maps
Interactive exhibitor floorplan maps make it to one of the most amazing parts of a mobile event app development. It allows users to zoom in and out, or have a look left, right, up, down to virtually navigate through the areas of the floor. You can also include a feature to mark the visited booth or places in the exhibitions, besides marking other locations like food courts, etc. to enable a smoother experience for the users.
#9. Multi-language Support
Event and conferences are open to a worldwide audience. And you cannot really choose what language would your users be more comfortable in. For that reason, leveling-up your event app with multi-language support is a great thing to implement during mobile app development.
The features help you build a highly engaging user base while enabling them to view content more efficiently.
#10. Push Notifications
Implementing push notifications during event mobile app development is a superb way of ensuring high user engagement on your app. This can serve the administrators as well as the attendees in multiple ways.
First, it takes care of the forgetful attendees where you are not really sure if they'll bring the required items. Or, someone who would not even remember that they have an event to attend.
Secondly, it enables you to reach out to a wider audience. You can have a list of users who were awed by the previously organized events and invite them for future events as well by sending push notifications every time it is needed.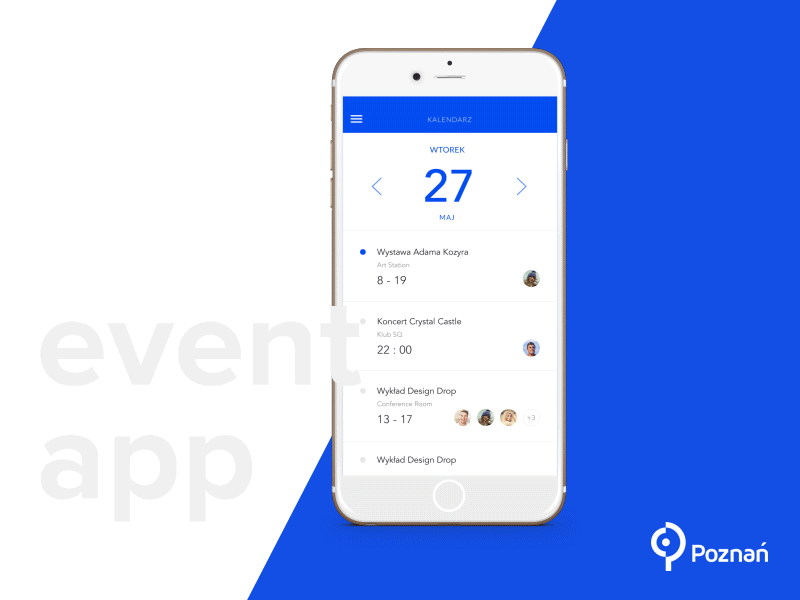 #11. Live polling and audience response system
Want to take in-app surveys and feedbacks to another level? How about live polling and audience response system? This interactive feature gets you all the real-time information that you need from the users. Additionally, it enables the organizers to receive answers for important questions during the sessions and get the feedback immediately after the event. Thus, it offers a great new way of connection between the planners, organizers, speakers, mediators, and of course, attendees.
#12. Mobile chat for attendees
Instant connection is one of the most demanded feature these days. Helping users connect dynamically with each other on the go as well as with the brands. Talking about this feature, it is vital to know that the feature shouldn't only work during the event, but also while the users wish to connect beyond those hours. For example, I, as a user, might be interested to know crucial details about the event before attending it and having a chat board will be really helpful here.
#13. Speaker and exhibitor directories
Well, we clearly know that speakers and exhibitors act as the USPs of an event. And there's no denying that. Thus, make sure that you implement this feature during the mobile event app development. You can have a dedicated profile for the speakers and exhibitors showcasing their skills and specialization in the best possible way.
#14. Promote Event Sponsors
This is also an amazing add-on to your monetization strategy. You can have features that offer tools for sponsor profile creation, ad bars, splash screens, takeover ads, and do a lot more similar stuff. Thus, not only serving them but also bringing your profits.
#15. Image galleries, videos, and playlists
Videos, images, and similar things are the heart of any event. And users are pretty excited for the same. Thus, making it a perfect feature to add in your event mobile app. This aspect of the app will require implementation on two levels. While the users should be able to see those videos and pictures and save the same on phone, it should also be loaded with easy to use interface from where organizers can upload the pictures.
#16. Social media integration
In the device-driven age, social media is an important part of everyone's life. Make sure that your event mobile app does not overlook this significant aspect. Make it easier for the attendees to share the plans with their social media friends, or the images. Additionally, you can also integrate features that makes event details sharing easily accessible to the administrators.
#17. Bookmarking
Bookmarking makes it a wonderful addition to the list of features to consider during event app development. It lets the users to bookmark the events and sessions and details regarding them. So next time they are looking probable options to choose from, they straightway head to the favorites section.
Before Signing Off, Kick-start your Event App Development with Matellio
Mobile apps have drastically changed people's life and event apps are among the most useful tools today. Just why their popularity is growing while innovators seeking new ideas every day. If you too have an idea looking for a perfect team of native and hybrid app developers, reach out to us today and kick start the process.
Get the Conversation Started!
Get the Conversation Started!
[contact-form-7 id="34486" title="Side Form"]