Doctor Appointment App Development: Tips & Costs of Making an app Like Practo and ZocDoc
Updated on Feb 14th, 2022
To remain fit and healthy always remains the first and foremost goal of every human being. That's why people seek doctor's assistance in treating even the minutest of their health issues. But, with passing time, and with an increase in the medical issues, getting a doctor's consultation became a tough task. Today, people have to wait for days and even weeks to get a doctor's appointment. That's where mobile apps come into play.
For quite some time, the global market has been witnessing an upsurge in on-demand healthcare and fitness apps. Marketers are investing huge sums into these mobile healthcare applications and are obtaining high returns on their investments. According to Statista, the global health market will reach approximately 72 bn US dollars by the end of 2020. Also, another trusted source suggests that the mHealth market will grow at a compound annual rate of 44.2% and will witness an upsurge of approx 112 billion US dollars by the year 2025.
Hence, the time is perfect for marketers to invest in trending and powerful healthcare applications to grow their medical startups. That's why here we have presented a complete guide on the development of healthcare applications. But, before that, let us understand why Practo and ZocDoc. So, let's get started!
Why Practo and ZocDoc?
Practo and ZocDoc are the two healthcare applications that have been trending on the top for quite some time in the global healthcare market. These two mobile healthcare applications have been providing constant support to both doctors and the patients and have been benefiting the owners a lot. Let us learn more about them in detail.
Practo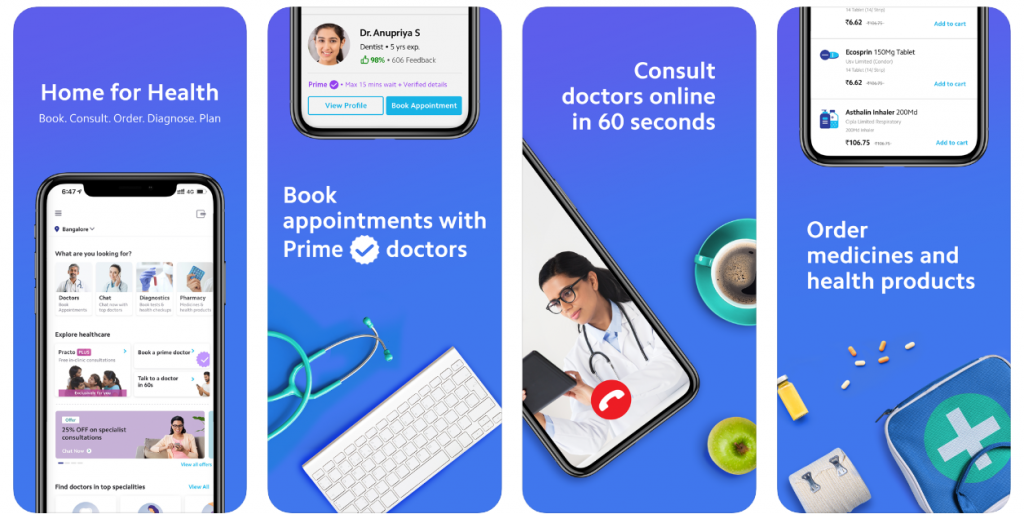 Practo has been serving as one of the most prominent healthcare applications for quite some time. With this robust app, the patients can seamlessly book the doctor's appointment and can even consult them from anywhere around the world. The doctors, too, can share the prescriptions and can also check the medical reports by using the mobile application. Let's look at some other features of the Practo healthcare application.
Online Medication Ordering
Doctor's Appointment
Useful Blogs and Articles
Smart Search Engine
Medication Delivery
Accurate Medical Data Storage
Owing to the great features of Practo, today, almost 20,000 healthcare providers are active users of the application.
Not only that but, to help the marketers, Practo has two monetization models, viz. Practo Ray, and Practo Reach. Practo Ray is a Saas product that is built for doctors and other healthcare service providers. This product is offered at two different prices, i.e., for a monthly price of $13.50 for the basic model, and the other one at $27.00 per month for an advanced model. The advanced model is composed of cloud-based telephony voice response systems for the doctors.
On the other hand, Practo Research has dedicated software for patients to help them consult doctors seamlessly. It is a free software product and displays ads from clinics and hospitals to generate revenues. The prices of the ads depend primarily on the type of hospital or the specialty of the doctor.
ZocDoc
ZocDoc is another powerful healthcare application that has been trending on the top list of the global healthcare market. Found in 2007, this powerful healthcare application enables the patients to consult a doctor seamlessly from anywhere around the world. The patients can share their medical history over the mobile application and can search for the perfect specialist in an insurance network. Here are some of the features of the ZocDoc app.
Online Appointments with 50+ Specialists
Medication Reminders
Patient's Reviews
Smart Search Functionality
Map Search for Doctors
So, these were some of the powerful features of the ZocDoc app that has lured over fifty plus specialists and over six million patients worldwide. Apart from all these great features, ZocDoc has a unique feature that sets it apart from other healthcare apps. We all know that ZocDoc is a patient-centric business, but the unique thing is that here the patients need not pay anything; it's the doctors who pay the fees. The doctors and other healthcare service providers need to pay an annual fee of $3000 to get connected with the patients. Apart from that, there is one more model that ZocDoc uses. It offers a sponsored search service, which means doctors have to pay on cost-per impressions, and if no ads of the doctors are displayed, then they are not charged.
So, these were the two popular apps that are trending in the global healthcare market. Because of their massive success, many others have invested in on-demand apps and have created their healthcare applications. Let's look at some of them.
Top Healthcare Applications for 2020
Here are some of the high trending healthcare applications that are benefiting the patients, doctors, and even the marketers by providing better returns on their investments.
1. Doctor on Demand
Doctor on Demand is, without a doubt, one of the most prevalent healthcare applications for quite some time now and maintains one of the highest customer ratings. This app is quite useful for the patients looking for the treatment of acute illness like the common cold, allergies, rashes, and so on. Besides that, the app offers solutions to every problem ranging from fear to relationship problems. The registration is easy, and the functionalities are user-friendly.
2. Doxy.me
Doxy.me is a simple, secure, and user-friendly healthcare app that seamlessly connects medical practitioners with the patients. It is a cloud-based application that integrates well with the EHR or practice management software to enhance your business operations. One of the most significant features of this robust app is that it offers a free and unlimited service for its users to facilitate better communication. Meaning, you can seamlessly send voice notes and videos to your patients for managing them more efficiently.
3. HealthTap
HealthTap is again a powerful healthcare app that offers 24/7 access to the patients to book the doctor's appointments. A unique feature of this amazing app is its vast database that the app collects from questionnaires and through doctors' and specialists' notes. Again, the AI feature of this app can help you find the answers to your queries and can analyze the data to find the best course of action for you.
4. MDLIVE
MDLIVE is an amazing healthcare app that offers easy and convenient access to a doctor when a local GP is not available. The patients don't have to wait too much for the doctor's appointment as the average waiting time is nearly 15 minutes. Moreover, to simplify the process further, the company also introduced an AI assistant feature to help the patients. The application also offers medication-tracking facilities to the patients.
So, these were some of the healthcare apps that are trending in the market and are making huge profits. Now that you are convinced of investing in the on-demand doctor appointment app let's quickly discuss the features and cost of building a feature-rich doctor appointment app.
Key Feature That You Can Include in Doctor Appointment App Development
For Patients
1. Profile Creation
Your patients can seamlessly create their profile using their basic information like email, phone number, and a password.
2. Appointment Scheduling
The patients can seamlessly search the specialist and can book appointments over the mobile application without any problem.
3. Calling Functionality
The patients can connect with doctors and other healthcare specialists via voice calling and video calling functionality.
4. Online Payments
An online platform that offers your patients to pay for the healthcare service seamlessly using any digital payment services or credit cards.
5. Medication Tracking
The patients can keep track of their medications as prescribed by the doctors to stay healthy and fit.
6. Intuitive Dashboard
Innate chat dashboard to help patients connect with medical experts and resolve queries seamlessly and efficiently via mobile app.
7. Reviews and Feedbacks
A useful functionality that enables the patients to provide their feedback and reviews against the services they have utilized.
8. Cloud-based Storage
The patients can save all their medical reports and prescriptions on the cloud and find them handy every time.
For Doctors
1. Registration
An efficient registration module that enables the doctors to seamlessly create their profiles on the healthcare application using minimal basic information.
2. Schedules
The doctors or healthcare providers could manage their schedules and can make specific changes in their schedules as per their availability.
3. Appointment Management
Apart from editing their schedules, the doctors can even manage their daily appointments and can accept new appointment requests seamlessly.
4. Calls
A unique feature that enables the doctors to connect with their patients via voice calling or video calling to offer them a better healthcare consultation.
5. EHR
The doctors can store all their crucial databases, and the patient's healthcare records electronically using this feature.
6. Online Prescriptions
Besides connecting with the patients, the doctors can even prescribe them the essential medication online via healthcare application.
7. Real-time Alerts
The doctors can get real-time updates about an upcoming appointment, a new request, or other vital things using this functionality.
8. Total Earnings
An amazing feature that allows the medical experts to track their overall earnings on a timely basis and transfer it to the bank account in a single tap.
So, these were some of the powerful features that you can include in your healthcare application to stand out from the competitive market and to outgrow your competitors. However, besides adding all these fantastic features, you need to leverage some monetization models to generate revenue from your mobile app. Here are some of the methods that you can use as a reference.
Monetization Models for the Doctor Appointment App Development
1. Subscription
With the subscription model, the admins can offer the doctors and other healthcare practitioners to pay monthly or yearly subscriptions for connecting with the patients seamlessly. Within the healthcare application, the admins can either give them the option to contact an unlimited number of patients like what ZocDoc does or make several patients wise subscription models. Moreover, they can also ask the patients to pay a nominal fee for connecting with the doctors over the platform.
2. Sponsorship
The second model that healthcare marketers could leverage for generating revenues is the sponsorship model. Under this type of monetization model, the admins can seamlessly offer the doctors and healthcare organizations an opportunity to showcase their names on the top of the list. In return, they have to pay a nominal charge for getting their names on the top. It is quite often seen that the users pay willingly to get more attention and visibility than others of the same field.
3. On-Demand Services
Besides both the monetization models mentioned above, the admins can leverage another robust model to generate more revenue from their doctor appointment app. The admins can integrate other robust on-demand services like blood collection apps, urine test app, medicine delivery app, etc. into their mobile application to extend your healthcare application services.
Technologies Involved in Doctor Appointment App Development
In the modern era, it is illogical to think of a business that does not require any technical assistance, at least in the case of the healthcare industry. Hence, here are some of the options that you can leverage to build success for your doctor appointment application.
1. AI & ML
Artificial intelligence and machine learning are two vital aspects of modern-day technologies. Many popular healthcare apps like ZocDoc are leveraging AI for a long time to enhance their processes. Quite often, it is observed that the patients, despite writing doctor's specialization, refer to them as cancer specialists, eye doctors, etc. So, in such a scenario, AI tools could help the patients in finding the perfect doctor for treating their illness.
2. Blockchain
Blockchain technology has proved itself to be more than a fallacy in the healthcare sector. Blockchain in healthcare helps to centralize all the crucial data that may be beneficial for both the doctors and the patients. One can seamlessly leverage the blockchain technology to eliminate the data leakages and to enable the patients to find the perfect doctor within their set standards.
3. Cloud Computing
As you will expand your healthcare startup, you will experience several issues regarding the storage of your critical data. At that moment, cloud computing comes into play. With the help of cloud computing, the admins can seamlessly store large amounts of crucial data that may be beneficial for the healthcare service providers. Also, with Google Healthcare Cloud API, cloud computing is sure to bring the next level of storage and safety systems in mobile healthcare applications.
Cost of Building On-Demand Doctor Appointment App
Like other on-demand apps, the cost for developing a doctor appointment app also depends on some significant factors, like
1. Features included
The cost will certainly vary based on how many features you have opted to include in your mobile app. Also, the complexities involved in creating an app with all those features would be considered.
2. Platform opted
You can choose from two different platforms for your app development, viz. iOS, or Android. Although most people choose cross-app development to target more audiences.
3. Development Cost
The cost would also include development and UX/UI charges. The development charges usually vary as per the location. For instance, if you choose development companies from the USA, it will undoubtedly cost you more.
4. Design Charges
There is no aspect of creating an app with robust features if your app isn't user-friendly. So, the design department mainly focuses on making your app's design aesthetic and user-friendly.
Besides, there are certain more costs involved in making a useful mobile app. You can reach out to us to get a free quotation for your mobile app development.
Conclusion
To conclude, we can say that the healthcare industry has transformed drastically over time. After the introduction of digitization, the healthcare industry has shown tremendous improvements. It has simplified the problems of both the patients and the doctors. It has not only empowered the users to access better healthcare opportunities but has also helped the marketers to become more successful. Hence, if you are also planning to optimize your healthcare startup by developing an on-demand doctor appointment app, then we are always there to serve you. We, at Matellio, have years-long experience in developing compelling and scalable healthcare software solutions and mobile applications to help healthcare organizations and startups build success for their healthcare services.
Have more questions? Contact us anytime, and we will provide you the best solution!
Disclaimer: Please note that the content of this blog including links, texts, images, and graphics is only meant for informational purposes. We do not intend to infringe any copyright policy or do not possess any third-party material. If you have issues related to any of our content or images, kindly drop your message at 

info@matellio.com

 
Get the Conversation Started!
Get the Conversation Started!
[contact-form-7 id="34486" title="Side Form"]