How Blockchain Technology Can Solve IoT's Security Problem
Updated on Feb 14th, 2022
The expedient digitization of people's life through IoT (Internet of Things) such as Bluetooth speakers, voice-activated home assistants, iPhones, etc has revamped the landscape of routine experiences and transform them much easier and intuitive. In the last couple of years, the journey of IT smartification did not stop at household appliances and phones; it also extended to the featured smart cities. It has significantly encouraged all businesses to adopt IoT app development services which present opportunities to obtain competitive benefits by accumulating data from various points, some automated and others, human controlled. But on the contrary, IoT also encountered some serious challenges of privacy and security of cloud data due to the vulnerability of data to hacking. Besides, default passwords such as "admin" and "password", many other problems have also made this phenomenon a big nightmare for every cybersecurity experts. Though IoT empowered homes and businesses in an incredible way, yet people neglect the risk of its vulnerability to any kind of intrusion.
IoT Challenges
Today, the enterprises which are connected to the IoT, are equally threatened that it's irresistibly exposed to the intrusions. In fact, there are many specific challenges for IoT in current scenario apart from just security aspect. Furthermore, high vulnerability extends to the fundamental objective of every IoT app development company, So it is quintessential to comprehend the types of challenges being faced by IoT:
1- Unauthorized Access of devices
The risk correlated with using IoT enabled devices deepens as hackers become able to penetrate the whole network by a single device with no updated security system. The probability of unidentified security risks to the series of smart devices from smartphones to TV's printers and scanners has been growing rapidly, it points threat to the entire functioning of IoT.
2- Software Attacks
The unavoidable challenge before cyber experts are invariably related to the consistent connectivity of IoT enabled devices with the internet. Once the necessity for its entire effective functioning, Internet connectivity aggregates its possibility of encountering virus attacks and malware, that could harm softwares and control of networks or devices.
3- Network Breaches
The number of smart devices, standards, and protocols seamlessly implement network as an ongoing process. Once among IoT advantages, discovers vacuum for the cyber attackers to identify and use it to hack the whole network maliciously. The problem extends to the serious instances like where users are unknowingly denied for any kind of access to their devices, data or network.
4- Encryption Attacks
The process of IoT devices is specifically interpreted as continuous communication between machine to machine. It doesn't involve any kind of human interaction during the data transmission from one smart device to another device. The process creates gaps for hackers to access data due to enfeebled data encryption or strayed credential keys.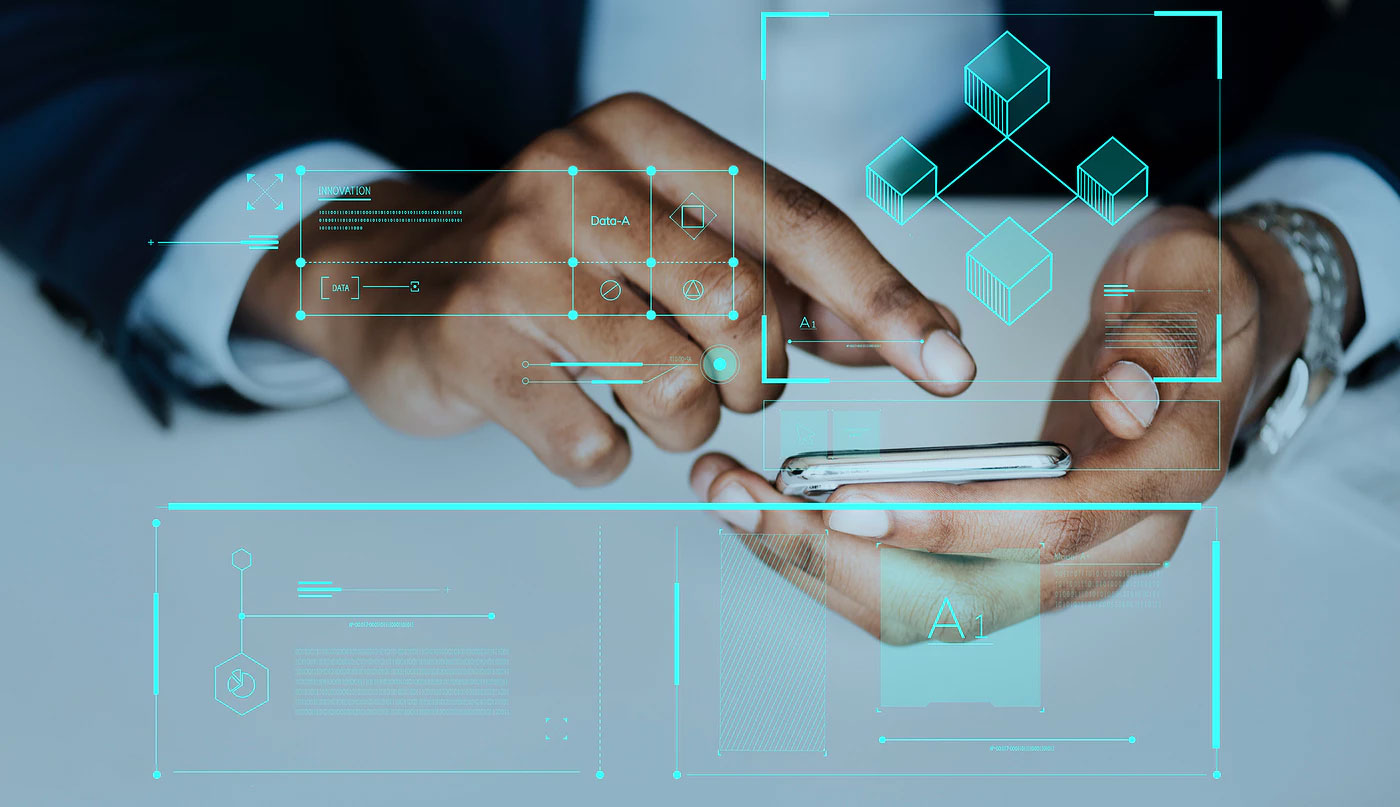 Blockchain Challenges with IoT
Blockchain rectifies the security gaps of the current ecosystem posed by IoT mechanism by providing extensive solutions. Furthermore, it eliminates the threats through safe data storage, fraud prevention, and digital identity because the technology keeps the data intact once its recorded and stored. Let's lighten up its employability as a significant tool for issues that are being faced by IoT:
1- Traceability and Security
The blockchain's distributed ledger captures the record of digital data into a block, where it becomes impossible to move data to another block. It eradicates any kind of probable addition of an intermediate block in the blockchain. The transactions become possible only when all the confirmations would be received uninterruptedly with relevant credentials. It records and saves each user's login and confirmation, which protects it from external intrusions which have been one of the most crucial concerns among all blockchain challenges. Additionally, every insider attempt or any threat to attack a record is sincerely tracked and noted, which eliminates even the iota of stolen or compromised data on its ledger. It efficiently extends the traceability and security of data for secured access and functioning for the user.
2- Safe Data Storage
The safe data storage is one the sincere issues with IoT app development services, where it primarily signifies its importance in managing secured communication. In other words, Blockchain develops a decentralized ledger and unalterable data record, which assists in protecting and controlling the communication and any further activity that happens within the system. It makes hacking more difficult through encryption and sharding to distribute file's pieces across nodes. The objectivity of Blockchain interprets by the use of two prime complementary technologies. The first is sharding, where databases are partitioned along logical lines and other is swarm to store and manage data. The swarm effect mitigates latency and augments speed through parallel data retrieving from the fastest and nearest nodes.
3- Minimizing Human Errors
Besides, the probable risk of data theft and unauthorized modifications, there would always be unprecedented chances of errors while compiling data and inputting data due to the involvement of human in the data recording, and storage. Blockchain eliminates the requirement for user's logins and password through the issued encrypted identity like SSL certificate to the device, which can be easily verified on the blockchain's distributed ledger. Basically, it mitigates the risk of any kind of human error and erects a phenomenal solution for every IoT app development company.. Additionally, All human errors such as potential threats would be written off, because these are instantaneously notified on the relevant network.
4- Reliability
Blockchain technology is consistent with dedicated decentralized architecture, where entire components of network work togeather and get interacted with predefined protocols. In other words, Blockchain monitors and records the communication among all connected devices which makes businesses able to access suspicious logins attempted for access to records or the activity logs. Therefore, all components are connected cohesively to its block network to participate in the process of consensus. The consistent and connected function extrapolates IoT components more secured to any privacy attacks.
The use of Blockchain conductively into IoT networks can be interpreted as one of the most incredible futuristic approaches in the era of great technological advancements. Businesses as well as individuals all around the world, racking up exponential benefits from more secured IoT networks. Blockchain facilitates the enhanced security level which eliminates the people's apprehensions about using numerous smart devices in their routine lives. While the efficacious combination of IoT advantages and blockchain is still in the nascent stage, but it keeps tonnes of promises for the entire IoT industry. Matellio works with the most appreciated innovative tech tools and impressively integrate advancements for a a seamless solution.
Get the Conversation Started!
Get the Conversation Started!
[contact-form-7 id="34486" title="Side Form"]