How much does it cost to create a banking app like Monzo?
Updated on May 28th, 2021
Disruption, That was the buzz phrase for much of what technology has brought to any field of the economy like media, healthcare, transportation, etc., And financial institutions, specifical banking, are one area of significant disruption. Many banks currently offer at least a specific mobile internet banking app. Although accounts can indeed be established at a brick & click facility, customers can now access their accounts either from the comfort of their homes and PCs or through mobile phones and tablets when out and about. Our lives have been made dramatically simpler by Fintech innovations. Long lines to pay a bill, open a new banking account, the 21 century is no longer about it.
In many ways, fintech solutions have easily comprehended our lives. You might go to a bank branch a decade ago and stand throughout the queue to make simple transactions, pay bills, pass cash, or transfer your funds. It will take weeks or months to make complicated deals, such as saving money or agreeing on insurance contracts. But now with your favourite FinTech app, all this is possible with a click of your finger today.
According to Statista report,
In the US, the numbers of mobile banking users are 57million.
Over 86% of US banks prefer Bill payment and other services through mobile banking apps.
There are 29.18 million users alone of Bank of America.
Not unexpectedly, user-friendly mobile phone banking is flourishing all over the globe. Monzo is vibrant proof of it. Such apps, like Monzo, with the aid of cutting-edge tools, are intricate pieces of technology built with protection and intuition in mind.
If you do have a concept for a similar Monzo mobile banking app, then this blog is really for you. In this blog, we'll be covering fundamental knowledge about what you need to make an application like Monzo.
So without any further ado, let's start with the basics first.
What is Digital/Online Banking?
In brief, with no relation to a conventional brick and mortar system, it is online banking. The bank only operates in the cyber world, assisted by software, and provides the very same kinds of services to its users that conventional banks offer. Via custom app creation which emphasizes on mobile digital banking, such services are offered. Today a range of digital/online banking applications are available from to which to choose from. Because of its popularity, universality, and overall strength, we agreed to go further in this blog with Monzo.
What is Monzo?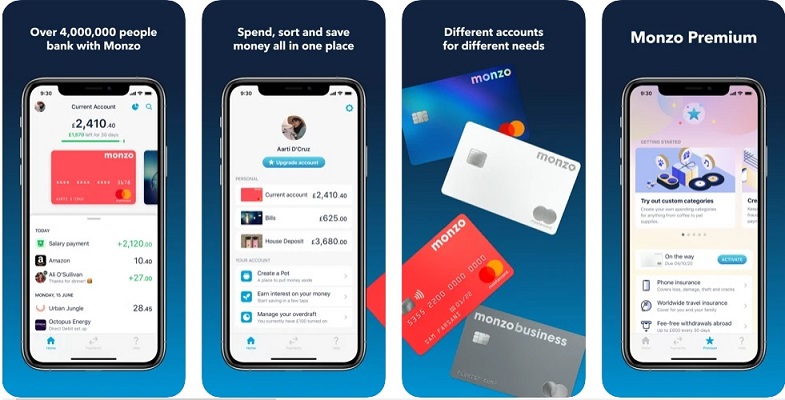 Monzo is a digital mobile bank. It functions exclusively via a mobile banking application and a prepaid debit card. It is centred in the United Kingdom and became one of the UK's most significant new competitor banks based on apps. Often recognized as direct banks or banks without even any branch network, banks like Monzo provide their services through internet and mobile banking. Access to these categories of banks is also offered through ATMs, mail or mobile phones. The bank model helps significantly cut prices as they wouldn't have to manage a whole network of branches.
Before discussing how to create an application like Monzo, let's quickly discuss,
Benefits of developing a custom banking app like Monzo
Expand your client base – You will reach out and meet a larger crowd with a banking app. An app will address the problem areas of your corporate customers and give your new ones from the beginning a perfect financial technology approach. You relieve yourself from just being reliant on the place by creating a mobile-only banking app, which guarantees that any economic business activity can be performed through an app. You won't believe today, Monzo has 2.6 million active users in October.
Knowing your Client – For any company, knowledge is a great force. In such an online business, it's easier than getting anything anywhere. The action of each consumer in an app (loan payment, deposits, shopping, and travel) is tracked and can be used to create new marketing strategies and contribute to sales development. Apart from this, data gathered from it can be used for, analyzing the actions of clients and making forecasts for the business. For instance, they are estimating the credit card limit of a user automatically based on his behaviour or predicting the number of new transfers next month, taking the users' historical data into account.
The openness – The transaction occurs quickly each time a customer wants to take or sends money to his banking app, and the balance is revamped or updated within seconds. Users will see how much they've invested and reviewed their objectives. This helps preserve a level of accountability and transparency between the customer and the processes of online banks.
Security from Fraud – As this whole bank is only accessible online; it is easy for hackers to concentrate on it. For this purpose, nevertheless, additional security and protection against theft or malicious hackers will need to be provided by the bank. This would ensure that the records of the user are safe and protected from intrusion and theft efforts of all sorts.
Faster Processes – With conventional methods in banking processes, processing all takes longer. A further thing that takes up much of the time caused by delays is revamping of human error. With online banking, however, most procedures are online and help to enhance precision and also speed.
Apart from the above benefits, there are also some challenges in creating Monzo-like banking applications. Without taking much of your time, let's quickly check them out:
Challenges in creating Monzo-like banking app
Given the ripening stages of the global economy, without discovering its shoreline and limitations, an individual should not go deaf. Creating a Monzo-like bank is a dynamic and multi-faceted business with a lot of obvious so apparent difficulties.
Here are some challenges which you may face during creating banking app like Monzo:
Unique regulatory standard – Special regulatory framework for the operation of the digital bank. There are various regulations with unique characteristics to which nonbanks should comply, depending on the region. The United Kingdom, for instance, has an Open Bank programme and the EU has -GDPR.
Safety concerns – Safety is the true essence of a nonbank, and that's quite a challenge that needs an established development team to maintain high-security protocols.
High Load – Regularly, a banking app can theoretically interact with thousands of requests. It takes special skills to build an app that can easily cope with that kind of a load.
Suppliers of third-parties – To undertake some of its activities, a nonbank would have to depend on third-party providers. For example, it can also be difficult for Monzo to partner with MasterCard, Amazon Web Services, and Intercom, find the right suppliers and develop great relationships. It also raises new questions about the defence.
As of now, we've discussed the benefits and challenges associated with the creation of a Monzo-like banking app. Well so, roll your sleeves up because it's time to be creative.
How to create an app like Monzo?
How to start a banking app like Monzo or develop an application which brings great success. Below is a collection of the crucial measures or steps that can be used in your roadmap of app development.
1. Do a research
The preliminary phase is very crucial and should not be overlooked at any cost. Conducting market research is the first mission. You ought to recognize your rivals, confirm the market for possible ideas, and gain knowledge of what's popular among the audience. You can go in a reverse way without seeing this. Continue to identify your target group until you have the study results. Your request can extend to corporate customers, families, individuals or organizations.
Fully understanding your client base will help you figure out the problem areas that are key to doodling a framework for an app.
2. Create a wireframe/prototype
Each application for FinTech or banking begins with planning in your mind. You also need to make a sketch or prototype to carry it out, describing the order and discipline of design features, graphics, and material in broad terms. To design a start menu, user accounts, individual dashboards, and the template for a homepage, you can start with low-fidelity wireframing.
Wireframes typically consist of boxes, lines, messages, and are created in the colour palette of white and black. To verify your idea and gather early feedback, you could use an application wireframe. Maybe then you can transform the wireframe into some hi-fi prototype that includes a product graphic presentation, configuration, components of the interface, colour palette, and micro-interactions.
For people to feel how your application functions, you could add default messages, placeholders, and the test info.
3. Create a graphic layout
In this step, be prepared for hard work because the layout of your application should be identifiable by its business card. There are plenty of tips about how to render a mobile application a flawless project. We've posted a quick list of recommendations that are the most relevant. Below, search for them.
Ensure that your solution's typography, symbols, colour scheme, buttons and forms complement your corporate style and brand.
The navigation must represent your solution's logical architecture.
All the design features should be detailed and straightforward: buttons, connections, shapes, icons.
Select colours, photos, video files that elicit those feelings and emotions, if you're going to work internationally, understand regional diversity.
5. Define the features and functionality of the app
We all know the right features and functionality plays a vital role in application success. Below is the following table, we've mentioned must-have features and some advanced features that you can consider in your Monzo-like banking application.
Have a look:
Features

Sub-Features

Basic Features

Fund Transfer.
Split Bills.
Early payments.
Salary sort.
Overdraft.
Payment History.
Saving tracker.
Payment Reminder.
Wallet.
Loan and credits.
Fine and taxes.
Donations.
Add accounts.

Advance Features

Chatbot.
Push notifications.
Cashback.
QR payments.
Trading and investments.
Loan checker.
EMI calculator.
Multi-factor Authentication.
Phone call verification.
Biometric verification.
OTP verification.
End-to-End Encryption.
Touch Heatmaps.
Money management.
Budgeting tools
6. Select the right tech stack
You must focus on four primary areas when selecting a technology stack for your banking application like Monzo: front-end, backend, cross-platform, and other requirements, including such robustness and security.
Make a checklist containing the following parameters.
Project scope.
Simplicity and complexity.
Documents and specifications.
For making top-notch banking applications, our experts use the technology stack listed below, have a look and decide your app's tech stack.
      For android – Java, Kotlin, Node JS, ROR, Laravel.
      For IOS – Swift, Node JS, ROR, Laravel, fabric IOS.
      Database – MySQL, MongoDB, Redis.
      Cloud – AWS, MS Azure.
      Push notifications – Twilio, Amazon SNS, MAP.
      Other – RSpec, Phantom JS, PUMA server, PhoneGap, C++, Xcode
Defining application's features, choosing the right technology stack won't help to win the race. Apart from these, it would be best if you had a development team, who transform your application into reality.
The team that required to create a Monzo-like banking application.
Front-end developer.
Back-end developer.
Android/IOS developer.
QA engineer.
Business Analyst.
UI/UX designer.
Product Manager.
7. Market your application
Google Play Market, AppStore and Microsoft Store, the most common app stores, have distinct application specifications that you should meet to avoid rejection. You can indeed be assured that your off-the-shelf product will comply with these requirements by default if you opt for an app designer. If you're creating an app on your own, to save time on future updates and adjustments, you can monitor this process.
Reviews and stars will arrive once the application appears on the play store, Apple App store, and Microsoft store.
8. Get feedback, improve, then update
Launching the app is just the start. Ask the mobile community for reviews, contact app review outlets, request opinion leaders and bloggers to test the product to get useful feedback and learn what to develop and update. You should apply your application to the Apple editorial team to get an expert analysis if you concentrate on Apple users. Another smart idea is to add the software to listings of Best Applications or awards for smartphone apps.
Once you have feedback, you can define the weak and powerful elements of your banking application and make the decisions on how to improve it.
Cost to develop Monzo-like Banking Application
Well now, we have addressed the must-have features, tech stack, and other essential steps of the development phase. Now let's move forward and discuss how much it will cost you to create a banking application like Monzo.
Cost of developing an application depends on various factors like the app's features, complexity, platform, geo-region of the development firm, and many other things. On a rough basis, an application with basic features will cost you nearly 35K to 65K dollars. Whereas, applications with advanced features will cost you around 80K to 135k dollars.
Note – According to experts, it's better to partner up with a development firm, to build a top-notch application packed with all rules and regulations of the respective country.
At Matellio, we split the application development process into various stages like:
Discovery – We undergo a comprehensive business analysis to evaluate how the application will work in detail, what users could do and whether third-party applications are needed or not. From all this you get, user flow, diagrams, wireframes and prototypes.
Design – We will come up with customer experience design based on the user streams and characteristics we evaluate mostly during the discovery stage to ensure that we have covered all business requirements and user needs at the very same time. We will then design a solution to the application's user interface, which involves visual representation. From all this you get, wireframes ready for implementation, high-fidelity, and style guide.
Web development – Mobile application requires administration, and it is usually a web-driven admin dashboard. From all this, you get a fully functional admin backend office to manage the mobile application.
Mobile development – To interact with the server-based application, we build an APO and bring all things together like API, architecture, and functionality. From this, you get a fully functional application that is ready to deploy on Google Play Store, Apple App Store, and on any other app store.
Conclusion
Fintech is a profitable and exciting niche, for entrepreneurs and business owners who are looking to try their hand at winning their market share in banking systems and have a lot of opportunities. It's about time that people get the services they deserve through online banking. With your complete and total mobile banking application for both Android and IOS platforms, you can offer it to them. In this blog, we've explained all the necessary steps and functionalities to create a banking application like Monzo.
If you want help, we can help, Matellio has all the tech and business skills needed to build a competitive and attractive banking application. We even had experience working with significant fintech players, digital banks, and startups for building software for the products and offerings.
If you are looking for the best partnership or want to develop a banking app like Monzo, contact us, our experts will be happy to transform your app vision into reality.
For more visit our website www.matellio.com
Till then, happy banking.
Disclaimer: Please note that the content of this blog including links, texts, images, and graphics is only meant for informational purposes. We do not intend to infringe any copyright policy or do not possess any third-party material. If you have issues related to any of our content or images, kindly drop your message at 

info@matellio.com

 
Get the Conversation Started!
Get the Conversation Started!
[contact-form-7 id="34486" title="Side Form"]