12 Best Mobile Banking App Features That Shouldn't Be Missed
Updated on Apr 20th, 2021
Gone are the days when smartphones were only used for making phone calls or text messages. A significant boom in the number of people using mobile applications created an unnoticed change in almost all sectors. Be it education, e-commerce, or even the finance industry; things changed a lot with the advancements in the mobile app development sector. Mobile banking is one such aspect that has gained popularity with the rise in mobile users.
Today, many banks are leveraging some amazing banking mobile apps to provide ease and convenience. With mobile banking apps, the customers can seamlessly make transactions, view their account history, and even track their spending habits. As per a trusted source, mobile banking services witnessed a massive growth of 92% in recent years. Furthermore, according to a report by Statista, almost 57 million mobile banking users already exist in the USA. Moreover, not just millennials, but 91% of the Gen Xers, and 79% of the baby boomers, are also seen leveraging mobile banking services for quite some time.
Hence, the picture is clear; if you do not offer a mobile app facility today, you are nowhere in the global market. Now, having talked about the mobile banking apps, if you are someone who is planning to digitize your banks and implement a mobile-first strategy, then here's a read for you all!
In today's article, we will cover the twelve best features that you should include in your mobile banking app to make it stand out of the competitive world. All these basic and advanced features is a sure-shot way of building success for your mobile banking app in the global market. So, let's dive in!
1. Intuitive Yet Simple Sign-In
When it comes to mobile apps, a crucial thing that goes the same in every app, irrespective of its niche, is the login process. Through the login process, the customer first enters your app and analyzes its design. Now, a crucial aspect that you need to address here is the security and effectiveness of the login feature.
Ensure that your mobile banking app has a secure and useful sign-in feature. Furthermore, do not overwhelm you, users, by asking many security questions, as it may irritate the user. Maybe biometric technology can help you with it. Biometric authentication technology verifies a person by analyzing its physical conditions and metrics.
A common example is Wells Fargo and Canadian branchless bank Tangerine that have announced that they will be using eye print authentication from now onwards for increased safety. Citibank's mobile banking app has also been appraised by many of the marketers and consumers for its simple yet effective login functionality.
2. Personalized Money Management Insights
Providing money management insights is also a popular feature that you should include in your mobile banking app. It is currently the most loved and appreciated feature of the fintech apps and is also expected to be the foreseeable future of mobile banking. The budgeting and saving tools are benefiting the consumers in many ways, and maybe that's why many financial institutes have leveraged banking mobile apps with this particular feature.
The current technological advancements have now made it possible for mobile banking apps to track every user's spending. Meaning, you can now offer a completely personalized report to your users on their spending habits. You can even go a step further and provide a saving strategy for all your users.
Well, that's what Bank of America has been doing for the past few years now. Its in-app virtual assistant has become quite popular amongst global audiences, to preside around ten million users within 18 months. That's pure because its mobile banking app provides personalized money management insights by leveraging Machine Learning technology. The AI-driven tools also categorize the spendings and provide accurate cash-flow analysis.
3. ATM/Branch Locator
Your mobile banking app should include an ATM/Branch locator feature to make it seamlessly for your users to solve their money-related/banking issues. With this functionality, you can enhance the customer experience as the user would seamlessly locate your bank's branches and ATMs.
That means they would not have to search for your branch or ATMs to carry out financial tasks. You can provide them with a GPS-based search option that will filter their search results based on their current location. All in all, this particular function will improve the UX of your mobile banking app.
4. Real-time Alerts
Real-time alerts is a functionality that cannot be compromised in today's digital era. The needs of the customers have changed today, and all they want is every single detail of their accounts without actually visiting the banks.
In such a scenario, real-time alerts enable you to fulfill all those customer needs without investing much. If you are thinking, what type of alerts can you include in your mobile banking app, then there's no end to it! However, to give you a basic idea, we have listed some best real-time alerts that you can include in your mobile banking app.
Deposit Alerts
Withdraw Alerts
Password Change Alerts
Low Balance Alerts
Transaction Failed Alerts
Purchase Alerts
Special Offer Alerts
5. Advanced Security
Security has always been a crucial concern for the global market and is trending amongst the global industries. Security is vital for your organization's growth, especially if you are dealing with people's money on a large scale. As a bank, it should be your foremost duty to secure your customer's transaction and your vital bank's data.
Securing your banking software solutions and including vital security tools in your mobile banking apps ensures the safety of your customer's banking data. Moreover, including facial recognition technology in your banking app can also help you secure your customer's critical monetary information.
Barclays is again the best example of such a mobile banking service that enables voice-based security feature cleaning that voice is also as unique as a face is. The human voice consists of more than 100 unique characteristics, and it will be impossible for the scammers to hack one's account. The user will have to speak a few words to access their accounts.
6. Effective Customer Service
Customer service is the most crucial aspect for any organization, be it a bank, or any Multinational Company. To succeed in the global market, you have to provide the best customer service to your users and valuable customers. The responsibility further increases if you are providing a necessary service to the global audience.
As a bank, you need to ensure that you provide 24/7 support and professional consultation to your valuable clients. Furthermore, thanks to the digital world we live in today, we have access to some amazing technologies that can improve the CX. So, try to leverage those! For instance, AI-driven chatbots are quite popular these days as they have capabilities to solve your customer queries without any human intervention.
Here, again Wells Fargo is the best example. It has included the smart chatbot option in its mobile banking app to ensure the best support to its valuable users.
7. Apps for Wearables
Now that's an advanced feature that you must include in your mobile banking app to make it more helpful for your customers. People have less time, and their love for a smartwatch is because it saves a lot of time by providing vital notifications on the watch. Whether it be phone calls, or text messages, or even mails, a smartwatch offers all sorts of notifications to the user on its screen.
Hence, as a bank, you should always consider providing ease to the customer through effective and quick banking services. Understand that people carry their smartwatches everywhere, and that can be the best tool for you to promote your bank. You can seamlessly connect with your valuable users and even enable them to manage their transactions, purchase, and bank account with their smartwatches.
All that improves the brand value of your bank and lures more global users because of the advanced services you are providing. The best example of such a type of mobile banking service is the Australian Bank of Melbourne. By introducing the first smartwatch banking app, this particular bank quickly became popular in its domain.
8. Peer-to-Peer Payment System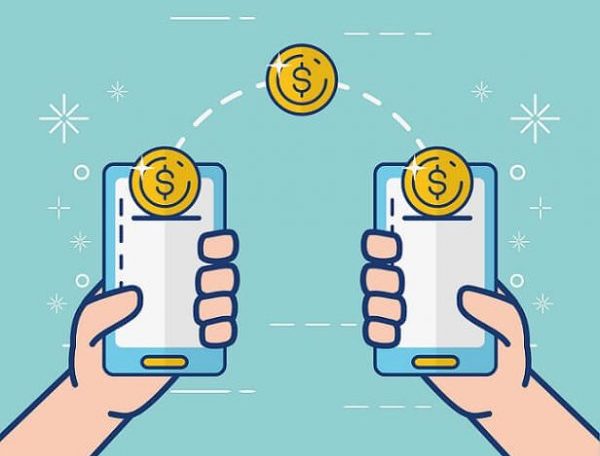 Peer-to-Peer or (P2P) payment service is a trending mobile banking service that allows the users to directly send a specific amount from his/her bank account to another person's account. P2P payment platforms are quickly becoming popular amongst all the tech-savvy customers. People from all niche are leveraging this particular mobile banking feature to send or accept money from other people seamlessly.
P2P payment is one of the most crucial aspects that can help you to engage and lure more users and loyal customers. Although it is not a pure source of generating profit, it can be a lot more useful for enhancing your services. And we all know that a happy customer is the best source of promoting your bank and business. With a P2P platform, you can enable your customer to transact seamlessly and pay for their favorite products and services with a few taps on their smartphones.
Peer-to-peer makes your customer less dependent on the bank as they can pay or accept payments from anyone or anytime they want. PayPal is one such popular P2P payment app that has been gaining huge momentum for quite some time now. It has undoubtedly dominated the banking sector due to its amazing benefits coupled quick and flexible services.
9. Voice Payments
Another most popular and advanced mobile banking feature that can build success for your mobile banking app is voice payments. As per a trusted source, it is predicted that the number of voice payments will reach a whopping 81 million by the year 2022. Statista also predicts the adoption rate of voice payments will be 31% in the USA alone by the year 2022.
Relying on the above data, we can surely say that voice payment is the next possible future of the global banking sector. In such a scenario, you should adopt and introduce voice-based transaction options in your mobile banking app. Maybe it can boost your brand's overall value and build huge success for your mobile banking services.
Royal Bank of Canada and Barclays have adopted the technique and become quite popular amongst the global audience in a short period. Using their mobile banking apps, the customer can now ask Siri to pay their bills or check for a particular transaction.
10. Instant Account Opening
As discussed earlier, people nowadays don't want to spend much time and also want quick services. Bank account opening is also one such aspect where people don't want to wait, yet it is a critical aspect. That's why many leading banks today offer instant bank account opening features in their mobile banking app.
Instant account opening feature makes it easy and quick for the new user to start their banking journey. Furthermore, the launch of virtual cards also enhances this particular feature's capabilities, as now the user can leverage the card facilities in as little as three minutes.
The best example of that is US Banks, which included a quick account opening feature in its mobile banking app. Now, the people willing to opt for home equity loans and investment accounts don't have to wait for long hours to open their account. That certainly made the mobile banking app of the US Bank popular amongst the global audience.
11. Special Offers
In this digital world, mobile apps are considered as the perfect tool for marketing your organization. Banking mobile apps are also not an exception. People today spend more time on mobile apps than desktops. That is why it becomes critical for you to pay heed to mobile banking apps for promoting your mobile banking services.
Offering special offers specifically for mobile banking apps ensures that more people register your banking app. With the help of personalized offers, exclusive discounts, and coupon codes, you can seamlessly engage your existing banking app users and even lure new ones. However, make sure to frame an amazing marketing campaign to gain even those users who are not interested in mobile banking apps.
Zions Bank is the best example of such kind of mobile banking service. After launching a special reward system specifically for their banking mobile app users, the bank got thousands of users on its mobile app. The app collaborates with multiple restaurants, shops, and hotels to engage users effectively.
12. Cashback
Last but not least is the cashback feature, which is again a sure-shot way of getting more users on your mobile banking app. While some of the banks think that cashback offers should be limited to their web apps, almost a significant number doesn't agree with that. According to Statista, a high number of people today prefer mobile phones for shopping rather than a PC or tablet.
In such a scenario, it would be beneficial for you to offer cashback to your customer if they use your mobile banking app for their next purchase. That way, you will not have to work hard to build success for your banking app as the customers are already using that, and also you will get much faster results.
You can even offer your valuable customer loyalty if they shop more from your mobile banking app. That's an effective way to popularize your mobile app amongst global audiences, and almost all the leading banks have adopted that feature.
Wrapping Up!
These were some of the best banking mobile app features that can help you build success for your mobile banking services. To conclude, we can say that today's world is changing at a much faster pace, and so are customer needs. What was once considered leisure has today become necessary to service, and banking services are no exception. Like a bank, you need to evolve to cater to every need of your customers, and providing them a mobile banking app is a sure-shot way of achieving higher customer satisfaction. Want to build a mobile app with more amazing features like those mentioned above? Reach us today!
We are a software engineering firm with years of experience in developing cost-effective and flexible banking software solutions for many customers. Our experienced software engineers and testers promise to deliver error-free and feature-rich banking software solutions for enhancing your brand value. Want to experience the magic of mobile banking in improving your revenues and profits? Talk to our finance and banking experts today for free!
Get the Conversation Started!
Get the Conversation Started!
[contact-form-7 id="34486" title="Side Form"]